EHF Champions League
Amorim: "Injuries are hard for Györ because losing is not acceptable"
Amorim: "Injuries are hard for Györ because losing is not acceptable"
Out for months after fracturing her right hand, Eduarda Amorim missed the Women's EHF Champions League Main Round but the Brazilian was back for Györ in the first leg of the quarter-final against Buducnost on Saturday.
An integrant part for Györ in defence as well as in attack, the 31-year old left back scored eight times for the Hungarian side. With Nora Mørk, Stine Oftedal, Zsuszanna Tomori and Nycke Groot out due to injuries, Amorim helped her team to a 26:20 victory, an important step towards to the EHF FINAL4 in Budapest.
The second leg of the quarter-final wil be played in Györ on Saturday at 19:00 hrs (live on ehfTV.com). The draw for the EHF FINAL4 will take place next Tuesday, 17 April, at 18:00 hrs and will also be streamed live on ehfTV.com as well as on the EHF Champions League Facebook page.
After her excellent comeback in Podgorica, 'Duda' talked to ehfCL.com about the current season, Györ's ambitions for the run-in of the season, and Ambros Martin's last games as coach of the team he won three Champions League titles with.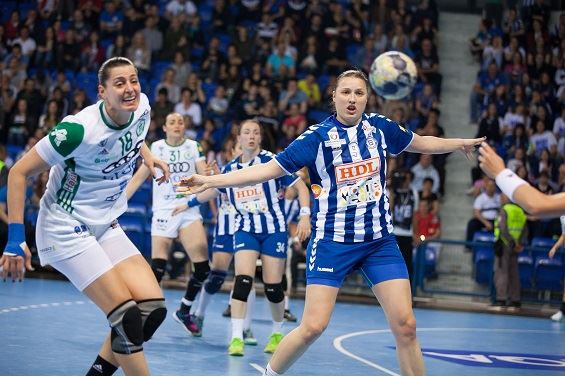 ehfCL.com: How does it feel to be back after such a lengthy injury?
Eduarda Amorim: I have not been injured for such a long period since 2015 (out for six months with torn ACL in left knee, ed.), so these two months looked like at least three or four months to me. It was a difficult period because I missed the main round of the Champions League, the competition we focus the most on in a season. But I was glad also to see the girls playing so well even with the challenges Györ have this year.
ehfCL.com: After a difficult season, Györ are almost certain to be back at the EHF FINAL 4 after their first win against Buducnost. Was this season more challenging than previous ones?
Eduarda Amorim: It was a very difficult season because every moment we had to adapt. Györ always lacked at least two players because of injuries. I was out two months, Anja Althaus was also out in the first part of the season, now we lost Nora Mørk and Zsuzsanna Tomori for the run-in to the EHF FINAL4. It is not easy. Sometimes it gets very hard both for the players and for the coach, because losing is not acceptable. We are focusing on the results and for the time being, we have done a very good job. I am very proud of everyone here and I think we all did our best to give ourselves the best chance to repeat the win in Budapest from last season.
ehfCL.com: The team must cope with a lot of injuries right now. How can you still improve?
Eduarda Amorim: I believe we have a powerful way of adapting to new situations. We accept that injuries can happen in a long season. We feel sorry when a teammate is down but we need to get over it quickly, focus on the task at hand, play the best we can and win games, also for the players who are not on the court. A coach like Ambros Martin always puts the team rather than the individual in the first place. I think the approach is great, because when one player is injured and cannot play, we manage to bring our best as a group.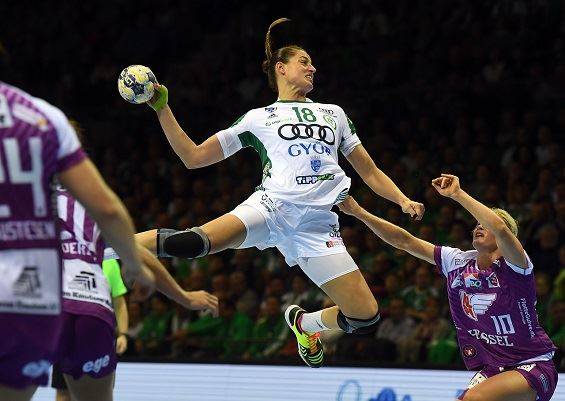 ehfCL.com: How difficult is the situation for you, for the team, after you learnt that Martin will leave after the season?
Eduarda Amorim: He has been coaching Györ for the last six seasons and won three Champions League trophies, so it will be a big loss for the team. But we are focused on what we need to do and we do not find it difficult yet. We are having a very good run right now and the motto is to try to enjoy these lasts months with him. It would be great to finish his stint in Györ with another trophy.
ehfCL.com: Are Györ favourites to win the title again this season?
Eduarda Amorim: We won the competition three times in the last five seasons, twice with the FINAL4 in Budapest. We are an experienced side and I think we have a good chance, even if we have a flurry of injuries. But I do not think that we are the favourites. It is a challenge to win the trophy twice in a row. Only powerhouses have done it in the last 20 years, so we are fighting for this. We need three good matches and we can do it again.
ehfCL.com: You have already played against CSM and Rostov: which team are the toughest opponents?
Eduarda Amorim: I believe CSM right now. They did not start the season very well. Then they beat us in Bucharest, but we took an important win in Györ that boosted our morale. They did not play great in the main round, but winning against Metz by a 13-goal margin is enough to put them back on the radar. Rostov are also strong opponents and they have been playing a consistent season, so they are not to be written off, especially with the experienced players they have.
ehfCL.com: What speaks for Gyor to win the title?
Eduarda Amorim: It is too early to say. We have another game against Buducnost and I just focus on that. We need to guarantee our place in Budapest. But if we are there, we are only thinking about winning. That is for sure.