EHF Champions League
Summary: Sävehof comeback ends round 5; Györ still perfect
Round 5 of the DELO EHF Champions League is underway this weekend, with five matches on Saturday and three on Sunday.







SUNDAY 24 OCTOBER
18:30
Round 5, done and dusted.
The Hungarian teams are standing out for their ability to avoid defeat - Györ are the only team to have won every game, while FTC are unbeaten with three wins and a draw. But Rostov-Don tops group A on goal difference.
At the other end of the tables, Buducnost and Kastamonu are yet to secure victory.
Next week, we have a Match of the Week between CSKA and Odense, CSM take on Brest Bretagne, and Esbjerg welcome Rostov-Don. Lots to look forward to in your favourite unscripted drama. 
It was a tough match to play. Kastamonu performed well in the first half, and we were down by six at half-time. In the locker room we talked about how we could change the game and we came out with another attitude.
17:50
Round 5 has seen some great matches. Podravka nearly beat Esbjerg yesterday, the Match of the Week between Metz and Györ proved thrilling, CSKA took revenge on Vipers for their DELO EHF FINAL4 defeat, and today we've had a dominant performance by CSM, Odense showing good form, and that brilliant comeback from Sävehof.
Showtime for champions most definitely!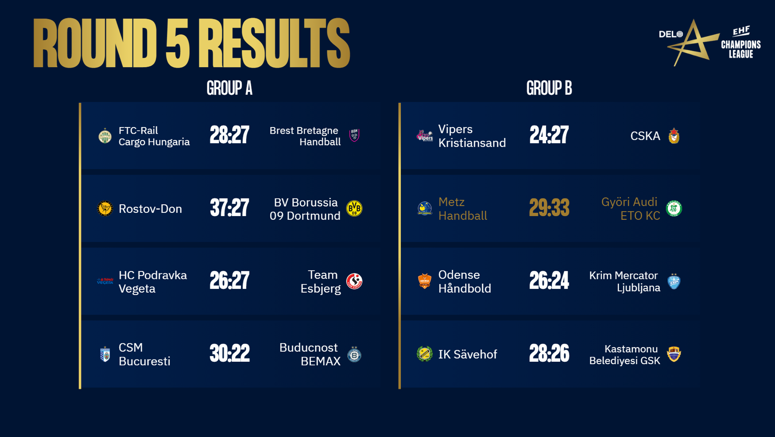 17:38 | FULL-TIME
Odense have hung on to their lead despite Krim's repeated efforts to close up the gap. The home team failed to score in the last five minutes, while Krim netted twice. Dione Housheer's penalty, awarded on the buzzer, was also stopped by Barbara Arenhart - but that was too late for Krim.
Odense move up the group B standings. With six points, they have the same number of wins as Metz and CSKA, although both those teams have a game in hand. Krim drop to seventh with two points.
With five seconds on the clock, Rasmus Overby calls a last timeout for Sävehof - but it's really only to steady the nerves, as his team have wrapped up an incredible second-half comeback. Bringing Sofie Börjesson into goal was critical as she stopped seven shots, including some key penalties.
The win pushes them ahead of Krim in the group B rankings. Kastamonu are still in search of victory.


17:22
Sävehof have the lead and it's Kastamonu's turn to play catch-up. Costica Buceschi looks utterly distraught - they must have thought they had this in the bag.


17:15
Sofie Börjesson stops a Jovanka Radicevic penalty to keep Sävehof just two goals adrift of Kastamonu. You can see the effort both teams are putting into this match. The points are key - either for Kastamonu to help boost their chances of the play-offs, or for Sävehof to move up the table.
17:05
Both of these matches have closed up - Krim pulling back to two goals with 10 minutes gone in the second half, while Sävehof's young team are playing much better now and are really putting the pressure on Kastamonu. Neither match can be called at this point.


16:55
Kastamonu are forced into an early timeout in the second half after Sävehof resume with a 3:0 run. It's an impressive restart by the women in yellow. 
Solid defence, Althea Reinhardt's saves and fast counterattacks helped Odense to firmly control the game during most of the first half. Krim made a lot of mistakes and were limited to just three goals in the opening 15 minutes. However, the visitors improved before the break and reduced the gap to three goals, which gives them a chance for a second-half comeback.
16:40 | HALF-TIME
ODENSE HÅNDBOLD 13:10 KRIM MERCATOR LJUBLJANA
Krim are keeping some pressure on Odense, and the home team are not comfortable yet. With both goalkeepers on form it's tough to find the net. 
Odense's game so far is a more rounded team performance, as eight players have scored - compared to just four from Krim. Tjaša Stanko and Natasa Ljepoja lead the Krim rankings with four goals each.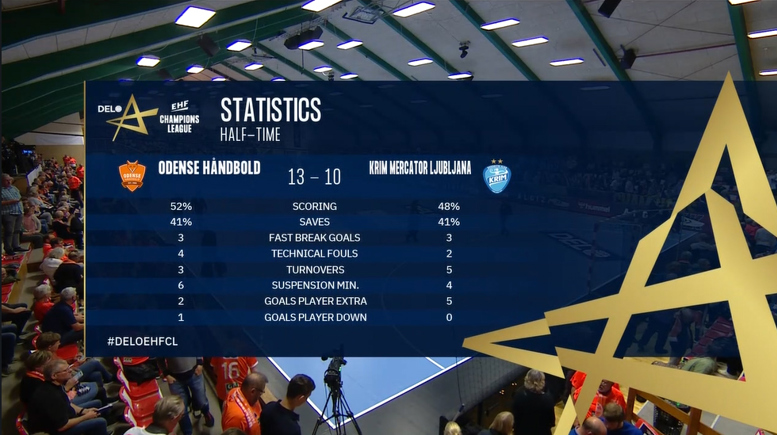 IK SÄVEHOF 11:17 KASTAMONU BELEDIYESI GSK
Kastamonu are well on course for that first win of the season. They're just dominating Sävehof. Goalkeeper Merve Durdu stands out in particular for a 42 per cent save efficiency, but Sára Kovárová's five goals also helped.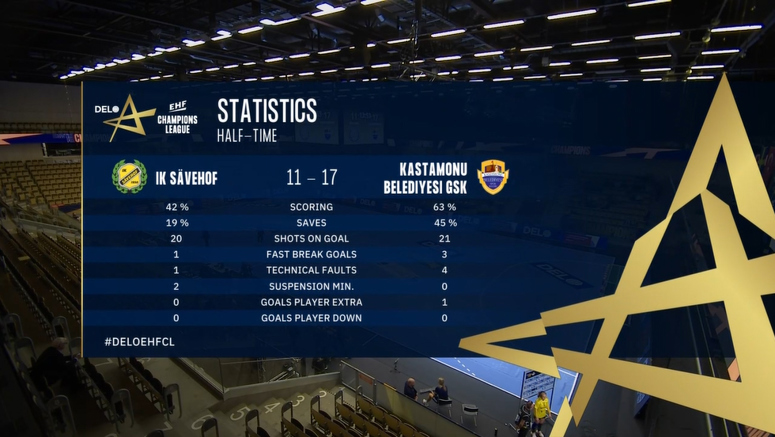 16:23
Odense's defence looks solid against Krim. Goalkeepers Althea Reinhardt and Jovana Risovic are helping to keep the scoreline on the low side, with Risovic saving six shots so far and Reinhardt 10 in 20 minutes.
16:08
Sára Kovárová has scored three times already for Kastamonu, giving the visitors a lead over Sävehof. This is the way they need to attack if they are to pick up their maiden DELO EHF Champions League points tonight.
Odense scored three times before Krim found the net, but a two-minute suspension for Mia Rej seems to have given the visitors a boost and they now trail only by two goals.
16:00
With the matches about to throw off, check out the lineups. 
Odense vs Krim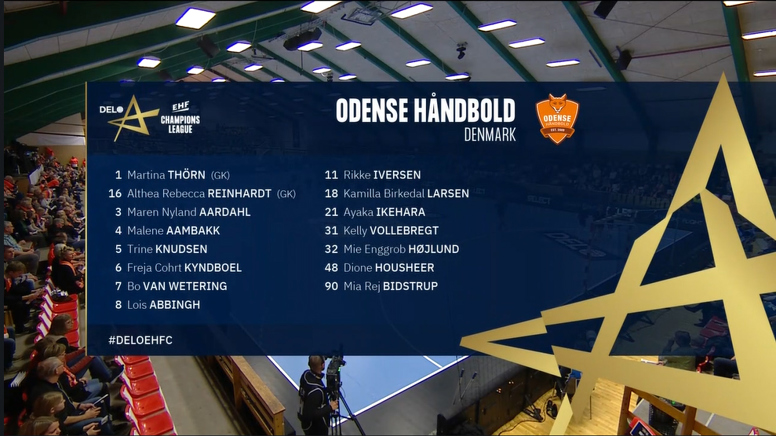 Sävehof vs Kastamonu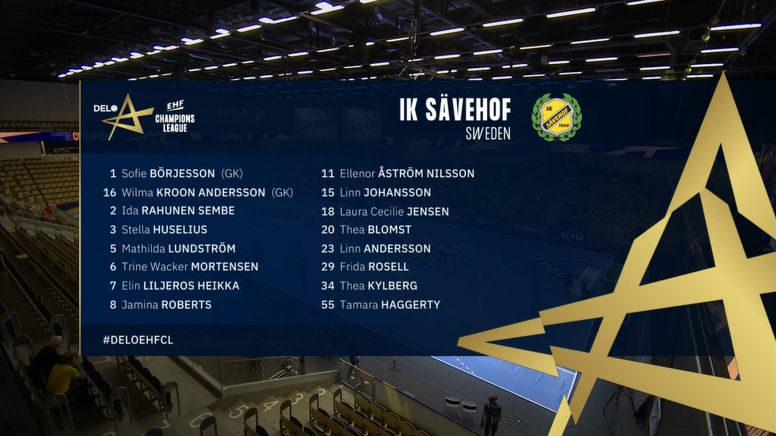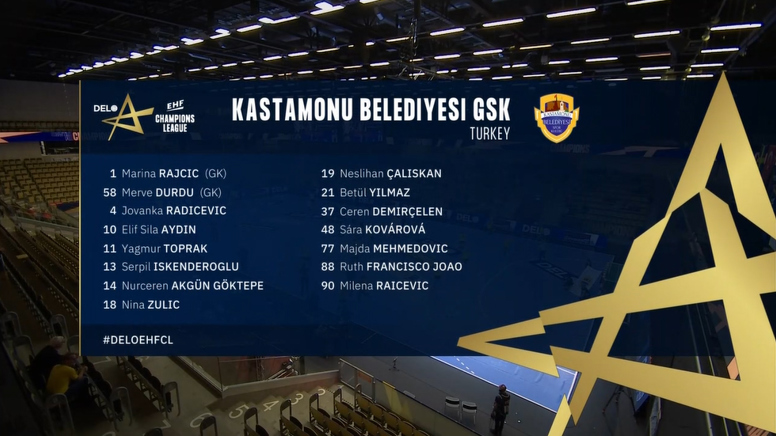 15:45
The last two games of the round throw off soon. They're both in group B. 
Odense Håndbold will meet Krim Mercator Ljubljana for the first time and will be hoping to secure their first home win - so far, they've lost their home encounters, but won away. Krim have one win so far, also away to Kastamonu. 
The visitors are missing right back Oceane Sercien Ugolin, who collapsed at the end of last week's match against Metz but has been released from hospital.
There is another first-time meeting on too at 16:00 CEST as IK Sävehof host Kastamonu Belediyesi GSK. Sävehof are seventh in the group and Kastamonu eighth, with the Turkish debutants having lost all their matches so far. 
Before this round Sävehof's Jamina Roberts was the joint top scorer of the competition alongside Alina Grijseels from Dortmund, with 33 goals. Grijseels scored five times yesterday so now leads the rankings with 38 goals, two more than Vipers' Nora Mørk. 






15:30 | FULL-TIME
Alicia Gogirla nets a penalty and the match is over. Buducnost are still looking for a win this season, while CSM Bucuresti move up to fourth in group A with six points, ahead of Dortmund whose two losses have pushed them well down.

15:20
The gap here isn't changing much despite Jovana Kadovic's best efforts, and with five minutes left CSM hold a nice seven-goal advantage that should see them safe home.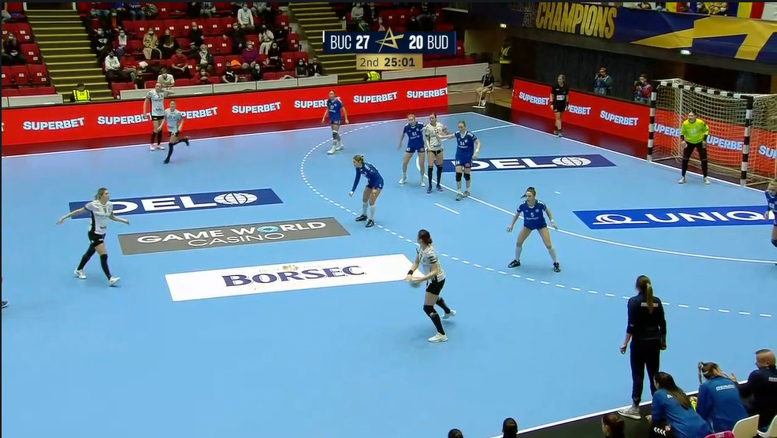 15:10
Things just aren't going Buducnost's way. There's a glimmer of hope as Ivona Pavicevic rescues the ball from being turned over, but her low shot is just snatched from the goal by Tess Wester. CSM are scoring more easily and showing their superiority in attack and defence.
15:02
Both teams have switched out their goalkeepers for the second half, so we have Tess Wester on for CSM and Jovana Kadovic for Buducnost. Kadovic has made a couple of sensational saves in the last few minutes.
14:57
Stalemate in the first four minutes of the second half as neither team manages to score, and Ema Ramusovic is given a two-minute suspension. Valeriia Maslova finally breaks through for Buducnost, but CSM regain momentum - first with a Cristina Neagu penalty, then a steal and a goal from Alexandra Dindiligan.
Apart from a 5:0 unanswered run that threatened to ruin CSM's afternoon, Buducnost produced too little to really stop the rut to their start of the season. CSM started brightly, but faltered between the 15th and the 20th minute. They still need to work out their chemistry and find a bit of consistency at times. Yet this is their game to lose.
14:38 | HALF-TIME
CSM BUCURESTI 14:10 BUDUCNOST BEMAX
Buducnost have avoided this being a complete whitewash in the first half, regaining some composure after going down by five goals. Ivona Pavicevic scored three goals in quick succession and is the visitors' top scorer so far. For the home team, Elizabeth Omoregie has netted four from four. Cristina Neagu has scored twice, but as usual is also playing an integral role to her team's performance.


14:25
Buducnost have got themselves together, and fought back into the game - it's 10:8 to CSM right now. Adrian Vasile takes his first timeout, encouraging his team to work together better.
14:10
Bojana Popovic has called her first timeout after a poor start to the game. The only goal Buducnost have scored was a penalty by Matea Pletikosic. Meanwhile CSM have netted six and are moving fast and well.
14:00
The teams have been introduced and the EHF anthem played, and it's time for throw-off!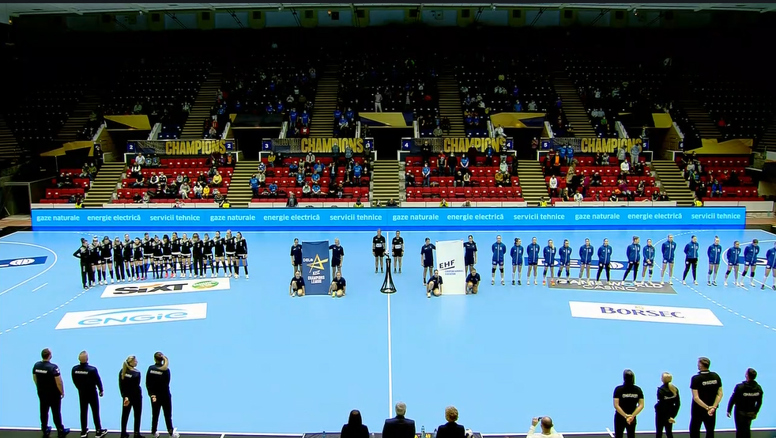 Buducnost is a team in transition with many young players that wish to prove they belong on the big handball stage. They should not be underestimated because their urge to win and their fighting capacity are huge. We have to do everything that is in our power once we step out on the court so that we can obtain our third victory in a row on Sunday.
13:32
Buducnost have shared the squads for today's match on their Facebook page. 
CSM have all three of their goalkeepers in the roster, while Buducnost also have three goalkeepers - all incredibly young. Marija Marsenic (number 16) is just 17. Buducnost are of course one of the youngest teams in the competition this year with an average age of 21.8 years old, just a little older than Sävehof (21.4). 
Both sides' top scorers will feature: CSM's star left back Cristina Neagu has scored 24 goals so far this season, while Buducnost right back Valeriia Maslova has netted 21 times.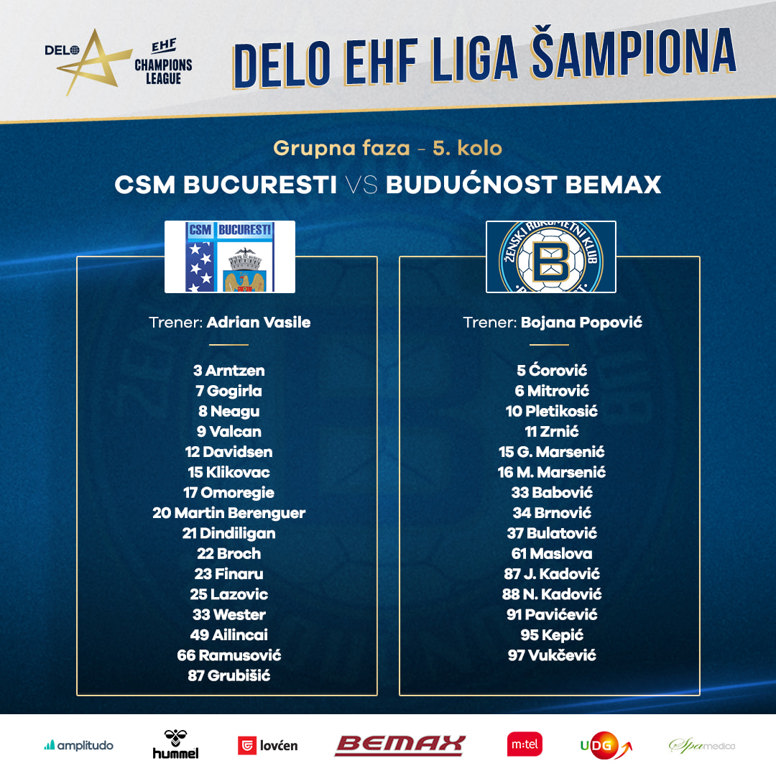 13:15
It's Sunday, and that means more DELO EHF Champions League action.
After yesterday's drama, which saw Györi Audi ETO KC extend their lead at the top of group B and Rostov-Don and FTC-Rail Cargo Hungaria consolidate their lead in group A, we have three matches to play today.
First up at 14:00 CEST, it's CSM Bucuresti vs Buducnost BEMAX. The two sides have played each other three times in previous seasons, with the tally being one win each and a draw. 
CSM did not had a brilliant start to the season, losing their first two games, but they come into round 5 on a winning streak after beating Podravka and Dortmund in away matches. 
Buducnost have had an awful start to the season, with four losses in a row - all by five goals or more. Another defeat today would make it seven losses in a row in the Champions League, their worst-ever streak.
So tune into EHFTV in 30 minutes for the build-up to the match and expect Buducnost to come out fighting. 











SATURDAY 23 OCTOBER
20:20
Make sure you read through the match reviews for the full picture of tonight's exciting DELO EHF Champions League drama. There was a Match of the Week worthy of the name, and some great comebacks in the other games. 
The blog will be back tomorrow at 13:00 CEST ahead of Sunday's three matches:
14:00 CEST - CSM Bucuresti vs Buducnost BEMAX
16:00 CEST - Odense Håndbold vs Krim Mercator Ljubljana
16:00 CEST - IK Sävehof vs Kastamonu Belediyesi GSK
20:10
Györ centre back Estelle Nze Minko, playing tonight against some of her French national teammates and in front of French fans, was named DELO Player of the Match for her seven goals from six attempts (86 per cent accuracy) and four assists. All her goals came from the six-metre line. Nze Minko particularly came into her own in the second half to help Györ secure the lead they needed.


19:35 | FULL-TIME
Despite the crowd getting behind their team with plenty of shouts of "defence!" it wasn't enough for Metz. Györ took advantage of every mistake the home side made in the closing 10 minutes and were able to stay ahead to secure their fifth win of the season. They remain the group leaders.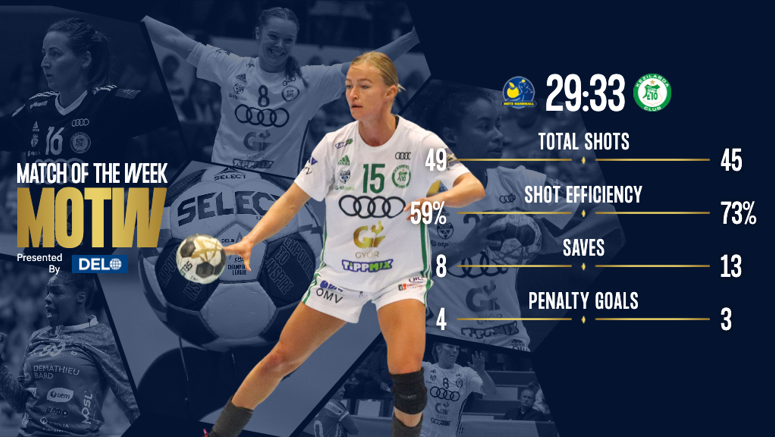 CSKA are overjoyed with their victory against their hosts and the defending champions, Vipers. It was an impressive performance from the Russian club, led by 10 goals from Elena Mikhaylichenko - one more than Nora Mørk for Vipers. 
The result bumps CSKA up in the group B rankings and they are now level with Metz on six points.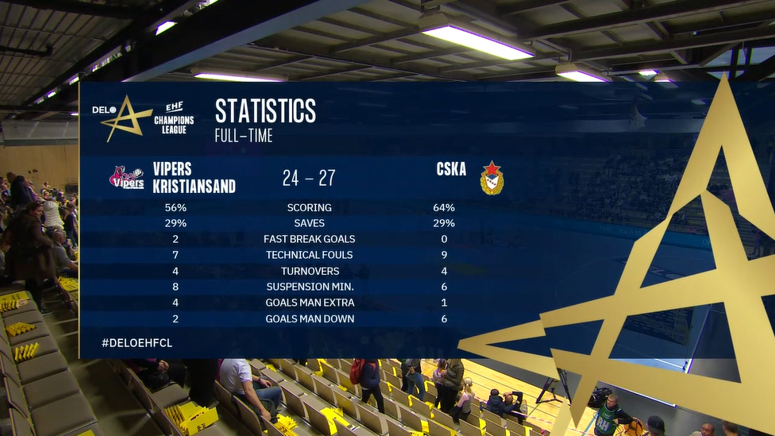 What a second half from Podravka! They fought their way right back into the game, making Esbjerg really battle for the points. But the visitors were able to just hang on. Kristine Breistøl was the standout player, scoring eight times, with Dejana Milosavljevic netting seven times for Podravka, including just before the buzzer.
The win keeps Esbjerg third in group A, behind FTC and Rostov.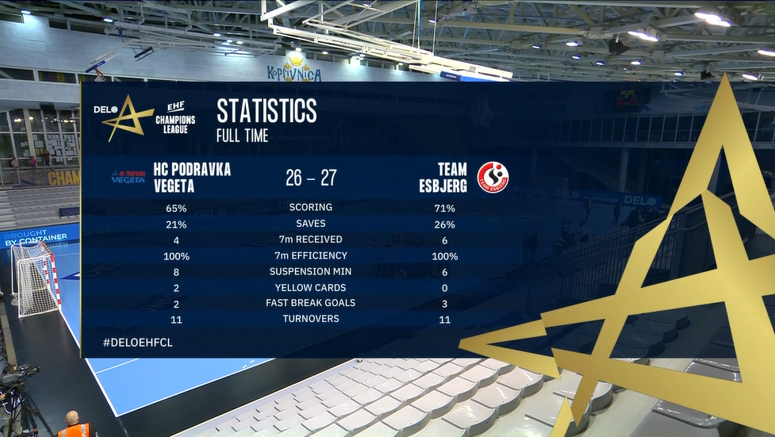 19:18
The crowd go wild as the ball is stolen and Chloé Bouquet scores on the fastbreak to equalise. This Match of the Week is really delivering the unscripted drama we love from the DELO EHF Champions League.
19:15
A really nice gentle lob by Ryu Eun Hee brushes Hatadou Sako's fingers and Györ have a three-goal lead. It's still close, but Metz are making more mistakes than their opponents at the moment and it's costing them.
19:10
"Stay focused," says Emmanuel Mayonnade as he takes Metz through their tactics. Györ now lead by two goals and Mayonnade wants more in attack from his women.
19:02
Györ haven't scored in over nine minutes of this half - Ambros Martin takes the opportunity for a timeout. It's a combination of Ivana Kapitanovic in goal, plus some good Metz defence. Not that Metz are finding it easy to score either, although Bruna de Paula in particular is making plenty of attempts.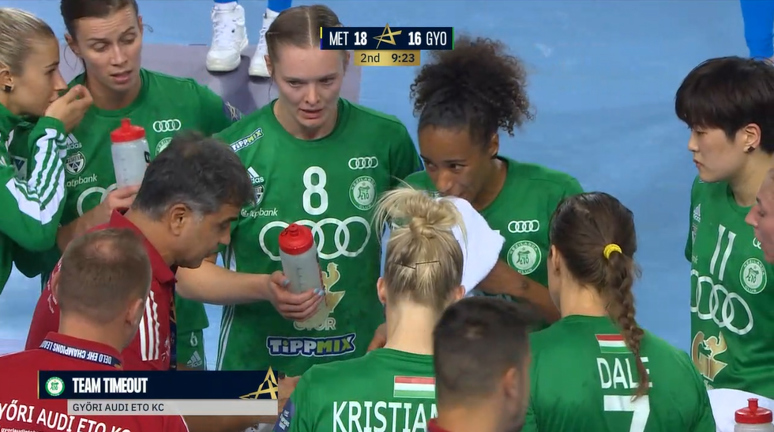 18:55
We're back underway, and it's back level in Metz! An early Camila Micijevic penalty is the only goal scored after four minutes of the second half.
As expected, the match between the two unbeaten sides has been very close and exciting. Both sides had their ups and downs, but with eight players having already put their names on the scoresheet and a few saves by Silje Solberg late in the first half, Györ enjoy a slight advantage at the break. Yet Metz, who are supported by their home crowd, have not given up, and it looks like the tight fight will continue until the closing minutes.
18:45 | HALF-TIME
METZ HANDBALL 15:16 GYÖRI AUDI ETO KC
Although Györ are most certainly the favourites tonight, Metz are not making things easy for their visitors. Meline Nocandy is top scoring with four goals in a game that has seen six Metz players and eight from Györ find the net so far. 
The decision to put Ivana Kapitanovic in goal after a poor start by Hatadou Sako is keeping Metz in it, and the second half should produce plenty of drama.
VIPERS KRISTIANSAND 11:11 CSKA
Katrine Lunde is on fire for Vipers, with 10 saves in the first half. That has helped Vipers stay level with CSKA - Antonina Skorobogatchenko missed five of her eight shots, and only four CSKA players have scored.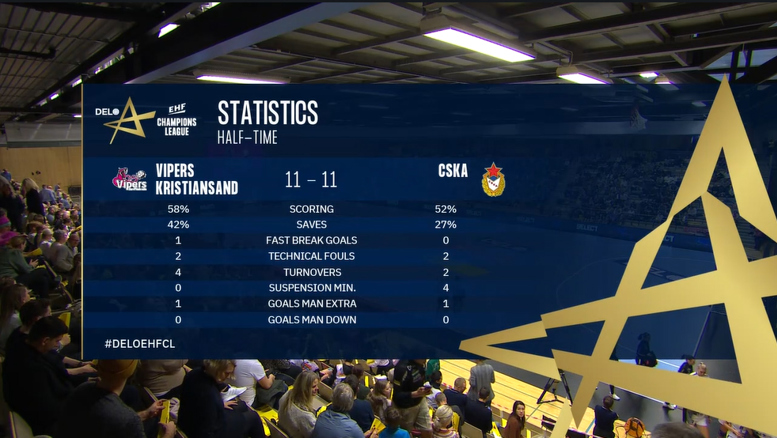 HC PODRAVKA VEGETA 9:15 TEAM ESBJERG
Esbjerg have had a good season so far and they are on track to continue in the same form, with a comfortable lead against Podravka despite bringing a pared-down squad of 11 players to Croatia.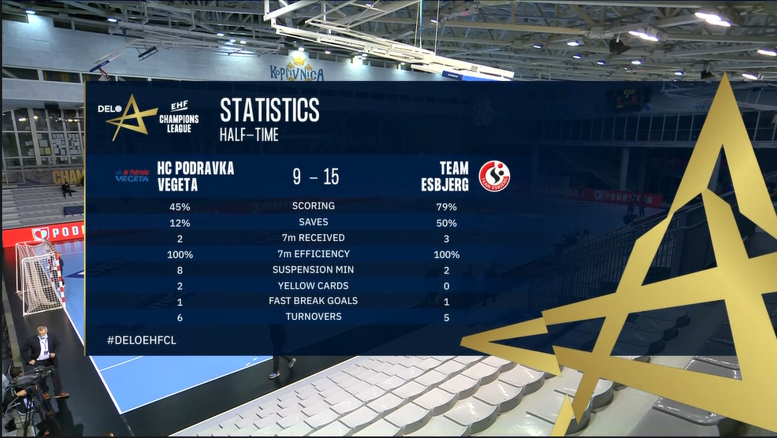 18:32
Györ have found an edge and Metz are playing catch-up - but they are, continually, catching up. 
Ivana Kapitanovic has come on for Metz in goal, but Silje Solberg remains between the Györ posts.
18:22
Wow, neither side can gain control here. Metz looked like they were easing ahead, with a mini-run giving them a two-goal lead. But a well-chosen timeout then gave Györ the momentum and now they lead by one. 
18:12
Györ's season top scorer Ryu Eun Hee is fouled by Meline Nocandy as she shoots. Nocandy picks up a suspension and Anne Mette Hansen nets the penalty. It's still going end-to-end though, and Astride N'gouan does not hesitate to equalise at the other end of the court. 
18:09
We're going to focus largely on MOTW in the blog, but if you want to keep track of the other matches, use the EHFTV multiscreen option.
In Metz, it's 4:4 and the yellow-clad fans are right behind the home team.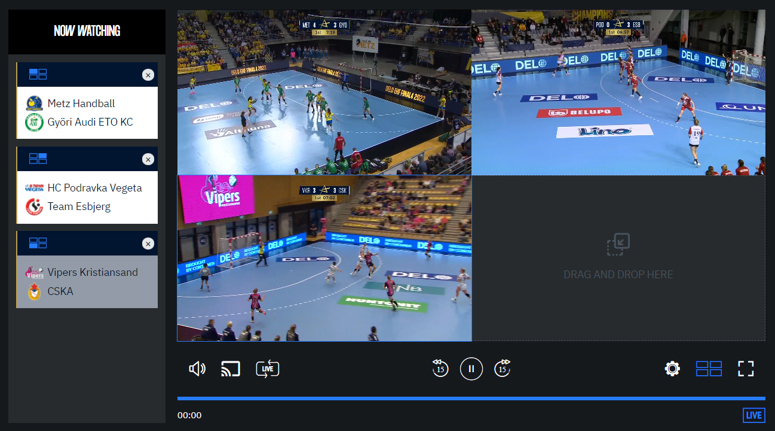 18:00
The matches are about to begin; here are the squads for Match of the Week. Györ have brought three goalkeepers and 12 field players, while Metz have the full 14 field players plus their two goalkeepers.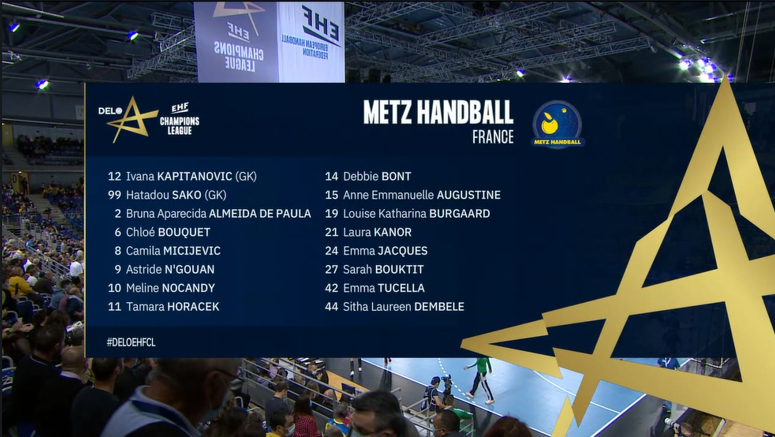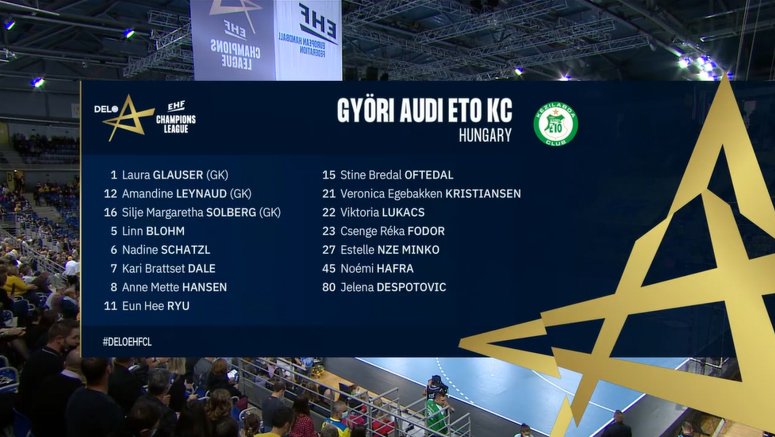 17:44
Don't go anywhere, the Match of the Week is coming up next. There's also a promising game between Vipers and CSKA to enjoy, and Podravka take on Esbjerg.
in round 4, both Metz and Györ claimed away victories, with Györ beating Odense 31:26, and Metz narrowly defeating Krim, 29:28
the last time Metz and Györ faced each other was in the EHF Champions League 2016/17 quarter-final, when Metz won 32:31 at home before Györ took a convincing 28:22 revenge
in seven meetings, Metz have won just once
the only previous meeting between Vipers and CSKA in Europe's top flight took place in last season's semi-finals, when Vipers won 33:30
with 27 and 23 goals respectively, Vipers' Nora Mørk and Ragnhild Valle Dahl are among the 10 top scorers of the season
Esbjerg can extend their unbeaten run to three games, after they jumped to third place in group A with five points — only one behind leaders Rostov
after a winning start against Buducnost, Podravka have conceded three losses on the trot and dropped to seventh place in the standings
17:32 | FULL-TIME
Brest clawed it back to one goal with a minute left, and in a timeout Pablo Morel set out a plan to win a point. But Brest fumble the attack, lose the ball and with it the game. FTC keep their perfect unbeaten record and pick up the two points.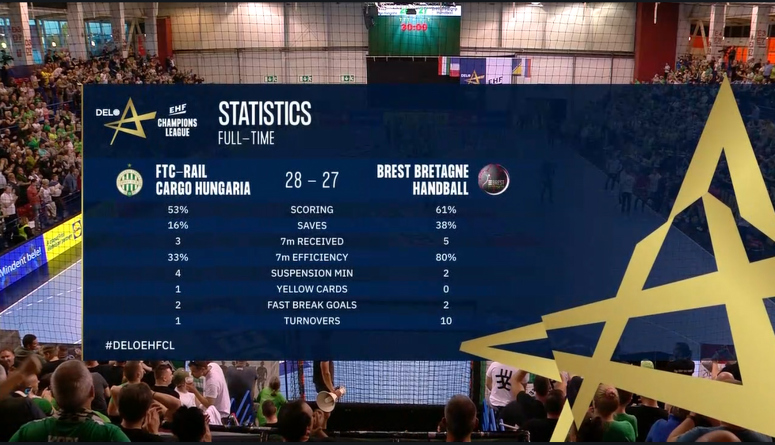 That 10-goal win is Rostov's highest score so far this season, and it's Dortmund's second loss in a row - although not their lowest score. They shot nearly as many times as Rostov, but the Russian goalkeepers were simply more effective and that made the biggest difference.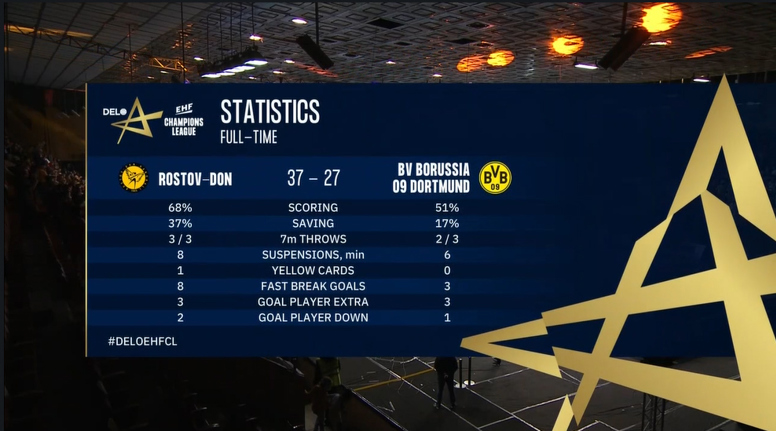 17:22
Alina Grijseels has finally managed to score, netting three times in the last 10 minutes, but against a rock-solid team performance by Rostov it's not helped much. The Russian side are guaranteed their biggest win of the season.
17:15
FTC end a period of nearly five minutes with no goals for either side as Emily Bölk scores her eighth of the game, and the hosts lead by three. Their strong start to the half means they are now in control, and only need to hold on for another seven minutes to take the points. 
Don't rule a Brest comeback out though ...
17:05
Nothing Dortmund are trying is really working and coach Andre Fuhr is looking a touch anxious as Rostov's lead extends into the double digits. After the German side's winning run ended last week against CSM Bucuresti, another loss now seems inevitable.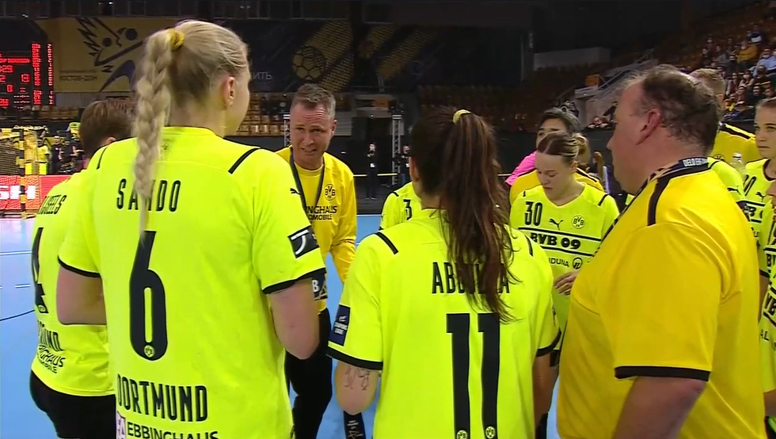 17:00
A fairly early timeout in the second half by Brest's Pablo Morel, as FTC again take a one-goal lead following a 6:3 run from the hosts. Kinga Janurik is in goal for FTC and she seems to be finding her mojo a bit too, which will help the hosts to keep the momentum.
Brest look to have found their attacking mojo back, after a slow start to the season. They scored 35 goals in the last game against Podravka and their attack has carried them to a superb lead after putting 17 past FTC-Rail Cargo Hungaria in the first half. Their 3:0 run to end the first half was crucial and it could really be the turning point of the game. As for the hosts, they will need more from their defence and, surely, other players to step up except their backs, who provided 12 of the team's 15 goals.
16:40 | HALF-TIME
FTC-RAIL CARGO HUNGARIA 15:17 BREST BRETAGNE HANDBALL
Brest go into the dressing room with a two-goal lead after a penalty on the buzzer, scored by Alicia Toublanc. The right wing is leading the scoring with six goals from six attempts, and the visitors are looking pretty good against their hosts.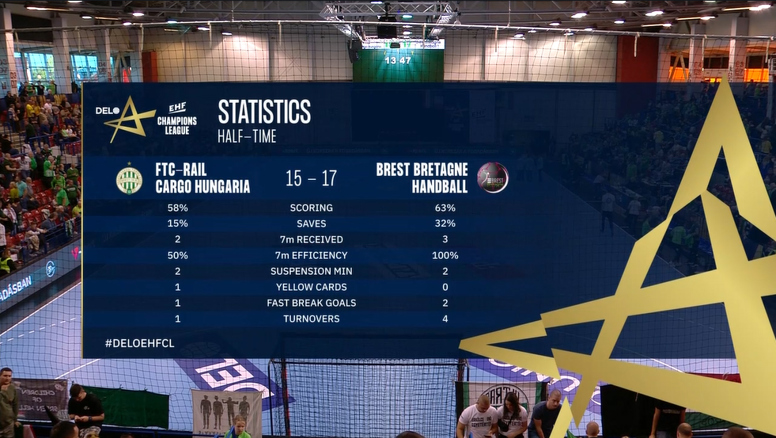 ROSTOV-DON 17:11 BV BORUSSIA 09 DORTMUND
Rostov look set to take another two points in what has been a fairly dominant performance by the hosts. They're leading on almost all metrics. 
Grace Zaadi Deuna is top scorer so far with five goals and her teammates Iuliia Managarova and Polina Kuznetsova have netted four times each - all more than any of the Dortmund players. Dortmund's top scorr of the season, Alina Grijseels, is yet to find the net with two missed attempts.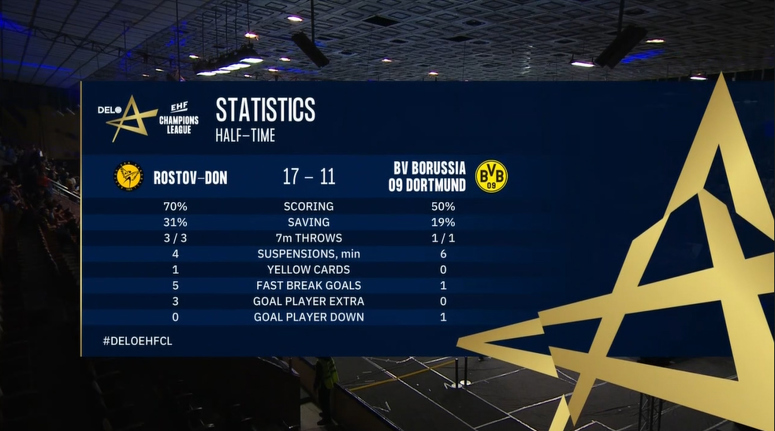 16:30
With a bounce Emily Bölk equalises for FTC in an incredibly close game. When Katrin Klujber follows up a minute later, Pablo Morel calls a timeout for Brest - are the hosts about to gain control, or can the visitors immediately level things up again?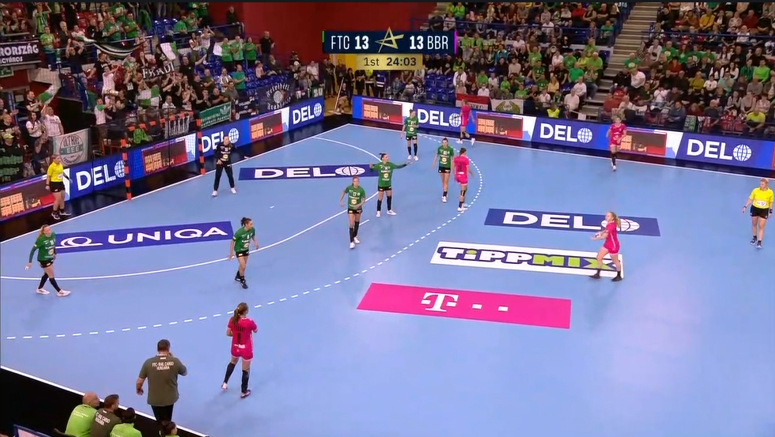 16:17
None of the goalkeepers are having a great day so far - there's only one save apiece, apart from Blanka Bíró who hasn't managed to stop a single shot yet. 
Polina Kuznetsova, on the other hand, is playing superbly with four goals already. That's helped Rostov move to an 8:4 lead, causing real problems for Dortmund.
16:08
Rostov have had the better start against Dortmund - an early two-minute suspension for Mia Zschocke, shortly after she'd scored Dortmund's first goal, did not help. 
Brest have brought the fight to FTC, and lead by a single goal with seven and a half minutes played.
15:55
Five minutes until throw-off. Here's a reminder of the group A standings at the moment - will FTC and Rostov still be top of the group after 60 minutes of handball?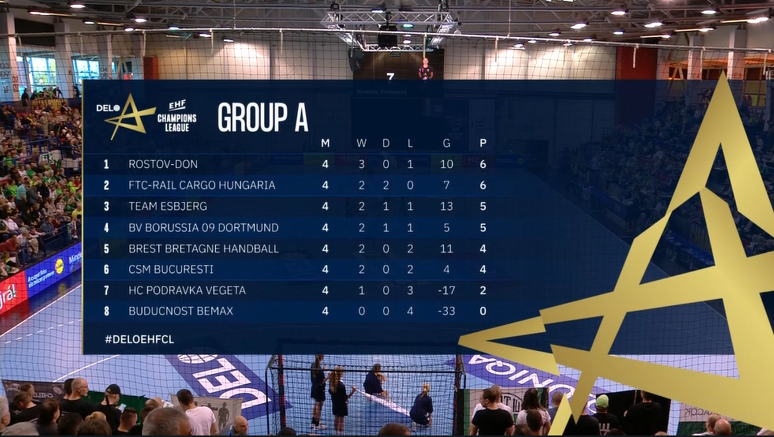 15:40
Build-up coverage of the first two matches will begin soon on EHFTV. Here are a few facts to whet your appetite for the games.
Rostov and Dortmund have never played each other before
historically, Rostov have the second-highest winning percentage in the DELO EHF Champions League, having secured 58 wins in 85 games, or a 68.2 per cent rate, just behind Györ, who are at 75 per cent
Dortmund back Alina Grijseels is tied with Sävehof left back Jamina Roberts on 33 goals after four rounds as the tournament's top scorer
FTC and Brest have also never met before
FTC are one of the three unbeaten teams in the competition, alongside Györ and Metz from group B
Brest are still trying to win their first away game this season, after losing to Rostov (24:26) and Dortmund (27:30)
15:25
Before things get going you have time to head to Instagram and watch the DELO Superfan talk with Metz's Camila Micijevic, who as usual was all smiles ahead of the Match of the Week. Find out about her expectations for the match, and also why she's wearing a fetching red beret.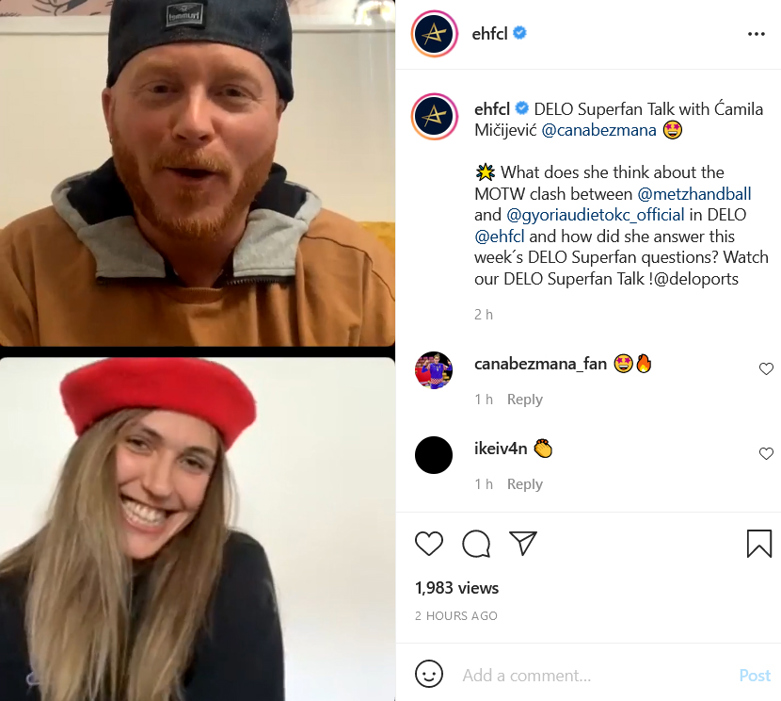 15:15
Good afternoon and welcome to the live blog for the DELO EHF Champions League, round 5. 
We start today with two group A and two group B matches, all from the top of the tables. At 16:00 CEST group A leaders Rostov-Don host fourth-placed BV Borussia 09 Dortmund, while second-placed FTC-Rail Cargo Hungaria take on fifth-placed Brest Bretagne Handball.
Then at 18:00 CEST we have a fantastic Match of the Week, featuring group B leaders Györ visiting second-placed Metz. Both sides have perfect records (Metz have a game in hand). At the same time, Vipers Kristiansand host fifth-placed CSKA, while Podravka play Esbjerg in group A.
Check out the round preview for all the facts and stats for the weekend's action.