EHF Champions League
Summary: Odense run away with MOTW; Esbjerg beat Rostov
The DELO EHF Champions League 2021/22 returned for round 6, with four matches on both Saturday and Sunday the 30th and 31st of October. The live blog also brought you all the coverage, with the Match of the Week between Odense and CSKA on Sunday to end things on a high.
SUNDAY
18:32
Round 6 is over and out. Here are the full set of results from that round. A big round for the Scandinavian sides, with Vipers, Odense and Esbjerg all picking up wins. Sävehof the only remaining Scandinavian side didn't join the party as they had a tough night at the office with their result against Györ. Dortmund picked up their biggest-ever win in the competition with their 38:14 win over Podravka. FTC keep their unbeaten run intact! Both Hungarian sides are the only two sides still without a loss. 

We will see you for round 7 on the weekend of November 13th/14th, with next weekend being a DELO-EHF-Champions-League-free weekend.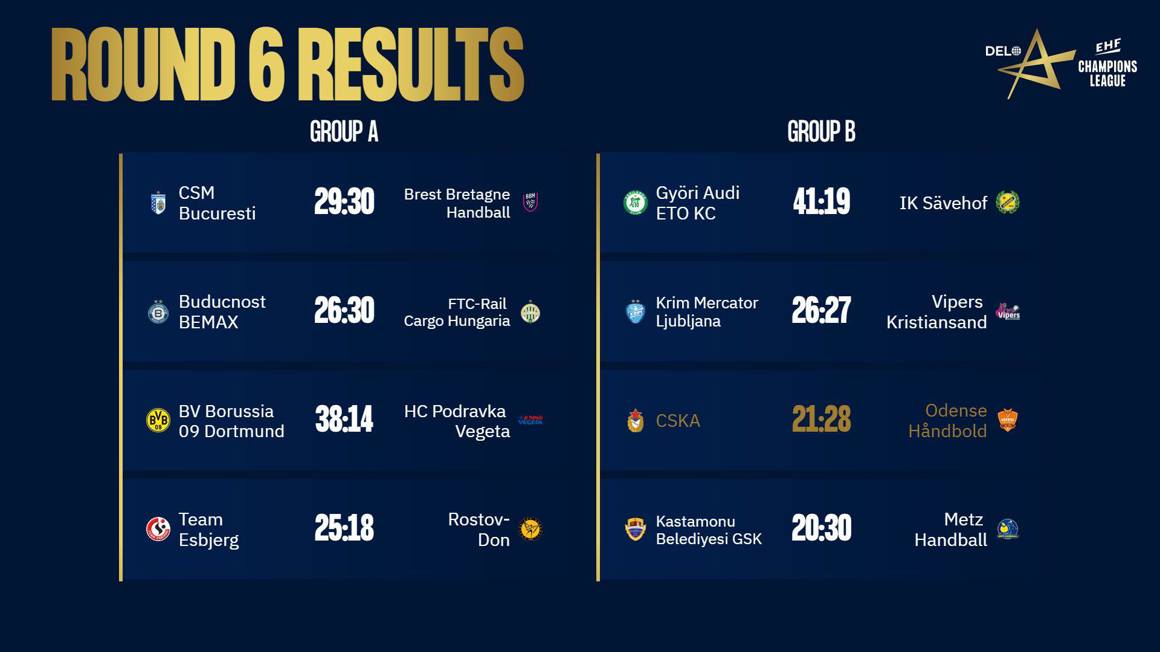 It was hard and was played at a high speed which we like to play so that was definitely an advantage for us. We got the defense in order in second half which meant that we could make some fast and easy goals so we could spare some energy. We are really happy about the win today.
17:44
A hugely impressive second-half outing by the Danish side. Mia Rej's dominant performance in front of goal with her 8 goals and how she pulled the strings from centre back in the Odense backcourt saw her pick up player of the match, congrats Mia!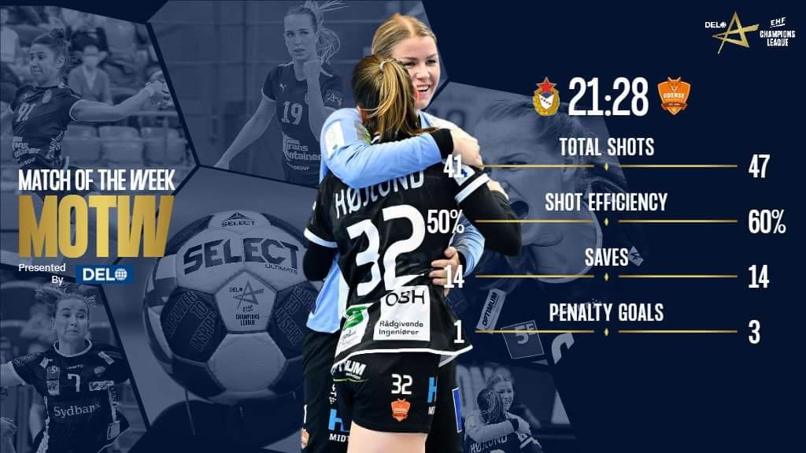 17:25
RESULT: CSKA 21:28 Odense HÅNDBOLD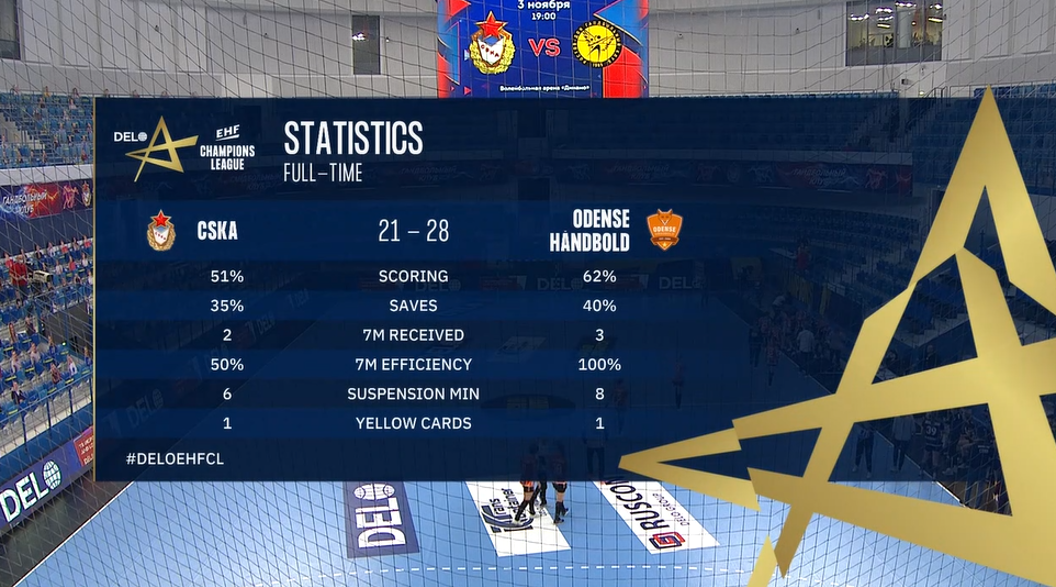 17:21
CSKA have gotten that monkey off their back but the game is well over now. That run mid-way through the second half killed off the game. CSKA will have very hard lessons to learn from this tie. They were in this game up until the 36th minute when the game was poised at 15:15. But at this level if you don't hit the net for 17 minutes, your game is well over. 
17:14 
Another shot, another miss for CSKA. They are starting to look desperate now for that 16th goal. Mikhaylichenko needs to cool her jets, she is launching shots from all over the place and isn't hitting the net. She has missed five shots in the second half alone... 
17:10
Total disaster for CSKA. A 7:0 run for Odense and suddenly the game looks out of sight. A team-time out by CSKA and the message was very simple from head coach Constantin Pera "we need to score now". But even the pep talk was no good with CSKA missing their next attack.  

CSKA have not score now in 13 minutes.
16:58
This is enthralling stuff. Each time CSKA get close Odense find a way to up the tempo and pull ahead once again. Mia Rej is pulling the strings well in attack and netting at will, she is 5/6. 17:15 to Odense.
16:35
HALF-TIME: CSKA 13:14 Odense HÅNDBOLD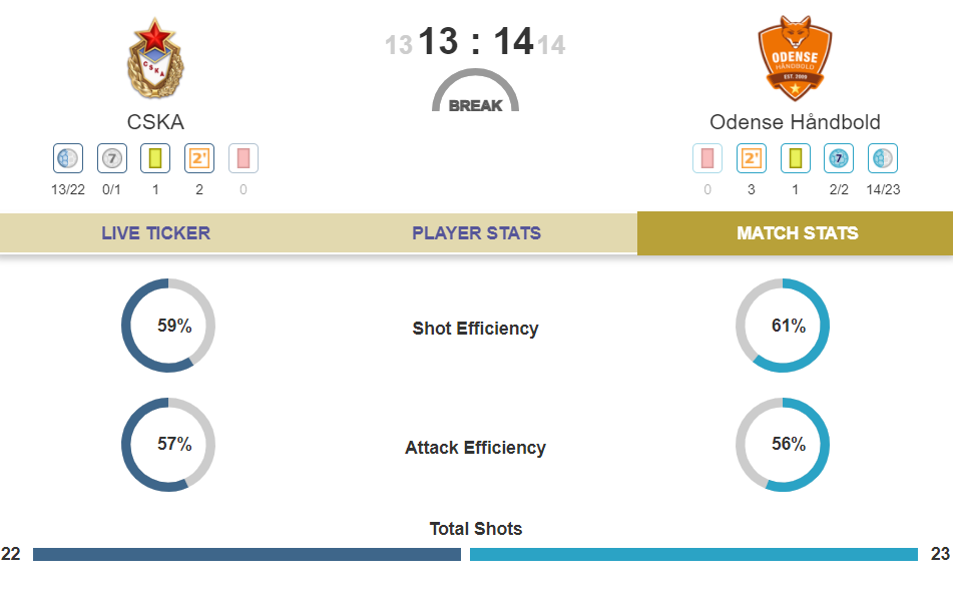 16:31
Odense restore a one-goal lead after a seriously frantic few attack and defence sequences. Steals and blocks galore and there is no holding back in defence with both sides putting in big hits; this is reflected on the two-minute suspension counter which is 2 for CSKA and 3 for Odense. 
16:25
Huge save by Odense's Reinhardt! After losing Knudsen for a two-minute suspension that save seems even more valuable. it's CSKA 10:11 Odense. 
16:17
Ouch! Ilina missed a penalty; I really felt that would have been an important goal with Odense drifting ahead. CSKA need to sort out their turnovers as they have had three already and the Danish side are really punishing each mistake. CSKA 7:10 Odense. 
16:12
Tense start in Russia! Odense take an early lead 7:6 over the CSKA. The hosts call a time-out with Romanian head coach Constantin Pera calling for the girls to focus on a combination of three attacking moves. Let's see if the pep-talk can open up this Danish defence. 
15:51
It is that time of the week again! It is Match of the Week time! CSKA vs Odense is going live now in 5 minutes over on EHFTV. So join us here and on Instagram stories for all of the coverage you cannot get from watching the game! 
15:41 
In the other result from the 14:00 throw-off, Borussia Dortmund picked up a massive 38:14 win over Podravka, with Alina Grijseels netting an amazing 15 goals from 15 shots. She is really starting to cement herself as a name in the DELO EHF Champions League. It cannot be many times in the history of the league that a player has score more goals that the entire away team. 
RESULT: Team Esbjerg 25:18 Rostov-Don
It wasn't the smoothest or flashiest game you'll ever see, with both sides picking up a lot of errors, but it was the defensive effort from the Danish hosts that made the difference today. In attack Marit Jacobsen was on fire netting all of her chances 8/8 and of course Norwegian superstar Henny Reistad, was as always deadly in front of goal netting 8/12. It wasn't Rostov's day in attack with Grace Zaadi having some moments (5/7), but overall the Russian side will need to regroup ahead of their next tie against Podravka in round 7. 

Esbjerg now move to second in group A just one point behind group leaders FTC. Rostov slip back to third in the group following today's loss.  
15:26
Dinah Eckerle seems to be getting better by the second. She just pulled off save of the game so far. Rostov on the fast break Smirnova with loads of time and space and Eckerle explodes to meet her stopping the ball with her right hand. What a stop! 23:17 for the hosts. 
15:16
This is Esbjerg's day. They are set up perfectly for the Rostov attack and have nullified them over and over and with a saving percentage of 42% everything is falling into place for the Danish side.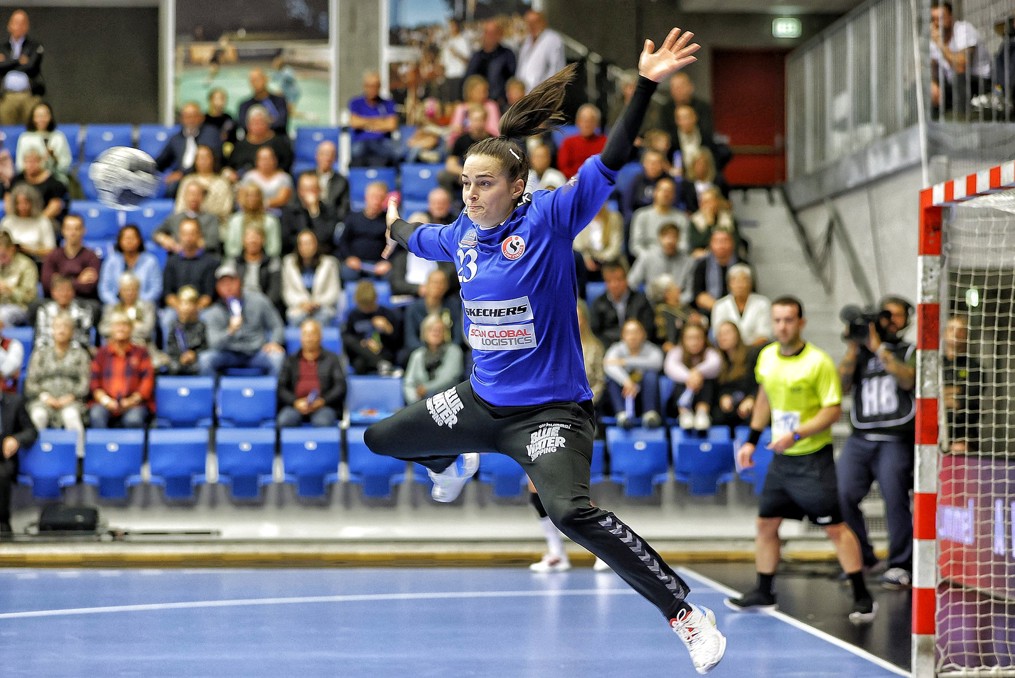 14:49
Anastasiia Lagina for Rostov with 9 saves from 23 shots (39%) and Dinah Eckerle with 6/18 (33%) is probably the two most important stats of the first half. Should one of the keepers continue this form in the second it could be the deciding factor. Rostov will be counting their blessings with Lagina's performance as without her in the first half, they could be 5/6 behind. 
HALF-TIME: Team Esbjerg 13:10 Rostov-Don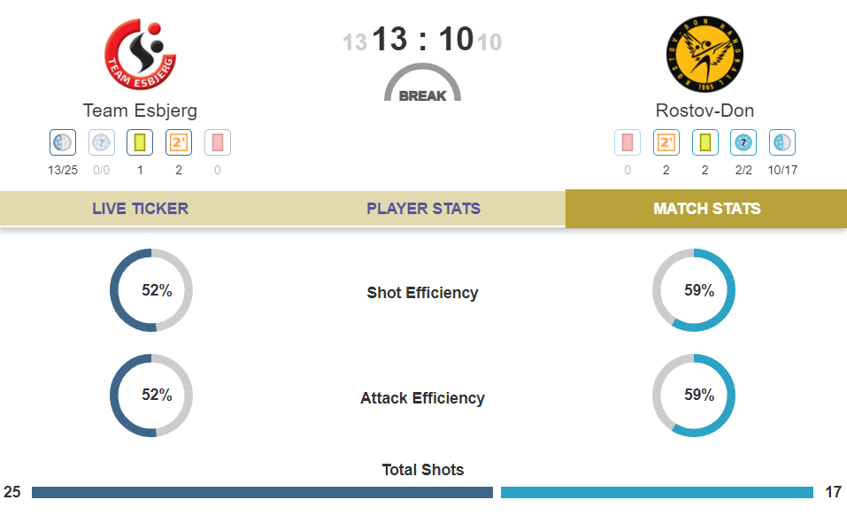 14:33
Just as it looked like Rostov had their game faces on, a few really poor pieces of play open the gap once again for the Danish side. Henny Reistad was just allowed to take a free shot from eight meters uncontested as she netted her second of the day. Grace Zaadi didn't know where she was going with one of her moves in attack and the unexpected sight of Tazhenova free on the line caused some panic in the French international's mind and she turned the ball over gifting Jacobsen an open-goal shot, bringing it to 12:8.
14:22
I must say, while it is no goal spree, this is a very good start for Esbjerg defensively. The Rostov backcourt look a step behind and are being really held up well in one vs one sitations. And all of this is showing on the scoreboard with the Danish side leading 6:4. Low scoring but one for the defensive nerds out there! 
14:10
A very messy start here in Denmark. Poor shooting, wild passing, blocks and hitting the wood work, means we have only seen 7 goals after 10 mins. It is currently Esbjerg 3 Rostov Don 4. 
14:00
It is throw-off time! We will focus on Esjberg vs Rostov Don for the blog. And check this out, the Russian side has made a spooky graphic for their line-up right in time for Halloween. Is there something spooky in the air for today's game?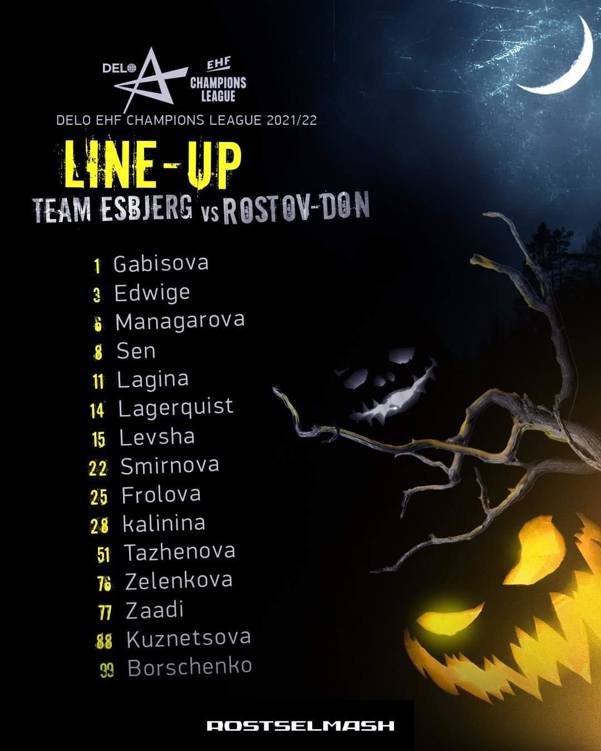 13:44
With only 15 minutes to go to throw-off we look a little deeper into what these first two games bring to the table: 

BV Borussia 09 Dortmund vs HC Podravka Vegeta
After a strong start to the season, Dortmund sit now in fifth place in the group after two losses in a row, against CSM and Rostov-Don. This game will be key for the German side if the plan to get over their drop in form recently. I do expect a big response from them today. For Podravka it will be the first game in charge for new coach Goran Mrdjen. Will we see their squad rise to the buzz of the new appointment? 

Team Esbjerg vs Rostov Don
Here is the game that we will focus on for the Live Blog. This could be a pivotal game for the group standings, with Rostov back in first place, with eight points, and Esbjerg one point behind in third. A lot hangs in the balance so we can expect some fireworks come 14:00 (CEST). After being hit by an injury crisis, Esbjerg will welcome the returns of backs Mette Tranborg and Henny Reistad, so that is a massive boost for the Danish side. 
13:20
Welcome to today's coverage of the DELO EHF Champions League! We have four great games coming up starting with two matches at 14:00 (CEST) and a further two at 16:00 (CEST) including MOTW between CSKA & Odense! Anja Althaus sat down with CSKA's Sara Ristovska in our DELO Superfan chat ahead of today's highlight match so that's probably the best place for you to start and get the build-up underway!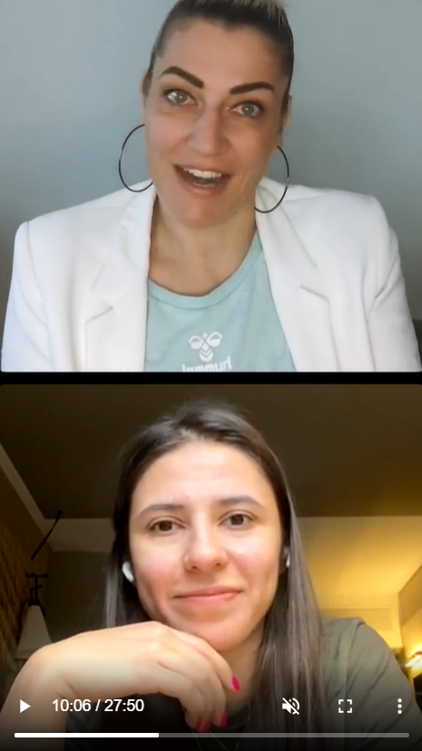 SATURDAY 30 OCTOBER
20:20
A fascinating evening of handball comes to an end, and the competition's two Hungarian teams can look back with satisfaction as they stay on course for success. 
Tomorrow, the games get underway at 14:00 CET. Note that daylight saving ends tonight in Europe, so if you're reading this from a timezone that doesn't change its clocks, everything will start an hour later than usual. If your clocks change, there's no need to worry, just tune in for 14:00!
On the agenda:
14:00 CET: Esbjerg vs Rostov-Don
14:00 CET: Dortmund vs Podravka
16:00 CET: Kastamonu vs Metz
16:00 CET: MOTW - Odense vs CSKA
20:10
The top scorer rankings have all changed again after some storming performances tonight.
Vipers' Nora Mørk now leads after her 11 goals against Krim, putting her up to 47 overall. Jamina Roberts is still second, despite scoring just five times for Sävehof tonight. Cristina Neagu is third, with her 10 goals giving her a season total of 40.
Alina Grijseels is the only player in the top five not to have played today, and is likely to challenge Mørk for top spot based on her form so far this year when Dortmund meet Podravka tomorrow.
See the full top 50 here.

20:00
FTC take the lead in group A with 10 points after tonight's win against Buducnost, ahead of Rostov's visit to Esbjerg tomorrow. If Rostov win that match, they will go back to top spot based on goal differences, but if Esbjerg win, FTC stay top with Esbjerg second. 
CSM and Brest are now, amazingly, level on both points (six) and goal difference (+11), but Brest take fourth spot in the rankings as they beat CSM. 
In group B, Györ consolidate their lead - they now have a perfect 12 points, double that of any other team. Ahead of tomorrow's games, Vipers are now second with six points and a +10 goal difference, but as Metz, Odense and CSKA all also have six points Vipers will definitely slide down the rankings whatever happens. 
19:45
FTC's victory is their 100th in the DELO EHF Champions League, making them only the sixth team in history to reach this milestone - alongside Györ, Buducnost, Krim, Hypo Niederösterreich and Larvik. 
19:38 | FULL-TIME
Angela Malestein moves ahead of Emily Bölk as FTC's top scorer of the season, netting nine times tonight from 12 attempts. But perhaps it's Kinga Janurik and her impressive save efficiency of 41 per cent - with 14 stops - that really made the difference for FTC. 
While it's Buducnost's sixth loss, it's also the narrowest and for 45 minutes they were toe-to-toe with FTC. It was a decent performance by the Montenegrin side, but leaves them still in search of their first points.
Remarkably, the second half ends exactly as the first - with a direct free throw scored by Alja Varagic. However, Vipers managed to complete their comeback and secure their first away win of the season, thanks mostly to a brilliant second half by Nora Mørk. She scored nine of her 11 goals in the second 30 minutes, giving her team their first away win of the season.
It's the second one-goal away loss Krim have suffered, after round 4's defeat by Metz, when they also led at the break. Clearly more work is needed to ensure they can hold on when they start so well.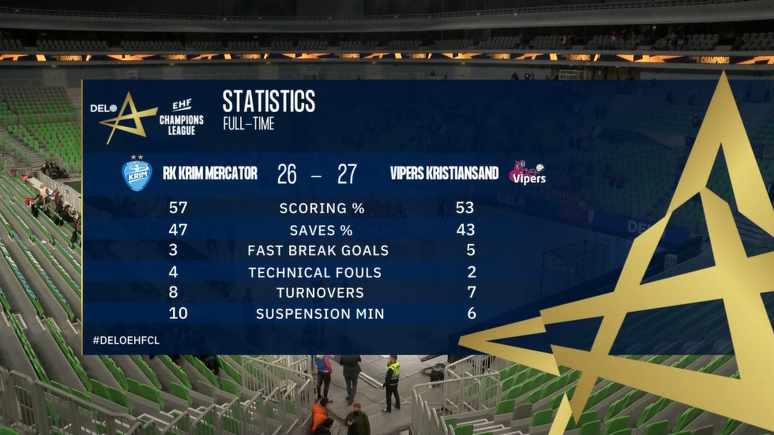 19:20
With FTC now leading, Bojana Popovic is using a seven-on-six tactic to try and level things back up. It's always a risk to leave the goal empty, but it's got Buducnost back to within a goal of their opponents and there is a real match on.
19:13
From a six-goal deficit to a two-goal advantage - Vipers have swept Krim away in the second half so far and with just over 10 minutes left, look like they might deny their hosts the elusive home win they're looking for. 
19:09
The match in Buducnost remains insanely tight. Tatjana Brnovic is suspended - Buducnost's fifth two-minute suspension of the game - and Angela Malestein takes advantage to score. But Ivona Pavicevic wastes no time in equalising, again. 
18:58
That's a better start to the second half by Vipers. A 5:2 run puts them right back in the game. They're being more aggressive and their most experienced players, such as Isabelle Gulldén and Nora Mørk, are beginning to make an impact.
It looks like the change of head coach has given Krim a moral boost. In the first match under Nataliya Derepasko, Tjaša Stanko's goals and Barbara Arenhart's saves have given the Slovenian side a good chance of earning their first points at home this season. Meanwhile Vipers are underperforming, and although they improved in the last minutes before the break, the title holders still have a mountain to climb.
18:40 | HALF-TIME
BUDUCNOST BEMAX 13:13 FTC-RAIL CARGO HUNGARIA
Buducnost go to the dressing rooms level with FTC. An improvement late in the half by Anastasija Babovic, plus a confident period in attack, got them level. We're in for a fascinating second half - is this the day when Buducnost break their losing streak?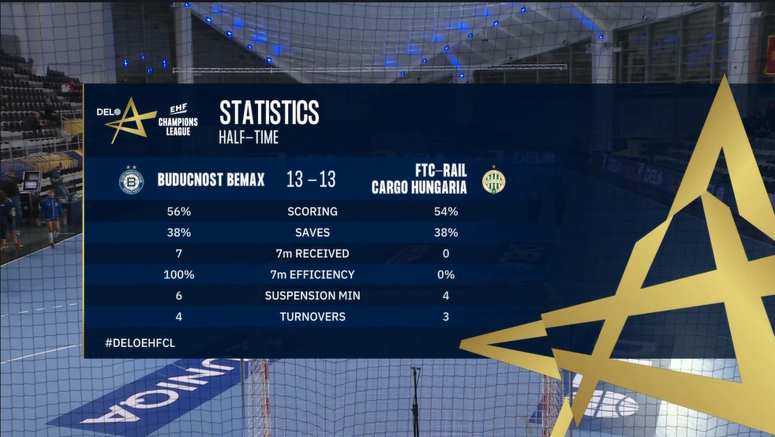 KRIM MERCATOR LJUBLJANA 16:10 VIPERS KRISTIANSAND
That has been an excellent first half for Krim, and a bad one for Vipers. Alja Varagic compounds the visitors' issues by scoring a direct free throw at the end of the half, sending the ball curving around the defensive wall and into the goal. The home team were even eight goals up at one point before Vipers managed to claw back a couple, but the Norwegian club need to find some solutions fast when the match resumes.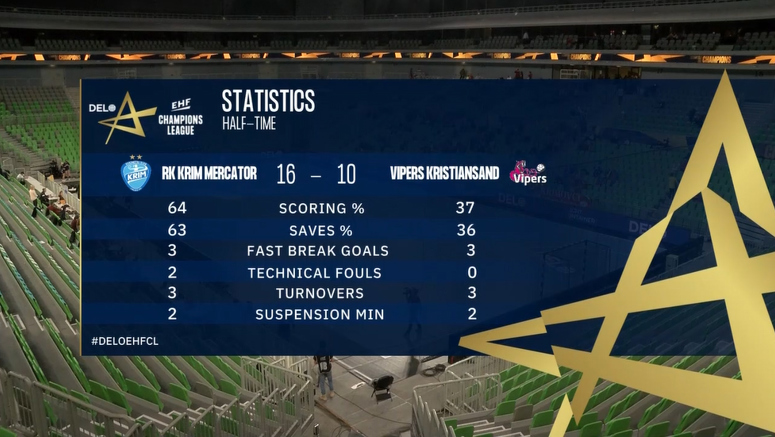 18:30
Buducnost are putting up a good fight against FTC and in fact one of the main differences in the first half have been the goalkeepers, with Kinga Janurik being by far the most effective of the four shot-stoppers to have taken the court. 
18:18
Vipers have won five of their six previous encounters with Krim, but right now it's Nataliya Derepasko's team who are leading. It's helping that Tjaša Stanko and Barbara Arenhart are playing out of their skins, while Katrine Lunde is struggling to save. However, Derespasko takes a timeout to keep her squad on track.


18:04
Krim have taken an early two-goal lead against Vipers, and it's all square between Buducnost and FTC as the teams find their feet.
17:50
And on to the second set of games. Buducnost are hosting FTC in group A, while Krim play Vipers in group B.
Buducnost are yet to win a match, and will remember they eliminated FTC in last season's playoffs. However, FTC have the head-to-head advantage. FTC are also unbeaten this season, with four wins and a draw on their record.
Defending champions Vipers have not had a great start to the season, and lost both their previous away games. However, Krim have not won any matches at home. They play today under their new coach, Nataliya Derepasko, who has taken over from Uros Bregar. Read more about Derepasko in our news story about her appointment.








17:35 | FULL-TIME
With less than a minute on the clock, Cléopatre Darleux saved a shot by Elizabeth Omoregie, handing the advantage to Brest. Pablo Morel promptly called a timeout to tell his team to be calm and that they had time enough - and they did. Kalidiatou Niakate, Brest's heroine tonight, scored a superb buzzer-beater to give her team the win. 
That puts Brest level with CSM on points - both teams now have six, with three wins and three defeats apiece.
Györ take their sixth win in six matches, and it's the biggest yet this season. They were unstoppable, as the statistics show. Sävehof stay on four points in sixth place in group B ahead of the rest of the round.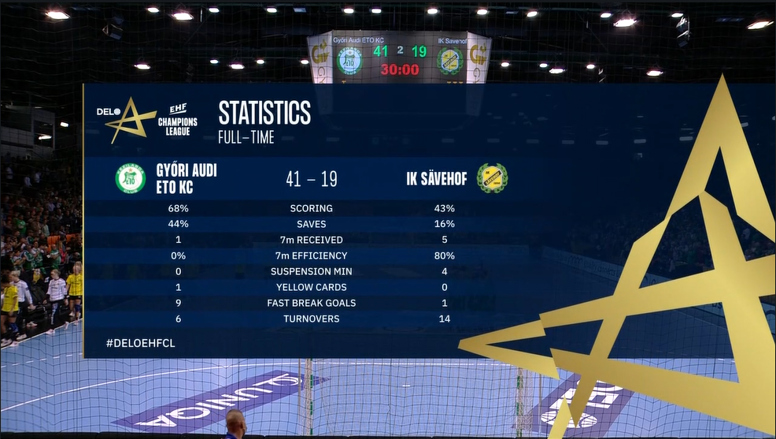 17:21
Into the last five minutes and there's still nothing much to choose between CSM and Brest. Both teams are making a few mistakes as the tension rises.


17:08
Sandra Toft didn't have a bad first half, with a save efficiency of over 30 per cent, but Cléopatre Darleux is in goal now for Brest and is making a big impact. She's stopped five of CSM's 11 shots so far and, despite Cristina Neagu ticking up to nine goals, Brest lead by two.
17:00
Brest came out of the dressing rooms attacking, and soon levelled the match again. It looks like this one will go right to the wire, unless one team can pull out to a more substantial lead. 
In Györ it's a different story. The home team are 13 goals clear of Sävehof now.
Not to overreact, but this is Cristina Neagu's world and we all live in it. The left back's superb form has helped the Romanian side to take the lead in this game, which is looking quite balanced after the first half. CSM had their mandatory dip, which saw Brest take back the lead and erase a four-goal deficit, but the French side, who should be commended for their defensive efforts, are lacking something in attack once again. It has been a theme in away games this season and is also on display today.
16:40 | FULL-TIME
CSM BUCURESTI 16:14 BREST BRETAGNE HANDBALL
Into the 25th minute, Brest briefly took the lead, but CSM dug in and secured the half-time advantage. Cristina Neagu and Kalidiatou Niakate continue to stand out.
GYÖRI AUDI ETO KC 20:9 IK SÄVEHOF
Györ are making this game look easy, with much better efficiency in attack and defence than Sävehof. Linn Blohm, Kari Dale, Stine Oftedal and Estelle Nze Minko have all scored three times in a game that looks set to be one of the home team's biggest wins of the season - unless the Swedish visitors can find a way past the Györ defence and goalkeepers.


16:32
With 25 minutes played, nine of Györ's field players have scored. Anne Mette Hansen and Noémi Háfra are the only ones who haven't, as the record champions settle into a big lead.
16:19
CSM took an 8:4 lead but have since had trouble finding the net. Several missed shots by Cristina Neagu and others let Brest back into the game, with Alicia Toublanc equalising. 
In Györ, the home side have established a comfortable lead over Sävehof.
16:10
What a start to the game in Bucharest. Both Cristina Neagu and Kalidiatou Niakate scored three times in the first six minutes, in a breathless beginning to the encounter. The two sides are living up to their reputation as aggressive attacking teams. 
16:04
Action is underway!
It's worth noting Györ are a bit short-handed today, with 11 field players at their disposal. Crina Pintea and Dorottya Faluvégi are still injured so are missing, and Ambros Martin has again chosen to name three goalkeepers - the dangerous trio of Laura Glauser, Amandine Leynaud and Silje Solberg - in his squad. Leynaud has started the match.
15:50
The build-up coverage for both matches has now begun on EHFTV. As ever, if you can't decide which game to watch there's an easy solution – use the multiscreen option to view both at once. Start watching one match then just click the screen icon in the bottom left-hand corner of the viewer, choose two screens, and drag the second game into the window. Easy.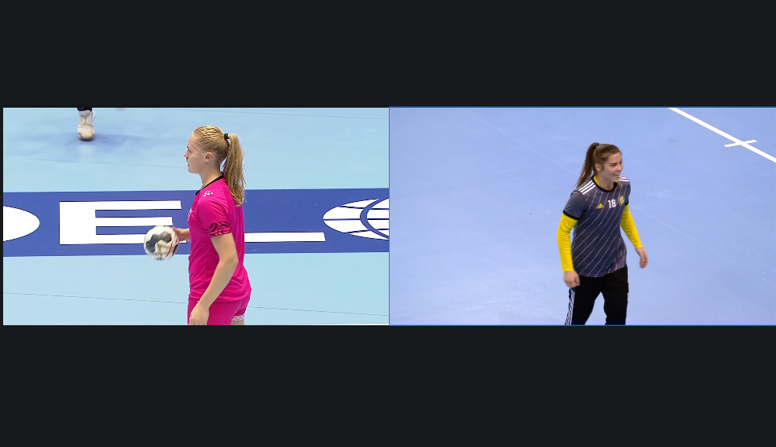 It's going to be a very tough game and a good defence is the key of the game. It's going to be a game with a lot of speed and we need to bring our very best on the court for these two points!
Sävehof is a dangerous team - not big names, but their playing style, fast, aggressive and direct, makes them so dangerous. They could manage to get some important results against more experienced teams. They do not stop fighting.
15:30
In the other match starting off today's unscripted drama, the two most efficient attacks in group A will meet. CSM and Brest have both scored 139 goals so far. Brest have not had much luck away yet this season, and they travel to Bucharest to meet a CSM that have won the last three games.
CSM boast an increasingly effective Cristina Neagu, who after scoring only twice against both Esbjerg and Rostov, netted an average of 8.66 goals in each of the last three matches, for a total of 30 so far this season.
Alicia Toublanc is Brest's top scorer so far, with 24 goals in the first five rounds – two more than Pauletta Foppa.
It is the first meeting between CSM and Brest in European competitions.
15:20
Before the games throw off, check out the round preview which details all the facts and stats for the eight matches ahead this weekend.
For instance, did you know that Dortmund's Alina Grijseels remains the tournament's top scorer, now with 38 goals? She'll get a chance to add to that tally tomorrow, but before then expect Sävehof's Jamina Roberts to move ahead. Roberts has scored 37 times so far these season.
But Roberts and her team come to Hungary to meet the most efficient attack in the competition; Györ have scored 162 goals in total and at least 30 goals per game. Their 19th tonight will be their 7,000th in the Champions League.
15:00
It's almost November and clocks go back across Europe tonight, but if that makes you miserable, here's something to cheer you up - two more days of DELO EHF Champions League drama ahead.
The round will end with the Match of the Week between CSKA and Odense. Both sides are level on six points in group B and last season, each won their home game against each other.
But before then there's plenty of action, with four matches set to go ahead today:
16:00 CEST: Györi Audi ETO KC vs IK Sävehof
16:00 CEST: CSM Bucuresti vs Brest Bretagne Handball
18:00 CEST: Buducnost BEMAX vs FTC-Rail Cargo Hungaria
18:00 CEST: Krim Mercator Ljubljana vs Vipers Kristiansand