SUMMARY: Esbjerg, Györ and Vipers book tickets to Budapest
In the second leg of the EHF Champions League Women 2021/22 quarter-finals, Györi Audi ETO KC, Vipers Kristiansand and Team Esbjerg booked their tickets to the EHF FINAL4 Women 2022 in Budapest on 4/5 June 2022.
coverage of the EHF Champions League Women quarter-finals, leg 2
on Saturday, Györ beat Brest Bretagne 35:23 in the Match of the Week to seal their place in Budapest (aggregate 56:44)
reigning champions Vipers Kristiansand defeat Krim 33:24 in Norway (aggregate 65:49)
on Sunday, Esbjerg qualify for their first EHF FINAL4 after earning a 27:27 draw against CSM Bucuresti (aggregate 53:52)
the draw for the EHF FINAL4 Women 2022 will take place on Tuesday 10 May at 18:00 CEST
18:45
The EHF Champions League Women quarter-finals are complete for this season.
Post-match reaction from Marit Malm Frafjord and Jepser Jensen after Esbjerg's crucial draw against CSM Bucuresti can be found below. As you would expect, Frafjord and Jensen are thrilled that Esbjerg have reached Budapest.
Until the EHF FINAL4 Women takes place on 4/5 June 2022, eurohandball.com and the EHF Champions League social media channels are the best place to stay up to date with all the latest handball news.
I could not have got a better end to my career than playing in the EHF FINAL4 with Team Esbjerg. I am really proud of the team, and I do not know if I understand it yet. We have been working so hard this season and have dreamt of it, so it is really big for us.
It is hard to analyse right now, but two great teams clashed and we knew it was going to be a close match. We are, of course, extremely happy to advance to the EHF FINAL4, but we are also humble about beating such a good club with so many great players.

18:14
There is plenty of time to think about what will unfold in Budapest in June, especially after the draw takes place on Tuesday at 18:00 CEST, but this evening's poll question is which team do you think will win the EHF FINAL4 Women 2022?
18:04
Adrian Costeiu's review of how Esbjerg fought back against CSM Bucuresti to claim the final ticket to the EHF FINAL4 in June is now online for you to read.
Interestingly, Adrian mentions that Cristina Neagu is once again the top scorer in the competition after her seven goals this afternoon.
17:48
Here are Esbjerg's post-match celebrations!
17:45
We said at the beginning of the afternoon that Team Esbjerg could become the first women's team from Denmark to qualify for the EHF FINAL4 since FC Midtjylland in 2013/14. 
Esbjerg's qualification also means that we will have two teams from Scandinavia participating at the same event in Budapest for the first time.
Esbjerg had five Norwegian players in their squad for today's match against CSM Bucuresti. Will they want to face Vipers Kristiansand in the semi-finals? We will probably find out before the draw takes place on Tuesday 10 May at 18:00 CEST if they have any preference regarding their semi-final opponents.
17:38
The all-important aggregate score for Esbjerg fans: 53:52. Esbjerg will play at the EHF FINAL4 Women on 4/5 June 2022, where they will be joined by Györ, Vipers Kristiansand and Metz!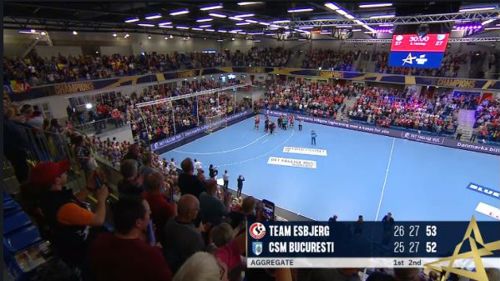 As Emilie Arntzen said in her post-match interview, the two teams played equal but the difference was Esbjerg's one-goal win in the first leg.
17:34
Here is further confirmation of Team Esbjerg's 27:27 draw with CSM Bucuresti in the second leg. The home side will be thankful for Dinah Eckerle's performance in goal in the second half and Kristine Breistøl's exceptional shooting display in both legs.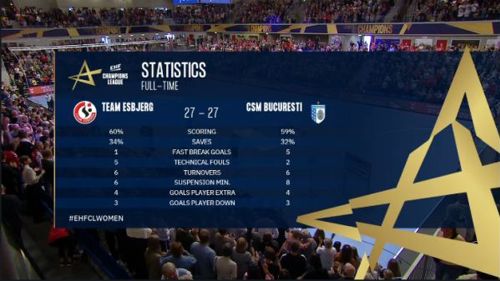 17:30
Siraba Dembele Pavlovic and Malin Larsen Aune score in the final minute to salvage a 27:27 draw in the second leg for CSM Bucuresti, but it is Esbjerg who qualify for the EHF FINAL4 Women 2022 in Budapest. To say that the relief was evident at the final whistle for the home side would be an understatement!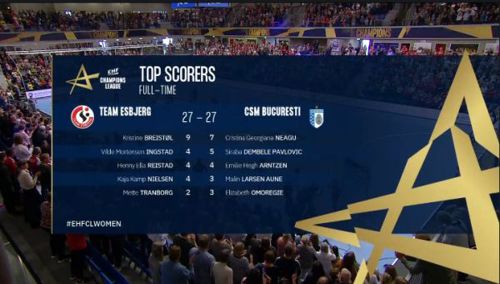 17:18
Carmen Martin fires her breakthrough attempt for CSM straight at Eckerle's body. The home crowd are clapping enthusiastically as their side, who lead 26:23 with just over five minutes left, move closer to the EHF FINAL4 Women. 
17:13
The difficulty of CSM's task is increasing as Esbjerg maintain a two-goal lead in the second leg and a three-goal lead on aggregate with 10 minutes remaining.
Meanwhile, check out one of Kristine Breistøl's unstoppable shots from the first half.
17:09
Dinah Eckerle's introduction in goal for Esbjerg since the beginning of the second half has significantly boosted her side's save efficiency.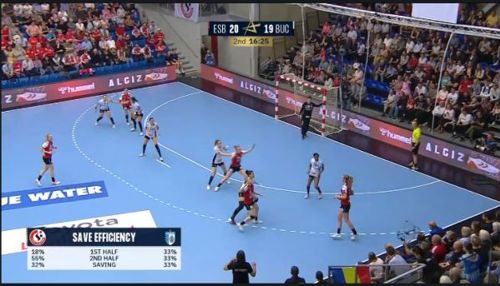 17:07
Kristine Breistøl's latest explosive shot from the back court gives Esbjerg a 20:19 lead – and CSM call a timeout.
17:05
Almost soon as the EHFTV graphic showing that Esbjerg had not received a penalty in the match appeared, the Danish side received their first penalty of the match.
Henny Reistad stepped and converted it before Mette Tranborg equalised at 19:19 a minute and a half later. The score remains 19:19 as Grubisic has since denied Reistad twice from open play.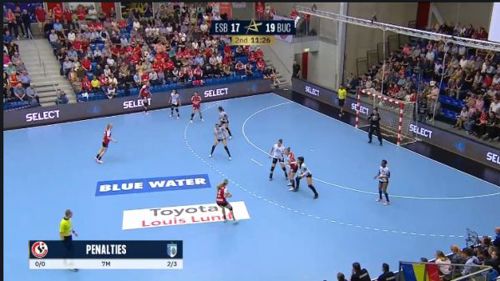 16:51
Rikke Poulsen finished the first 30 minutes with a save percentage of just 18 per cent.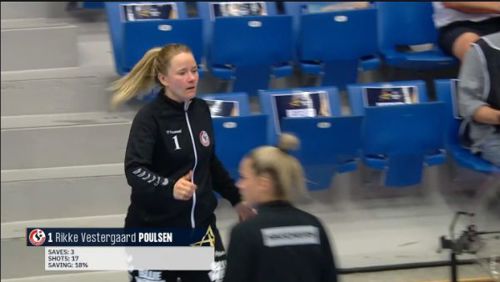 Dinah Eckerle is starting the second half in goal for Esbjerg, but there may yet be another opportunity for the Danish goalkeeper to show the kind of reflexes that she showed at the beginning of the match.
16:45
The travelling group of CSM fans in Denmark will probably be pleased that Cristina Neagu hasn't had to shoulder all of the scoring burden in the first half, but Neagu has still shown her ability to fire home from nine metres when required is world class.
16:41
HALF-TIME UPDATE: Team Esbjerg 12:14 CSM Bucuresti
Although Kristine Breistøl, the Player of the Match in the first leg, has scored six times for Esbjerg in the first half, CSM Bucuresti enjoy a two-goal lead at the break.
CSM's goals have been distributed relatively evenly, and goalkeeper Jelena Grubisic has made four more saves than Rikke Poulsen, her Esbjerg counterpart, in the first half.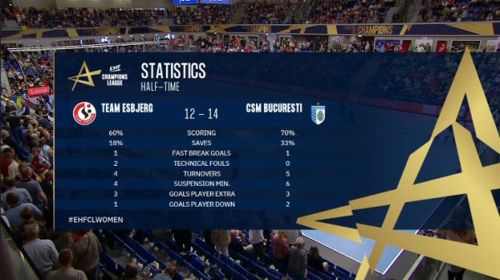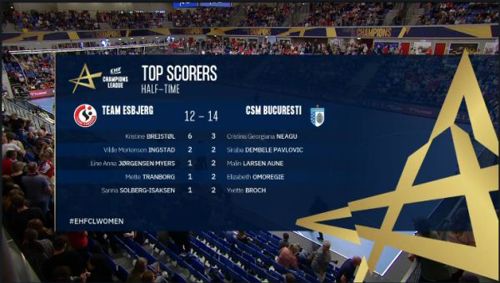 16:21
For the first time this afternoon, CSM are ahead in the second leg by more than two goals. Siraba Dembele Pavlovic raced away on the fast break to give CSM an 8:6 lead, and Cristina Neagu has extended their advantage to 9:6.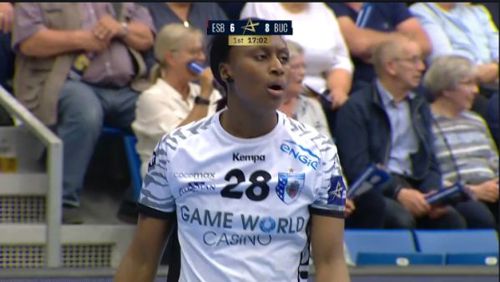 16:18
A strong defensive foundation is important when it comes to decisive matches in knockout handball. For CSM, goalkeeper Jelena Grubisic has provided them with the last line of defence that they need in the opening 15 minutes. Grubisic has made five saves from 10 shots faced as Esbjerg's shot efficiency has suffered.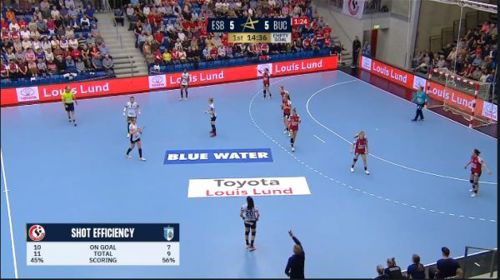 16:01
The teams have been introduced to the crowd in Denmark and we are set to get underway!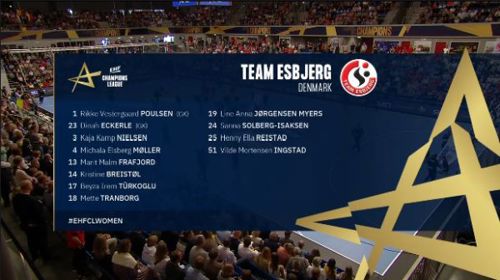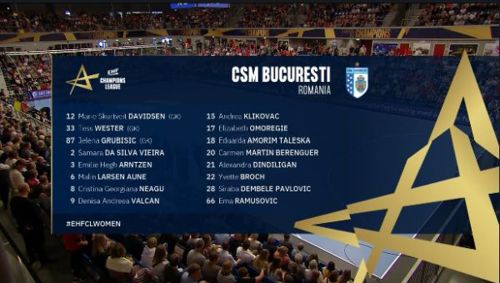 15:51
While the lights are currently dimmed inside the Blue Water Dokken, the action is now less than 10 minutes away on EHFTV.
15:41
When Esbjerg coach Jesper Jensen spoke before the match on Friday, he highlighted the need for his to pay attention to the "small details" against CSM Bucuresti.
He said: "We learned from the first match how much is needed to get success in this tournament. Nothing comes easy and it requires hard work and constant focus on executing the small details correctly every time. If we do not do that, we will be punished. In this match, we have to find a few extra per cent to hold them off. If we manage to find the same level of play as we did in Romania, it will be a good place for us to start."
15:30
After Ana Gros scored eight goals for Krim in their 33:24 loss at Vipers Kristiansand on Saturday, Cristina Neagu is currently the second highest scorer in the EHF Champions League Women this season. As Neagu (103 goals) is only one goal behind Gros (104 goals), the Romanian left back should retake the lead this afternoon – but a defeat on aggregate for CSM will ensure that the race to finish as this season's top scorer continues in Budapest.
Nora Mørk, who is currently in third place on 96 goals, is assured of having the opportunity to add more goals to her total after Vipers sealed their place in Budapest on Saturday.
15:10
Good afternoon and welcome to Sunday's coverage from the second leg of the EHF Champions League Women 2021/22 quarter-finals.
After Györ and Vipers Kristiansand booked their places at the EHF FINAL4 Women 2022 with comprehensive wins on Saturday, Team Esbjerg and CSM Bucuresti meet this afternoon with the remaining spot in Budapest at stake. As we have mentioned before, Metz qualified for the EHF FINAL4 when they defeated Borussia Dortmund in the play-offs at the beginning of April.
Esbjerg, who won the first leg against CSM Bucuresti by one goal (26:25), can become the first Danish women's side to reach the EHF FINAL4 since FC Midtylland played in the first edition in the 2013/14 season.
Esbjerg have not lost a home game in the EHF Champions League this season, but CSM Bucuresti provided the Danish side with a fierce test at the Blue Water Dokken in September. On that occasion, Esbjerg recovered from a three-goal deficit with four minutes remaining to snatch a 22:21 victory.
20:40 - Saturday
As Vipers Kristiansand and Györ have joined Metz in qualifying for the EHF FINAL4 Women, the fourth and final place will be decided when Team Esbjerg host CSM Bucuresti at 16:00 CEST on Sunday.
The blog will return at 15:00 CEST, but have your say before then on which side you think will reach the showpiece event this year – Team Esbjerg or CSM Bucuresti? 
The Danish side have a one-goal lead after the first leg, but could Cristina Neagu propel CSM Bucuresti to an unexpected away victory that takes them to Budapest in June?
20:31
The best photos from Saturday's two matches are in our gallery below. As you would expect, there are a few pictures that capture Györ and Vipers' delight.

















20:15
Here is another picture from Vipers Kristiansand's celebrations for you to enjoy! They will be part of the showtime at the EHF FINAL4 in Budapest on 4/5 June 2022.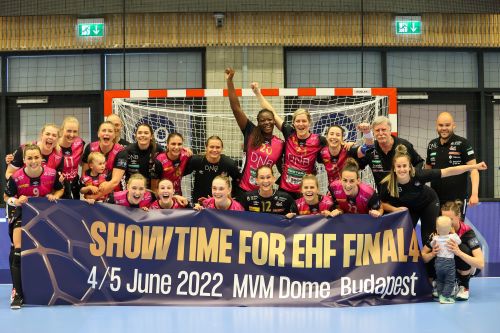 20:11
Adrian Costeiu's match reviews of Györ vs Brest and Vipers vs Krim are both online for you to read.
19:51
Even if a club has reached the EHF FINAL4 before, qualifying for the event in Budapest remains special every time.
19:31
Vipers Kristiansand are through to the EHF FINAL4 Women after a 65:49 win on aggregate. Ragnhild Dahl's penalty on the buzzer was the icing on the cake for the Norwegian side. Dahl scored six goals in the second leg to finish as her side's top scorer.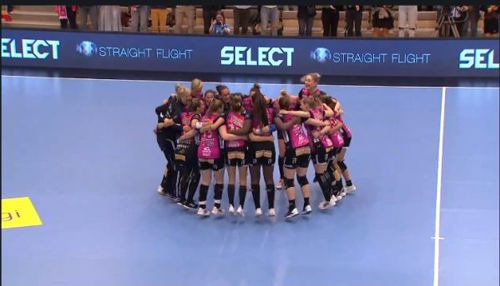 19:15
Vipers have capitalised on a series of fast breaks in the second half to extend their lead to 30:22 after 50 minutes. The arena announcer remains in good voice and "Kom igjen, Vipers" can be heard fairly often as the home crowd cheer their team towards the EHF FINAL4.  
19:06
Vipers coach Ole Gustav Gjekstad urges his team to "concentrate" during the latest timeout. "We want to win the match," Gjekstad said to his team.
18:50
A 12-goal lead on aggregate means Vipers are only 30 minutes of handball away from being able to unfurl a banner celebrating their qualification for the EHF FINAL4 Women on 4/5 June 2022 in Budapest. Here is a photo from Györ's celebrations after their success earlier on Saturday.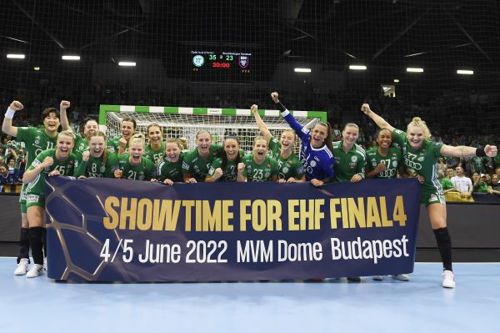 18:44
With Vipers on course to join Györ and Metz at the EHF FINAL4 Women 2022, we could be set for something close to a repeat of the 2019 edition, when all three teams played at the showpiece event alongside Rostov-Don.  
18:39
HALF-TIME UPDATE: Vipers Kristiansand 17:12 Krim Mercator Ljubljana
An aggressive stop by Krim goalkeeper Barbara Arenhart from Jana Knedlikova in the final minute of the first half limits Vipers' lead at the break to five goals. Ana Gros has led the scoring for the visitors, but her efficiency has not been as high as Krim would have liked if they were to stand a chance of surprising Vipers in Norway. 
18:27
Goalkeeper Katrine Lunde is enjoying a big first half for Vipers – and that includes making a double save in the 13th minute.
18:22
There are no certainly signs of a shock in Kristiansand after 20 minutes. While Ana Gros has scored four goals from seven shots for the visitors, Vipers lead 12:9 and have extended their aggregate advantage to 10 goals.
18:16
Reaction from Györ's victory over Brest can be found below. Stine Oftedal deservedly received the Player of the Match award for her outstanding performance in the Match of the Week.
This week was really hard, but I would like to say congratulations to Brest. My team played really well today. We scored almost as many goals in the first half as the whole game in the first match. The atmosphere was really good, so it helped a lot for us. Our opponent was really aggressive today, but thank you everybody for the support.

We hoped for this atmosphere. This always creates something extra for us. We felt very intense, we knew what we are able to do. Brest made it really hard in our first game, we were proud with the draw there, but during this hard week we worked a lot.
17:55
Györ have booked their place at the EHF FINAL 4 Women after a dominant second-leg display against Brest.
Defending champions Vipers Kristiansand have one foot in the semi-finals after their seven-goal win against Krim in the first leg, but will the Slovenian side produce something special this evening? The teams are currently being introduced to the crowd on EHFTV – and the throw-off is just five minutes away!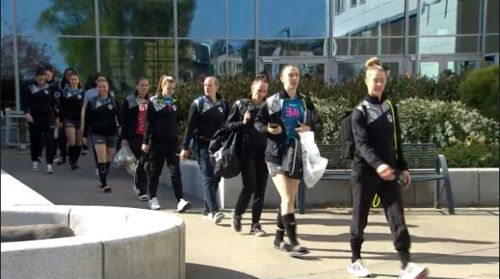 17:33
After a tremendous home performance in the second leg, Györ complete a 12-goal aggregate win (56:44) over Brest in their quarter-final.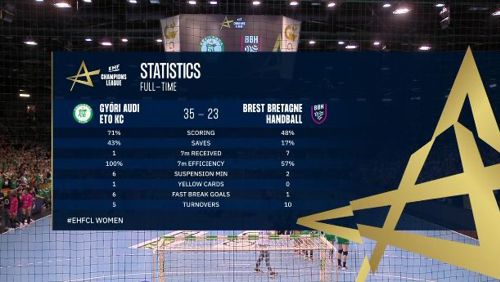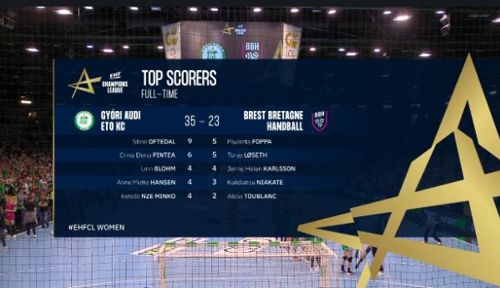 17:26
It's job done for Ambros Martin as he high fives Györ's players on the bench.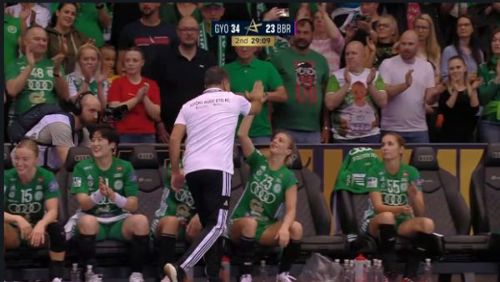 17:21
As Györ head towards the EHF FINAL4 Women, Laura Glauser is enjoying her time on court in the second half. Györ's French goalkeepers have played a huge part in their success over the two legs against Brest.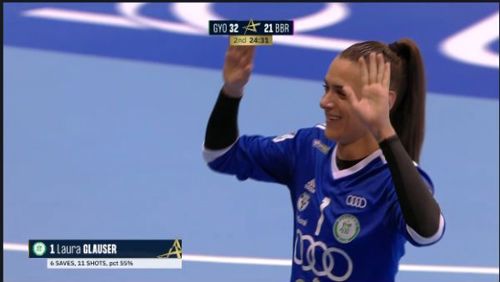 17:13
Stine Oftedal has been in world-class form for Györ this afternoon. The Norwegian centre back has scored nine goals from 11 shots, controlled the Hungarian side's attack and provided her teammates with plenty of good shooting chances. 
17:07
With just over 12 minutes played in the second half, Györ have extended their advantage to 10 goals – 29:19.
When she is on the court, Crina Pintea is seemingly enjoying the service from her teammates and winning the physical tussles on the line.
16:55
Ryu Eun Hee's only goal of the first half came after Brest had reduced the gap from 8:4 to 8:6.
16:49
While Leynaud and Glauser made a combined total of nine saves from 21 shots in the first half, Toft and Darleux stopped just three from 23 shots faced as Györ powered clear of their French opponents.
For Brest to have any chance of a truly miraculous comeback in the second half, it is almost certain that the gap in the total number of saves made will have to narrow.

16:43
HALF-TIME UPDATE: Györi Audi ETO KC 20:12 Brest Bretagne Handball
Well, it's safe to say that Györ have stepped up a gear in the second leg! Amandine Leynaud's performance in goal has essentially been on a par with her second half in the first leg, but the big difference for the Hungarian side has been their speed and fluency in attack.
In her trademark way, Stine Oftedal has used her footwork to find the gaps in Brest's defence, while Estelle Nze Minko has made at least a couple of notable steals that created fast break goals.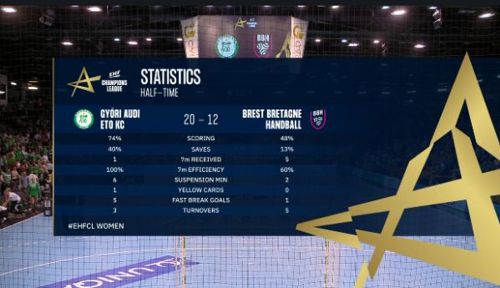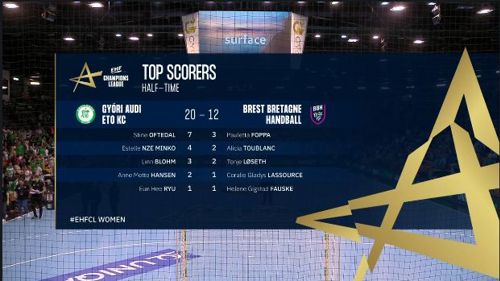 16:29
Ambros Martin calls a timeout for Györ with his side leading 15:10. They have 19 seconds left on a double suspension, but the difference in scoring percentages will please the Spanish coach.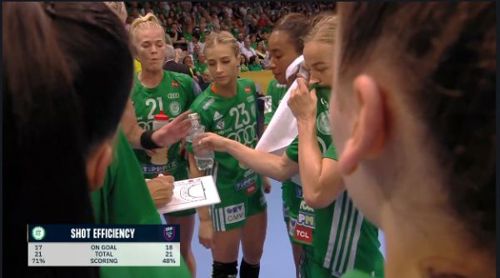 16:24
It is worth mentioning that Cléopâtre Darleux has replaced Sandra Toft in goal for Brest. Toft made two saves from 13 shots, but Györ are roaring in attack so far this afternoon.
16:22
With six saves from 13 shots faced, Amandine Leynaud's statistics are almost looking as healthy as at the end of the first leg.
Here is Leynaud's early stop from Kalidiatou Niakate for you to enjoy.
16:17
Stine Oftedal did not score for Györ in the first leg, but she has already scored five goals from five shots in just under 14 minutes. Györ have a four-goal lead (11:7) as we approach the 15-minute mark.
16:09
Amandine Leynaud punches the air after making a double save from Helene Fauske. Leynaud stopped Fauske's penalty and a subsequent rebound from the Norwegian centre back.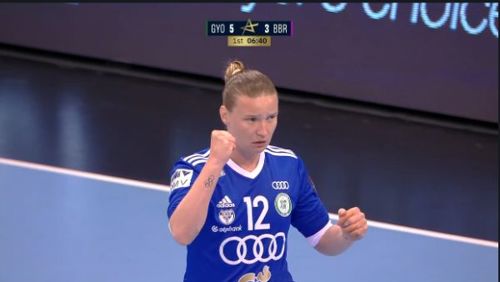 16:04
We are underway in Hungary. Coralie Lassource opens the scoring for Brest on the fast break in the second minute, but Stine Oftedal hits back with a breakthrough goal for Györ.
For the record, here are the line-ups for both teams from EHFTV.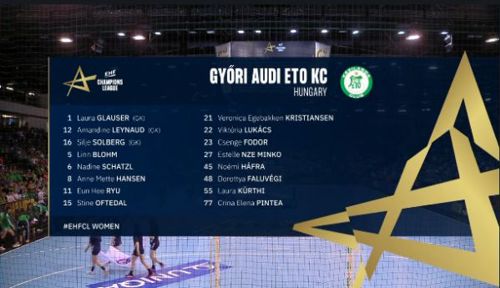 16:00
Here is a photo of Györ coach Ambros Martin at work in the dressing room before his team stepped onto the court.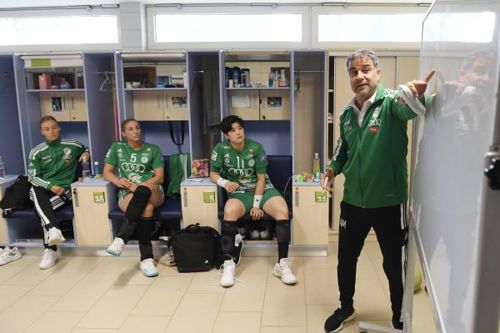 15:50
Coverage of the warm-up is now underway on EHFTV. Will Amandine Leynaud and Sandra Toft repeat their performances from the first leg?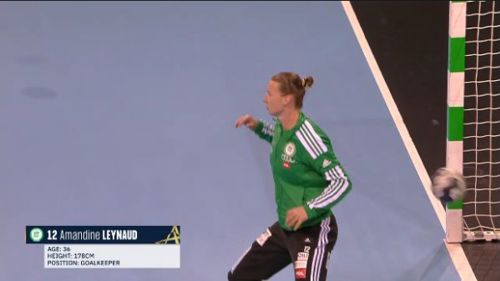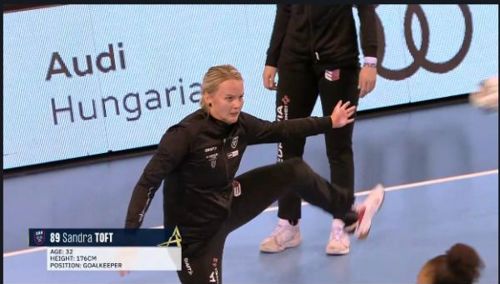 15:43
Earlier on Saturday, the EHF Champions League Twitter account recalled last season's semi-final between Györ and Brest. The French side won the penalty shootout after a 23:23 draw in the regular 60 minutes.
There is only one result that will provide us with another penalty shootout today: a 21:21 draw. If the second leg ends in a draw and Brest score more than 21 goals, Brest will progress to the EHF FINAL4 Women. However, if this afternoon's match is a draw and Brest score fewer than 21 goals, Györ will advance to the EHF FINAL4 in Budapest. Recent matches between these two teams have been so close that nobody can rule out the possibility of another drawn game.
15:36
When Györ coach Ambros Martin spoke on Friday ahead of the second leg, he outlined that he didn't feel that his team played to their full potential in the first leg. 
He said "First of all, this is already the quarter-finals of the Champions League – there are no easy opponents here. Last week, we didn't play well compared to ourselves, but the team's fighting spirit showed us what we are capable of. We can say that we will have an easier job at home, but we should not rely only on that."
15:27
As the countdown to Match of the Week between Györ and Brest truly begins, Brest have tweeted their line-up for this afternoon's clash on their Twitter account.
15:25
In the second half of the first leg between Györ and Brest, French goalkeeper Amandine Leynaud's superb performance enabled the Hungarian side to snatch a draw.
However, it is not just in goal – either through Leynaud or Laura Glauser – that Györ have a French link.
Centre back Estelle Nze Minko has played for Györ for three seasons and has not lost a game at home in the EHF Champions League during that time. On Friday, her interview with Kevin Domas was published on eurohandball.com.
15:10
Good afternoon and welcome to Saturday's coverage of the second leg of the EHF Champions League Women quarter-finals.
By the end of Saturday evening, we will know three of the four participants at the EHF FINAL4 Women in Budapest at the beginning of June. Metz Handball have already qualified for the final tournament after their play-off victory over Borussia Dortmund in April, but at 16:00 CEST we will find out if another French team can join them in the last four.
Last weekend, in a match highlighted by three top-class goalkeeping performances, Brest Bretagne drew 21:21 Györ. For the French side to reach Budapest, they will need to end Györ's perfect home run in this season's competition.