Summary: PAUC and Kadetten denied first victories in dramatic draws
The EHF European League Men 2021/22 group phase has reached round 4. While Chekhovskie medvedi, Cocks and PAUC Handball are looking to get off the mark on Tuesday evening, Füchse Berlin and SL Benfica are bidding to make it four wins from four matches in their respective groups.
10 matches took place on Tuesday night in round 4 of the EHF European League Men group phase
GOG record an impressive 33:25 win against Benfica in the feature match in group B
PAUC and Kadetten both concede last-second penalties to be denied their first victories in the group phase
Nexe and Sporting emerge victorious in an evening of close encounters
23:17
Thanks for joining us for this night of European League action which further proves how exciting and unpredictable this competition can be. The European action continues with the EHF Champions League on Wednesday and Thursday and we'll see you again for round 5 next Tuesday. Goodnight!
It was an intense match. In the beginning, we had good chances to get in front by more than two or three goals. But overall, one point for each team is fair.













22:37
Look how close Cristian Ugalde gets from about 14 metres out! The post saves keeper Yassine Belkaied from a few sleepless nights and the victory for Sporting, putting them top of group D.
22:33
Just like in Schaffhausen, it was a penalty that decided the game at the death as Velenje completed their late comeback to snatch a point from Aix.
22:26 - RESULTS
Pain for PAUC as well as a five-goal lead is wiped out in the final 10 minutes by Velenje. Sporting and Nexe snatch late, late wins at home, which will do their hopes of the Last 16 no harm, whatsover.
Fenix Toulouse Handball 24:30 Orlen Wisla Plock 
Tatran Presov 23:27 Füchse Berlin
TBV Lemgo Lippe 39:30 Cocks 
RK Nexe 31:30 BM Logroño La Rioja
PAUC Handball 26:26 RK Gorenje Velenje 
Sporting CP 31:30 AEK Athens 
Kadetten Schaffhausen 25:25 USAM Nimes 
22:21
Jean-Jaques Acquevillo has been the go-to man for Nimes and he delivers an equaliser in the final minute. Kadetten have possession and potentially the final shot of the day, will it finally be a happy conclusion to a game for them?
It appears so as Luka Maros bounces one past the keeper, his first goal of the day to give them a 25:24 lead.
But another twist as Zoran Markovic receives a red card with no time left on the clock, handing Nimes a penalty, which Michael Guigou gladly puts away to level the scores and deny Schaffhasen their first win of the group phase.
22:13
Going down to the wire in Nexe vs La Rioja and Kadetten vs Nimes. Both games level with 2 minutes remaining.
22:09
Nobody wants to score in Switzerland! Not a single goal in over five minutes and we're still stuck at 22:22. Nervy moments ahead...
22:03
Kadetten vs Nimes is certainly one to look out for in the final 10 minutes of tonight's action as the sides are level at 22:22!
22:00
Tavares has fired in a perfect five goals from five so far tonight but his teammates have been a little more wasteful and Sporting find themselves in a real scrap against AEK. 25:24 to the Lisbon men with 12 minutes left to play.
21:54
Nemanja Ilic is doing his thing with eight goals tonight but Toulouse are on the back foot against Plock at the moment with the Polish side leading 23:19 after 45 minutes. They have switched to a 7vs6 attack but it hasn't paid dividends yet.
21:45
PAUC have yet to score a point in the group phase but are looking good value for their three-goal lead at the moment. A victory over Velenje would be huge for them and keep them firmly in the race for a place in the Last 16 in what appears to be an increasingly even group C.
21:29
Jacob Holm and Füchse are enjoying themselves so far tonight in Slovakia. They already hold a 16:9 lead over Presov and 11 of their 12 court players have already got themselves on the scoresheet - 16 goals spread around 11 players!
21:24 - HALF-TIME
We've hit the break and we have a lot of tight contests to look forward to in the second half. The aforementioned games with German involvement are the exceptions but on the whole, there's plenty to keep an eye on here with the blog and on EHFTV.
Fenix Toulouse Handball 13:13 Orlen Wisla Plock 
Tatran Presov 9:16 Füchse Berlin
TBV Lemgo Lippe 18:14 Cocks 
RK Nexe 14:15 BM Logroño La Rioja
PAUC Handball 17:14 RK Gorenje Velenje 
Sporting CP 14:15 AEK Athens 
Kadetten Schaffhausen 15:13 USAM Nimes 
21:16
You've gotta love passes to the line like this - when they come off, they look great.
Cocks left wing and the most famous plumber in handball, Teemu Tamminen is leading the charge with four goals but Lemgo lead 15:11 as we approach half-time.
21:10
Halil Jaganjac continues to impress on almost every occasion at this level, it is no surprise Kielce have secured his future.
He has already scored 5 tonight but Nexe trail La Rioja 12:11 after 21 minutes.
21:01
The two German sides, Berlin and Lemgo, are beginning to open up comfortable leads but besides that we have a series of close contests in the opening 15 minutes.
AEK Athens are responding to last week's loss well and currently hold a narrow lead away to Sporting, 8:7.
20:50
A real change of pace here with seven matches taking place simultaneously. We'll see which emerge as the games to focus on but all look promising in the opening minutes.
20:34
There are less than 13 minutes until the bulk of this evening's action commences. Coverage from Fenix Toulouse vs Orlen Wisla Plock is now underway on EHFTV!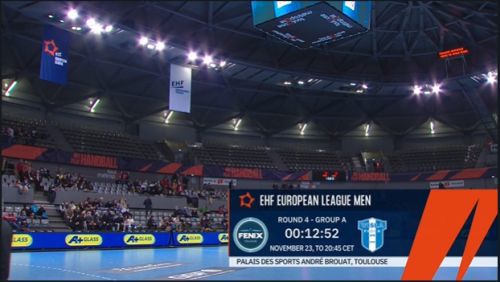 20:22
There has not been a shortage of goals so far this evening. All three winning teams scored at least 30 goals, and Chekhovskie medvedi also passed the 30-goal mark in defeat against Nantes.
Other results
HC Eurofarm Pelister 33:20 Tatabanya KC
Chekhovskie medvedi 31:35 HBC Nantes
GOG have recorded a comprehensive 33:25 in Portugal against SL Benfica. The result means that GOG are now level with Benfica on six points at the top of group B.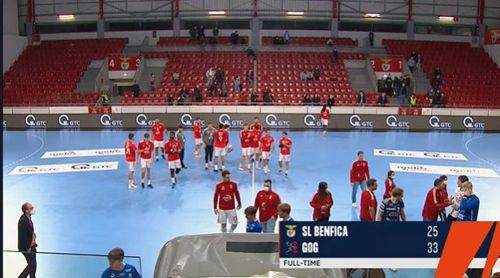 20:10
With just three minutes left to play and a seven-goal lead (31:24), GOG will be taking the two points home to Denmark at the end of this match. Big performances from Torbjoern Bergerud, Jerry Tollbring and Simon Pytlick have made the difference.
20:00
Gustavo Capdeville has tried his best to keep Benfica in contention – and this stop from Simon Pytlick in the first half was certainly eye-catching. 
19:56
When in doubt... just send the ball out to Jerry Tollbring or set him away on the fast break. The Swedish left wing has now scored 10 times! With just over 15 minutes played in the second half, GOG look in no danger as they lead 25:17.
19:47
Benfica left back Petar Djordjic has scored twice in the opening seven minutes of the second half, taking his tally for the match to five, but the Portuguese side have not many any inroads on GOG's seven-goal advantage from half-time.  
19:39
The second half in Russia between Chekhovskie medvedi and HBC Nantes is already underway on EHFTV. The goals have been flowing for the French side at one end and Emil Nielsen has been doing the business in goal at the other end!
19:35 
In our two other matches that began at 18:45 CET, HBC Nantes lead 20:15 at the break against Chekhovskie medvedi and Eurofarm Pelister are in control against Tatabanya, 17:9.
Could anyone have predicted such a one-sided first half? Probably not. But with Tollbring scoring six goals and Bergerud making eight saves, GOG are seven goals clear at the break, 17:10, and deservedly so.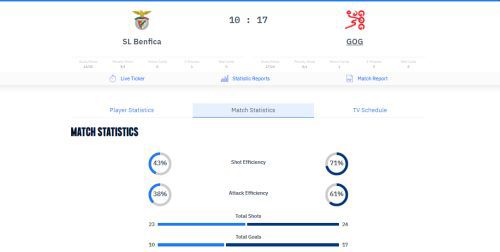 19:16
There was some brief joy for Benfica when goalkeeper Gustavo Capdeville stopped Tollbring's effort from the seven-metre line, but GOG have subsequently extended their advantage to eight goals, 14:6. We are fairly sure that Capdeville has been responsible for all three saves made in the Benfica goal – although the official statistics have credited Sergey Hernandez with two saves.
19:04
Look away now if you are a Benfica fan... Mathias Gidsel has just scored on the fast break to make it 9:4 in GOG's favour, and Benfica have responded by calling the first timeout of the match.
19:01
Jerry Tollbring converts from a fairly tight angle from the left wing, his fourth goal of the game, and GOG are ahead by four goals, 7:3, for the first time in the match.
18:58
After nine minutes played in Lisbon, GOG are ahead 5:3. GOG's attack started quickly with three goals in under three minutes, but as things have settled down, Torbjoern Bergerud has made four saves from six shots.
18:41
Ahead of this evening's match, SL Benfica head coach Chema Rodriguez complimented GOG and said that he expects a difficult game against the Danish side.
"GOG is a great team. A team that plays very well, that has spectacular players, who are all internationals and play as starters in the best national teams of the world. It's going to be a difficult game, but it's always the same," he said.
18:30
Although GOG lost 27:24 against HBC Nantes in round 3, Torbjoern Bergerud finished the match with a 30 per cent save efficiency. Will the former SG Flensburg-Handewitt goalkeeper make the difference for GOG against Benfica? We are 15 minutes away from the throw-off! 
18:20
If you have not already done so this week, check out the round preview and our interview with Eurofarm Pelister's Josip Peric. Pelister beat AEK Athens in round 3 and they could earn their first home win in group D this evening against Tatabanya.
18:00
Good evening and welcome to our coverage from round 4 of the EHF European League Men.
As you are probably aware, two matches that were originally scheduled for this evening have been postponed and will be rescheduled in due course: Pfadi Winterthur vs Bidasoa Irun and IK Sävehof vs SC Magdeburg.
However, we still have 10 matches set to take place this evening and there is plenty of action ahead of us. Our focus in the matches that throw-off at 18:45 CET will primarily be on SL Benfica vs GOG. It is first versus second in group B, and a positive result for Benfica will ensure that they remain top of the group standings.
18:45 CET
SL Benfica vs GOG 
Chekhovskie medvedi vs HBC Nantes
RK Eurofarm Pelister vs Grundfos Tatabanya KC 
20:45 CET
Fenix Toulouse Handball vs Orlen Wisla Plock 
Tatran Presov vs Füchse Berlin
TBV Lemgo Lippe vs Cocks 
RK Nexe vs BM Logroño La Rioja
PAUC Handball vs RK Gorenje Velenje 
Sporting CP vs AEK Athens 
Kadetten Schaffhausen vs USAM Nimes