EHF EURO
Summary: Semi-finalists start preparations
Although Thursday 27 January is a rest day, the live blog will bring you plenty of coverage, the best bits of social media and analysis of the main round.
18:55
We end today's blog with the latest episode of the official EHF EURO 2022 podcast from the (Un)informed Handball Hour. Today, the lads chat to Rasmus Lauge and Rodrigo Corrales about Denmark and Spain's journeys to the semi-final and their own personal stories, plus there are some more predictions about what might happen next.
Semi-final day is tomorrow. Don't miss it!

16:45
Running a major sporting event is challenging at the best of times, but when there is a global pandemic there are extra obstacles to overcome. Yet EHF President Michael Wiederer believes that continuing to play is essential, and points out that the four teams who have reached the semi-finals are those with proven pedigree. Read more about his thoughts on the Men's EHF EURO 2022 below for an insight into running these championships.
16:30
Here are our main round best moments - way too much to choose from, and there's plenty of scope for disagreement. Do chime in with your thoughts on social media.

15:52
At 18:00 today the (Un)informed Handball Hour team will be live on Twitch to talk about the All-star Team nominations. Make sure you join Alex, Brian and Chris then - maybe they'll influence your own choices?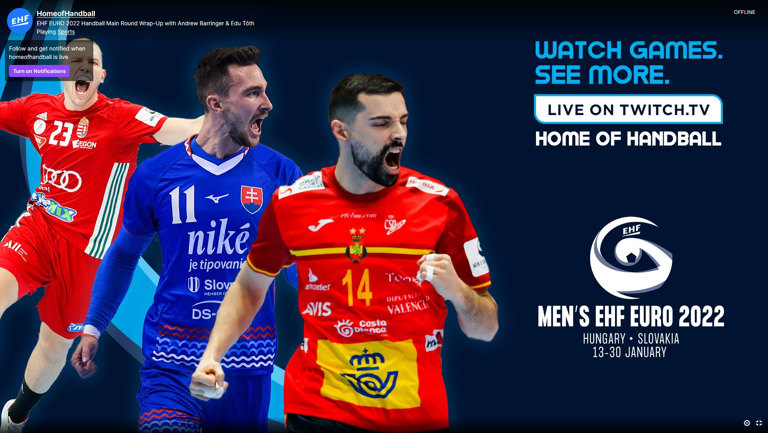 15:30
The nominations for the referees for the last match days have been revealed, and it's German pair Robert Schulze and Tobias Tönnies who will whistle the final. They've refereed four other games this tournament, including Iceland vs Croatia on Monday.
Czechs Vaclav Horacek and Jiri Novotny are due to whistle the bronze medal match.
14:55
Now that the All-star Team nominees have been unveiled, we're running a series of highlight videos to help you pick your winners. Here's the left backs.

14:19
What did we learn from the main round of the Men's EHF EURO 2022? Well, the top scorers are all left-handed; there are new, exciting players out there; and it ain't over until it's over. EHF journalist Kevin Domas has delved into the key topics as we take a look back at the last week of action.
13:00
If you love data, you'll love this. Julian Rux of Handballytics has looked at goalkeeper statistics from a variety of angles to work out just who's been the best so far in the tournament. Dig into the data!
12:20
For the last time we get to include Nebojsa Simic and Ivan Pesic on the top five saves of the day. They've been brilliant throughout, not only playing well but also expressing themselves passionately on court. Enjoy!

11:47
It's time to vote for the EHF EURO 2022 All-star Team! We have six choices in each position, plus best defender, and it's all on the official Home of Handball app. So fire that up if you have it, download it if you don't (it's on iOS and Android) and get voting. You have until 23:59 CET on Saturday 29 January to make your choices and the team is announced on Sunday.
10:57
France's victory last night was the front page of sports newspaper L'Equipe this morning. 'Les Braqueurs' translates as 'the robbers', referring both to their comeback to steal the win from Denmark, and also Iceland's spot in the semi-finals. 

10:40
Every goal counted last night in Budapest - and especially Dika Mem's match-winning shot with a minute to go in the Denmark vs France clash. Here are the last top five goals of the main round.

10:00
So, the four semi-finalists are now decided: France, Denmark, Spain and Sweden. 
They will meet each other tomorrow night in Budapest, after Iceland and Norway have played for fifth place at the EHF EURO 2022 - and automatic qualification for the IHF Men's World Championship 2023. 
Over the next day or so we'll bring you plenty of analysis of what happened in the main round, and what to look forward to on the final weekend. There's still the opportunity to join us in the fabulous Budapest Handball Arena too - click here to get your tickets.
Buy Men's EHF EURO 2022 tickets!
Be in Budapest to watch France, Denmark, Spain and Sweden battle for the EHF EURO 2022 medals
Buy tickets here