EHF EURO
Summary: Sweden beat France to join Spain in final
Friday 28 January is semi-finals day, and there's also a World Championship place at stake in the placement match that starts the action off in Budapest.











It was a crazy game again, it seems that we only play crazy games. It was a rollercoaster, we did not start well, but we did not get stressed and followed our team plan.
It was a great day for us to beat this great team from Denmark, as we had lost against them twice in the semi-finals of the World Championship and the Olympic Games. We showed the right reaction in the second half and we functioned perfectly as a team, in which everybody fights for everybody.
23:25
That's it for tonight. Tomorrow has lots planned, with media calls for the four teams ahead of Sunday's final games, so stay with the blog from 10:00 CET.
22:54
Slightly later than usual, due to the extra-time in the 5/6 placement match, here are the match reviews from this evening. History will be made on Sunday: either Spain will become only the second side, after Sweden, to win three consecutive EHF EURO titles; or Sweden will cement their place as the record champions, 20 years after their last trophy. 
22:47
Here is that final Palicka save, bringing to an end a high-octane night of handball here in Budapest. We have our EHF EURO 2022 finalists: Spain and Sweden.

22:23 | FULL-TIME
FRANCE 33:34 SWEDEN
France steal the ball with enough time to score, but meet the Swedish defence - and Ludovic Fabregas's shot meets Andreas Palicka. The buzzer goes; Sweden win! It's the same result as a year ago in Cairo, when Sweden went on to lose to Denmark in the world championship final.
So we'll have two of the most-decorated EHF EURO teams in the final on Sunday, and a repeat of the Tokyo 2020 Olympic final for bronze. 
Jim Gottfridsson again takes the Grundfos Player of the Match award with nine goals. 
22:18
Another big save by Andreas Palicka as we enter the final minute, and Valter Chrintz comes over for a chest bump with the keeper. Glenn Solberg takes a timeout, a last opportunity perhaps to focus Sweden's minds. They lead 34:32.
22:16
Albin Lagergren is then on the other end of a video replay, but this one goes in his favour. He definitely fouled Aymeric Minne, but it wasn't red-card worthy and he's just suspended. Dylan Nahi's third goal soon after makes it 32:33 with about 90 seconds to play.
22:14
It's not too late for France. Hugo Descat scores a penalty, and Aymeric Minne then brings it back to a one-goal game. The French fans are suddenly chanting - and then quieten as the referees check a foul on Albin Lagergren by Valentin Porte. The French captain is disqualified after his arm hits Lagergren in the neck. 
The French start chanting "Allez les Bleus" again, knowing now is the time to get behind their team.
22:05
Having made 10 saves, Andreas Palicka is having a well-earned sit down and Peter Johannesson is on court and largely picking up where Palicka left off. He's made two saves from seven shots - the same number of saves as Vincent Gerard has made in the whole match. 
At 22"34' and 30:27 in his team's favour Glenn Solberg calls a timeout. 
21:57
France keep battling; Sweden keep staying just ahead. Two goals, less than 13 minutes to play - the momentum could swing either way, but currently Sweden are doing just enough.

21:50
Every time France bring it back to a two-goal game, Sweden are able to score again. The Swedish defence are working hard to counter the efforts of Nikolas Karabatic and Dika Mem - Mem is also staying on as part of the French defence. 
21:46
Better from Wesley Pardin, who stops Lucas Pellas on the fastbreak. Pellas, by the way, has been excellent tonight in his first EHF EURO match for Sweden, stepping up to fill Hampus Wanne's shoes with confidence. 
21:44
France are trying to pick up the pace and have scored a couple of excellent goals. The problem for them is, so have Sweden, and Wesley Pardin is yet to make a save since coming on at the start of the half.
21:28
Andreas Palicka is the first goalkeeper in EHF EURO history to score three goals in one match. Quite a record.
21:26 | HALF-TIME
FRANCE 14:17 SWEDEN
It did look for a while as though France were going to run away to a big lead, but Sweden got right back into the game and kept going. When Jim Gottfridsson netted a powerful hip-shot right before the buzzer they celebrated as though they'd won the match.
They haven't yet, though, and they need to beware of France's fight. 
How many times has a goalkeeper been a top scorer at the 20-minute mark in a match? Probably not ever. Andreas Palicka was welcomed back to the Sweden line-up today after missing a game due to Covid-19 and he is proving how valuable his presence is for his side, not only clearly winning the goalkeeper battle against Vincent Gerard but scoring three goals to power his side's comeback after France took an early lead. Add to that his energy in celebratory mode is enough to power Budapest Handball Arena and his importance for Sweden is clear.
21:21
Sweden are now leading, but it's only by a goal. They do however look way more confident than in the opening moments of the game.
21:13
France have Nikola Karabatic suspended and in that period Andreas Palicka adds a further two empty net goals - he's actually the top scorer now with three goals. 

21:06
Andreas Palicka looked a touch rusty for the first few minutes of the match but he's right back in it now, especially after scoring an empty net goal that Vincent Gerard just wasn't quite fast enough to stop. He's made four saves from 13 shots, compared to one from eight for Gerard.
20:59
Dika Mem can be an awesome weapon for France when he's on form, and he had a great second half against Denmark - although a less good first half. Today he's started out with intent.
Sweden are playing more effectively now and have stemmed the French tide. Hugo Descat is suspended for launching himself at Albin Lagergren, and on the resumed attack Jim Gottfridsson makes it 5:7.
20:51
Now the pace has picked up and it's France finding easy ways to score past the Swedish defence, netting four times in five minutes and conceding just once. They're attacking this match far harder than they did against Denmark the other day.
20:47
A slow start as Valter Chrintz and Nikola Karabatic make sure the ball is sufficiently sticky, and we're finally underway as France fend off Sweden's opening attack. Yanis Lenne scores to put France on the scoreboard.
20:39
Vincent Gerard looks extremely determined as France watch Sweden come on to court, almost staring down the opposition. The rest of the French team are bouncing around, staying warm and loose.
20:20
Don't go anywhere. There's another semi-final to come, featuring two teams who nearly didn't make it to this stage.
France and Sweden are the most-decorated men's handball teams in history — both sides have taken 21 across all major competitions. Sweden are the record holders at the EHF EURO, with four trophies, while France hold the record for most world titles, with six. The head-to-head history between the sides is completely equal, with 11 wins apiece and no draw ever. At the EHF EURO, Sweden have won three encounters and France two.
Tonight, France have their head coach Guillaume Gille back on court, but do not have Kentin Mahe back; Sweden are missing wings Hampus Wanne and Niclas Ekberg, as well as centre back Felix Claar and right back Lukas Sandell. This would suggest the odds are slightly on France's side, but this is handball. Anything can happen.
20:05
Spain mobbed Gonzalo Perez de Vargas at the end of the match, and rightly so. 

19:52 | FULL-TIME
SPAIN 29:25 DENMARK
Spain started their celebrations long before the buzzer. They ran away with the match in the closing minutes, and Denmark ran out of solutions. The Hispanos are celebrating madly, while Denmark take a moment to absorb the result and to thank their fans.
Gonzalo Perez de Vargas's 14 saves (38 per cent) and Aleix Gómez's 11 goals were certainly key; the wing is named Grundfos Player of the Match after making a key contribution in the second half. 
19:45
Spain still hold a three-goal lead and Denmark have just over two minutes to catch up.
19:40
With six minutes to go, Nikolaj Jacobsen uses his last timeout. On the fringes Niklas Landin does some star jumps, limbering up for a critical point in the match - Denmark trail 22:25 and Spain, currently, are en route to a fourth consecutive EHF EURO final.

19:39
Mikkel Hansen collides with Gedeon Guardiola and limps off to rest, the physicality of this contest showing. He doesn't get much time to rest as Denmark regain possession and return to attack - they're still playing seven-against-six. 
19:30
Nikolaj Jacobsen calls a timeout. With 13 minutes to play Spain lead 22:19 and have the momentum with them. 
Denmark return to the court to play seven-against-six.
19:27
Jordi Ribera is rotating his team much more than Nikolaj Jacobsen. Currently it's a tactic that is working. Spain have established a two-goal lead, which is enabling them to stay in front even when Denmark answer back.

19:22
Once again Aleix Gómez scores and Spain take the lead. They have lifted their game in this second half - are they going to pull off an amazing victory and deny Denmark a place in the final in the Danes' 100th EHF EURO match?
19:16
Spain were level five minutes into the second half. They've scored two quick goals, and have made it very hard for Denmark to score with robust defending - although this also just led to a penalty, which Mikkel Hansen easily scores against Gonzalo Perez de Vargas. Denmark regain a one-goal advantage.
19:10
If you speak Spanish, join Victor Melida and Martí Ruiz on Twitch to watch the second half of this match with them!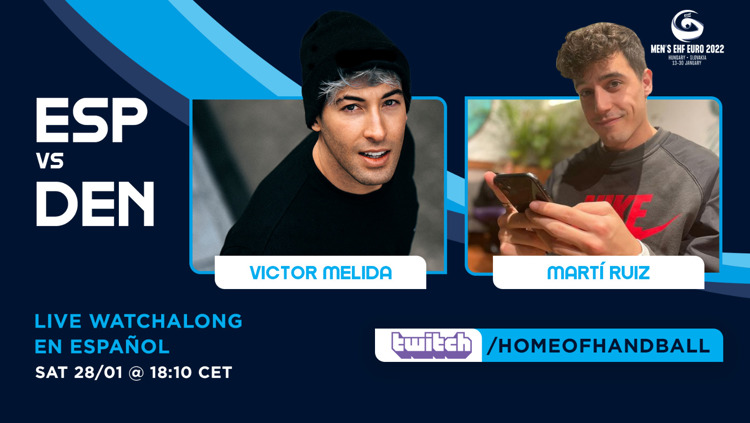 18:57 | HALF-TIME
SPAIN 13:14 DENMARK
Joan Cañellas and Aleix Gómez help Spain close up the gap just before half-time, both scoring twice in the last four minutes against two goals for Denmark in the same period.
Courtney Gahan gives her thoughts on the match so far:
Goalkeepers Niklas Landin and Gonzalo Perez de Vargas were the stars of the show early in this opening semi-final, both recording save rates of at least 50 per cent until near the 15-minute mark. After 12 minutes, Landin had an unbelievable percentage of 71 per cent, with five saves from seven shots. And if anyone wonders if it is because the teams are shooting poorly, they can forget it — both keepers have made some spectacular saves against wide open chances. Landin has kept it up to the break more than Perez de Vargas, holding a big rate of 41 per cent, and is making a great case for himself as MVP of the EHF EURO 2022, especially if Denmark hold on and book the final berth.
18:49
Niklas Landin leaves his goal area to make a save and the action is reviewed - it results in a penalty, taken successfully by Aleix Gómez against Kevin Møller in the latter's first moments on court. Denmark lead 11:9.
18:40
Spain are having to play catch-up against the powerful Danish side. Looking nicely rested after their day off on Wednesday, Mikkel Hansen and Mathias Gidsel are leading the scoring for the world champions with two goals apiece, or half of the current total.
But it's really Niklas Landin who has made the difference. He just keeps pulling off save after save after save.

18:35
The pace has picked up and we've had the same number of goals in the last five minutes as in the first 10. The goalkeepers' efficiency rates have dropped from ridiculous (Niklas Landin was at 72 per cent at one point) to very good, and Denmark lead 6:4.
18:26
The first 10 minutes have been very physical, with both teams defending for all they're worth - and both goalkeepers on extraordinary form with a series of excellent saves.
We've just had two goals in a matter of seconds though, giving Denmark a 3:2 lead.
18:20
Spain's first couple of attacks have not gone to plan - the first one saw them lose the ball in seconds, and there was a turnover in the second one too. They got a shot away in the third but it was weak and rolled past Niklas Landin's feet. However, Denmark aren't having much more luck, also suffering a couple of turnovers - but they did secure a penalty, which Mikkel Hansen scored.
18:09
There's a bit of extra excitement in the air in Budapest, with more screens and pyrotechnics as the teams are announced. 61 matches have been played at the EHF EURO 2022 - these last four are the ones which really count!
18:00
So the delayed first semi-final will throw off in 15 minutes. Both sides are back-to-back champions of a major competition: Spain won the EHF EURO 2020 and 2018, while Denmark raised the trophies at the World Championships in 2021 and 2019. However, Spain have not won an official match against Denmark since 2015, when they knocked Denmark out in the World Championship quarter-final stage and Denmark won both the World Championship 2021 and Tokyo 2020 Olympic Games semi-finals against Spain — 35:33 and 27:23, respectively. 
Although Denmark's perfect EHF EURO 2022 campaign stuttered on Wednesday when they lost to France they have generally made things look easy this tournament. Spain have ground out several hard results, but they're here, and they have a strong record at the EURO. 
17:49
Another update: semi-final 2 will now throw off at 20:45 CET.
17:43
The first semi-final has been delayed 15 minutes and will now throw off at 18:15 CET.
17:29 | FULL-TIME
ICELAND 33:34 NORWAY
The seconds are counting down, and Harald Reinkind grabs his moment and shoots - the ball lands just as the buzzer goes off. The Spanish referees check it and confirm it is good. Norway have won a thriller, and booked their place in the World Championship next year. It's not the medal they wanted, but they're clearly delighted with the result. Remember in 2020 they lost the semi-final to Croatia in a very similar fashion. 
Iceland's Ómar Ingi Magnusson, who remains the top scorer of the tournament for now, is named Grundfos Player of the Match but it is scant consolation for a team who look devastated. But it's still their best performance at an EHF EURO since 2014 and for a young side, with Covid hindering their campaign, they can go home heads high.
17:24
Norway earn a penalty, and Sander Sagosen nets it to give Norway a 33:32 lead. 
17:21
Spain are watching from the tunnel, eager to start their warm-up, but this match ain't over - 32:32 with three minutes of this period of extra-time left.
17:18
The first five minutes of extra-time have seen a flurry of goals - each team scoring three times. Janus Dadi Smarason got two of Iceland's, with Ýmir Gíslason netting the first. Norway's have come from Sander Sagosen, Harald Reinkind and Christian O'Sullivan.
17:08
We're into extra time! Iceland steal the ball and Elvar Jónsson tries a shot into the empty Norwegian goal - and it misses. He is clearly gutted and gets some hugs from his teammates.
There's now a short break before we start again. A lot can happen in 10 minutes of handball.
17:05
The Icelandic attack fails and, with 18 seconds left, Christian Berge takes his final timeout.
17:04
There are 39 seconds left, Iceland have possession, and it's 27:27. Tactician Gudmundur Gudmundsson calls a timeout ...
17:00
We're level at 26:26. If full-time ends in a draw, two five-minute halves of extra-time are played; if it's still a draw after that, there's another two five-minute halves of extra-time. If it's still level then, we go to penalties. 
16:52
Iceland levelled the match at 24:24 in the 49th minute. A timeout called by Christian Berge was followed by a swift Sander Sagosen goal and the score has remained 24:25 since then, with several saves at both ends, turnovers, a suspension for Iceland and a lot of battling for the ball. Last eight minutes.
16:46
Iceland's 19th goal of the match was their 2,000th EHF EURO goal in history - and it was scored by their top scorer this tournament, Ómar Ingi Magnusson, who is now the clear leader in the competition with 56 goals so far.

16:44
Norway have lost Sebastian Barthold to a red card after he got in Sigvaldi Gudjonsson's way while he was shooting - it went to video replay and he was then disqualified. Has the momentum swung Iceland's way?
16:38
Sander Sagosen is suspended for fouling Elvar Jónsson and Ómar Ingi Magnusson has a chance to get Iceland back within two with a penalty. 
Gudmundur Gudmundsson has replaced Viktor Hallgrímsson with Agust Elí Björgvinsson for the moment.
16:30
Iceland have started better and have pulled back three goals in the first five minutes of the second half. 
16:14 | HALF-TIME
ICELAND 12:16 NORWAY
Norway have made life a bit tricky for Iceland in the first half with some stiff defence, preventing them from shooting as much as the Norwegians half. Luckily for Iceland, Viktor Hallgrímsson is having a solid outing again, as Courtney Gahan assesses - Norway have a lead, but it's not unassailable.
Iceland goalkeeper Viktor Hallgrímsson is one of the biggest breakout stars of this EURO. He has not been completely consistent, taking time to warm into the role of number one between the posts with a tough game against Denmark before being absolutely key in the record overthrow of France — but that is often the journey of a young player, and Hallgrimsson is still only 21. Against Norway, he has found great form again and is one reason the EHF EURO 2020 bronze medallists do not have a clearer lead at the break.
16:00
Norway are holding a two or three-goal lead, with the pace a little slower than in many of their previous matches. But the likes of Harald Reinkind, Sander Sagosen and Erik Toft are still banging rockets from eight or nine metres past Viktor Hallgrímsson's head and then generally making life tricky for Iceland in defence. 

15:49
A couple of Icelanders have gone down, within a short time of each other. Ýmir Gíslason got back up quite quickly; Thráinn Orri Jónsson lay clutching his leg for a while and it looked as though a stretcher might be needed, but he too stood up and is on the bench.
Viktor Hallgrímsson's early efficiency has slipped, and Norway lead 8:5.

15:37
Six minutes in and Sander Sagosen's second goal gives Norway a 4:3 lead. Once again, both goalkeepers (Viktor Hallgrímsson and Kristian Saeveraas) have started strongly. 
15:25
As well as the previously announced positive Covid tests - including both of these teams' most experienced goalkeepers, Björgvin Pall Gustavsson and Torbjoern Bergerud - Iceland are missing Aron Palmarsson after his injury early in the match against Montenegro. 
15:10
While in recent years Norway have been more successful than Iceland, longer-term history favours the smaller nation. They have beaten Norway four times at the EHF EURO, compared to two wins for Norway, and overall the head-to-head record favours Iceland, with six wins, three draws and four losses against Norway. Iceland hope to book their 22nd World Championship participation while Norway target their 18th. Iceland have not missed a World Championship since 2009; for Norway, the last missed qualification for the global tournament was in 2015.
14:50
Iceland and Norway are both warming up and there's lots of interaction between them as Norway arrive on court, with players knowing each other well. Indeed Iceland's left wing Orri Freyr Þorkelsson plays in Elverum, alongside the likes of Thomas Solstad. 
Now, though, they've turned to their individual warm-ups. 
For your warm-up, enjoy the latest installment of our bench cam, this one from Denmark vs France the other day. 

14:40
A few announcements have been made by the teams in the last hours.
Spain have lost wing Ferran Sole and third-choice goalkeeper Sergey Hernandez after positive Covid tests.
Sweden have confirmed that Hampus Wanne, Niclas Ekberg and Felix Claar are unable to play after testing positive. Daniel Pettersson, who is cleared to play, will replace Ekberg on the right wing. Left wing Lucas Pellas is awaiting the results of a PCR test. 

13:25
Just four and a half hours until Spain take to the court against Denmark. We'll be back live from the arena at about 14:30 CET to bring you the build-up for Iceland vs Norway, then the semi-finals.

13:20
They have amazed us throughout the tournament - but who of these six goalkeepers should be All-star Team goalkeeper? 

12:13
Sweden welcomed Linus Persson to their team as a replacement for Lukas Sandell, and then gave him the task of hosting their 'morning coffee' show today. 

11:55
Our four semi-finalists are no stranger to this level of top competition. In fact, as Björn Pazen has explored in this feature, they are regulars in the final stages of major tournaments. Last year, on 29 January 2021, the same two semi-finals were played at the World Championship in Egypt, with Denmark and Sweden emerging triumphant over Spain and France. 
But why are these teams so good? Find out ...
11:35
Don't forget to vote for the EHF EURO 2022 All-star Team. This morning we've looked at the highlights of the centre back nominees - which of these superb playmakers gets your vote?

11:05
Instant replay technology has been used a number of times over the course of the EHF EURO, helping both referees and table officials check their decisions or actions on court. It has both confirmed and decided against red cards, and determined last-second goals. 
In this piece, we look in more detail about when and how instant replay can be used, and reveal how it might expand in the future.
10:27
The teams have hours before they have to communicate today's squads, but here is some news that broke yesterday.
Norway announced that goalkeeper Torbjoern Bergerud and line player Magnus Gullerud tested positive on Wednesday for Covid-19. Elverum player Endre Langaas was already on the sidelines of the squad ready to step up, and will replace Gullerud in the placement match this afternoon.
Sweden said yesterday that Lukas Sandell had tested positive for Covid-19 and would be replaced by Nantes right back Linus Persson. In the same announcement, they said Hampus Wanne, Niclas Ekberg and Daniel Pettersson, who had all previously had Covid, had tested positive again and were isolating according to protocol. We'll update you when their status for tonight is confirmed, but their absence would be a dent to Sweden's squad, leaving them with fewer wing options - although Valter Chrintz has proved himself a very able alternative on the right! Meanwhile Andreas Palicka and Felix Claar are still isolating in Bratislava, but could play today or Sunday if they are cleared according to the necessary tests.
10:00
It's semi-finals day! The teams are excited, fans are excited, we're very excited.
Action throws off at 15:30 CET with the 5/6 placement match, which is a battle for automatic qualification for the World Championship 2023 after co-hosts Sweden and reigning champions Denmark reached the EURO semi-finals. 
Then at 18:00 CET Spain play Denmark, with France vs Sweden finishing things off at 20:30 CET. Stay tuned for build-up throughout the day.