EHF EURO
Summary: Four teams book tickets in round 4
The race for the Women's EHF EURO 2022 continues with round 4 of the qualifiers this weekend — all of which are reverse fixtures of the round 3 games on Wednesday and Thursday. The EHF EURO Cup also continues. 
SUNDAY 6 MARCH
19:41
So with round 4 of the EHF EURO 2022 qualifiers phase 2 over, we have tickets booked for Poland, Switzerland, Denmark, the Netherlands and France. The full standings can be found here. 
The next two rounds will be played in April, with round 5 midweek and round 6 at the weekend. After that, we'll know all 12 teams joining reigning champions Norway and co-hosts Montenegro, North Macedonia and Slovenia at the championship in November. Join us in April to find out who makes it!
19:32
Did you miss any of tonight's action? Never fear, we have match reviews from all five games - find out which players made the difference and what the results mean for qualification.
19:20
With tonight's action over, here's a round-up of the results.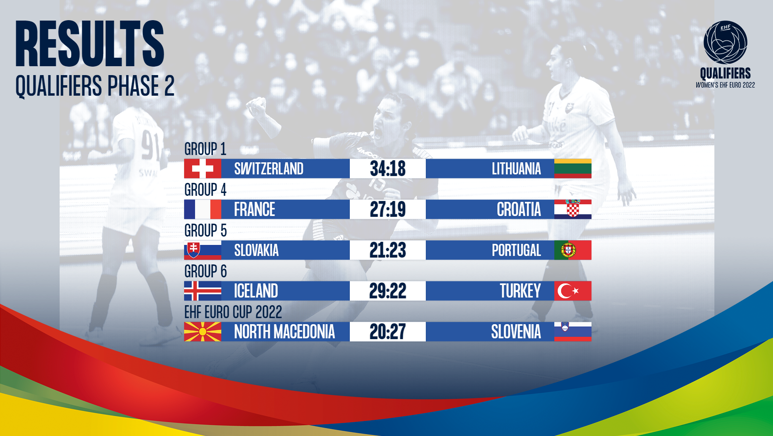 Slovenia complete a seven-goal win, their second of the EHF EURO Cup to put them level with Montenegro in the four-team ranking. The Macedonians are yet to win a game.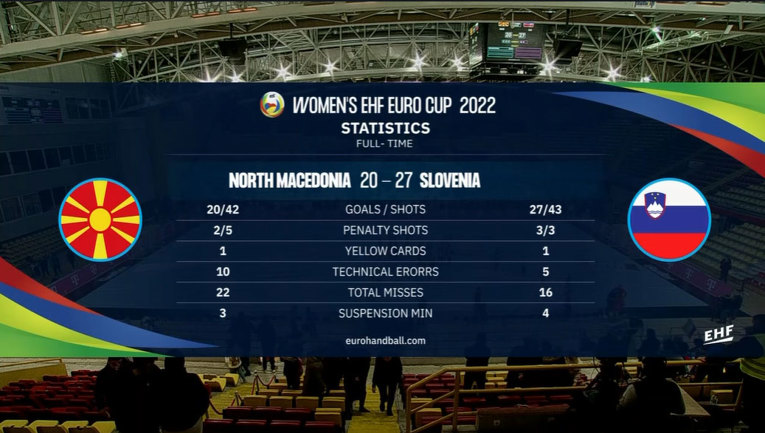 19:40
Slovenia now lead 22:14, 45 minutes in. North Macedonia don't have any answers right now.


19:30
Slovenia continue to control their match against North Macedonia, stretching out to an 18:12 lead after seven minutes in the second half. They have allowed their hosts to net just once since the restart. While Ana Gros has scored four, it's a good team effort from Slovenia with another five players on the scoreboard, and Amra Pandžic strong in goal.










19:09 HALF-TIME UPDATE | NORTH MACEDONIA 11:13 SLOVENIA
The Macedonians showed impressive resilience to counter Slovenia's early attacks and pull back into the match, but a 2:0 run in the last minute or so means Slovenia have the lead into the break. Slovenian goalkeeper Amra Pandžic is making the difference with a number of excellent saves.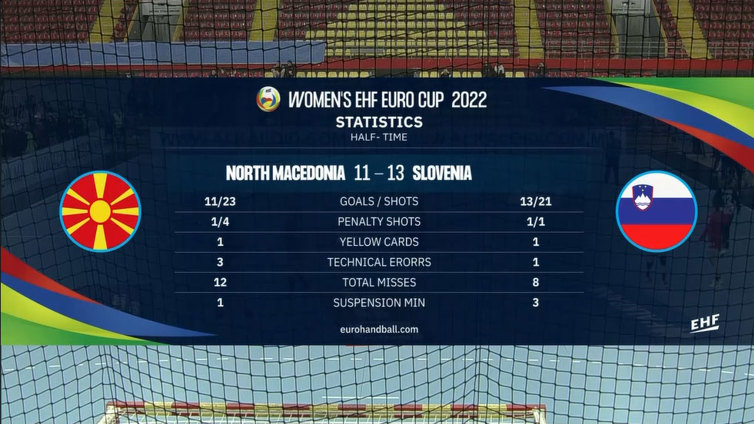 Superior defence and goalkeeping paid off for France tonight, and they are through to another EHF EURO in their latest win against Croatia. 
Croatia are not yet out of the running - they have two points from a win against the Czech Republic, and have the reverse fixture still to play alongside a possible reverse fixture against Ukraine, if that is able to be played at some point in the future. It's scheduled for April 20.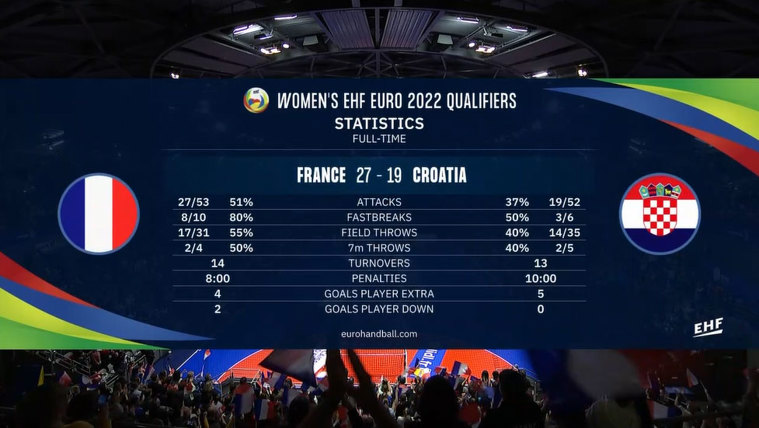 18:52
Dora Krsnik attempts to stop Estelle Nze Minko from scoring and goes down, apparently injuring her leg as she goes. Ana Debelic carries her teammate from the court. France lead 23:17.
In Skopje, Slovenia lead North Macedonia 8:7. Slovenia beat their EHF EURO 2022 co-hosts 29:28 in the reverse fixture.
18:44
Grace Zaadi and Orlane Kanor are both suspended - is this a chance for Croatia to get back into the game? Dejana Milosavljevic nets the penalty, but France lead 21:15.
18:37 
Cléopatre Darleux is now on court, but has picked up where Laura Glauser left off between the posts and it's allowed France to move to a 19:14 lead well into the second half. 
A useful two points for Iceland as they hold on to beat Turkey in one of the biggest margins ever between the two sides. Iceland now have four points, level with Serbia and two behind group 6 leaders Sweden. With two rounds left there's plenty still to play for here!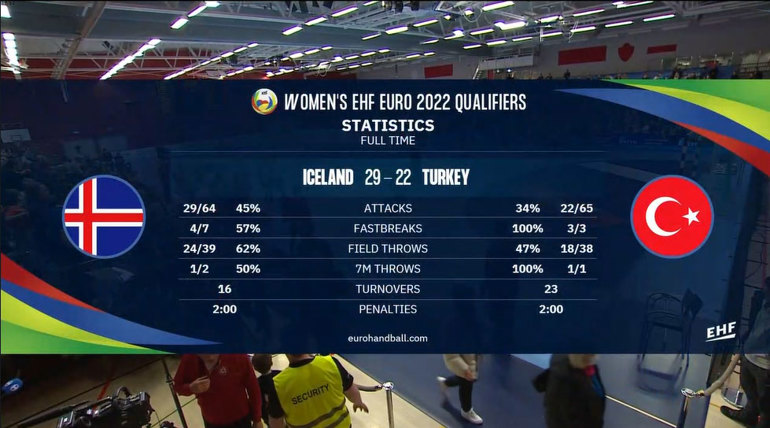 18:23
Starting soon, there's one more match to go today - the EHF EURO Cup match between North Macedonia and Slovenia. That's at 18:30 CET, on EHFTV!
18:18
Turkey are not letting Iceland away, holding a four-goal margin - but equally, Iceland are not allowing the gap to close any further. With five minutes left, it's looking like a home win.
18:10 HALF-TIME UPDATE | FRANCE 13:9 CROATIA
A flurry of French goals and saves from Laura Glauser just before the break gave the hosts a four-goal advantage, and they send Croatia to the dressing room yet to hit double figures.
Oceane Sercien Ugolin and Andrea Simara are the top scorers so far, each with three goals.

18:07
In the goalkeeper contest, France's Laura Glauser has a huge 44 per cent save rate - but Ivana Kapitanovic's 33 per cent is not to be sniffed at. Here's one of her best.

18:02
Olivier Krumbholz calls a timeout and asks his team for more speed - but their first attack fails. Luckily Estelle Nze Minko steals the ball back from Croatia after losing it and Oceane Sercien Ugolin scores, but with one goal in it it's still pretty close.
Turkey have closed up to a four-goal deficit in Iceland, and there's 20 minutes yet to play.
17:55
For a little while it looked like France were going to stretch out to a comfortable lead - but from 8:5, Croatia have pulled back to 8:8 with a tremendous Andrea Simara goal to thank. 
Iceland lead Turkey 17:12.
17:45
Some 12 minutes played in Toulouse on a bright royal blue court, and it's 6:5 between France and Croatia. 










17:37 HALF-TIME UPDATE | ICELAND 15:9 TURKEY
Iceland, learning from their mistakes in the week, have had a good start and lead comfortably. Hafdís Renötudóttir is shining in the goal, saving 36 per cent of Turkey's shots.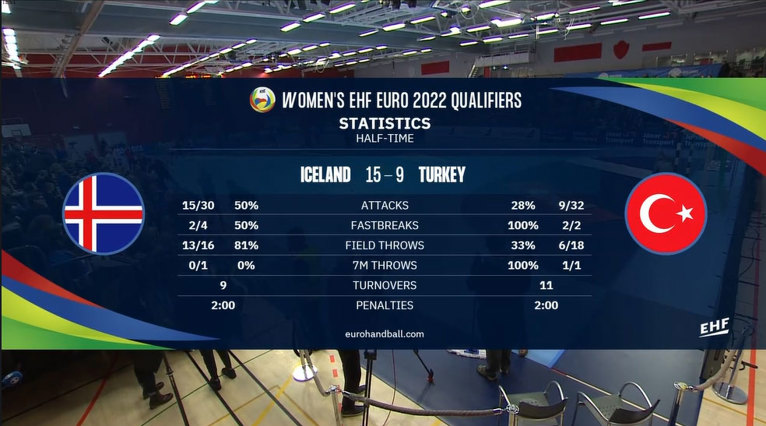 The home fans are on their feet as Switzerland secure a win and an EHF EURO 2022 place after an incredibly dominant second half. They shut Lithuania out entirely to take a huge win, substantially helped by 12 goals from Kerstin Kündig. It was their biggest win in an EHF EURO qualifier in nearly 12 years.

17:25
There's another EHF EURO 2022 ticket up for grabs in the next match tonight, if France beat Croatia again. The EHF EURO 2020 silver and bronze medallists had a close encounter on Thursday, but France had the edge, and will be the favourites at home to take the win. That's at 17:30 CET.
17:20
Switzerland have eased out to a nine-goal lead, virtually assuring a win - and with it, a place at the EHF EURO 2022. Poland have already qualified from group 1 after Russia were excluded last week as a result of the invasion of Ukraine. Switzerland already led Lithuania by four points to two, and with Lithuania having only one game left to play - against Poland - they can no longer catch up.

17:10
Last Wednesday Turkey beat Iceland by a single goal in a thrilling game, to take their first points of qualifiers phase 2. These two sides are used to close matches, with only one of their four previous encounters ending with a margin of more than one goal. 
Iceland have begun well today, pulling out to a 5:3 lead after eight minutes.
16:55
As Switzerland and Lithuania restart, Iceland are preparing to host Turkey in Hafnarfjordur. They throw off at 17:00 CET.
16:42 HALF-TIME UPDATE | SWITZERLAND 12:10 LITHUANIA
A direct free throw for Switzerland is easily intercepted by Lithuania's goalkeeper Evita Zilionyte, but the hosts have a two-goal lead into the break. Scoring is limited to only a handful of players on both sides - four for Switzerland, and five for Lithuania. Kerstin Kündig and Simona Kolosove have both scored five times.
It was a little closer than the reverse fixture, but Portugal proved again to have more staying power. They take another win, another two points, and now have four points to group leaders Hungary and Spain's six. It clearly means a lot to the Portuguese!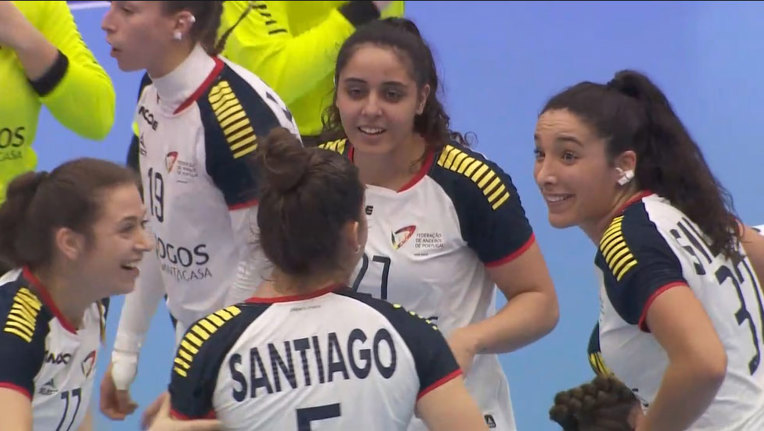 16:32
Switzerland have started to edge ahead against Lithuania. Kerstin Kündig has scored three times, with Mia Emmenegger leading the scoring with four so far. 

16:28
Slovakia's time to make up this deficit is running out, but from four goals down they're back to two - Portugal have a a time-out.
It's 7:7 between Switzerland and Lithuania. Mind you, the reverse fixture was also close for the first half, before Switzerland pulled away in the second 30 minutes.

16:20
Slovakia have failed to score for 12 minutes and Portugal now lead by three goals - what a turnaround! 
Six players, three from each team, have now scored four times.
16:13
Portugal have drawn level with 15 minutes to play, after a few mistakes from Slovakia.
Over in Switzerland, it's 3:3 after eight minutes.
15:57
Slovakia and Portugal have resumed play, and both have scored twice in two minutes to keep the margin at two goals.

15:54
The next of today's matches will throw off at 16:00 CET - Switzerland host Lithuania in a bid to back up their 36:30 win in the reverse fixture on Thursday. As ever, it'll be live on EHFTV.
15:45
Adriana Medvedova is leading the goalkeeper stats at the moment, with an overall save percentage of 31 per cent compared to 22 per cent for Portugal's Jessica Fereira.

15:40 HALF-TIME | SLOVAKIA 14:12 PORTUGAL
After their time-out Slovakia stepped up a gear and stopped Portugal from scoring for over six minutes, while netting four of their own. Portugal picked up two goals just before the break, including an empty-net shot from Carolina Monteiro which barely made it in before the half-time buzzer went. That means it's still pretty close going into the dressing room.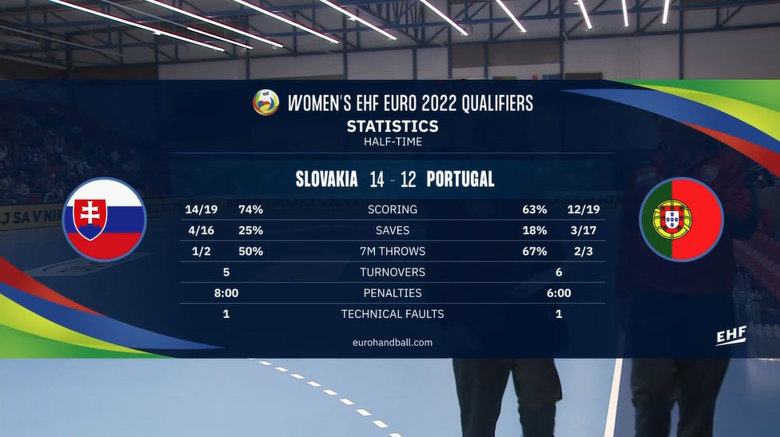 15:30
With the score still level at 10:10 Slovakia's coach Jorge Duenas, who is new to the team, takes his first timeout. Bibiana Štefaniková and Maria Da Silva Pereira have both scored three times in a very tightly-contested game.
15:22
A missed shot by Karin Bujnochova gives Portugal possession, and Patricia Lima takes advantage to score and equalise the match at 8:8. Slovakia were previously leading by a couple of goals. 
Things continue to go the visitors' way as Jessica Fereira makes a good penalty save.
15:10
Just under 10 minutes in, and it's an even game - Slovakia lead 5:4, but have made a few more technical errors than their opponents. 
15:01
The teams are throwing off - Slovakia in red, Portugal in white, in front of a decent crowd in Topolcany.
14:45
Coverage of the match between Slovakia and Portugal has begun on EHFTV. We'll also have stats on the website throughout the game.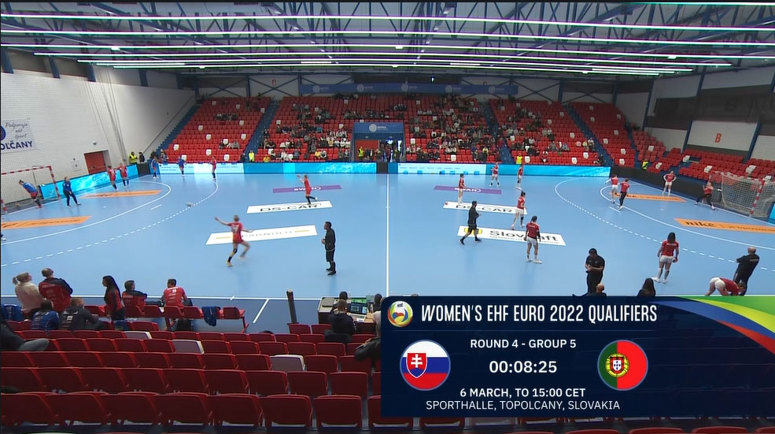 14:25
Last week, Portugal hosted Slovakia at home and won 24:21. It was Portugal's first win of qualifiers phase 2 after losses to Hungary and Spain in the first two rounds. 
With zero points so far, Slovakia are running out of chances for qualification, but a win today would at least keep their hopes alive - although they would absolutely need to win both their reverse fixtures with Hungary and Spain, and for Portugal to also win their remaining games. 
14:05
Welcome back to the live blog for Sunday's Women's EHF EURO 2022 qualifiers. We have four more games ahead, plus the EHF EURO Cup match between North Macedonia and Slovenia. 
Action throws off at 15:00 CET as Slovakia look for their first win of the qualifiers against Portugal. 

SATURDAY 5 MARCH
22:16
That brings us to the end of day one of round 4 of the Women's EHF EURO 2022 qualifiers. 
I leave you with the final review of the day, recapping Hungary's great away win against Spain. 
See you for more EHF EURO 2022 qualifiers and EHF EURO Cup tomorrow!
22:03
Five qualifiers and one EHF EURO Cup match played today — and another four qualifiers and one EHF EURO Cup game to come on Sunday. 
Here is what's coming your way tomorrow: 
15:00 CET Slovakia vs Portugal
16:00 CET Switzerland vs Lithuania
17:00 CET Iceland vs Turkey
17:30 CET France vs Croatia
18:30 CET North Macedonia vs Slovenia — EHF EURO Cup
France are the only team remaining who can book their place at the final tournament in round 4, while the other sides are targeting important points in the race for the EHF EURO 2022. 
21:52
What a day of qualifiers! Here's a full rundown of all the results, with Denmark and The Netherlands the headliners of the day as they qualify for the EHF EURO 2022. 
Alongside the co-hosts — Montenegro, North Macedonia and Slovenia — and defending champions Norway, Poland are also qualified.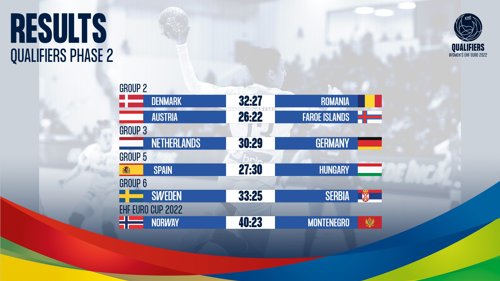 Hungary secure the win and with it a valuable two points towards the qualification race, as they move up to six points where they are level with Spain as the group 5 leaders. 
21:18
Six minutes without a goal from Spain sees the home side fall well behind, while Hungary streak ahead to lead 27:21 just outside the last 10 minutes. It's a great all-round effort from the visitors, with only two field players not having made it onto the score board yet. 
21:06
10 minutes in to the second half and Hungary have grabbed the lead, 22:20, prompting a timeout from Spain. Both teams are really delivering a great game here to end a big day of EHF EURO qualifiers. 
In the individual scoring race, Szandra Szollosi-Zacsik is leading with five goals for Hungary. 

20:40 HALF-TIME UPDATE | SPAIN VS HUNGARY 15:15
We go to the break in the last EHF EURO 2022 qualifier of the day with the score level, after Hungary equalise for the first time since 6:6 in the eighth minute late in the half. 

20:22
The first quarter in Spain comes to a close and the home side are leading 10:9, promising us an exciting match to end the day. 
Hungary are keeping close on the score board but having some trouble finding gaps for the backs and wings. Most of their success is coming from the line, with pivot Reka Bordas netting three of her sides goals so far. 
20:00 
Throw-off in Santander! In the pre-match procedure, Spain right back Mireya Gonzalez was presented with a jersey commemorating her 100th match in the national team. Can they celebrate her milestone with a victory? 
If you cannot watch on EHFTV or simply want some stats to supplement your viewing, follow the game on the live ticker. 
19:47
As we wait for throw-off in the final game of the day, recap on what's happened so far in Saturday's qualifiers and EHF EURO Cup action with our reviews below. 
19:33
Just one match remains on Saturday's EHF EURO 2022 qualifiers schedule: Spain vs Hungary, starting at 20:00 CET, in group 5. 
In the first leg of their double-header, Spain pulled off one of the miracle victories we have seen a few times in these qualifiers — trailing the entire match before grabbing the advantage just in time to win the game. The final score was 30:28. 
Spain enter the game with the maximum points — six, from three wins, while Hungary are second in the group with four points. 
The two teams are the favourites in the group to reach the final tournament. Any other result would be a huge upset for these sides, as Hungary have never missed a EURO and Spain have reached every edition since 2000. 
Can Hungary take the points away and give themselves the best possible chance ahead of rounds 5 and 6 of the qualifiers? Or will Spain leave Hungary with no points gained in rounds 3 and 4?  
Join us for the final match of the day on EHFTV.com!

19:11
Austria's win against Faroe Islands takes their record in the EHF EURO 2022 qualifiers to two victories and one draw, which represents their second-best campaign in this format of the EHF EURO qualification phase. 
In 2018, Austria took three wins and ranked third in their group — which was won by none other than Romania. For the 2018 edition, the best third-ranked team across all groups also qualified for the final tournament, and Austria very narrowly missed out on ending their long wait to return to the EHF EURO. 
In the ranking of best third-ranked teams, Austria gained the same number of points as Slovenia and had the same number of goals scored against, but Slovenia had scored one more goal than Austria — so Austria missed out and Slovenia went on to the final tournament in France.
Austria have now placed themselves in a great position to book group 2's second ticket and join Denmark at EURO. The last matches in the group will see Austria meet both Denmark and Romania, while Romania also play Faroe Islands once more.
Austria now have much more control of their own fate than Romania, but it does look as though the group's second ticket to the EURO could come down to the last match between Austria and Romania. 








Austria finish with a confident win that sees them move up to five points on the table and pass Romania, who slip to third. Marianna Geirsdottir Eystberg is the clear top scorer, with 11 goals for Faroe Islands. 
18:50
Six minutes on the clock and Austria remain four goals in front, but Faroe Islands have plenty of time to close the gap and grab a late win as we've seen happen in multiple matches in the qualifiers this week. 
On the side of the visitors, Marianna Geirsdottir Eystberg is having a standout game, scoring 10 goals for Faroe Islands — and delivering some great assists. 
18:32
Over in group 2, Austria remain on track for a very important two points — taking the win here would see Austria jump past Romania into second position on the table. 
Austria would then be in a strong position to cause a big upset and snatch the group's last remaining ticket, after Denmark clinched the first today. Austria have not reached the final EHF EURO tournament since 2008 so it would mean the end of a very long wait for the side. 
As the match against Faroe Islands hits the 40-minute mark, Austria lead 18:12. Goalkeeper Lena Ivancok is having a huge game, with five saves at 62 per cent. 
In charge from start to finish, Sweden collect the points from a strong victory against Serbia and become the group 6 leaders with six points in their account. Serbia remain in second on the table with four. 








Norway keep their perfect record in the EHF EURO Cup as they take a fourth win, defeating Montenegro with a clear score line in their favour. 
Montenegro stay on four points and will have to hope Slovenia do not take a second win in their double-header against North Macedonia on Sunday, as that would take Slovenia to the same four-point tally as Montenegro and introduce some tighter competition on the table. 
18:08
The interesting story of the level rivalry between Sweden and Serbia continues, as Sweden stay clear in charge in their match, leading 26:19 with 15 minutes remaining. 
In round 3, the situation was exactly reversed, with Serbia enjoying the upper hand with a strong performance throughout.
In the overall head-to-head record, the first four official matches between Sweden and Serbia saw draws, before winners finally began to emerge. The four games since the run of draws ended have seen two wins each — but a victory here would mean Sweden hold the upper hand in the historical head-to-head. 
But any player will tell you the history does not matter when it comes to current competitions, and Sweden will be focused only on how these two points can set them in a strong position ahead of the final rounds of qualifiers. 

18:06 HALF-TIME UPDATE | AUSTRIA VS FAROE ISLANDS 14:10
Austria are looking dominant at home and on track to claim their second victory of the EHF EURO qualifiers, as they lead by four at the break against Faroe Islands. 
17:41 HALF-TIME UPDATE | SWEDEN VS SERBIA 17:14
Are we headed for the first reverse result of round 3? After Denmark and The Netherlands both made it two wins from two games in their respective double-headers, Sweden go to the break with the result from their away clash reversed, leading Serbia by three. 
Can they hold on and clinch a valuable two points that will see them enter the final rounds as the group leaders? 












A brief blip in the first half but Denmark power to another win against Romania and follow The Netherlands to the final tournament as they book their place at the EHF EURO 2022. 
A brutal end for Germany as The Netherlands snatch the lead for the first time in the match with 15 seconds to go courtesy of a goal from Lois Abbingh and take the victory — and with that, their place at the EHF EURO 2022. 
The Netherlands came from 26:29 behind with four minutes to go, scoring the last four goals of the game to pull off a great win and leave Germany without any points gained in rounds 3 and 4. 

17:25
Next to throw off in Saturday's EHF EURO qualifiers is the second group 2 match of the day, Austria vs Faroe Islands. 
Faroe Islands put on a good performance in the home leg but Austria took the points nevertheless, earning their first outright victory, 29:24.
Following the round 3 win, Austria bring three points into round 4, while Faroe Islands remain on zero.   
17:23 HALF-TIME UPDATE | NORWAY VS MONTENEGRO 17:11
Norway power to a decisive half-time lead against Montenegro in today's EHF EURO Cup match. Norway wing Camilla Herrem and back Henny Reisted top score the first period with four goals apiece. 

16:55
The action just keeps on coming! Today's third qualifier is five minutes away, with Sweden hosting Serbia for a group 6 match. 
Serbia enjoyed a great game at home in the reverse leg, with a huge game from goalkeeper Jovana Risovic leading them to a 24:21 victory. 
Serbia have conceded the lowest number of goals of any team that has played all three rounds, with 64. 
Group 6 is one of the most competitive of the qualifiers, with no team on the maximum points. Sweden and Serbia both count four points from two wins so far, ahead of Iceland and Turkey with two points each.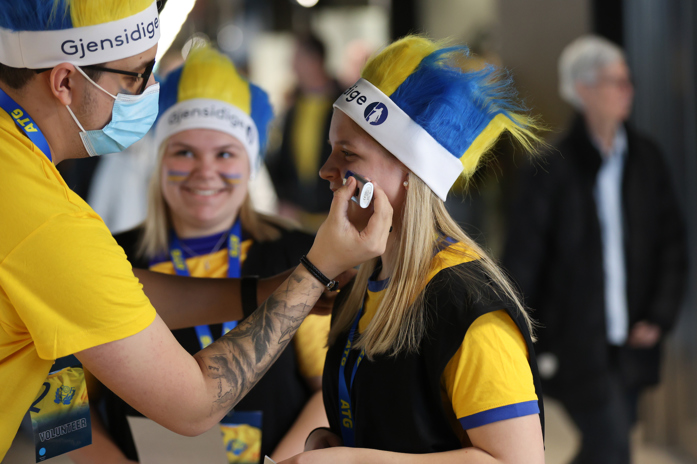 16:49 HALF-TIME UPDATE | DENMARK VS ROMANIA 13:10 
Despite a long time with no goal in a period of the first half, Denmark retain a promising lead at half-time against Romania. Goalkeeper Althea Reinhardt records a rate of 40 per cent as Denmark's defence plays a key role in their advantage. 
16:41 HALF-TIME UPDATE | NETHERLANDS VS GERMANY 15:17
Germany hold The Netherlands off with a distance of one to three goals for the entire first half, and take a lead of two into the break in the first of today's qualifiers. 

16:34
Just over 10 minutes until today's EHF EURO Cup match, Norway vs Montenegro, begins. When the teams met earlier in the week in Podgorica, Norway won 32:27. 
Norway are the Cup leaders with six points after a perfect record of wins, while Montenegro have four points and are second. 
The match pits the top scorers of the EHF EURO Cup 2022 against each other: wings Camilla Herrem and Jovanka Radicevic. Herrem has scored 18 for Norway while Radicevic has the same tally for Montenegro. 
Meanwhile in the qualifiers currently underway, Germany still have the edge over The Netherlands, 16:14, with less than two minutes to go to half-time, while Denmark have seen their clear advantage diminish somewhat due to a scoreless period of over six minutes. But the home side still have the lead, at 9:7, in the 20th minute. 
16:20
Germany are out to upset The Netherlands hopes of booking their place at the final tournament, as they have a stronger start and take the lead early — 6:4 in the 10th minute and now 9:7 in the 16th. 
Alina Grijseels has been a driving force for the away team, with three goals from three shots so far. 
In Denmark, the story unfolding is the opposite — the Scandinavian team are clearly in command, with a 6:2 advantage in the seventh minute. We're seeing huge games from goalkeeper Althea Reinhardt and back Line Jörgensen, with Reinhardt recording a 50 per cent save rate and Jörgensen netting three goals already. 
16:04
As round 4 gets underway with The Netherlands vs Germany (1:2 in the fourth minute), Denmark vs Romania is nearing throw-off. 
Like the Dutch, Denmark won the away fixture against their opponents, beating Romania 35:28.
Denmark have the maximum six points ahead of Romania on three. Denmark are the only team alongside The Netherlands to have scored more than 100 goals in the qualifiers, with 101.  
15:44
Getting us underway with Saturday's action are The Netherlands and Germany, throwing off in Rotterdam at 16:00 CET. 
The Netherlands won the first leg of this double-header on Thursday, 31:25, in what was the debut of their new coach Per Johansson. 
Germany are on five points following the loss in round 3, while The Netherlands have eight. The Netherlands have scored the most goals of any team in the qualifiers — 104. 
15:36
Six exciting games, with five of them qualifiers, coming up — but two teams in particular to watch out for today are The Netherlands and Denmark, as both can book their places at the final tournament with wins. 
Tomorrow, France have the same chance. 
Any team that qualifies for the EHF EURO 2022 this weekend will join Poland, who have secured the first berth from the qualifiers due to earning four points in the restructuring of the competition announced on Friday.
15:20 
Welcome to our live blog coverage of round 4 of the Women's EHF EURO 2022 qualifiers. Courtney Gahan here to guide you through Saturday's action, which sees six matches coming up, including one EHF EURO Cup game. 
16:00 CET Netherlands vs Germany
16:10 CET Denmark vs Romania
16:45 CET Norway vs Montenegro — EHF EURO Cup
17:00 CET Sweden vs Serbia
17:30 CET Austria vs Faroe Islands
20:00 CET Spain vs Hungary
Let's get started with a closer look at what's coming up in our round preview. If you missed the midweek matches in round 3, check out our live blog coverage. Find them both below!