Other News
Faroe Islands win Women's Trophy in Georgia
Faroe Islands win Women's Trophy in Georgia
It has been a long time waiting for the Faroe Islands. The team had reached the final of the IHF/EHF Trophy, formerly the Challenge Trophy, on four separate occasions until they could finally in celebrate.
In 2012 they had lost to Bulgaria, in 2008 to Finland, in 2006 to Bosnia-Herzegovina and in 2004 to Italy, but on Sunday in Tbilisi, Georgia had to succumb to the Faroe Islands' prowess who dominated the final and took a 28:14 win.
Earlier in the day Latvia had won bronze following their 30:21 win against Belgium in the match for third place.
Estonia came fifth after their 33:23 win against Cyprus and Armenia placed seventh with a 29:5 win against Albania.
Faroe Islands had their best player in Maria Halsdottir Weyhe and it was much due to her shooting efficiency - she scored nine goals in the match - that her team had already carved out a 11:6 lead at the break.
Georgia were not able to bounce back in the second half and Faroe Islands increased their lead goal by goal and eventually celebrated a deserved win.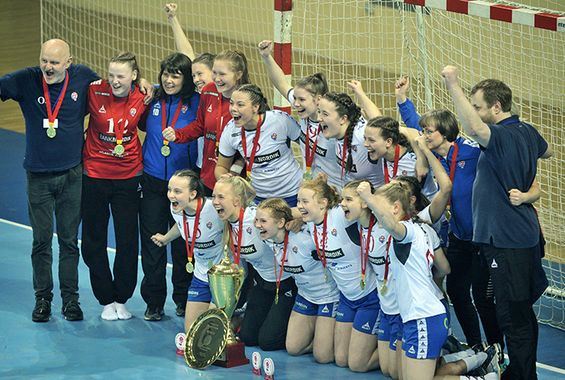 All-star team named
The nomination of the tournament's All-star became a special occasion in particular for Georgia's Tamar Chogovadze who not only celebrated her birthday on Sunday but was also awarded best right back and the trophy's Most Valuable Player.
All Star Team of IHF/EHF Women's Trophy 2016
Best goalkeeper: Annika Fridheim Petersen (FAR)
Best left wing: Marie Urvik (EST)
Best left back: Estelle Ghijsens (BEL)
Best centre back: Simona Armane (LAT)
Best line player: Jekaterina Netsajeva (EST)
Best right back: Tamar Chogovadze (GEO)
Best right wing: Magna Tordardottir (FAR)
Best defender: Tora Eliasen (FAR)
Top scorer: Simona Armane (LAT) - 41 goals
Most Valuable Player: Tamar Chogovadze (GEO)