Handball runs through family's veins
From the first moment anyone saw Drasko Nenadic following in his brother Petar's footsteps, everyone knew he was going to become something special.
Handball was an obvious choice for the enthusiastic young Nenadic as he had many idols to look up to since taking his first handball steps.
One can truly say that handball runs in the family's veins, with his father Velibor being a member of the highly acclaimed Yugoslav national team from the 1980's, and his uncle also being a handball player.
His brother Petar is a current Füchse Berlin player in Germany who won silver at the EHF EURO 2012 as well as gold at the Mediterranean Games in 2009 with the Serbian national team.
"I have had this privilege to be able to learn from all of them since the beginning. It defined me as a sportsman and as a person from early on.
"Petar and I trained with my father a lot in the past, and we still do a bit when we get the chance. We have a special bond, and are trying to spend as much time as we can together.
"We've all learned from each other, yet everyone is unique in his own way," says Nenadic.
Student surpasses his teacher
It was a joyous occasion for the Nenadic family when SG Flensburg-Handewitt, Drasko Nenadic's current club which he joined in 2013, won the VELUX EHF Champions League in 2014.
The joy expressed by his brother Petar was maybe the greatest; as the flamboyant playmaker following Drasko's success said: "I was once Drasko's idol, but now he became mine."

"No words can describe the feeling (of winning the VELUX EHF Champions League)," admits Drasko Nenadic.
"I was so happy to win this trophy for my family - especially for my brother. He is my biggest hero and one player I have always looked up to. He is my closest friend, and the best role model I can have.
"As a kid, I've always tried to replicate what he did on the court, and admired his skill. I'm happy to say that I have a lot of variety to show in my game because of that."
"I was overjoyed to have had an opportunity to play alongside my brother at EHF EURO 2014 – it was a dream come true for me.
"I hope we will be allowed to show what an excellent partnership Petar and I can form in the Serbian national team in the future," says the 25-year old.
The rocky road to the top
Today Nenadic makes it all look so effortless playing for Flensburg, but his road to success was no easy path. He always had to fight the pressure of expectation, and work hard day after day to prove his worth.
"It was clear to me that fighting and working hard is the only way to make your own way, step by step.
"I started playing on the left wing, as the youngest in the team. Most guys were two or three years older than me, and I had a lot to prove in every way.
At the age of 17 Drasko Nenadic broke into the first team line-up at his favourite club Red Star (Belgrade), following his father's and brother's footsteps - but soon he was ready to take on the new challenge - playing in the Spanish league.
He spent three seasons in Spain, representing BM Granollers and BM Guadalajara, before joining SG Flensburg-Handewitt in 2013.
"To play for Red Star was what I've always dreamed of. I left after four years, to further my career. The experience of playing in Spain allowed me to become ready for Bundesliga – my biggest challenge so far.
"I'm grateful for Ljubo's (Vranjes, head coach) patience and trust in Flensburg, and hope to repay the faith with increasingly better performances and more trophies in the future.
"But I know I have to work hard to maintain, and even surpass the level I'm at now. It is always great to win trophies, but they soon fade from memory if you don't aim high," says the Belgrade-born left back.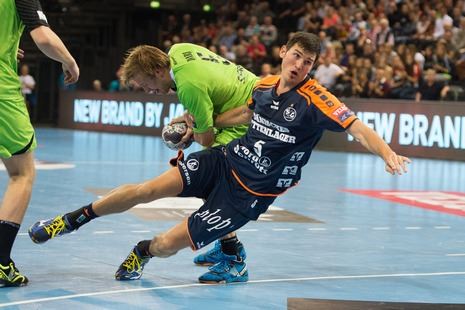 Becoming an idol
Many legends defined Serbian handball in the past, especially on back court positions. Having such a legacy, one simply cannot run out of inspiration, or material to learn from.
It is therefore rooted in tradition that a top-class left back in the national team is well on his way to become a legend, given time and the right set of circumstances. The hardworking Drasko Nenadic stresses the same.
"I looked up to many players in the past, both domestic and foreign, but I feel it is time for me to become someone else's idol.
"That is what I would really like to become in the coming years," he says.
---
The rising handball stars of 2015
Part 1: Niko Mindegia (ESP) / Pick Szeged: "I dream of playing at the next EHF EURO"
Part 2: Kentin Mahé (FRA) / HSV Hamburg: Walking proudly in his father's steps
Part 3: Sander Sagosen (NOR) / Aalborg Handball: "I want to be the best in the world"
Part 4: Nikola Bilyk (AUT) / Fivers WAT Margareten: "Dreaming of becoming handball's Michael Jordan"
Part 5: Michal Szyba (POL) / Gorenje Velenje: A 'watchmaker' on his way to the peak
Part 6: Michal Kasal (CZE) / Futebol Clube do Porto: A new Jicha on the horizon
Part 7: Nikola Portner (SUI) / Kadetten Schaffhausen: A new ambassador for Swiss handball
Part 8: Dario Polman (NED) / Targos Bevo HC: Like brother, like sister
Part 9: Filip Ivic (CRO) / PPD Zagreb: A 'Zagreb kid' dreams of winning the EHF Champions League
Part 10: Dejan Malinovic (BIH) / US Creteil: Dejan Malinovic is ready for the big splash
Part 11: Paul Drux (GER) / Füchse Berlin: Drux moves from village to capital, rises from zero to hero
Part 12: Vuko Borozan (MNE) / TuS N-Lübbecke: "Everything in my career happened so fast"