Igropulo's challenges
Constantin Igropulo arrived in Barcelona from Russia. Everything is new for him in the Catalonian capital. His country of origin and Spain are different in many respects and the new player of Barcelona needs to go through a certain adaptation period.
The main problem, of course, is language. Nevertheless, Igropulo can get along quite well in English, at least for the first period. In addition, his Russian translator is often the other new player of the team, Rutenka.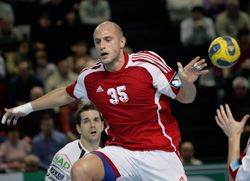 Igropulo is aware of the fact that he will play for one of the strongest clubs in the world.
"I'm looking forward to playing for Barelona. There are new and different things during the training sessions. I'm thankful for my mates because they help me a lot to adapt. They know that I don't speak Spanish and they try to speak English. I'm happy because we understand each other on the court," he said.
Regarding his expectations he added:
"I'm very happy to join such a big club, but I came here to work hard and enjoy the game. My task is to train and play well and to give a contribution to the team. The main difference between the Spanish and Russian leagues is that the teams are on a more equal level here in Asobal. There are a lot of strong teams and we will have to work hard not to lose points," opined Igropulo.
Barcelona signed great players for the new season.
"We have a very equal and good team now. There are talented players for every position. I don't like to make bets, but I'm very optimistic about the season. In the right back position there will be Nagy and myself. We are very different players. I use more power than Laci, but I think we can combine our qualities every game".