World Championship
Jerome Fernandez: "I've never taken anything for granted"
Jerome Fernandez: "I've never taken anything for granted"
Jerome Fernandez has just returned home from the World Championship in Qatar where he won his fourth world championship title with the French national team (2001, 2009, 2011, 2015).
Add to this the two Olympic gold medals (2008, 2012), the three European Championship titles (2006, 2010, 2014) and the two EHF Champions League titles he won with Barcelona (2005) and Ciudad Real (2009), the 37-year-old easily has one of the most impressive record history in handball.
eurohandball.com had the chance to catch up with the left back, asking how he has been experiencing the days since the World Championship Final and what he, at the age of almost 38, thinks of his future career.
eurohandball.com: Jerome, once again after France won a major championship, you've had your own reception at the presidential Elysée Palace. What was this like for you this time?
Jerome Fernandez: It was really fun! This time we went to say hello to all the people who work there, like the kitchen staff. It turns out that the people there love handball!
To be there and to meet the president shows how much handball has grown in the last couple of years. This, added to the people's excitement, is a great part of the reason why I'm still playing in the national team after all these years. I'm (almost) 38 but I've never been tired of it, and I've never taken anything for granted.
Visite des cuisines de l'Elysée. #grandecuisine #reception pic.twitter.com/KvVyAo02Ml

— Jérôme Fernandez (@JrmeFernandez) February 3, 2015
eurohandball.com: But it looked as if your tour did not stop after the Elysée…
Jerome Fernandez: Yes, there is this TV show ("Touche pas a mon poste") where we usually end up every year when we win a medal. The guy (host Cyril Hanouna) has written a song last year, and we paid him a visit on Tuesday. He's a good buddy, so we decided to throw some balls at him, while he was wearing some kind of life jacket. Now he knows what it is like to be a handball goalkeeper!
eurohandball.com: If you had to pick one title out of all the ones you've won with France, which one would it be?
Jerome Fernandez: Each one has been very special for various reasons. But I'd say the Olympic title in Beijing in 2008 was really something. It was the first time in handball that France became Olympic champions. Before handball was just a small sport.
From then, it became something else, growing both in the media and in general attention. It showed the world who we were, after staying under the radar for so long. It was the first of many turning points.
eurohandball.com: Can you explain what has been driving you for so long and after winning so many titles?
Jerome Fernandez: It's always a pleasure to be part of this team. Even though we're not all best friends in the world, we've always wanted to go in the same direction.
The team has always come first, and you can sense that because after the defeats at the EHF EURO 2012 (France finished 11th) and the World Championships in 2013 (France lost against Croatia in the quarter-finals 23:30), we've been able to bounce back. We talked, we analysed what went wrong, and then worked harder to win another title.
eurohandball.com: Do you realise what you've achieved so far, in terms of how many titles you've won?
Jerome Fernandez: You never quite realise this kind of things until you stop your career. To have more World Championship titles than Sweden or Russia is something that rings a bell, that's for sure.
But we are not satisfied yet; we want to push things as far as they can get pushed. We're still hungry for titles and we still find motivation. Winning all these medals shows how what kind of competitors we are – even more so the fact that we've never lost a final.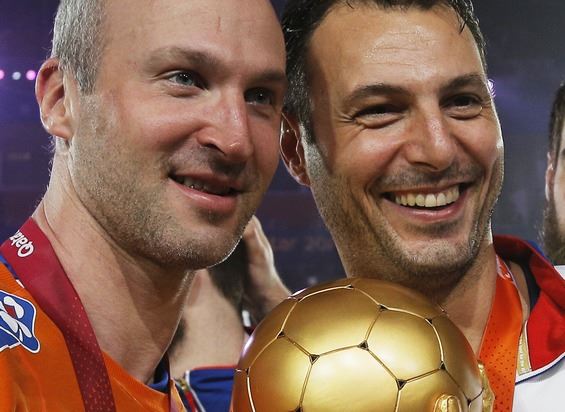 eurohandball.com: What do you think is your role in the squad at the moment?
Jerome Fernandez: My role has changed over the years, now I've got less playing time. I try to share my experience with the younger players that are now in the team, I've got a bigger role off than on the court.
This World Championship has been the competition in which I've played the least since a long time. But I'm not bitter, it makes sense, there are guys out there, like Nikola Karabatic and William Accambray, which are the future of the team. But you know, when they're not scoring, it's always nice to go and take a shot or two!
eurohandball.com: Didier Dinart replaced Sylvain Nouet for the first time on the bench in Qatar. What difference did it make?
Jerome Fernandez: Not much, since Didier has been part of the staff for two years now. Before he was only focused on defence whereas now he's taking care of everything. He defended perfectly, hence he can also spot the weak spots in our opponent's armoury.
The fact that he was still on the court two seasons ago, that we played with him for so many seasons makes for a very strong connection. We know how professional he was when he was a player, and younger players respect him for his records.
eurohandball.com: Is this a role you'd like to endorse at some point?
Jerome Fernandez: Being involved in coaching is definitely something I'd be interested in at some point, that's true. Whether it's with the national team or a club remains to be seen, but for now I'm not thinking about it. I've got a couple of seasons left in my legs, so I'm going to enjoy them and I'll think about what comes after in due time.
eurohandball.com: We've heard that you might be ending your international career. Is that true?
Jerome Fernandez: I don't know yet. For sure, now might be the right time to go, because I'm defending champion of Olympic, European and world titles. But after so many years, it's kind of hard to say goodbye.
I would love to finish the season with the national team, play the EURO qualifying games until the end of the season. We'll have to see what Claude Onesta thinks about that, but it's really what I want. After that, well, we'll see if I'm good enough to still be drafted!
eurohandball.com: Does the fact that this World Championship title might be your last make you enjoy it even more?
Jerome Fernandez: I'm enjoying every moment of it, that's true, but I also did last year when we won the EURO, because it might have been my last at the time.
You never know what the future holds, and to be honest I've been making the most of the entire last few competitions. Of course, it's easier to do so when you win. But despite I'm not playing as much as I used to, it doesn't make any difference.
---
Additional information:
Jerome Fernandez recently featured in CNN's "From human to hero" programme. The documentary can be watched via the link below
http://edition.cnn.com/2015/01/28/sport/human-to-hero-jerome-fernandez-france-handball/
Photos: Qatar 2015