EHF Champions League
Summary: CSKA draw with Györ a highlight on opening weekend
The long, long wait is over: the DELO EHF Champions League is back! The opening weekend saw eight top-level matches throw off the 2020/21 season.
18:40
That brings us to the end of our DELO EHF Champions League 2020/21 round 1 live blog coverage! We hope you enjoyed the exciting weekend and are as happy as we are that HANDBALL IS BACK.
We return next weekend with round 2. See you then!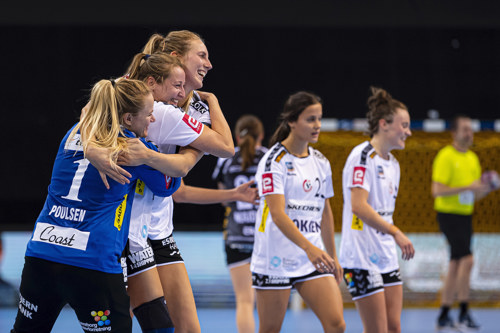 18:30
No matter how many times we have been left floored by her performance, Neagu still manages to amaze us all! The left back goes from strength to strength, and on Sunday proved she is yet again in scorching form and that it is definitely showtime for champions.
Read our special story on the Romanian superstar.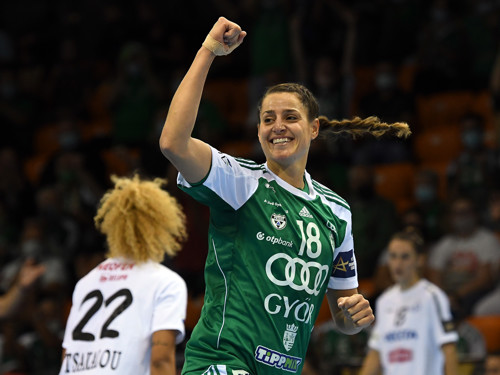 18:10
Missed the last clashes of the day? Check out our summaries of the action: CSM dominate in opening win against Metz and Podravka make comeback to win Balkan derby.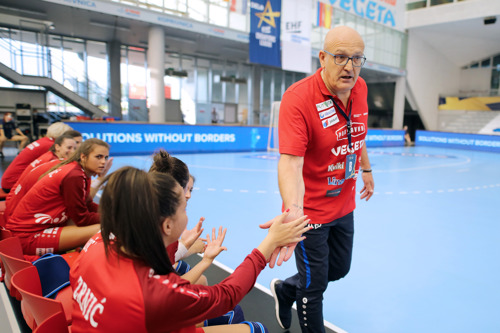 18:00
Now we want to know who impressed you the most today! Vote below for your heroine of the day. 
17:50
That's a wrap on round 1 of the DELO EHF Champions League 2020/21! Here's a rundown of all the results.
17:35
No trouble for CSM taking their first points of the season at home. The Romanian side defeat Metz Handball 31:26 and Neagu finishes with a tally of 12 goals.
Have Metz been weakened so far by their departures, or are CSM that much more powerful in 2020/21? Only time will tell. 
17:30
Huge turnaround in Croatia! Podravka will keep the two points after completely turning the tables in the second half, coming up with a three-goal win over Buducnost.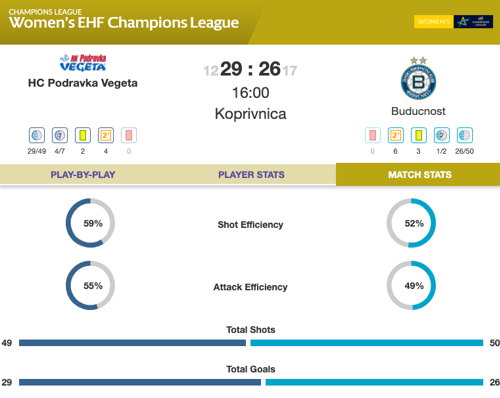 17:15
Podravka have clawed their way back from their five-goal half-time deficit and now hold a level score line with Buducnost, 23:23. Just over 10 minutes left in this thrilling regional derby. 
16:45
CSM Bucuresti are keeping Metz well under control, leading by seven at the break. Cristina Neagu top scored the first half with five goals, with four of those in the first 13 minutes.
16:40
Podravka recover from a slow start and close the gap, but Buducnost are comfortably in front as the sides head to the dressing rooms.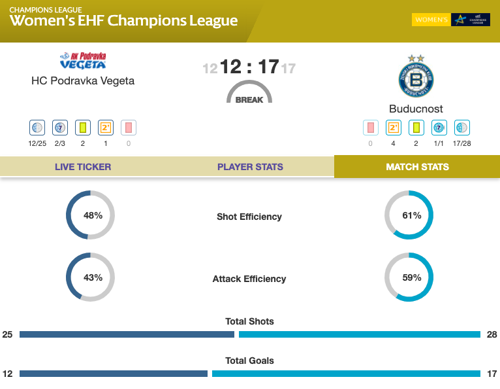 16:30
Trouble for both Podravka and Metz in the first half, as they fall behind their respective opponents – but it's not without magic moments like this one from Podravka.
16:20
Esbjerg's back court put on a big show today, but their wings were equally dangerous. Case in point, Marit Røsberg.
16:05
Podravka vs Buducnost and CSM vs Metz are now both live on EHFTV! 
15:55
We are ready for throw-off in Croatia and Romania, as Podravka and Buducnost take the court for a regional derby, while CSM Bucuresti host Metz Handball in what is sure to be a fiery clash.
Catch the action live on EHFTV.com.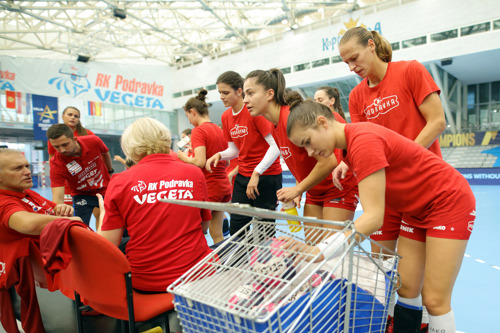 15:50
Our summary of the first game of the day is up! Read all about how Esbjerg clinched their first two points of the season in our match review. 
15:40
Before the match, the big question was how Esbjerg's back court would be impacted by the absence of Polman and Jørgensen. We now have our answer: sure the two are missed, but there is plenty of power left! 
The trio of Tranborg, Frey and Kristine Breistøl combined for 15 goals today.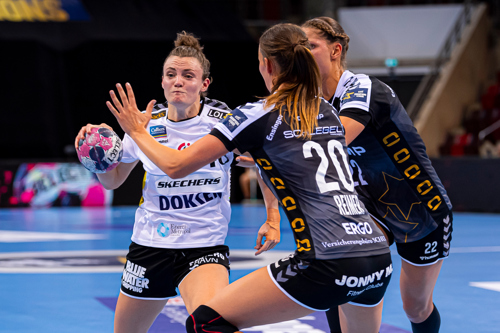 15:25
Esbjerg finish with a clear victory and start their season with a big statement. The Danish side join fellow group A winners from yesterday, Rostov-Don and Vipers Kristiansand, on two points.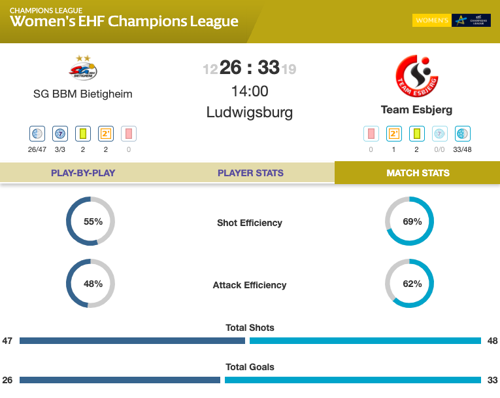 15:20
Only seven players on the score board for Esjberg, but that's all they needed to take command against Bietigheim.
With five minutes remaining, Esbjerg lead by a clear margin and look on their way to the souvenir they wanted from Germany: two points.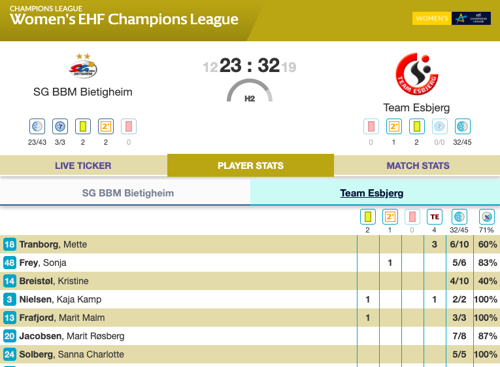 15:05
Bietigheim can see the points slipping away, as Esbjerg stay well in control. The Danish side lead by 10, 17:27, at the 44-minute mark.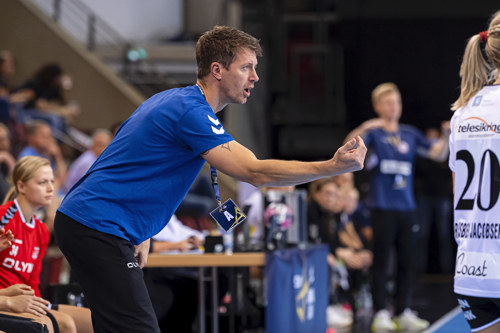 14:40
Half-time in the first DELO EHF Champions League match of the day and Esjberg are looking very comfortable on Bietigheim's court, taking a seven-goal lead into the break.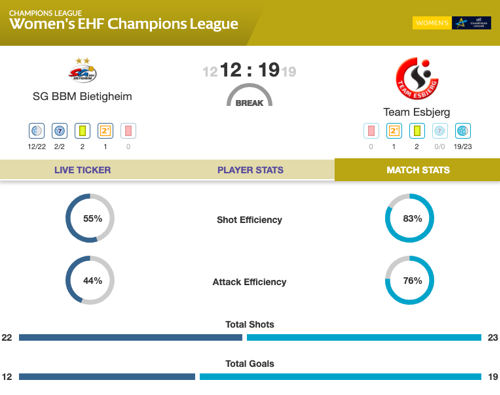 14:25
Bietigheim need to find an answer to Sonja Frey and Mette Tranborg, and quick. The two backs are ripping the German side's defence apart, and have contributed eight of the Danish team's goals so far.
It's 16:9 in Esbjerg's favour with just under 10 minutes remaining in the first half.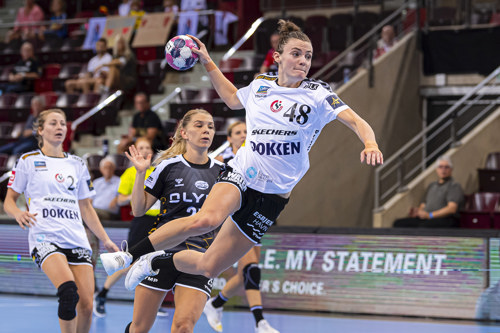 14:20
While Bietigheim and Esbjerg battle it out, excitement is also building for the last two matches of the round, to be played later today.
14:15
A run of goals see Esbjerg create a three-goal lead and it's an early timeout for new Bietigheim coach Markus Gaugisch.
If you can't join us on EHFTV, don't forget you can also follow all games on the EHF ticker, which offers play-by-play and statistics also perfect fo accompanying your viewing.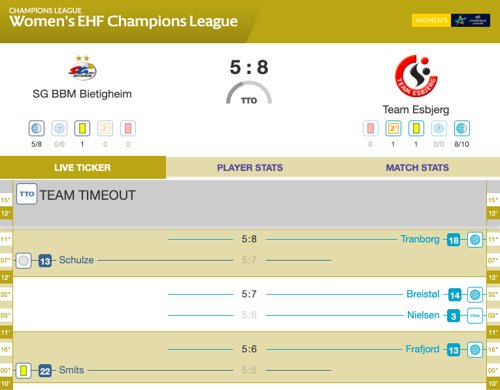 14:05
We are up and running! Bietigheim and Esbjerg are level through the opening minutes. Join us now on EHFTV.com (free registration required)! 
13:45
We are minutes away from throw-off in Germany, and one of the big questions ahead of this clash is how Team Esbjerg will fare without World Championship 2019 MVP Estavana Polman and sharpshooter Line Jørgensen. 
Before the matches begin, refresh on what's coming up with the round preview.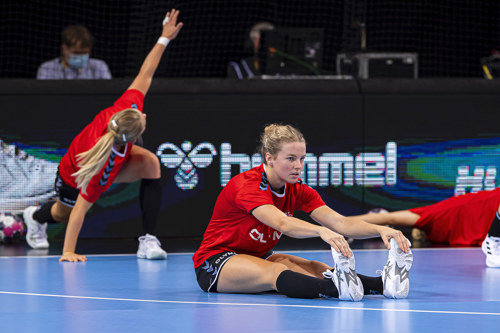 Sunday 13 September, 13:25 
Welcome to the second day of round 1 action in the DELO EHF Champions League 2020/21! Three matches are ahead, and by the end of the night, all 16 teams in the competition will have opened their campaigns.
First up, at 14:00 CEST, SG BBM Bietigheim are due to host Team Esbjerg.  
Saturday 12 September, 21:35
That's all from us tonight - we hope you enjoyed the action on this first day of the new season. The blog will be back tomorrow from 12:00 CEST with as the remaining six teams get their campaigns underway. In the meantime, don't forget to vote for your heroine of the night in our poll!
21:30
We've taken a closer look at CSKA's impressive DELO EHF Champions League debut - find out why their place in the competition is so significant.
21:20
Don't miss the reviews of the second set of matches tonight:
20:05
Tonight was a chance for several players to make their marks for new clubs - such as RK Krim left back Samara Da Silva Vieira. 
19:40
Wow.
FULL-TIME: After a slowish start Brest Bretagne took control of their match and beat Valcea by a resounding 28 goals to 21. In group A, Vipers and Rostov-Don both took their feet off the gas a little in the second half, and beat Krim and FTC respectively by one goal - 27:26 and 26:25.
19:05
Catch up with what happened in the first two matches tonight in our reviews:
19:00
As mentioned earlier, Nora Mørk is playing well for Vipers tonight. It's great to see a true star back on court!
18:42
18:38
HALF-TIME: It's going the way of the visiting teams right now. Vipers are looking very comfortable against Krim, leading 14:9 at the break. Rostov lead FTC 16:12, and Valcea are tied 12:12 with Brest Bretagne.
It's great to see Nora Mørk back on court for Vipers and she's scored twice already tonight. Those are her first DELO EHF Champions League goals since April 2019, when she helped Györ beat Odense in the quarter-finals.
18:17
Halfway through the first halves now and just like earlier on, the competition is already providing plenty of drama. Rostov-Don lead FTC, Vipers are two goals up against Krim, and Valcea have just edged one goal ahead of Brest.
18:00
The show continues as the next three matches of the day throw off - FTC-Rail Cargo Hungaria play Rostov-Don and RK Krim Mercator host Vipers Kristiansand in group A, while in group B Brest Bretagne will be hoping for a perfect start to this year's campaign against SCM Ramnicu Valcea. All matches are live on EHFTV and this is the only place to see the Brest Bretagne match.
FULL-TIME: Odense Håndbold take the first points of the season, beating BV Borussia 09 Dortmund 32:27; Györ keep their unbeaten streak alive by holding on for a 27:27 draw with CSKA, who are delighted with the result.
17:20
A lovely moment from earlier in the game between CSKA and Györ here.
17:15
17:10
Less than 15 minutes to go: Györ are unbeaten in 37 Champions League matches, can CSKA upset them today? It's 21:21 now and the Russian club are looking strong.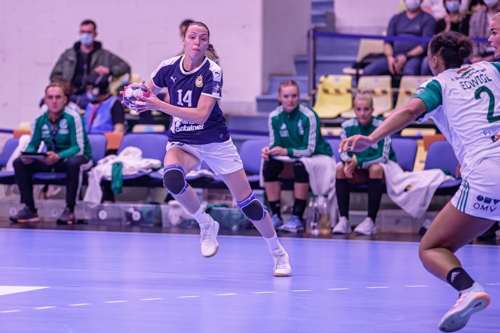 17:00
The second halves of these first Group B matches are now underway; Odense have made a good start to put themselves two goals up, but CSKA and Györ are still tied. Dortmund coach Andre Fuhr has just taken a timeout in a bid to get his team back into this.
16:40
HALF-TIME: Unbelievably both matches are tied at half-time. CSKA are holding on against Györ and it's 14:14 in Moscow. In Odense, the hosts are tied 13:13 with Dortmund. It's a great start from both debutant clubs who are showing why they are playing in the DELO EHF Champions League this season.
16:30
Ayaka Ikehara, the only Japanese player in the DELO EHF Champions League, is having a good game for Odense so far - she's scored three of their 13 goals.
16:25
Well into the first halves of both matches, the teams are finding their feet again. Györ lead CSKA, while Odense have the advantage against Dortmund.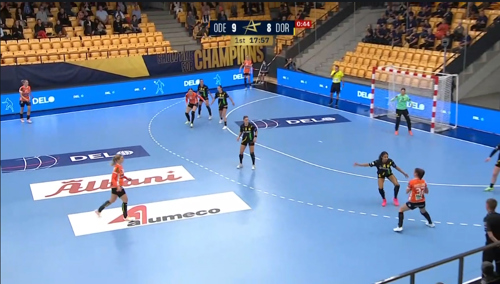 16:00
Throw off!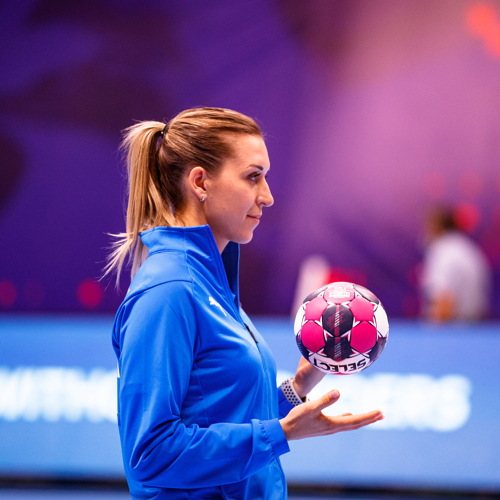 15:45
Coverage of both of the first matches has begun on EHFTV as the teams prepare to throw off. Dortmund fans, this is the place to watch your team make their DELO EHF Champions League debut!
15:15
Don't forget you can also follow live updates from today's DELO EHF Champions League action via social media, including behind-the-scenes gems from the teams. Check out #deloehfcl on Twitter or Instagram for the best content.
Saturday 12 September, 15:00
Today's the day - the DELO EHF Champions League is back! We hope you're as excited as we are to greet the new season and the new format. Check out the overview below for more, and keep an eye on this blog as the action progresses for the latest on court.
17:00
So, tomorrow is the big day as the DELO EHF Champions League enters its new campaign.
Right from the opening weekend, we at the EHF will do our best again to keep you up-to-date on all that is happening on the courts across Europe. We have compiled an overview so you can follow the EHF Champions League like a pro.
While you find all the details under the link above, I would like to bring our revamped EHFTV platform to your attention.
The free-to-watch EHFTV platform is where you will find all matches in the EHF Champions League season. The platform has a new look for the 2020/21 season, and is fully adaptable for all devices, whether you are enjoying the matches at home or catching them on the go on a mobile device.
And please note that the four matches involving French or German teams are available exclusively on EHFTV: Odense vs Dortmund and Brest vs Valcea on Saturday, as well as Bietigheim vs Esbjerg and Bucuresti vs Metz on Sunday.
All right, this is where I am going to leave you for today. Thanks for joining and the live blog will return on Saturday at 15:00 CEST, just an hour before the action truly starts!
16:37
All 16 teams have been preparing intensely for the new season... but what about you?!
Test your knowledge of the DELO EHF Champions League with our quiz and find out what your score is on a scale of 1 to 10.
16:17
The opening weekend will give us a first indication of who's hot and who's not in the DELO EHF Champions League 2020/21.
EHF journalist Adrian Costeiu has looked into the crystal ball for you and has predicted which 10 teams will likely impress the most in the upcoming season.
His top-ranked team - title holders Györ - might not surprise you but what about the other nine? Do you agree with his Power Ranking selection?
15:54
New season, new teams: Two clubs are set to make their DELO EHF Champions League debut this weekend: CSKA and BV Borussia 09 Dortmund.
Earlier this week I had the pleasure to talk to one of Dortmund's leading players, Dutch world champion left back Kelly Dulfer.
In the Interview of the Week Kelly spoke to me about the German side's rise to the Bundesliga top last season and about the team's first match in the DELO EHF Champions League - in Denmark against Odense Håndbold on Saturday.
15:30
Good afternoon! We are sure that you are as excited as we are about this weekend: The DELO EHF Champions League finally gets back to action!
The 2020/21 season is set to throw off, 27 weeks after the previous season had to be cancelled following the main round in March due to the Covid-19 pandemic.
The competition returns in a new format with two groups of eight teams each. You can find the full playing schedule for this weekend here and click on the link below to read the first-round preview from our EHF journalists.