EHF Champions League
Summary: Brest go joint-top of group B with Monday night victory
Round 8 of the DELO EHF Champions League 2020/21 marked the start of the second half of the group phase, when the fight for quarter-final and play-off spots becomes even more intense. Here is how the three days of action unfolded.
20:17
That is it for this evening's action and our extended weekend of live blogging. The action for this week is just beginning though as we have the European action on Tuesday, Wednesday, Thursday, Saturday and Sunday, so keep an eye out right here on eurohandball.com to ensure you do not miss a beat.
20:05
Let us have a little look at how group B is shaping up after today's result. Brest go top of the table alongside Györ but have played a game more than them and CSKA right behind them.
Odense have put themselves in the conversation for a top two spot after their win over CSKA, while Buducnost appear to be hitting their stride now as well.
It will be a three-way battle for the sixth and final place in the knockout phase and based on their performance against Buducnost on Saturday, it will not be long before we see Vacea picking up some points.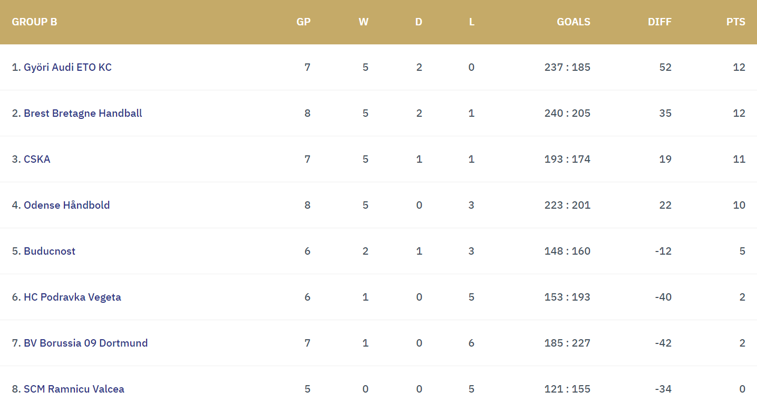 19:43
A quick look at the stats here. Between the posts, Cleopatre Darleaux and Yuliya Dumanska made 12 and 11 saves respectively, but that says more about the chances created and shots on goal, which Brest were clearly on top in.
Fast break goals is another key area with Brest scoring 6 to their opponents 1, another potentially defining factor.
Dejana Milosavljevic led all scorers with 11 goals for Podravka, while Alicia Toublanc and Kalidiatou Niakate led the line for Brest with six each in a well-rounded team performance with eight players scoring at least two goals. 
19:30 | RESULT: Brest Bretagne Handball 32:25 HC Podravka Vegeta
Brest claim their second victory in three days against Podravka and this time it was far more straightforward. A blistering start to the second half, with a 5:0 run, but Brest well and truly in the driving seat and they never looked back.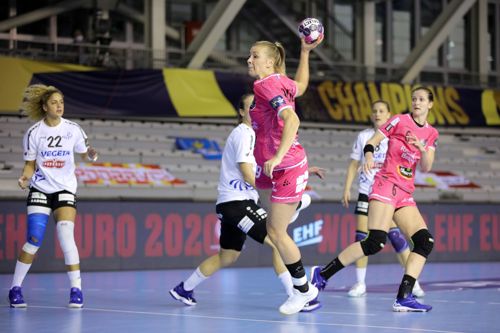 19:24
I am feeling for Dejana Milosavljevic. 11 goals tonight, 23 in two games and no points to show for it. Excellent performances from the 25-year-old playmaker, nonetheless, which I am certain will bring her to the attention of some of the competition's big dogs.
19:17
Into the final 10 minutes now and although Podravka have found their competitive edge again, it appears that Brest can match anything thrown at them tonight - 27:21.
19:09
Cleopatre Darleux is over the 40%-mark in saves today, laying the groundwork for Brest, who are making it look pretty easy now. They lead 23:17 after 43 minutes but it could easily be more with the chances they are creating.
18:59
Well, I said Podravka would need a quick start to the second half but instead they have barely started at all. Brest score five unanswered goals in four minutes and suddenly lead 20:12!
18:51
We are about to get things started again in Croatia, where you feel Podravka need a quick start to the second half if they are to give themselves a chance of picking up something today and go clear in that all-important sixth place in the group.
18:37 | HALF-TIME: Brest Bretagne Handball 15:12 HC Podravka Vegeta
Brest move up a gear or two in the latter stages of the first half, going on a 5:1 run and taking a 15:12 lead with them into the break.
Victory for the French side tonight would see them join Györ at the top of group B, having played one match more. The group was really thrown wide open on Sunday as Odense handed CSKA their first defeat of the season, meaning that the top four teams are separated by just two points.
18:26
Brest, in their temporary home away from home, look the slightly better side but have yet to take control of the clash. Podravka for their part are staying in touch but will need a lot more from back court duo Carlos and Tsakalou, who have a combined shooting output of 0/5 so far this evening, while Milosavljevic has contributed four goals - 9:9 after 21 minutes.
18:15
The two players I highlighted before throw-off came face to face early on as Milosavljevic's defensive challenge sends Gros to the ground with a nasty bang to her head. It took her some time to get up but she appears fine now and has gone on to score her third goal of the game already as Brest lead 7:5 after 13 minutes.
18:06
What a difference two days make. While we were treated to 12 goals in the opening seven minutes on Saturday, tonight's opening serves up something very different. Just over six minutes on the clock and Brest have drawn level at 2:2.
17:50
We are just about 10 minutes away from throw-off in Koprivnica and time to highlight a couple of players to watch. For Podravka, Dejana Milosavljevic is the woman in form, having scored 12 goals on Saturday and it will be interesting to see whether Brest's defence have figured her out.
But nobody has been nearly as prolific in world handball right now as Ana Gros. The Slovenian right back has fired in 56 goals so far in Europe and is the competition's clear top scorer.
17:35
Who is pumped for some Monday night handball?
All eyes on Croatia for the second clash between Brest Bretagne Handball and HC Podravka Vegeta and three days with throw-off at 18:00 CET.
Saturday's reverse fixture was an entertaining goal-fest, won by Brest, and the highlights will get you in the mood for more this evening
18:55
Finishing off today with some of the best pictures from our three matches. It's been another day of DELO EHF Champions League action to remember, with that MOTW highlighting. 
There's a bit of extra special action in store tomorrow as Brest Bretagne play their round 7 match against Podravka Vegeta at 18:00 CEST. Brest won the round 8 match played yesterday 33:29, so can Podravka turn things around? Don't miss it, live on EHFTV!
18:44
Round 8 is now complete so here's a round-up of the results. It's been an interesting round with several really close matches - and one draw, between CSM and Krim yesterday.
18:11
Our match review of tonight's game between Odense and CSKA is live now: Abbingh helps Odense hand CSKA first defeat
18:09
Quiz time! Which of these individual performances impressed you most today?
17:39
And here's the vital goal from Lois Abbingh which secured victory for Odense. It was a well-deserved win against a team which never once gave up - and for a few minutes towards the end of the match, it looked like CSKA would prevail again.
17:33 | FULL-TIME Odense Håndbold 26:25 CSKA
What a thrilling end to the match. Lois Abbingh netted 12 seconds before the buzzer to give Odense a 26:25 lead; CSKA were swift to take the ball up the court but a shot at goal was blocked. Daria Dmitrieva had a chance with a penalty, and chose to shoot around the wall of orange facing her, but the shot missed.
Odense celebrate their fifth victory of the season, while CSKA lose their first match.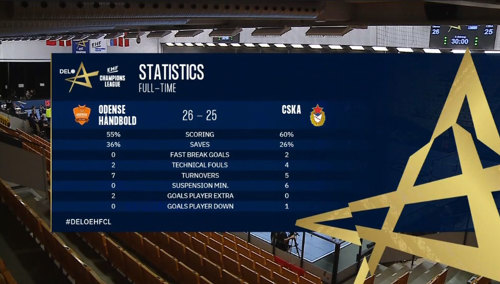 17:23
And Mie Højlund gives Odense a 25:24 lead again with only 90 seconds left in the match. Tension is running high.
17:19
Whatever the end result, it's undeniable that Althea Reinhardt has been magnificent for Odense tonight. 
17:16
CSKA's Anastasiia Illarionova makes it 23:21, and after Ayaka Ikehara's shot goes wide, Jan Leslie Lund calls a timeout at a crucial point for his team. Will they hold to to the lead now they have it?
17:14
Inside 10 minutes and Polina Vedekhina puts CSKA ahead for the first time at 21:20.
17:11
Another timeout for Odense as CSKA level the match through a Sara Ristovska penalty. For a moment it looked as though the hosts had pulled away again, but CSKA showed tenacity and three unanswered goals got them back on terms at 18:18. There are just over 11 minutes left to play!
17:02
CSKA have stepped up a gear, defending hard and attacking hard, and are back to one goal down. The goalkeepers continue to excel at both ends of the court with Althea Reinhardt now on a 43.5 per cent efficiency. 
16:55
No stopping Darya Dmitrieva with this one.
As the match resumes, Odense seem determined to hold on to their lead and have quickly moved out to a 15:12 advantage, seven minutes into the half.
16:42
There's some excellent spin on this shot from Da Silva Quintino! One of several quality goals in this game so far.
16:38 | HALF-TIME Odense Håndbold 12:11 CSKA
This is only the second time this season CSKA have gone into the break trailing their opponents. Against Dortmund they were down 11:15 at the break, but came back to win by a goal. Today, Odense have just a one-goal advantage.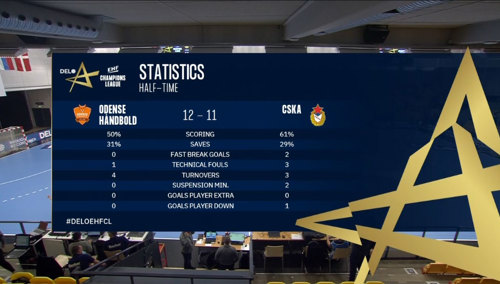 16:33
Great reaction from CSKA; Kaplina concedes a goal but the ball goes straight into the hands of Kathrine Heindahl who shoots from long-range into the empty Odense goal. 
16:28
In Odense, the hosts have called a timeout. It's 9:9 with just under 26 minutes played - the goalkeepers are playing extremely well, with a 36 per cent save efficiency for both Althea Reinhardt and Polina Kaplina right now.
16:24
Imagine holding your nerve like this - immense from Gabisova to win MOTW for Rostov!
16:21
Here's a recap of the earlier games:
16:19
CSKA are brushing off the nerves of the start of the match. A penalty from Ilina brought them level and then Darya Dmitrieva put the visitors a goal up for the first time, although Odense struck back immediately with a rapid shot by Jessica Da Silva Quintino.
16:09
Odense and CSKA have thrown off. Lois Abbingh has made much of the running for Odense so far, with six attempts at goal - two successful. A goal apiece for Rikke Iversen and Ayaka Ikehara bring the hosts' total to four, against two for CSKA from Ekaterina Ilina.
16:03
Back in the MOTW, Iuliia Managarova was essential for Rostov today, scoring six goals out of eight attempts. She won the Player of the Match award, presented by DELO, for her efforts. 
15:57
There's still one more round 8 match to go, so don't leave us. DELO EHF Champions League debutants CSKA have stormed the competition so far, with five wins and a draw including last week's 27:23 victory over Odense in Moscow. Today, they've travelled to Denmark for the return leg. A win would put them ahead of Györ again in group B with a match in hand. Throw off is imminent! 
15:43
Although Gabisova took the congratulations for saving that last crucial penalty, Viktoriia Kalinina did most of the work between the Rostov posts tonight, delivering some important saves herself - like this one.
15:36 | FULL-TIME Team Esbjerg 24:25 Rostov-Don
Wow, what an end to the match! As the buzzer went Esbjerg forced a penalty; Marit Jacobsen stepped up to take it and Galina Gabisova saved, to be absolutely mobbed by her teammates. Rostov know that was a key win in their hunt for top spot in group A.
15:31 | FULL-TIME SG BBM Bietigheim 25:29 FTC-Rail Cargo Hungaria
It was a brave second half by Bietigheim, but not quite enough as they lose to FTC at home. The German club remain on two points after eight matches.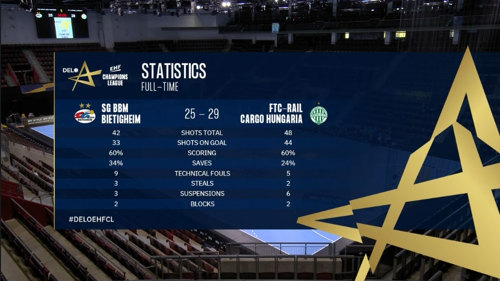 15:22
Bietigheim have fought back a bit, closing the gap from nine goals to five - although with five minutes on the clock, pulling off a victory is a tough ask. This goal from Trine Østergaard is worth a look though!
15:15
The tide has shifted in Esbjerg. Rostov have capitalised on a few missed shots by their hosts and a couple of goals from Iuliia Managarova as well as Vladlena Bobrovnikova put the Russian visitors up 22:18.
15:07
Here's how Esbjerg got themselves back level in the first half, with Marit Jacobsen sending the ball high over Viktoriia Kalinina's head.  
15:05
Ten minutes into the second half and Esbjerg take the lead for the first time as Sonja Frey nets a penalty - only for Kristina Kozokhar to equalise seconds later. Both sides are battling hard to keep hold of the ball.
14:54
It's this sort of goal which has helped FTC stretch out to such a commanding lead - first a steal, then put home by Angela Malestein with a casual behind-the-back shot.
14:47 | HALF-TIME SG BBM Bietigheim 6:15 FTC-Rail Cargo Hungaria
FTC are really controlling their match against Bietigheim. The German club are finding things much tougher than last week when they beat FTC in Hungary in a historic victory.
14:39 | HALF-TIME Team Esbjerg 12:13 Rostov-Don
It's nip and tuck here and Esbjerg must surely sense that if they can keep playing at this level they have a chance - but Rostov just have the edge right now, leading 13:12 at the break in what is turning into a superb contest.
14:32
Anna Vyakhireva comes off a two-minute suspension and promptly scores a penalty for Rostov - their third of the game, all going in. Esbjerg have in fact scored more field goals than their opponents right now.
14:29
Admirable composure from Esbjerg, and they are right back in the game as Marit Jacobsen equalises at 10:10. The Danish side have found more rhythm now and are attacking more.
14:22
Nearly 20 minutes in and Rostov hold a three-goal lead at 10:7. If it's not any higher that is largely to do with a solid performance by Rikke Poulsen in goal for Esbjerg - her saves including this absolute stunner.
14:15
FTC definitely have the upper hand against Bietigheim in the early stages of their match, but this first goal from Danick Snelder for the hosts is gorgeous.
14:06
Just as Marit Frafjord equalises for Esbjerg at 3:3 Breistøl receives a two-minute suspension, and Grace Zaadi quickly capitalises on it with her first goal. The shots are coming thick and fast now.
14:03
Throw-off, and Iuliia Managarova scores twice for Rostov inside the first two minutes, answered by one from Kristine Breistøl for the hosts. Rostov have come out full of aggression.
13:40
The warm-up for both matches are now live on EHFTV.com!
A few more facts about tonight's MOTW:
Esbjerg beat Rostov 31:26 when they met in Denmark last season
coaches Jesper Jensen and Per Johansson will meet again when their national sides, Denmark and Montenegro, clash in the preliminary round of EHF EURO 2020 in Herning
Esbjerg suffered their first defeat in the Danish league on Thursday, losing 28:30 at home to Vipers
Rostov are top of the Russian league with 10 wins in a row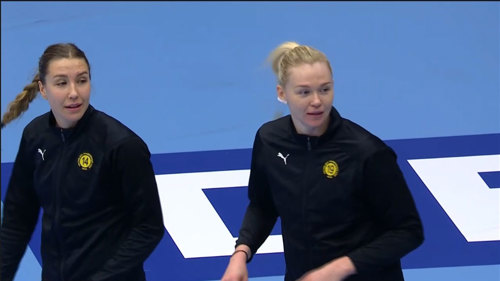 13:25
Among the players on Esbjerg's squad this afternoon is Spaniard Nerea Pena, who was signed by the Danish club on Thursday from Hungary's Siófok KC. As Siófok are not in the Champions League, Pena is immediately able to play for her new club. 
The centre back spent seven years at FTC prior to moving to Siófok last year, and in 2018/19 scored 69 goals in the Champions League as her club made it to the quarter-finals - where they were knocked out by none other than Rostov. So many of the faces on the opposite side of the court today will be familiar to Pena.
13:12
Welcome to the live blog and coverage of today's DELO EHF Champions League matches: the Match of the Week between Esbjerg and Rostov, and Bietigheim vs FTC, both at 14:00 CEST; followed by Odense vs CSKA at 16:00 CEST.
The MOTW sees Esbjerg fighting for a win after a series of losses and one draw, to Vipers. Last week Rostov beat Esbjerg 28:24 in Russia and it will be fascinating to see if the Russian side, who have been in excellent form, can win again away. 
For more on this duel, read the match review: Esbjerg face uphill battle in Match of the Week vs Rostov.
20:15
We will leave you for today with some of the best shots snapped across the three games today. I thoroughly enjoyed the three games today, I hope you did too, and here's to more of the same on Sunday. Goodnight!
20:06
The top-flight action is done for today but there is plenty more to come on Sunday. Three matches on the way, including Match of the Week between Esbjerg and Rostov.
Be sure to keep an eye on the @ehfcl Instagram account for breakfast with champions, hosted by Anja Althaus, tomorrow morning for some pre-match chat with two star players.
19:53
Three very different games today but all had their entertainment and fair share of drama. Which did you enjoy most? 
19:38
Lekic was the hero for Buducnost tonight with seven goals, including this sweet jump shot below, though 20-year-old Nikolina Vukcevic also had a massive game with six goals on the line, her best output of the season.
19:31 | RESULT: Buducnost 29:28 SCM Ramnicu Valcea
Since a bright opening, goalkeepers have not had much joy today, but that all changed in the final stages as both Arenhart and Batinovic make crucial stops. In the end, not a single goal is scored in the final three minutes as Valcea's Marta Lopez hits the post in the dying seconds, her first miss from seven attempts and her side miss out on claiming their first point of the season.
19:22
Andrea Lekic takes matters into her own hands with three goals midway through the second half to shift the momentum back in Buducnost's favour. It's still hanging in the balance, however, as the hosts lead 28:27 with five minutes left on the clock. 
19:10
Just over a quarter of this contest left and Valcea are now the team edging in front. 24:23 up now with seven of the goals coming from the brilliant Asma Elghaoui. Buducnost's influential playmaker Allison Pineau had to be brought off after receiving a nasty accidental hit to the face and they will be hoping she can return to action for the crunchtime.
19:01 
Armelle Attingré's excellent start has tailed off somewhat and it doesn't take long in the second half for Dragan Adzic to make a change between the posts. Experienced Brazilian keeper Barbara Arenhart comes in but cannot prevent Valcea from taking the lead for the first time!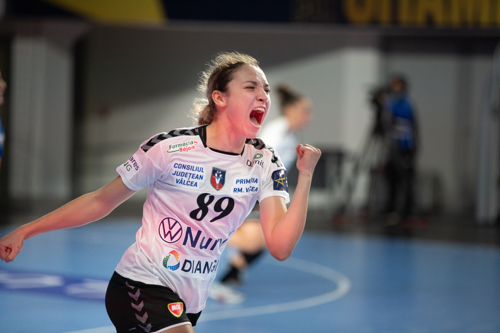 18:55
Valcea pick up where they left off at the end of the first period and it does not take them long to draw level. 19:19 after 35 minutes and this one looks like it will go down to the wire.
18:35 | HALF-TIME: Buducnost 15:14 SCM Ramnicu Valcea
Fascinating end to the first period as Valcea come to life! They figure out Buducnost's attack and score some simple fast breaks as part of a 6:1 run to draw level, before an Allison Pineau goal right before the buzzer gives the hosts a narrow lead to bring into the dressing rooms.
All to play for here in Podgorica!
18:24
Armelle Attingré is having a stormer in goal for Buducnost so far. Up around 50% save rate and even scored a perfect full-court goal of her own. Buducnost lead 12:8 with 22 minutes played.
18:16
Andrea Lekic gives Buducnost a 7:4 lead as we approach the quarter-hour mark and the home side are looking relatively comfortable. Asma Elghaoui is doing her best to keep Valcea in the contest with three goals so far but a lot more is needed for the women in white.
18:06
Defence and goalkeepers on top so far in Podgorica with Buducnost leading 2:1 after six minutes. Both teams taking a physical approach as they try to get a feel for each other.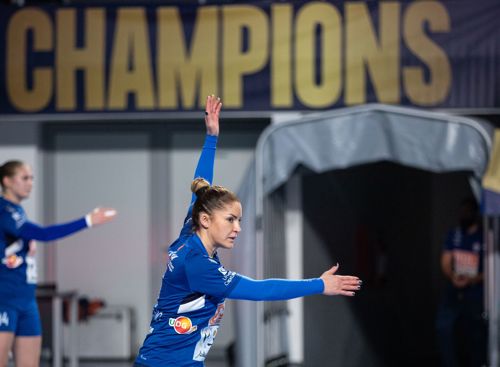 17:42
No shortage of entertainment and drama in two very different matches so far and we have one left for you today, Buducnost vs Valcea.
It has been almost a month since Valcea last had a match in this competition and they are raring to get back into action and claim some points at last.
Their players have certainly kept busy at this time, particularly Kristina Liscevic, who will release a new song on Sunday. The video, which was teased a couple of days ago, was produced by her teammate Mireya Gonzalez. How impressive is that!?
17:32 | RESULT: CSM Bucuresti 22:22 RK Krim Mercator
It is a draw in Romania! Probably a fair result on balance but both sides will rue missed opportunities to snatch victory in the final minute. It was CSM who had the final position and Elizabeth Omoregie who saw a chance of glory disappear as her final shot was saved and the spoils are shared on this occasion.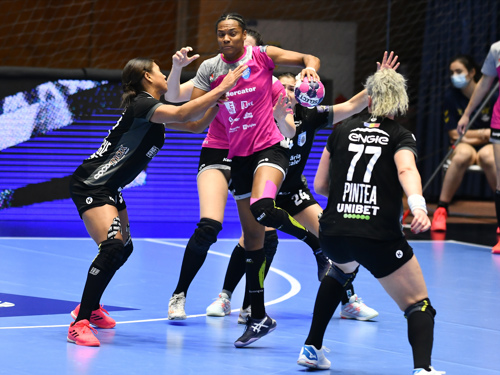 17:26 | RESULT: RK Podravka Vegeta 29:33 Brest Bretagne Handball
Despite a wonderful performance by Dejana Milosavljevic with 12 goals and a solid performance all around by Podravka, Brest prove to be just too strong today and show once again why they are serious contenders this season. 
On the bright side for the home team, they get a chance to avenge this loss in just two days time in the reverse fixture.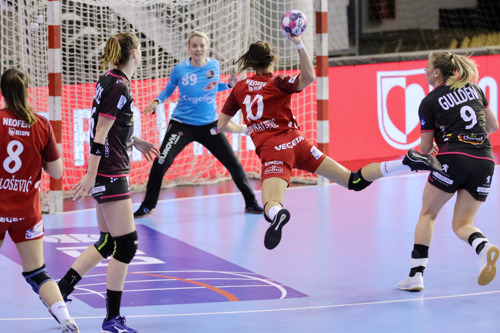 17:18
Four minutes remaining in Croatia and it looks like Brest have these two points in the bag. They look comfortable with a four-goal lead now, though they have let a lead like this slip against Györ this season...
Both Krim and CSM are letting great chances to take the lead slide by as they remain level, 19:19 with six minutes remaining.
17:10
Krim Mercator have drawn level, 16:16, and are playing admirably against CSM with a quarter of the game left, but you could not tell it from looking at coach Uros Bregar's reactions.
Both he and opposition coach Adrian Vasile will be feeling the pressure as they try to snatch the points from a game in which neither team has taken control. 
17:04
Brest looking a bit more comfortable at this stage, 23:20 up with 42 minutes gone but Podravka are not giving up the ghost and continue to be driven on by Milosavljev.
Ana Gros is back on and contributing for Brest after an impressive first half but it is Kalidiatou Niakate leading the way in terms of goals with six, so far producing one of her best performances in Europe this season.
16:52
Another injury worry for CSM is Alexandrina Cabral, who went down clutching her knee after scoring a counter attack in the second minute. Hard to know exactly how bad it was based on TV shots of her on the bench with both legs raised, let's hope for the best.
That additional blow means Lazovic will need to conjure up plenty more of this in the second half.
16:39 | HALF-TIME: CSM Bucuresti 12:11 RK Krim Mercator
Another tight one here with Barbara Lazovic's five goals keeping the hosts' noses in front. Crucially, Cristina Neagu has yet to appear in this match, despite being on the bench. She mentioned to me on Tuesday that she is nursing some injury niggles at the moment before we recorded the first Women's EHF EURO 2020 podcast episode, in which she speaks kindly about her former club Buducnost, who feature in our 18:00 match.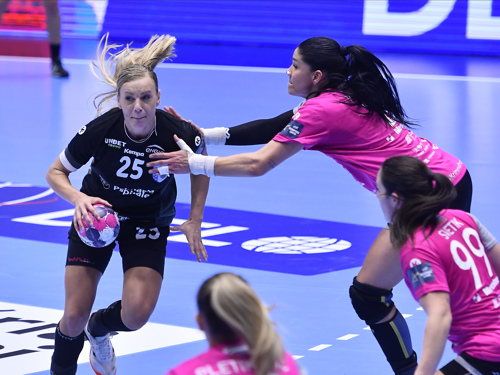 16:36 | HALF-TIME: RK Podravka Vegeta 14:16 Brest Bretagne Handball
The goals didn't flood in at the speed of the first 10 minutes but it has far from dried up. It is not a day for the goalkeepers so far, with Podravka's duo saving a meagre 6% between them, much better needed in the second half if they are to continue to trouble their guests.
16:28
Both underdogs Krim and Podravka are in no mood to roll over today, both just a single goal down as we enter the final five minutes of the first half.
Dejana Milosavljevic has now scored seven for Podravka against Brest, supported by three goals from Lamprini Tsakalou, including this beauty in which the two players combined in style.
16:16
Away side Brest have stepped up a gear and punished their hosts on a couple of occasions with counter attacks to lead 10:7 after 13 minutes. Meanwhile, in Bucharest, things are beginning to heat up with CSM and Krim trading goals and currently level at 7:7.
16:08
Podravka and Brest are playing like there is no tomorrow, both teams going all out in attack and scoring an incredible 12 goals shared between them in 7 minutes. Playmaker Dejana Milosavljevic is already having a day to remember, scoring four goals. 
15:55
Here we go. Just minutes away from throw-off in both of our early clashes this afternoon and you can enjoy both of them streamed live on EHFTV and if you only choose one, I've got your back and will keep you updated on the other.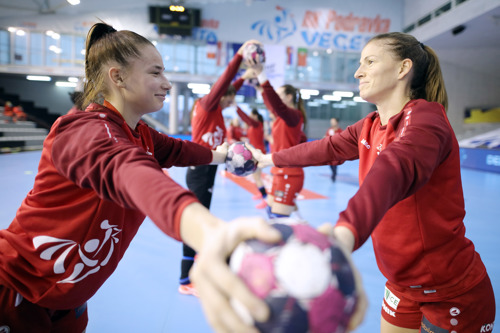 15:37
CSM Bucuresti moved to the top of group A last week, having played more games than Rostov and Vipers, with a 25:23 win against today's opponents Krim. Here are the highlights from last week and let us hope for another tight and entertaining tussle today.
15:21
The Podravka Vegeta vs Brest Bretagne game is the first of a double-header in Koprivnica, with the second game on Monday. This approach was also taken by Györ and Dortmund last week and appears to be a good solution in the current circumstances.
Podravka will hope to take something to add to their two points and chances of reaching the knockout phase, while the French side have ground to gain on Györ and CSKA at the top of group B. Here are some shots from Brest's training session on arrival in Croatia yesterday.
15:10
Good afternoon everyone and welcome to Saturday's coverage of the DELO EHF Champions League. We will be treated to three matches today and this is what is on the menu.
CSM vs Krim (Group A at 16:00 CET)
Podravka vs Brest (Group B at 16:00 CET)
Buducnost vs Valcea (Group B at 18:00 CET)
Of course, all matches will be streamed live on EHFTV
FRIDAY 13 NOVEMBER
17:00
Here ends the live blog for today. Join us again on Saturday at 15:00 CET for the real action. Until then, enjoy your evening and see you again tomorrow afternoon.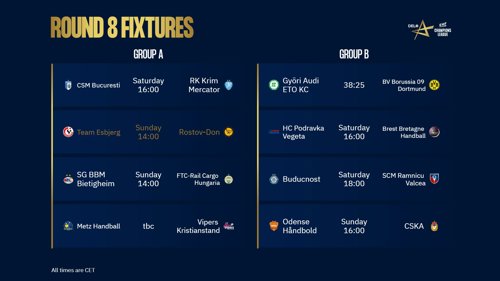 16:47
The big news coming from Esbjerg ahead of the Match of the Week is the signing of Spanish international Nerea Pena, who arrived from Hungarian side Siófok KC on Thursday.
This is what Pena told Danish broadcaster TV2 Sport:
"I am really waiting to come back into the Champions League and to help the team. I think this is the most important, that I can give them my energy, my play, and help them achieve their goals."
See the full interview by clicking on the picture below, starting at 0:50. (No worries, Pena is still working on her Danish skills so the interview is in English.)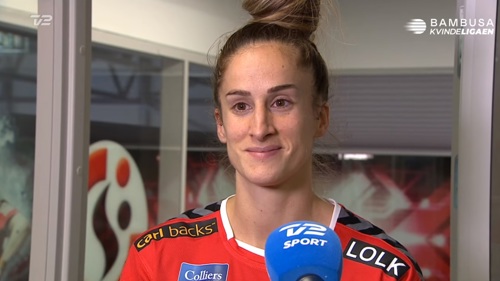 16:28
In round 7 teams from Denmark and Russia clashed in Match of the Week, and round 8 sees the same nations involved again as Team Esbjerg host Rostov-Don in this week's featured game.
EHFTV commentator Chris O'Reilly caught up with Esbjerg head coach Jesper Jensen for the eurohandball.com Interview of the Week about Sunday's clash against Rostov.
(And they spoke about the upcoming Women's EHF EURO 2020 as well, as Jensen is also head coach of the Danish national team.)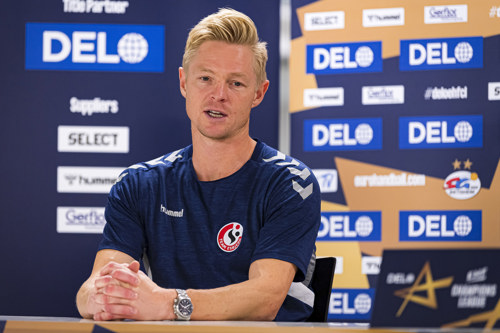 16:02
Over in group A, we also have three matches, each with their own storyline:
CSM vs Krim (Saturday 16:00 CET)
MOTW: Esbjerg vs Rostov (Sunday 14:00 CET)
Bietigheim vs FTC (Sunday 14:00 CET)
We will dive deeper into our Match of the Week later this afternoon.
A week after beating Krim, CSM are after their sixth win... and Romanian fans know what that means. Their heroes started a EHF Champions League season once before with six wins from seven matches – in 2017/18, when they also reached the EHF FINAL4.
Bietigheim finally clinched their first win of the season at FTC last week, 35:24, which was their biggest ever win in the competition. Can they follow up on Sunday?
15:37
While we just spoke about that early group B game between Györ and Dortmund, let's see what is happening elsewhere in that section this weekend:
Podravka vs Brest (Saturday 16:00 CET)
Buducnost vs Valcea (Saturday 18:00 CET)
Odense vs CSKA (Sunday 18:00 CET)
The schedule includes the reverse fixture of round 7's Match of the Week. While former group leaders Odense need a win to keep realistic hopes of a top-two finish, CSKA can overtake Györ and return to the No. 1 position with another win over their Danish opponents.
Here are last week's best moments from CSKA left back Polina Vedekhina, who was named Player of the Match, presented by DELO.
15:18
Before we are having a look at what's coming your way this weekend, let's quickly turn our attention back to last Sunday...
... because that was the day when round 8 officially threw off. Györ and Dortmund played their round 7 and 8 duels as a double-header on Hungarian soil last weekend. Györ ended up clearly winning both matches, which sent them top of group B.
Here is one of the highlights of their 38:25 win on Sunday:
15:00
Good afternoon, welcome to the live blog for round 8 of the DELO EHF Champions League! It is really a promising weekend to look forward to, with three interesting matches in each of the groups in prospect.
As always, the round preview from our EHF journalists Adrian Costeiu and Sergey Nikolaev is a good starting point to get an overview of what awaits you.