Slovenia win Women's 17 EHF Championship in FYR Macedonia
The Women's 17 EHF Championship – MKD concluded earlier today as Slovenia took the title after a 31:30 victory over Poland in Skopje, FYR Macedonia. In the bronze medal match, Bulgaria – strong throughout the tournament – defeated the host nation.
Furthermore, Slovenia secured themselves a spot in the Women's 17 and 19 EHF EURO events in 2019 as the nation will be promoted from the Championship to the EHF EURO level in two year's time.

FINAL

Poland vs Slovenia 30:31 (13:16)

Nearly 2,000 fans saw two strong sides battle all the way to the last seconds in the final of the Women's 17 EHF Championship – MKD.

The game was equal for long periods as Slovenia finally made a jump ahead, going 16:11 up halfway through the first half, but Poland clawed two goals back just before the break and then coming within one (20:19) with just over 20 minutes left.

However, with five minutes remaining, Slovenia were six up (30:24) and took their foot off the gas as Poland played catch-up, but it was not to be as tournament MVP Ema Hrvatin's 12 strikes carried her Slovenia side through.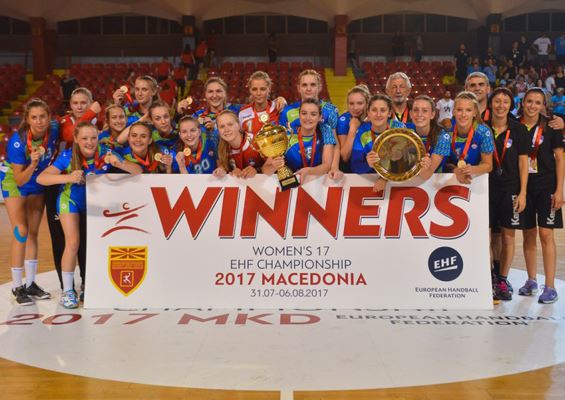 "It was a very good match," said Polish head coach Agnieszka Truszynska. "I am very happy how my team played in this game although we made too many mistake, but second place is a good result."

Slovenia coach Boris Cuk was a relieved man at the final buzzer. "We are very happy because we reached the goal that we worked a year-and-a-half for," he said. "We deserved this victory, although they got really close at the end because we started celebrating already.

"Lucky for us that there was no more time, but we showed quality and we will move onto a higher level."

Best players of the match: Ema Hrvatin (SLO), Barbara Zima (POL)

BRONZE (3/4 PLACEMENT MATCH)

FYR Macedonia vs Bulgaria 25:30 (8:13)

Inside the first 20 minutes, home fans were maybe thinking of a medal for the Macedonian side as they were behind by just one (8:7) against a strong Bulgarian side, but the visitors restricted the hosts to just one further first period goal as they raced to a 13:8 half-time lead.

"It was a very difficult victory but it is still a victory," said Bulgarian coach Nikolai Nikolov. "We weren't good at the beginning, but then we took over the match.

"Overall, we are happy with this tournament and third place is something."

Best players of the match: Marija Tasevska (MKD), Mari Tomova (BUL)

5/6 PLACEMENT MATCH

Switzerland vs Iceland 35:27 (14:13)

What a difference a half makes – nearly equal at the break, Switzerland went on a 9:1 run in the initial stages of the second half to seal their fifth place as the Icelandic side had no answers to the Swiss attack, led by Daphne Gautschi who scored nine and who later made the All-Star Team at left back.

"We had a bad start to the match on the second half it was much better," said Switzerland coach Jurgen Fleischmann. "We were more aggressive in defence and attack and more concentrated which made the difference in the match."

Best players of the match: Charlotte Kahr (SUI), Berta Rut Hardardottir (ISL)

7/8 PLACEMENT MATCH

Faroe Islands vs Kosovo 38:31 (19:16)

Late in the first half, Faroe Islands went 17:14 up and they never looked back as 10 goals from the deadly Maria Halsdottir helped the northern European side to victory.

For Kosovo, they will take a lot of memories, from a tournament where they gained their first-ever youth win in Europe as Hana Hot top-scored with nine in the game, to end as the tournament top-scorer.

"We are in a European competition for the first time and this has been a good experience for my players," said Faroe Islands coach Julian Johansen. "We played good and I'm satisfied with our achievement here."

Best players of the match: Suna Krossteig Hansen (FAR), Hana Hot (KOS)
Photos: Filip Viranovski/MKD 2017