EHF Champions League
This is Me: Eduarda Amorim Taleska
Eduarda Amorim Taleska. A driving force behind the Brazilian national team. A left back so influential she became a star for not just country but for her club too. Győr has been a happy home for the past decade but her journey from South America to the heart of the European handball scene has been full of twists and turns. It's seen her lift not one but five DELO EHF Champions League trophies and has gone on to become one of the most recognisable faces in Brazilian handball. How did she do it? Well, in her own words, Duda guides us through her incredible career. This is her world. So read on.
This is me: Eduarda Amorim Taleska
The beautiful rise to the top
Blumenau. Such a beautiful city. When you think of Brazil, your mind pictures sandy beaches and caipirinhas. Yet Blumenau is not the typical Brazilian city where the carnival starts early in the morning and ends when the sun rises once again. It is a city which has a certain German feel to it. Given it was founded by German immigrants, the vibes are a bit different than in the rest of Brazil.
But we are not talking about history here. We are talking about handball. About my journey from Brazil to Gyor, via Skopje. We'll get there soon enough, I hope. Because there is so much I want to tell you.

First things first: handball. However, handball was not the first sport I tried. That was rhythmic gymnastics. It was the first sport I was attracted to and which was top in my school. But I was lucky to have my sister, Ana, who was already a national team player in handball when I was little. Every time she went to a training session, I joined her. Once, twice, a hundred times. Until her coach told me that if I liked handball so much, I should join the team.
I was just a little girl and so I was not thinking big. The DELO EHF Champions League? The World Championship? No, not a chance. Looking back, I first started thinking about becoming a professional handball player when I was 14. Yes, it is early, and you probably do not know what you will do in life when you are 14. But I want to explain why. Professional handball in Brazil is not a thing. Therefore you need to decide quickly: you either pursue a career, or you get a job and you become a part-time handball player. But handball is popular, we have a team in every school. So it is easy to learn to play and, of course, become addicted.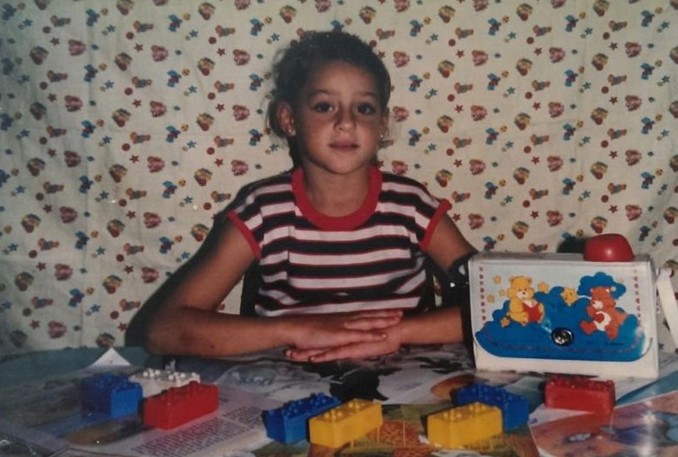 Back to basics, now. I have already told you about my sister, Ana. She was the one to watch in Blumenau at that time. Being three years older than me, her career was already kickstarted by her talent. Watching her play, scoring beautiful goals, was like a calling for me to follow in her footsteps.
I went to a bigger team in Sao Paulo in 2006 and then I made the big step to Europe. Skopje was, well, different than Brazil. I thought I probably would not have lasted long there. My home was so far away, 11,000 kilometers to be precise – but I was not alone, so I started to adapt. I have always pushed myself to the limit and I was determined that I would do it, no matter what.
And this is where it all began.

Handball in Europe is different from what I experienced in Brazil and this was my first lesson, learnt the hard way. My sister always told me to be tough, but I needed to feel it in my own skin, in a new environment, before I put that advice into practice.
But the biggest shock I experienced? Handball. The sport itself. It was totally different in North Macedonia than in Brazil. It was quicker. It was more physical, it looked like an entirely new sport to me. The structure was put in place and everything was well organized. All you needed to do was just train and play.
Life was different, everything was different, but I had some other Brazilians who were living in Skopje to count on as family. We would meet and time would fly by.
Three years flew by at my first club in North Macedonia, Kometal Skopje, and I was already starting to change a bit. The people were still warm, enjoying life, but I was entirely focused on the task at hand – which was to play handball.
Well, that is until I met my husband, Dean Taleski.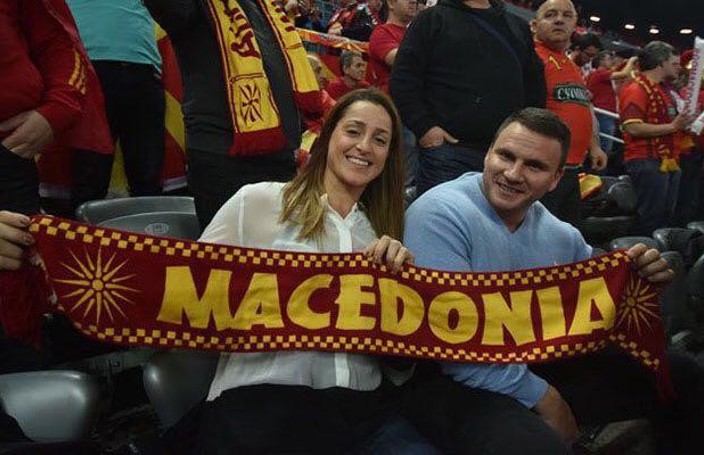 So here's a funny story. When I first found about North Macedonia, I had to search the country on the map. Therefore, marrying a Macedonian sounded like science-fiction when I was still in Brazil. But life is full of surprises.
So here was a friend of mine who had a wedding party and as I was looking at some photos, I saw this good-looking guy. I pointed to the photo to ask who he was and next thing I know, we were on a date. Unexpected, sure. But this is the beauty of it.
And then I got the offer from Gyor. And it was a life-altering moment. I did not believe in long-distance relationships and we had to talk as a family and make a sacrifice. My husband did that and it was amazing, it was so selfless from him and it really boosted my confidence and my career. That is why I decided to play my last season in Gyor with my full name on the shirt: Amorim Taleska, a small nod to the man who understood so well.
Do you think it was easy? No chance. I already knew from North Macedonia it was going to be hard to fit in – but a Brazilian playing handball at such a powerhouse from Europe? It was the first time I was alone, and the first weeks did not help at all.
During training sessions, I could read my teammates' body language: what is this Brazilian doing here? Why did they bring her here? Only a handful of players were speaking English, therefore communication was difficult. A new challenge? Bring it on. I have always chased the next dream, the next challenge, I had never backed down, no matter how difficult it looked. And, after a while, guess what? It worked.
So may years in Europe took its toll. The Brazilian in me changed a bit. I became a little bit colder, a little bit more professional, but this was just a small price I needed to pay in order to adapt.
Yet the hot Brazilian blood still flows through my veins. Like it did in 2012, when we lost the Olympic quarter-final against Norway. I called my mum and told her I was going to quit handball. Her next words? Probably the best I heard in my entire career. "Stay calm, call me in three days." In three days' time, everything looked better.

One year later… boom! We won the gold medal at the World Championship and I became the best player in the world. What a feeling, what a rush of adrenaline. For me, a little girl from Blumenau, starting from the bottom to reach the top? It is impossible to describe, to put in words. Nobody would have believed it a few years back. My first coach would say that I was a talented player, but it would be very difficult and he would not expect me to become the best.
Did you think I called it quits? No way, bigger challenges were up ahead. Gyor were already shaping up as a powerhouse and the years that followed were just amazing.
We won the DELO EHF Champions League five times and we are going for a record sixth title now. However, winning means nothing without fans and I want to thank all these amazing people in Gyor, who are living and breathing handball. Being greeted with a smile on the street or just feeling loved are amazing and they make me very happy.
But let me tell you another small secret: when I told my husband that I wanted to become the best left back in the world, he did not believe me. Yet in our first years were together, he did not much about handball. So I proved him wrong. Again!
Joking aside, when I look back at my career now, I never, in my wildest dreams, could have imagined that I was going to win so many trophies and reach these milestones in my career. But it is not always about the trophies, it is also the people you create and share these memories with. Yes, this makes the trip worth it even more.

The trip was long, but it is reaching its final chapter. The current one, at Gyor, will end at the end of the season. Of course, I want to end it on a high, with a sixth DELO EHF Champions League trophy and of course another team dance in the Papp Laszlo Sports Arena. I might be Brazilian, but I am neither the best dancer, nor a good football player, therefore I am always in the goal whenever we play football.
So, I will learn whatever dance my teammates choose. In the past years, we had some Zumba classes, to relax before the big games. Great team-building sessions. People may think that we prepare something for every EHF FINAL4, but everything was spontaneous. There were mostly South American or Spanish songs, so maybe this is why many thought I was the one choosing the songs. Far from it.
Back to handball for the final time. The plan was to stop and end my career after this season but the Covid-19 pandemic changed everything and I feel like I have one more season in me. Of course, I will change club teams, but I will still go to the Olympic Games and try to end my international career on a high this summer in Tokyo.
They say, and I've heard it a lot, that for a player it is difficult to meet the end of her career, with big changes in daily routine and so on. So I prepared for it mentally so I know I am ready to stop whenever the time comes. My next challenge? Starting a family and I always said that I want to have at least two children around me. I want three. Sometimes I think about five! They say you rethink your priorities after your first one, so who knows? This is my aim now.
Handball was, is and will be my life, and another thing I learned is to never say never. Do I want to become a coach? I do not know but I am currently undergoing a sports management programme, so let's see what the future holds.
We have everything ready to live in North Macedonia or in Brazil but we are currently very flexible about it. But if the future brings some opportunities to continue in handball, then probably Europe will be the place to be. Like I told you already, I have become a little bit European, so adapting to life in Brazil could be difficult. But if I managed to adapt to Europe when I was 19, who says I cannot do it now in Brazil?
Impossible is just a word we say when we are afraid to rise to the challenge. I did and, well, it worked out for me.
This is me. And I am truly happy to share everything I know and everything I learnt with you, the fans who always put a smile on my face.