EHF European Cup
Turkey's trailblazers set to make history
Turkey's trailblazers set to make history
Never before has any Turkish women's handball club proceeded to the group stage of any EHF competition - until now. After their elimination in the EHF Champions League qualification, Kastamonu Belediye GSK grabbed their chance in the EHF Cup qualification.
In round 2, the Turkish champions surprisingly eliminated the Spanish runners-up Bera Bera, then in the crucial third round head coach Hakan Günal's team ended the hopes of Hungarian side Vac. Core to their success was team captain Serpil Iskenderoglu, who scored an overall of 16 goals in the two legs against Vac.
Günal is therefore already extremely happy prior to the start of the group phase.
"We were the first Turkish team that succeeded, this is so important for us. The first will never be forgotten," he says.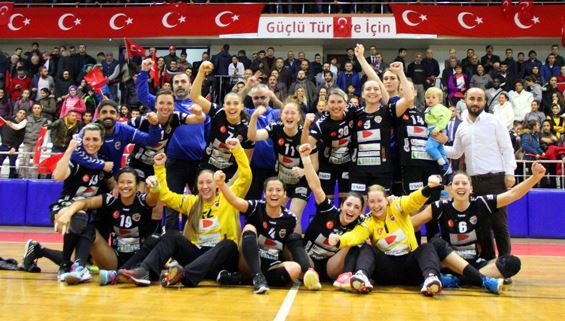 His squad is quite international, with players from eight countries, including Russian Anastasia Sinytsina, two Montenegrins, Croatian player Kristina Elez, Belorussian Natalia Kotsina and even a Brazilian player, Elaine Gomes Barbosa.
Their biggest international success so far was reaching the 2016 finals of the Challenge Cup, when they were defeated by Spanish side Gran Canaria. Now the Turkish champions enter new ground.
"We want to do the best in the EHF Cup. We want to gain experience and it would be important to continue in the knock-out stage. But we also know that our opponents are much more experienced than we are," says Günal, whose team will face former Champions League winners Viborg, Byasen and Gdynia in Group C.
Kastamonu Belediye GSK
Qualification for the 2017/18 EHF Cup group phase: Round 2: 35:35, 24:22 against Super Amara Bera Bera, Round 3 26:24, 36:29 against Vaci NKSE
Newcomers: Nataliya Kotsina , Kristina Elez, Zana Mariç. Yana Uskova, Elaine Barbosa Gomes. Ljubica Nenezic
Left the club: Fatmagül Sakizcan Marija Shteriova Patricia Batista Da Silva, Ceren Demirçelen. Sonja Barkataroviç, Katarzyna Kolodziejska
Coach: Hakan Günal (since July 2016)
Team captain: Serpil İskenderoğlu

Opponents in the group matches: Byasen Handball Elite, Viborg HK and Vistal Gdynia

EHF Women's Champions League records:
Qualification 2017/18

Other EC records:

Cup Winners' Cup:
-
EHF Cup:
Round 2 2003/04
EHF Challenge Cup:
Finalist 2015/16
Round 4 2009/10
Turkish champions: 2017
Turkish cup winners: 2017