Olympic Games
Hungary, Germany win gold at European Youth Olympic Festival
Hungary, Germany win gold at European Youth Olympic Festival
The Audi Arena in Győr has witnessed, as it is the home arena of Women's EHF Champions League winners Győri Audi ETO KC, numerous handball victories.
On Saturday afternoon, another Hungarian team celebrated on the court as the nation's under 17 women's team beat Romania 30:23 to win gold at the European Youth Olympic Festival.
Only one match later, the men's winners were also known with Germany beating Slovenia 29:26 to top the podium. For Slovenia it was the second time in a row that they finished second. Germany had won bronze at the EYOF 2015 in Tbilisi, Georgia.
Bronze went to Croatia in the men's event as they beat 2015 winners France 29:26.
In the women's event Denmark came third after beating Russia 32:27. In 2015 both nations had reached the women's final and Russia had beaten Denmark 21:20 after double extra time.
The women's event can be a regarded as a kind of prelude for the Women's 17 EHF EURO 2017 which will take place in Slovakia from 10 to 20 August.
All three top-ranked women's nations at the EYOF 2017 have qualified for the Slovakia championship.
Hungary and Denmark have even been seeded in the same group; a possibility for the Danes to take revenge for the 32:24 semi-final loss they conceded in Győr.
The 2019 edition of the European Youth Olympic Festival will take place in Baku, Azerbaijan.
The idea of the European Youth Olympic Festival was brought to life in 1990 by Jacques Rogge, former president of the International Olympic Committees, with the aim to provide a possibility for young athletes to get to know the Olympic Movement and learn about the Olympic values and ideals.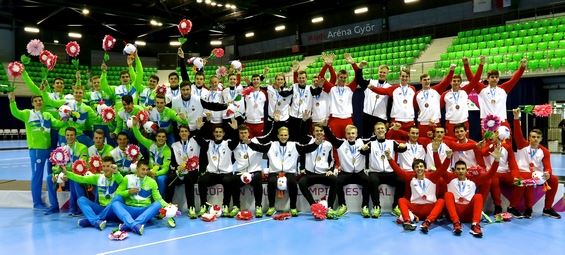 Photos: Peter Cseh / HHF