Other News
Netherlands defend title at European Wheelchair Handball Nations' Tournament
Netherlands defend title at European Wheelchair Handball Nations' Tournament
When the final whistle was blown at the 2016 European Wheelchair Handball Tournament in the Swedish city of Sölvesberg, the Netherlands team and their all-dressed-in-orange fan club cheered and celebrated.
For the second time in a row the Dutch squad topped the podium on the European level, finishing an impressive performance over two days with a 19:10 win against Portugal in the final.
Sweden won the bronze medal match against Italy 13:7. For Italy it was the first time that they participated at a European wheelchair handball tournament.
Sölvesberg is very close to Kristianstad one of the five host cities of the Women's EHF EURO 2016 that is currently played in Sweden.
"We have defended our gold medal, now we hope that our girls at the EURO might win a medal too", said Frank Hooning, one of the Dutch top stars at the event. The Dutch women's played their final preliminary round match against France also on Thursday and were already sure of a spot in the main round.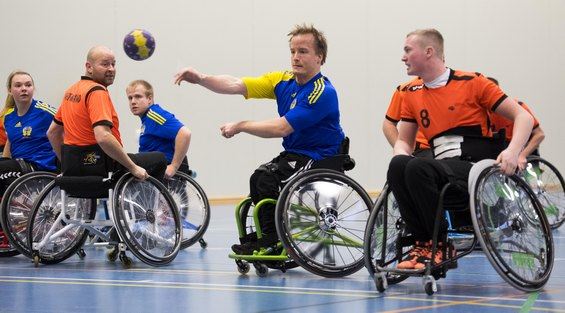 With the strong Joyce van Haaster in goal, who was eventually named into the tournament's All-star Team, the Netherlands remained unbeaten in all four matches they played over two days.
After two clear wins in the group phase against Sweden (26:7) and Italy (32:4) on Wednesday, the final group match against Portugal – the re-match of the 2015 final – ended with a 15:15 draw after a close 7:6 half-time lead for the Netherlands.
Portugal had finished the group phase with the same number of points as the Netherlands after they had beaten Italy 26:6 and Sweden 21:9.
The Italian debutants – all players came from a rehabilitation centre for young handicapped adults, made their dream in Sölvesberg come true, when they took their first win at their first international tournament, beating Sweden 12:11 in the preliminary round.
But eventually the hosts took revenge in the bronze medal match when they beat Italy 13:7 to claim third place.
The final then truly made the sport's motto "Wheels on fire" come to life.
The Dutch side had a brilliant start to the game and shocked Portugal with a 9:2 half-time lead after 20 minutes. In the second half the game was a more open affair, but the Dutch 19:10 win was never in danger.
Top scorer of the tournament was Portugal's Iderlino Gomes with 13 goals.
All-star Team:
Goalkeeper: Joyce van Haaster (Netherlands)
Court players: Joao Jeronimo (Portugal), Massiomo Cagiola (Italy), Julia Johansson (Sweden), Yves Nkomezi (Netherlands), Mayenka de Bruin (Netherlands)
Top scorer: Iderlino Gomes (Portugal)