Other News
New magazine for handball lovers hits the shelves
New magazine for handball lovers hits the shelves
With France and FC Barcelona superstar Nikola Karabatic on the front cover the new handball magazine – HANDBALL inside will hit the shelves on Wednesday, 18 February following a merge of the Handball-Magazin and HANDBALL TIME.
The new publication for all German speaking handball enthusiasts will offer the best of what the previous two magazines provided and will be published every other month as a 80 or 96-page strong issue. The new magazine will be a joint venture of the two predecessors' publishers Philippka Sportverlag from Münster and Stadionwelt from Brühl.
The experienced editorial team (Arnulf Beckmann, Erik Eggers and Zita Newerla) will make sure every edition will be packed full of behind-the-scenes stories, attractive interviews, portraits, facts, interesting stats and opinions on the sport of handball.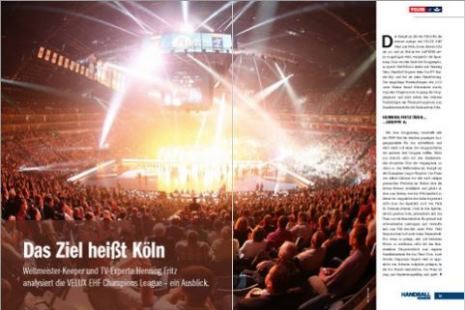 Besides the profile story with Karabatic, which will launch the handball superstars series, the first edition also looks back to the recent World Championship in Qatar, presents an expertise on the left back position and puts the reigning VELUX EHF Champions League winners SG FLensburg-Handewitt under the spotlight in the "Legendary clubs" series.
The HANDBALL inside will be sold for €6 per issue, while a one year subscription will cost € 29,70.