Other News
Sweden win European Open 2017
Sweden win European Open 2017
Sweden left no doubt on Friday night that they intended to end the Men's 17 European Open 2017 at the very top of the podium - and so they did.
In the tournament's final they beat Austria 34:22 in front of 4,560 spectators in Gothenburg's Scandinavium. Only hours before, Iceland had claimed bronze with a 31:25 win against Norway.
For Sweden it was the end of a flawless tournament which saw them winning all their six matches.
Austria had not conceded any defeat up until the final either, but they were left chanceless in the competition's last match.
Led by the trio of Christian Vintz, William Andersson Moberg and Ludvig Hallbäck, who scored eight, seven and six goals respectively, Sweden carved out a 16:11 lead at the break.
Sweden then continued their domination in the second half and eventually cruised to a well-deserved gold medal. Austria had its best scorer in Lukas Hutecek who netted eight times in the final.
ÖHB-Burschen Jg. 2000 beenden die European Open, nach Finalniederlage gegen SWE, sensationell auf Platz zwei. #Ta2k #HandballAustria pic.twitter.com/WFTJAaqQ5U

— Handball Austria (@HandballAustria) July 7, 2017
All-stars awarded
Hutecek and Hallbäck also made it into the European Open's All-star Team, with the former being named best left back and the latter receiving the award for the best playmaker.
Further laurels went to Norway's Andre Bergsholm Kristensen as best goalkeeper, to Iceland's Stiven Tobar Valencia as best left wing, to the Netherland's Lors Koou as best line player, to Georgia's Giorgi Tskhonrebadze as best right back and to the Czech Republic's Bohdan Mizera as best right wing.
Tskhonrebadze also became the tournament's top scorer with 61 goals, Sweden's Johan Palm was named best defender and Israel's Yoav Lumbroso claimed the MVP award.
Following a revision of the European Open, the 2017 edition was the first being played by men's under 17 teams. The European Open 2018 will be contested by women's under 16 teams.
For the full tournament ranking, head to eurohandball.com.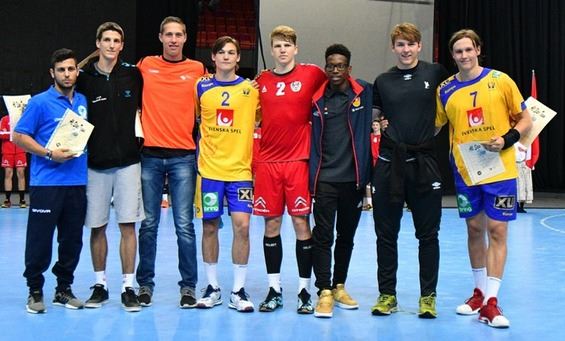 Photos: Roger Siemund / Japhifre