Other News
Hungary win Women's 16 European Open
Hungary win Women's 16 European Open
The European Open 2018 in Gothenburg have lived up to their expectations and promise, offering its participating teams the possibility to showcase their skills on the grand European stage.
In front of more than 2,200 spectators in the Scandinavium, Hungary beat France 31:30 in a thrilling final after extra time to take the first title in the generation 2002 and younger.
The match saw four completely different halves. Hungary came out storming and left no doubt about their will to win in the first half. Led by Johanna Farkas, who netted 14 times in the match, Hungary took a 16:10 lead into the dressing rooms.
However, France refused to roll over and fought themselves back into the match, levelling the score at 26:26, enforcing extra time.
Following their furious second half, France seemed to have the edge and led 30:28 after the first five minutes of extra time. But they failed to score in the final stage of the match, while Hungary netted three to take the victory.
"In the beginning we were very good, but after a while we lost concentration and they could score a lot of goals. In the end we won, which was very fun", Farkas and teammates Viktoria Woth and Nikolett Horvath said. "This was the biggest match in our careers so far and something we won't forget."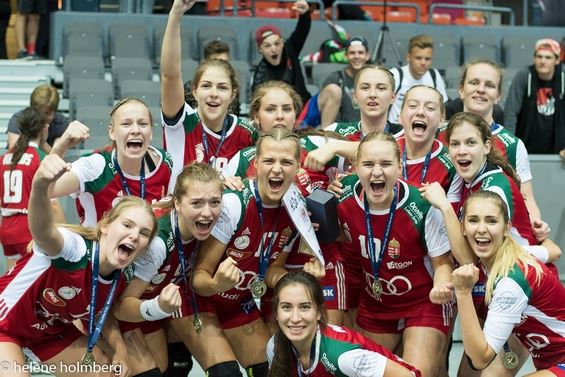 In the match for third place, Romania beat Switzerland 26:18. "Although it was just the bronze we are satisfied," said Alicia Gogirla, who scored 6 times for Romania.
"Now we will work hard to beat Hungary and France in the future and show them who we really are and that we want the gold.
"It's great to have played in this kind of arena. There were so many emotions", she explained.
All-stars awarded
At the winners' ceremony not only the teams received their medals, but 11 players also received individual awards, as they were named in the all-star team.
Best goalkeeper: Soraya Schaller (SUI)
Best left wing: Maja Merai (HUN)
Best left back: Celia Heinzer (SUI)
Best centre back: Claudie Roupcova (CZE)
Best line player: Georgiana Adelina Olaru (ROU)
Best right back: Alicia Maria Gogarla (ROU)
Best right wing: Maureen Gayet (FRA)
Top scorer: Polina Gorbatsjova (EST) & Silvija Mackonyte (LTU), 45 goals
Best defence player: Sarah Boukit (FRA)
Most Valuable Player (MVP): Blanka Kajdon (HUN)
Photos: EOC / Helene Holmberg