EHF Champions League
Three Icelandic stars collide in Barcelona
Three Icelandic stars collide in Barcelona
The attention of a nation of 330,000 people turns to Barcelona on Sunday when three of Iceland's biggest handball stars collide in the VELUX EHF Champions League.
A top clash between FC Barcelona Lassa and Rhein-Neckar Löwen in the seventh round of Group A will see Barcelona's Aron Palmarsson up against German champions Alexander Petersson and Gudjon Valur Sigurdsson, who remain unbeaten in the group.
All of them have been voted the athlete of the year in Iceland. Sigurdsson was voted first in 2006, Petersson next in 2010 and Palmarsson the latest in 2012.
Petersson retired from the national team last year, while the 38-year-old Sigurdsson will be leading the team during the 2018 EHF EURO in Poland in January, which will be his 21st major tournament with Iceland.
Palmarsson has not been involved in the first two league games after his move to Barcelona and came off the bench against HC PPD Zagreb in the previous round. Palmarsson's fiancée gave birth to their firstborn daughter on Wednesday, so his involvement in the game remains to be seen.
The team's previous encounter in the first round in September saw Löwen eat up Barcelona's six-goal lead in the second half and secure a draw, 31:31.
Sigurdsson's influence
Since the team's previous encounter, Palmarsson has signed for Barcelona while Sigurdsson now returns to his old arena. He played for Barcelona between 2014 and 2016; winning the Spanish title and the Spanish cup both seasons as well as the VELUX EHF FINAL4 for the first time in five attempts in 2015, before returning to Löwen where he previously played in 2008-2011.
Sigurdsson and Palmarsson played together for two years at THW Kiel and celebrated the national title in Germany on both occasions, 2013 and 2014, before Sigurdsson went to the Catalonian club.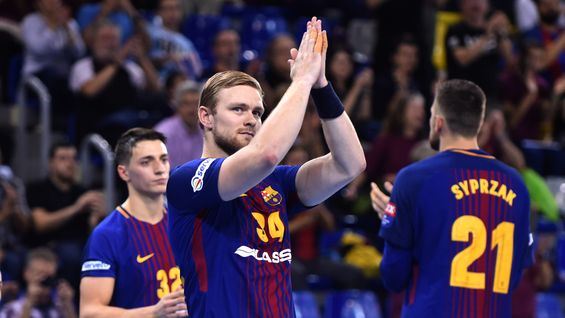 "I spoke to Sigurdsson a lot and he told me to come here as soon as the club wanted me. Interests from another clubs should not matter, this would be a decision I would not regret," Palmarsson said when he was introduced in Barcelona. Sigurdsson has also expressed his view on the matter.
"Aron is at a very good place and I'm really happy for my friend after having followed the situation for weeks. It's a huge club and I know that Aron will write his name in capital letters in Barcelona's history," Sigurdsson told Morgunbladid in Iceland last month.
Two out of three have won the title
Palmarsson is the third Icelander to play for Barcelona as Viggo Sigurdsson, who later became Iceland's national coach between 2004 and '06, was first during the 1979/80 season where he became Spanish champion.
But let us not forget the experienced Alexander Petersson in all this. He has been playing in Germany since 2003, when he signed for HSG Düsseldorf, before moving to TV Grosswallstadt, SG Flensburg-Handewit, Füchse Berlin and lastly Rhein-Neckar Löwen in 2012. Although he has only played with Palmarsson in the Icelandic national team, the duo often came up against each other during Palmarsson's six years at Kiel.
Petersson however is the only one of the Icelandic trio that has not won the Champions League title, while Palmarsson has two in the bag with Kiel (2010, 2012) and Sigurdsson 2015 success was the one time he lifted the coveted trophy.
Before Sunday's match on Sunday, Rhein-Neckar Löwen remain unbeaten and sit second in Group A with 10 points, one ahead of Barcelona, and both are desperate to earn the two points and stay in touch with group leaders Vardar on 11 points.