EHF Champions League
Alex Dujshebaev and Maura Visser take best player awards
Alex Dujshebaev and Maura Visser take best player awards
The VELUX EHF Champions League is in full flow. With three rounds played in September, the competition has already produced a lot of stunning handball - and many extraordinary performances.

As Alex Dujshebaev was the outstanding player in those early rounds, a panel of experts summoned by the European Handball Federation has awarded the EHF Player of the Month award to the PGE Vive Kielce right back.

The women's honours have been awarded to Maura Visser. The Women's EHF Champions League Group Matches have only started last weekend, but the SG BBM Bietigheim centre back excelled in one of last month's qualification tournaments to help the German side reach the competition for a second straight year.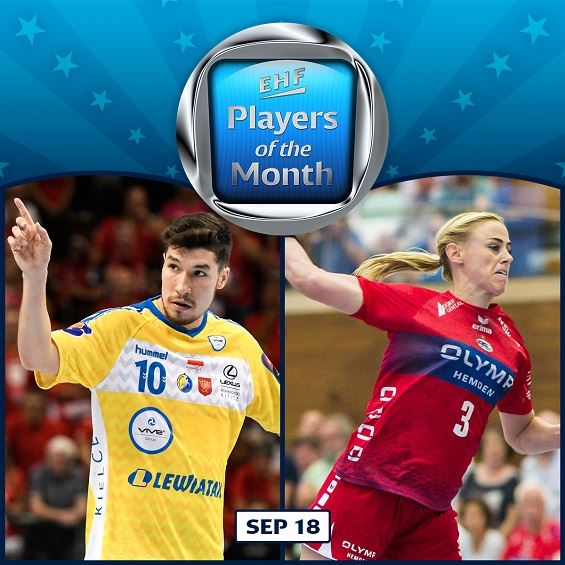 Dujshebaev: "Happy that I could help my team in the difficult period"

After a summer marred by off-court troubles, PGE Vive Kielce have made a strong start to the VELUX EHF Champions League. After a narrow loss to Veszprém in their season-opener, the 2016 champions went on to win the next three games. They are currently ranked third in Group A, just two points behind unbeaten leaders HC Vardar.

In the three rounds in September, Alex Dujshebaev was Kielce's driving force, once more. The right back netted 25 times in those matches last month.

"We had bad luck with injuries at the beginning of the season. We missed very important players in the middle of field, but they are coming back," Dujshebaev says. "I am happy that I could help my team in the difficult period. Of course it is a bit harder when you need to play in so many matches - Champions League and Polish league - also on their position instead of mine, but as an athlete you always want to be the best, it pushes you forward."

His consistent performance earned the 24-year-old standout the title EHF Player of the Month.

"The most important for me is always the good of the team," Dujshebaev says. "But of course it is very nice when people see that you have a good moment, you are in a good shape and award you with such titles."

Kielce are eager to build on their convincing start to the season. But Group A is arguably the toughest group of the whole competition, and 2017 champions Vardar are up next.

But Dujshebaev is optimistic: the good run has given the team confidence, and players who missed the start of the season are coming back.

"It's easier now, because Luka (Cindric) came back to us. He is a great player who gives us many more opportunities in our playing system," Dujshebaev says. "However, Vardar are a tough opponent, the only one who haven't lost a game so far in our group. But we will do our best to win in Kielce."

EHF Player of the Month - September 2018: Male

1. Alex Dujshebaev (ESP) - PGE Vive Kielce
2. Dejan Milosavljev (SRB) - HC Vardar
3. Dika Mem (FRA) - Barça Lassa
4. Andre Schmid (SUI) - Rhein-Neckar Löwen
5. Vuko Borozan (MNE) - HC Vardar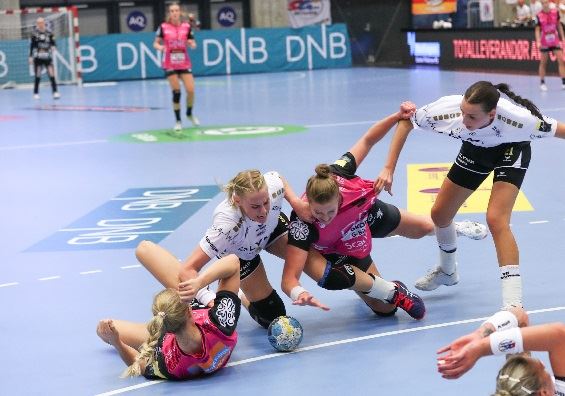 Visser: "After so many years on top level, I am enjoying it more than ever"

SG BBM Bietigheim were proud debutants in the Women's EHF Champions League last season. But one of the team's key players missed the entire European campaign: centre back Maura Visser announced her pregnancy in September, and her daughter Mexie was born in March.

So the Dutch national team player was very keen to help Bietigheim qualify for Europe's top flight again in 2018/19.

"Our whole offseason preparation was focused on the qualification in September," Visser says. "And I was even extra motivated. I wasn't sure how I would return after my pregnancy but it is always great to get the chance to play another season of Champions League."

Visser was the star player of the qualification tournament in Lublin, scoring five times in the semi-final against Super Amara Bera Bera (33:27), and eight times in the final against the Polish hosts, MKS Perla Lublin (33:19). Her stellar performance earned her the EHF Player of the Month title.

"I am honoured. It is really special to get this award now," Visser says. "Maybe we were the favourites for that tournament but you never know. We had seen Lublin play before at a friendly event in Budapest and we thought that we could beat them, but we never expected to win so clearly."

Apart from her own ambitions, reaching the group matches has also been important for Bietigheim, which reached the main round last season.

"It is good for the club because they have proven that last year was no coincidence. We want to become a regular force on European level," the centre back says. "It is our dream to get far in the Champions League."

The birth of Mexie has changed a lot for Visser and her friend, Philipp Pentke, a goalkeeper with professional football club Jahn Regensburg in the second German division.

"It requires a lot of planning," Visser says. "I have many matches, Philipp's club is 280 kilometres away, and both our families are not living nearby. We now have two babysitters and I make a monthly schedule to get it all organised."

The rest during her long break from handball helped Visser recover from a persistent knee injury. And becoming a mother has also changed her mindset.

"Next summer I turn 34 so I am nearing the end of my career. For so many years I have been used to just playing handball on top level. That was such a normal thing for me," she says. "But now I am enjoying it more than ever because I also really enjoy all other things that are happening in my life."

EHF Player of the Month - September 2018: Female

1. Maura Visser (NED) - SG BBM Bietigheim
2. Natalia Chigirinova (RUS) - HC Podravka Vegeta
3. Laura van der Heijden (NED) - SG BBM Bietigheim
4. Jelena Trifunovic (SRB) - SCM Craiova
5. Tereza Pokorna (CZE) - DHC Slavia Praha