EHF Champions League
Barcelona and Vardar make light work of round 6
Barcelona and Vardar make light work of round 6

HC Vardar remain on top of VELUX EHF Champions League Group A after opening round 6 with a fully-deserved victory at Kristianstad. The Swedish champions remain on the bottom of the group with only one point. In Barcelona, the hosts secured a 10-goal victory over Zagreb to collect another two points, moving them into second behind Vardar.
Borozan, Dibirov and Kristopans each scored seven times for Vardar
A total of 10 different Kristianstad players netted in
Kamil Syprzak led the scoring for Barcelona
Zagreb have still not won a match this season
GROUP A
FC Barcelona Lassa (ESP) vs HC PPD Zagreb (CRO) 32:22 (17:8)
Barcelona made easy work of their home clash with Zagreb, after an effervescent performance at both ends of the court gave the Catalan giants a massive win over the Croatian champions on Saturday.
Roared on by a vocal home crowd, Barcelona dominated as they overwhelmed Zagreb with an avalanche of easy goals in the opening 15 minutes.
A porous visiting defence could not keep out anything Barca threw at them early on. Even Barcelona's goalkeeper Borko Ristovski scored, as he found the back of an empty net with a long throw from one end of the court to another after Zagreb's extra-man strategy backfired.
Icelandic star Aron Palmarsson made his debut for Barcelona when he joined the action in the 20th minute and the home side pressed on relentlessly to extend their advantage to 17:8 at halftime. Polish pivot Kamil Syprzak emerged as a menace on the six-metre line for the home side, scoring four first-half goals while Dika Mem and left wing Valero Rivera Folch added three each.
Zagreb came out with renewed purpose after the break and managed to keep the deficit down to 23:15 with 15 minutes left, as evergreen right wing Zlatko Horvat netted five goals from as many shots by this stage of the contest.
Barcelona quickly responded with three unanswered goals to put the game beyond their rivals. They eased up only in the last few minutes, allowing the visitors to grab some late consolation in a lop-sided contest. Syprzak led a pack of 11 Barcelona scorers with six goals, as Rivera added five while Mem and compatriot Yanis Lenne chipped in with four each.
Horvat and Stipe Mandalinic were Zagreb's top scorers with five goals each.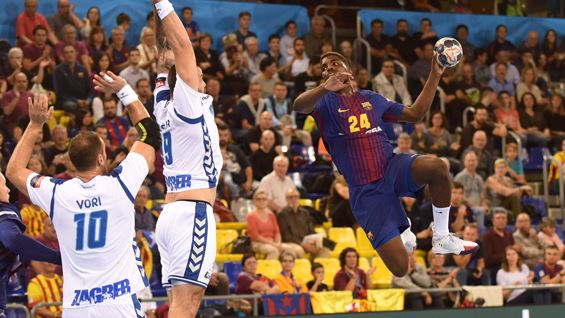 IFK Kristianstad (SWE) vs HC Vardar (MKD) 23:26 (10:15)
Despite a great match from goalkeeper Richard Kappelin, the Swedish champions lost their fifth straight encounter against Vardar. The final results did not truly reflect the rundown of the match, as the defending Champions League champions decelerated after being ahead 21:15 10 minutes before the end.
Vardar needed 10 minutes to wake up and to find their pace. By that point, the yellow-clad Kristianstad fans had already gone crazy as their team were ahead by three goals.
Then, the defending champions struck back, improved their defence and could again count on the goals of Montenegrin Vuko Borozan. With four strikes in a row, Vardar turned the tide within five minutes - and then did not surrender the lead throughout the match.
Counter-attack goals by Timur Dibirov and hammer shots by Borozan were the keys to the first four-goal advance at 12:8 - and at the break (15:10), the deal already seemed to be sealed.
The tall shooters Borozan and Dainis Kristopans were unstoppable and by the time Vardar were ahead by six goals at 21:15 there was no coming back for Kristianstad. The hosts scored eight times to Vardar's five in the last 10 minutes, but this was not enough to stop the men from Skopje winning their fifth match of the tournament.