Beach Handball
Beach EURO Live: Title holders Denmark back in both finals
The Beach Handball EURO 2021 in Varna has entered its business end Saturday with the quarter- and semi-finals in both the men's and women's event.
in the men's event, Denmark and Croatia have qualified for Sunday's final; in the women's event it will be Denmark against Germany
women's championship - quarter-finals: Denmark vs Poland 2:0, Netherlands vs Norway 1:2, Spain vs Portugal 2:0, Germany vs Hungary 2:1
semi-finals: Germany vs Spain 2:1, Denmark vs Norway 2:0
men's championship - quarter-finals: Denmark vs Portugal 2:0, Spain vs Poland 2:1, France vs Russia 0:2, Norway vs Croatia 0:2
semi-finals: Denmark vs Russia 2:1, Croatia vs Spain 2:0 
all matches live on EHFTV and covered in the Beach Handball EURO liveticker for real-time updates from all courts
all times CEST
Eric Willemsen reporting from Varna, all photos © kolektiff | Jozo Cabraja, Axel Heimken, Uros Hocevar, Sasa Pahic Szabo
21:22
It's that time of day again when we have to draw to a close this wonderful, breathtaking, dramatic day here in Varna. BUT! Before we do - since you've been with us all day (thank you, by the way) - you deserve to watch the highlights from the men's and women's action today.
So, enjoy and prepare yourselves for tomorrow. We'll be live from 10:00 CEST with live coverage and a host of features and videos ahead of the two fascinating finals to this EHF Beach Handball EURO 2021.
Goodnight, dear readers.




















19:30
What a day of top-class beach handball, this had it all! Read all about it in this review:
18:52
Are Denmark up for the double again? The Scandinavians won both the men's and the women's title in 2019 and return to both finals in 2021.
But there is different opposition this time: the men face Croatia, the women Germany, two sides who have been impressive also the whole week.
What a pair of promising finals on Sunday!
18:44
It is CROATIA vs DENMARK in the men's final!
Denmark have to dig so, so deep to get past a determined Russia side, but they ultimately do as as Ronnie Vilstrup Andersen saves a second Russian attempt in the shoot-out for an 8:6 win.
18:35
Congrats to Croatia! They go for their record-extending fifth men's title tomorrow after beating Spain 2:0 (25:24, 28:20) in the semi-final. Lucian Bura impresses with 23 points.
But who do Croatia meet in the final? Denmark and Russia are heading into a shoot-out in the other semi after the defending champions win the second set 19:16.

18:16
Wow, what a comeback from Russia to take the opener from Denmark, 18:16. The other semi is even closer, as Croatia edge Spain 25:24 with Lucian Bura scoring more than half (13) of his team's points.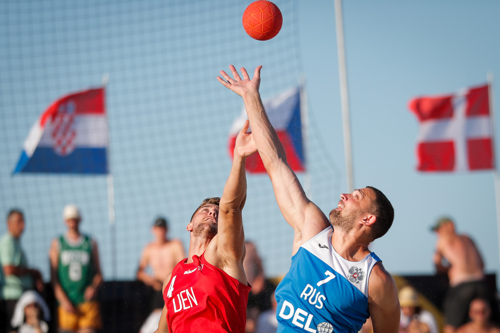 18:00
We are off and running! The battle for a ticket to Sunday's men's final is on.
17:56
What a pair of semi-finals we have coming up: the four teams combine for 10 of the 11 previous champions in Beach Handball EURO history!
OK, here is a quiz question for you (*): name the team missing in this line-up?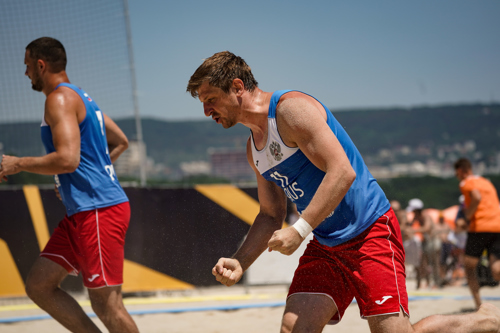 Croatia hold the record with four titles ahead of Spain with three – but what about two-time champions Russia? They are appearing in their 10th semi-final, and they lost only two of their previous nine.
And Denmark? They won once – but the most recent one, in 2019, and are unbeaten this week.
(*) Answer: Only the very first champions – Belarus in 2000 – are missing in this semi-final line-up.
17:53
Bring the boys on the beach for the semi-finals starting at 18:00 CEST:
court 1: Denmark vs Russia
court 2: Croatia vs Spain

17:50
No time to waste as we head straight over the men's semi-finals!
Well, let me share one quick side story: Dutch player Silas Speckmann has just scored a dazzling 32 (yes, thirty-two) points for Netherlands in their 2:1 win over Greece in a 13-16 cross match. Incredible performance!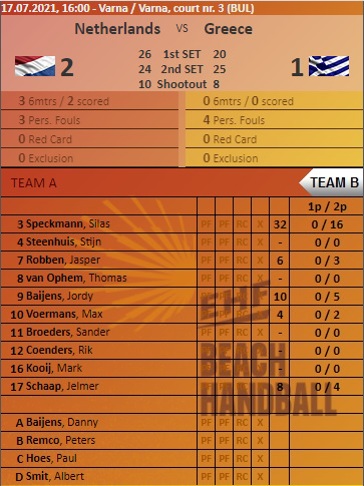 17:45
It is DENMARK vs GERMANY in the women's final!
Germany recover from that disastrous second set in their semi-final and beat Spain in a nervy shoot-out 5:2.
17:37
Indeed, a shoot-out between Germany and Spain will determine the second finalist!
Spain really hammered that second set, winning it 27:11 - and no, that is no typo...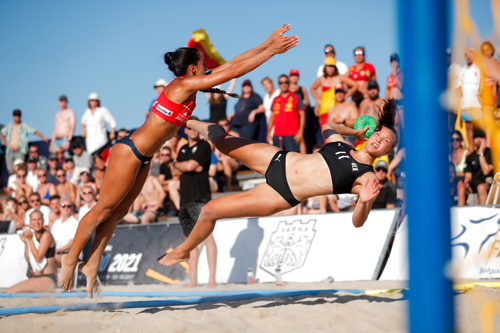 17:32
Congrats to Denmark!
The 2019 champions are the first team through to this year's final, beating Norway 2:0 (23:18, 22:18). That looks easy? Well, it has been everything but easy! Norway are four up halfway through the second set but fail to hold on.
Who are Denmark going to play? The other semi is still going on and likely going into a shoot-out.

17:14
A close affair and the momentum shifted several times, but Denmark take the opening set against Norway 23:18, with Line Kristensen contributing no less than 15 points.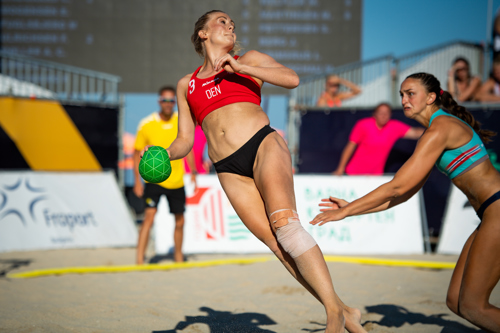 In the other semi, Germany go 1:0 (22:18) up on Spain despite Alba Diaz's 10 points.
17:00
Let's go! The semi-finals are running now!
16:46
In the other semi, we see yet another team that has played three finals and won it once before - Germany, who were the champions in 2006, when many players from the current squad were only just out of kindergarten.
Their opponents, however, are aiming for a first: Spain have not been to a final before, losing both semi-finals they played in 2015 and 2017, though they ended up taking bronze on the latter occasion.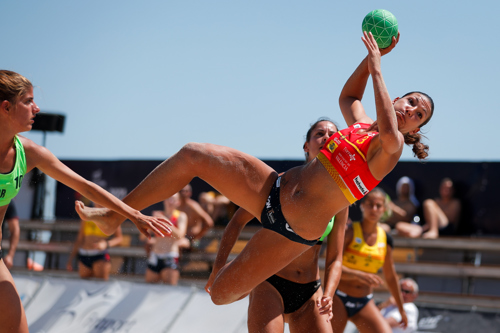 16:38
Let's have a closer look at both semis, starting with the Nordic derby.
Stats-wise, not much is separating those teams. Both Denmark and Norway have been to a Beach Handball EURO final three times before, and both have won it once: Denmark in 2019, Norway two years earlier.
Interestingly, the teams have met as recent as just over 24 hours ago - in the last match of the main round, and Denmark came out on top of that one, 2:0 (25:18, 19:18).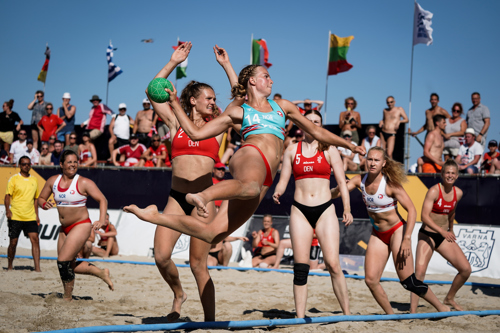 16:30
Welcome back! It is time to put our game face on. Just half an hour left now until the women's semi-finals start:
court 1: Denmark vs Norway
court 2: Germany vs Spain
Who will go through to the final on Sunday (at 16:00 CEST)?

13:30
Here is an overview of what has been, and what will be today: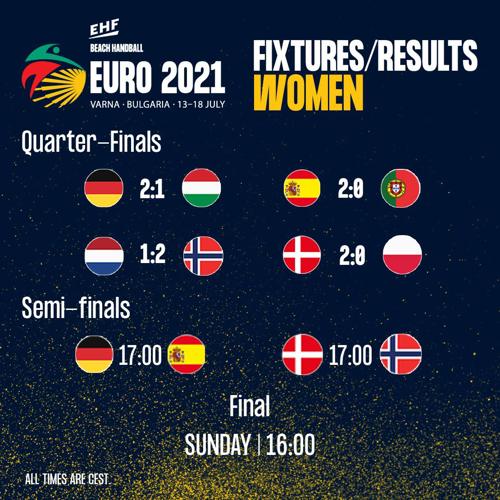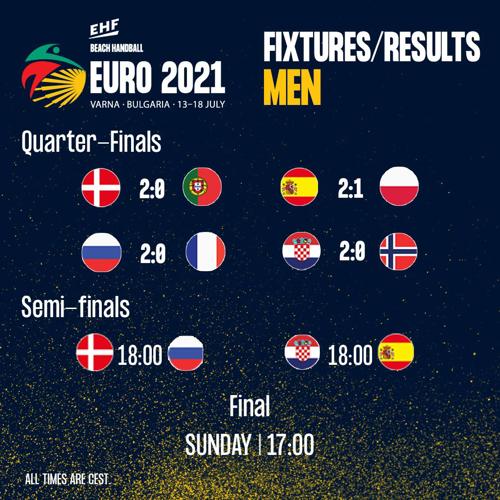 12:54
Wow, what an intense two hours of quarter-final action!
Judged by the eight matches we have just seen, it is so hard to predict who will raise these coveted trophies tomorrow.
We could still end up with another Danish double like two years ago, but you cannot rule out any of the other six teams across the men's and women's competitions.
Can't wait for the semis!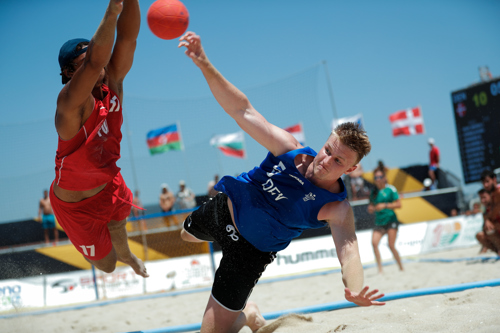 12:44
And congrats to Spain! They overcome Poland 2:1 after two tight sets and a 12:10 win in the shoot-out. Good stuff!
That completes the men's semi-final line-up for 18:00 CEST:
Denmark vs Russia
Croatia vs Spain
12:36
Russia (defeating France) and Croatia (beating 2019 runners-up Norway) are the first to book their semi-final ticket, quickly followed by Denmark, all with 2:0 wins.
It is a scrape in the second set for the defending champions, but Denmark just get through against bravely battling Portugal on a last-second goal from Simon Moss.
"We were not as calm as in the earlier matches," Denmark's Joachim Trend Hansen tells EHF's Márcio Menino, giving all credits to underdogs Portugal for pushing them to the limit in the second set.
That is how knockout matches should be!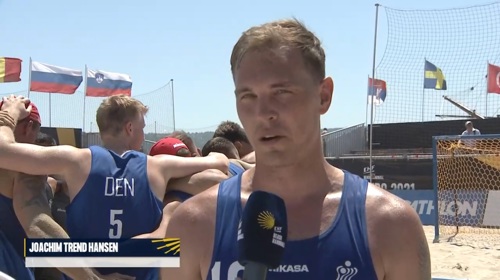 12:14
Two clear first sets, two close ones: Denmark (against Portugal) and Russia (against France) win by big margins, Spain (against Poland) and Croatia (against Norway) only by two or three points.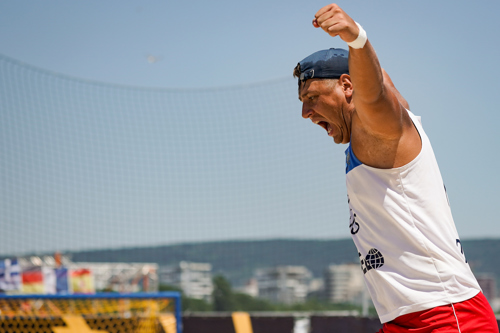 So, the higher-ranked teams from the main round have the early advantage.
All to play for in the second sets!
12:00
Game on! The men's quarter-finals have thrown off just now.
11:55
The Top 5 Plays from Friday, this will get you really fired up for the men's quarter-finals (if you not already were):

11:48
Proudly presenting the women's semi-finals, at 17:00 CEST: 
Germany vs Spain
Denmark vs Norway
11:45
Isabel Kattner rises to the occasion to send Germany through! She blocks two Hungarian attempts in the shoot-out to allow Lucie Kretzschmar score the decisive point.
The first time Germany have been pushed to a shoot-out this week, but they come through with flying colours.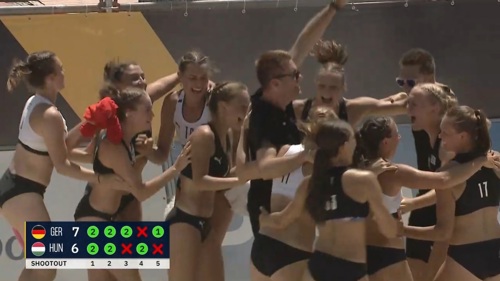 So, after the bronze medallists (Netherlands), we will now also proceed without the silver medallists (Hungary) from 2019.
11:39
Norway! They are the third team through, beating Netherlands 8:4 to book their semi-final spot.
11:34
Welcome to the semi-finals... Spain and Denmark! They both win 2:0.
Different story over on court 1, where Hungary snatch the second set against Germany, and court 3, where Netherlands take the second against Norway. Both matches going into a shoot-out.
11:14
Goals galore in the first sets!
It is an early advantage for Germany, Spain, Denmark and Norway, who all go 1:0 up in their respective quarter-final.
Can Hungary, Portugal, Poland and Netherlands turn the tide? Find out live on EHFTV!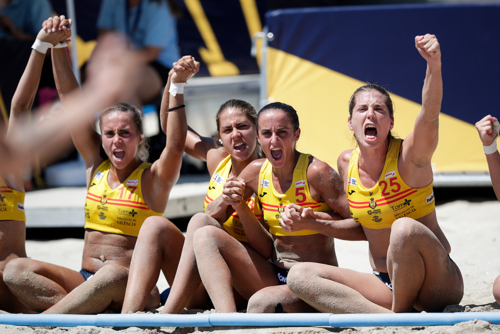 11:00
It's on! The women's quarter-finals are starting now!
10:52
Just over an hour from now, those man's quarter-finals are on:
court 1: Denmark vs Portugal
court 2: Spain vs Poland
court 3: Croatia vs Norway
court 4: Russia vs France
So, the 2019 gold (Denmark) and silver medallists (Norway) are still on track, but the bronze winners (Hungary) just failed to make the cut in the main round.
Exciting to watch how this will pan out!
10:44
The women's quarter-finalists are preparing for their matches... which gives us time to quickly look ahead to the men, who will take the courts right afterwards.
Like in the women's competition, the men's defending champions are Denmark, so we caught up with the brilliant Vilstrup Andersen brothers. Read what Martin and Ronnie had to say: 

10:26
To get you in the mood for the women's quarter-finals: here are the Top 5 Plays from Friday, and I am sure there is more to come like this today:
10:15
In 45 minutes we start with the women's quarter-finals, and we have quite a line-up for you:
court 1: Germany vs Hungary
court 2: Spain vs Portugal
court 3: Denmark vs Poland
court 4: Netherlands vs Norway
So all medallists from 2019 are still on board, with Denmark (gold), Hungary (silver) and Netherlands (bronze). Are they going to make it to the medal matches again?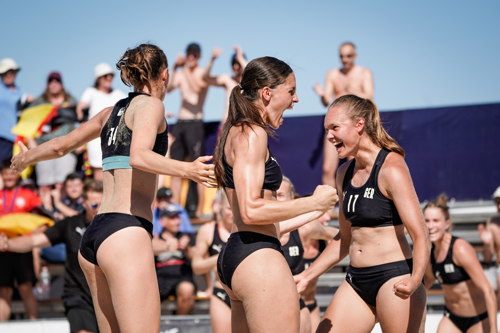 10:07
Before we dive into today's schedule, you can quickly get yourself up to date on what happened Friday, when the main round finished in dramatic fashion:
09:50
Good morning and a - literally - very warm welcome to Varna! The sun is out in full force here like all week, and so will our quarter-finalists over the next few hours.
Yes, we are entering what they call the business end of the Beach Handball EURO 2021, the stage where no mistakes are allowed anymore. This is the knockout stage.
It is ladies first, they will play their quarter-finals at 11:00 CEST, followed by the men an hour later.
Bring it on!