EHF Champions League
Bonnefoi benefits from Nantes experience
Bonnefoi benefits from Nantes experience
It is never easy for a player to join a team during a season. But that is exactly what Kevin Bonnefoi did three weeks ago. Nantes goalkeeper Cyril Dumoulin is out for the season with a knee injury, and last year's VELUX EHF Champions League finalists approached the 27-year-old Bonnefoi, who had been with Toulouse since September.

"I guess it is easier for a goalkeeper than it is for a player to join a team like that. We just have to stop balls, there are not a lot of tactics going on," Bonnefoi says.

"No one thinks I am going to steal anybody's place"

The new Nantes goalkeeper is now forming a duo with Arnaud Siffert, who has been there for four seasons and who has helped him finding his way around, both on and off the court. They are already starting to find their feet with each other.

"And Cyril Dumoulin is not that far either, he has already come to see us a couple of time even though he has just had his knee surgery," Bonnefoi says. "The fact that I am only there for six months helps, no one thinks I am going to steal anybody's place."

Bonnefoi played his first game for his new team in the VELUX EHF Champions League two weeks ago, when Nantes were defeated 35:30 by PSG at home. He might have saved a couple of shots but that was not enough to help his new teammates get the two points.

"Of course we were disappointed. But, in the meantime, Paris are a very strong team and there might be easier games for us to get points from," he says.

However, Nantes did get a victory a week later in Denmark, where they edged Skjern Handbold in the closing minute to clinch their last 16 berth.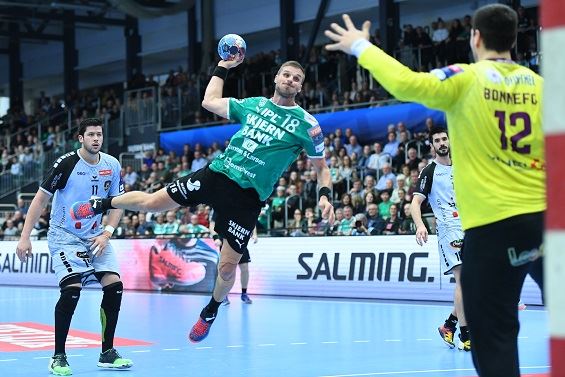 Playing in the biggest European competition is a big hit for Bonnefoi, who had not played a VELUX EHF Champions League match before in his career.

"When it heard the anthem of the Champions League, I was like…this is it. It was a special moment because playing in this competition is one of the goals for every handball player, just not me," he says with a smile.

Bonnefoi will have at least four more occasions to hear the trademark Champions League tune before the end of the season. The next time will be this Saturday, when Nantes host MOL-Pick Szeged for Match of the Week (at 17:30 hrs, live on ehfTV.com).

"For me to play this kind of game is flattering," the goalkeeper says. "I am more used to playing bottom of the league in France, so it is nice to compete in Europe, too."

He just wants to enjoy the moment

Bonnefoi does not yet look beyond June, when his contract in Nantes will expire. He is supposed to join Montpellier HB in the offseason but things might be subject to changes. For the time being, he just wants to enjoy the moment. And whatever the future will bring, so be it.

"I have got everything to win in playing here until June. All the experience that I collect in the Champions League and playing at a top club like Nantes will only do me good," he says. "I want to prove that I have got the skills to play at this level."