EHF Champions League
Canellas: It's always special to play against Barcelona
Canellas: It's always special to play against Barcelona
In his third attempt with three different teams, Joan Canellas finally raised the VELUX EHF Champions League trophy in 2017 when HC Vardar won their maiden title. As the Macedonian side aim to defend that title, Canellas prepares to meet his former team – and Vardar's FINAL4 2017 Semi-final opponents – FC Barcelona.

ehfcl.com spoke with Canellas about the decisive factors that led to the VELUX EHF Champions League trophy, his expectations ahead Saturday's Round 5 clash against Barca, and the 2017/18 season.

ehfCL.com: After four rounds, Vardar have won three games and drawn once. Are you satisfied with the opening matches of the VELUX EHF Champions League 2017/18?

Joan Canellas: We have to be proud of the achieved results because so far, only Veszprém have won all of their matches. We must be happy that we only lost one point against Pick Szeged [in Round 4] because it is difficult to play against such a good team in a small arena with loud fans.

ehfCL.com: On Saturday, you will face your former club FC Barcelona. How does it feel for a Catalan-born player to face the region's trademark club?

Joan Canellas: I played in Barcelona for three years and my first professional contract was with this club. The time I spent with this club was a little bit difficult – I was young, and I didn't play a lot because at that time the club consisted of many star players and it was very hard to get a chance on the court.

Playing against this club is something special for me because I still have a lot of friends and teammates from the national team. Over the years I played against them many times, including several matches in which we were opponents for the title.

When I'm far away from home the matches against this team are even more special because all my family and friends come to watch these games, but of course I try to ignore all of this and be fully concentrated on the court.

ehfCL.com: What do you think is Barcelona's strongest asset this season?

Joan Canellas: They have almost the same team and we know how good they are. I think that their best skill is the defence and, of course, they have great goalkeepers.

Their team is mixed with experienced players, but also very good young players like the French ones [Dika Mem, Timothey N'guessan, Yanis Lenne], who are having a very good season so far. If we want to win against them we have to find solutions for these elements.

ehfCL.com: Your last two clashes against FC Barcelona, at the VELUX EHF FINAL4 2017 and 2017 Super Globe, ended with one victory each. What can we expect in Saturday?

Joan Canellas: At the FINAL4 we won in the last second, but at the Super Globe, although we had a chance in this match, they were better in the final moments.

Taking our last clashes into consideration, I believe that once more on Saturday we will have a very intense and interesting match until the final whistle. I hope that with the support of our fans we can win the two points and secure the first position.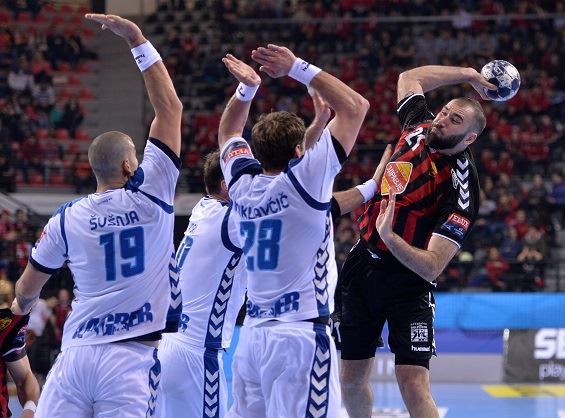 ehfCL.com: Before Vardar, you played twice in the Champions League Final, but it was only with the Macedonian team that you raised the trophy...

Joan Canellas: In this competition, it is very difficult to reach the FINAL4 and once you are there, everything can happen.

Last season we were not the favourites because many thought that Barcelona and PSG would play in the final. Playing without pressure is definitely one thing that helped us and of course, you must have luck in some moments.

I'm very happy for our achievements. This is something that means a lot, not just for us, but for the whole country.

ehfCL.com: The Macedonian fans have huge expectations this season. Can Vardar repeat last season success and defend the title?

Joan Canellas: It is difficult to deal with the expectations, because last season nobody expected us to have this success. This year it's the opposite and, of course, this situation puts additional pressure on us.

There is no doubt that we would like to defend the title as none of the teams have done this before, but this is not an easy task. For the moment, we want to reach the FINAL4 and then we will see what will happen in Cologne.