EHF Champions League
Czech shooter and Spanish legend take monthly awards
Czech shooter and Spanish legend take monthly awards
Every month since January 2016, journalists working for the European Handball Federation have been voting for the EHF Players of the Month.
Sometimes a player defends last month's award, as is the case this time with Spanish goalkeeper Arpad Sterbik. His VELUX EHF Champions League performances for the defending champions, Vardar Skopje, have been awarded for the second straight time.
On the female side, Iveta Luzumova is the first ever Czech player to win the award, thanks to her goals for Thüringer HC.
As there have been only a few men's games and none for women in EHF competitions in December, no separate award will be given for this month.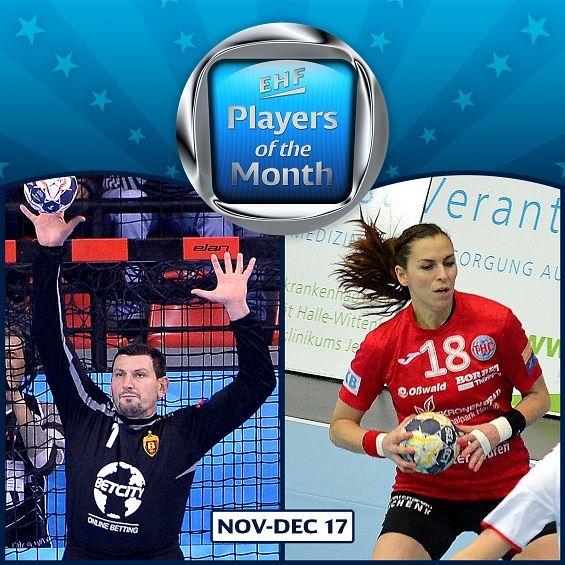 There could have been a better time to get informed about this award premiere than after losing a quarter-final at a World Championship.
Left back Iveta Luzumova was crying bitter tears on Wednesday night in German city Magdeburg after the Czech Republic were defeated 30:26 by the EHF EURO and World Championship silver medallists, Netherlands.
Even 11 goals in that match (and 47 in the entire tournament) from Luzumova were not enough for the Czech Republic to make it to the semi-final, but being in the quarter-finals had already been their best result in the competition since winning silver in 1986.
"I am proud and even more surprised that I won this award," the 28-year-old Thüringer HC player said.
In the Women's EHF Champions League Luzumova has scored even more, topping the scorer list with 50 goals so far, three ahead of Norway's Veronica Kristiansen and Germany's Kim Naidzinavicius.
'If a team win, it doesn't matter who scores'
"I am the expert for penalty shots, this is why the number of goals is so high. And to be honest: If a team win, it doesn't matter who scores the goals. It is all about helping the team, not looking to the top scorer list," Luzumova said.
She played a major role in Thüringer HC proceeding to the main round, though it was highly close: "We needed the help of FTC to go on, as they beat Larvik in the final group match. But I am sure that we deserve to be among the 12 best teams again."
The opening 31:27 win at Larvik - THC's only victory in the group matches - was the key for the ticket to the next stage – and Luzumova scored 13 goals in this match.
"I was injured quite often in the previous years, now I am truly fit. And I like to take the responsibility," said the Czech player, who has been with Thüringer HC since 2013. "I am exhausted now, but will hopefully recharge when the main round starts in January."
EHF Player of the Month - November/December 2017: Female
1. Iveta Luzumova (Thüringer HC/CZE)
2. Veronica Kristiansen (FC Midtjylland/NOR)
3. Ana Gros (Metz Handball/SLO)
4. Cristina Neagu (CSM Bucuresti/ROU)
5. Jovanka Radicevic (HC Vardar/MNE)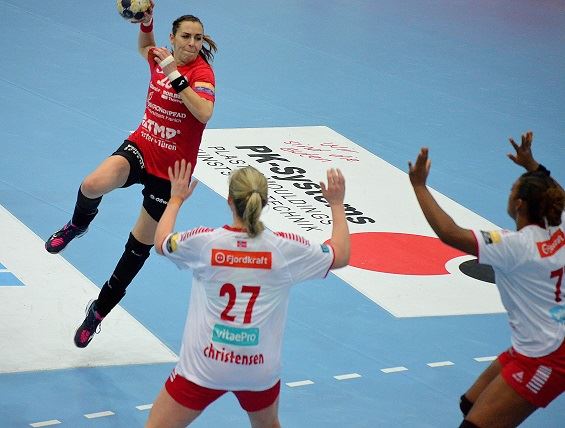 In contrast to THC, which had five defeats in six matches, HC Vardar are absolute top. Apart from being the only undefeated team this season, the defending VELUX EHF Champions League winners achieved another club record with the highest score victory in the competition, 31:15 against IFK Kristianstad.
Once more Arpad Sterbik turned out to be a 'nightmare' for the opponents' attack since he was virtually unbeatable in Vardar's goal. His stunning performance throughout this month was crucial for the second consecutive EHF Player of the Month award.
"To be honest I didn't expect to be chosen EHF Player of the Month in October, and now I'm surprised even more. In November there were plenty of good players and we had very tough matches so I didn't expect this recognition," Sterbik said.
"The match against Kristianstad was very important match for us because it was the last match in this year. I was afraid of this match because Kristianstad are a tricky opponent. They have played very good games lately. However, I'm happy that at the end we continued the good series."
Helping maintain Vardar's superb record
Earlier in November, Vardar won against Zagreb and Rhein-Neckar Löwen. However, in their home match the German team were close to handing Vardar their first defeat but Ivan Cupic and Arpad Sterbik ended those hopes and helped maintain Vardar's superb record.
"November was a very difficult month for us. I'm satisfied that we got three points from both matches against Rhein-Neckar Löwen. At home we played almost perfectly, away we were not good enough but won one point," Sterbik said. "Also against Zagreb we won though in the past we had a bad record against this opponent."
The VELUX EHF Champions League MVP player, Arpad Sterbik is playing his last season in the red-black jersey, and hopes to finish the season with a good result.
"Regardless of the fact that this is the last season in Vardar for me, every match is very important and I always give my maximum in order to help my team," said the goalkeeper, who will move to Veszprém next season.
"In general we should be very satisfied because we ended the year on the first position in the group and this was our goal. Now we have to rest and hopefully all players after the EHF EURO will be fit so we can continue our successful series."
EHF Player of the Month - November/December 2017: Male
1. Arpad Sterbik (HC Vardar/ESP)
2. David Balaguer (HBC Nantes/ESP)
3. Uwe Gensheimer (Paris Saint-Germain Handball/GER)
4. Thierry Omeyer (Paris Saint-Germain Handball/FRA)
5. Vuko Borozan (HC Vardar/MNE)