World Championship
Debrecen rocking as Hungary win Junior World Championship on home court
Debrecen rocking as Hungary win Junior World Championship on home court
All-star left back Noémi Háfra and Katrin Klubjber led host nation Hungary to Women's World Junior Championship gold in front of an ecstatic crowd at Fönix Hall in Debrecen.
Both back court players bagged eight goals in their win over Norway, a first at this level for Hungary in their third final.
Women's Junior World Championship Final
Hungary 28:22 Norway
With a perfect winning record in the competition, including a win over Norway in the preliminary round, Hungary came into the final as favourites, but it was Norway who had the edge at half-time.
Buoyed by the brilliant crowd of 6,500, Hungary closed the two-goal deficit within eight minutes of the second half and never looked back from there.
Norway simply did not have a response to the rampant Hungarians, despite the best efforts of Sofie Ege Gronlund in goal for the Scandinavians.
With a five-goal lead in hand, Hungary enjoyed the final five minutes, before closing the match with a 28:22 win and a maiden world title.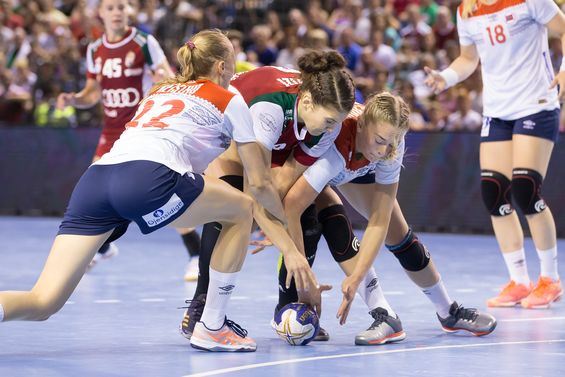 Earlier on Saturday, Korea rounded off the podium places by beating Russia 29:27 in the bronze medal match.
Final ranking
Gold Hungary
Silver Norway
Bronze Korea
4 Russia
5 Netherlands
6 Denmark
7 France
8 Romania
9 Croatia
10 Iceland
11 Brazil
12 Sweden
13 Germany
14 Japan
15 Slovenia
16 Montenegro
17 Spain
18 Portugal
19 Angola
20 Chile
21 China
22 Paraguay
23 Egypt