EHF Champions League
Diego Simonet – a proud Argentinian with two trophies
Diego Simonet – a proud Argentinian with two trophies
For the first time ever, a non-European player was chosen as MVP of the VELUX EHF FINAL4: Argentinian centre back Diego Simonet, from newly crowned VELUX EHF Champions League winners Montpellier HB, received the award after winning the final against Nantes 32:27. He follows on from Arpad Sterbik, goalkeeper for last year's champions Vardar, who were defeated by Montpellier in the semi-final. In the trophy match, the Argentinian scored six goals and was brilliant with assists too.

"This is my personal title and I am really proud of my performance during the weekend. But much more important for our team and our club is the overall title after that long period," said Simonet. "I achieved those two awards after just a few years. Look at our coach – he fought for all those years to achieve that."

He is the first Argentinian player ever to win the EHF Champions League – and he proudly carried his national flag through the arena after the winners' ceremony: "As an Argentinian, you do not have such matches that often. Our national team is somewhere close to the nowhere – and also our club had to wait for years to get such a match again. This is emotion you cannot describe."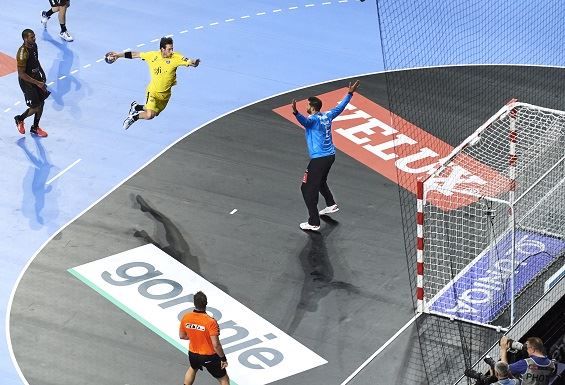 While the MVP was once again part of the winner's team, the new (and previous) top scorer of the VELUX EHF Champions League missed out on the trophy for the third time in Cologne. German left wing Uwe Gensheimer received the award again, like in 2011 (118 goals for Rhein-Neckar Löwen) and 2017 (115 goals for PSG), netting 92 times this season.

"This trophy is not only individual, it is a team thing. Without the passes of my teammates, I cannot score. I would immediately swap those awards for the big trophy, as handball is a team sport and everything is about this big trophy," Gensheimer was still disappointed after finishing third. "We are disappointed because we wanted to win the trophy, but this chance was over after we played under our normal level yesterday."

Another player made history this weekend: Kiril Lazarov (HBC Nantes) is the new all-time record scorer at VELUX EHF FINAL4 events. Before the 2018 edition, Momir Ilic and Filip Jicha topped the list with 56 goals each – then came the Macedonian, netting an overall of 14 goals in two matches, taking him from 51 to the new record number of 65 goals.