EHF Champions League
Eduarda Amorim: "Biggest game of my career"
Eduarda Amorim: "Biggest game of my career"
Quoted as the favourite to win the EHF Women's Champions League title, the Hungarian champions from Győr delivered a massive first half in the first semi-final against Oltchim Rm. Vâlcea. Then, in the second half, the Romanians woke up and showed on their home turf the best 20 minutes of their season by marching through their opponents like a hot knife through butter.

Despite those rather shocking minutes, Győri Audi ETO's Brazilian international Eduarda Amorim is confident that her side will progress to the final. In this interview with ehfCL.com the left-back talks about the first leg match, her own performance, the chances in the return game, and her most important club match ever.

ehfCL.com: Despite a good game against Oltchim that you controlled in the first 30 minutes, the second half, especially the beginning of it, was a nightmare for any fan in green and white. How do you explain the fluctuation in your side's game and how did the team analyze the second period?

Eduarda Amorim: Yes, some minutes of the second half were not good for us. We lost concentration and made several mistakes that resulted in many fast breaks from the home team. But overall it was a positive result for us. By the end we could come back with a good performance and reduce the difference of the score.

ehfCL.com: You were one of the key players who kept the team's hopes alive for a final with 11 goals. How do you feel in your role as sharpshooter, bearing in mind that you are an important player in defence as well?

Eduarda Amorim: I feel that I'm prepared to give my best to the team. It's not just me - everybody is important for this second leg match. Even if Oltchim is a great team we showed we can give a good performance against them.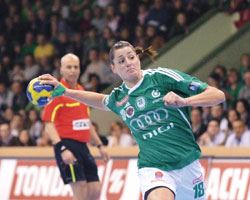 ehfCL.com: You've already trained with your team-mates in the Veszprém Arena, the host venue for the semi-final return leg match. How is the new location, and do you think it is an advantage or disadvantage to play there?

Eduarda Amorim: The city of Veszprém has a great arena. I think we have a big advantage in playing there because it will be a great atmosphere for us. It was a nice feeling to train there this week.

ehfCL.com: Oltchim has a four-goal advantage before the second game. How do you see your chances of progressing, and what are the important factors that need to change significantly for a better Győr game compared to the first match?

Eduarda Amorim: I see great chances to reach the final. If we maintain focused to give our best during the whole 60 minutes, we are going to be able to beat them by more than four goals.

ehfCL.com: Do you feel pressure before facing Oltchim again?

Eduarda Amorim: There is always pressure in these high level games, but my team and I feel very well prepared for this duel. We feel confident about the clash.

ehfCL.com: Is the return match the biggest game ever in your club career? What would it mean for you to play the EHF Women's Champions League final in May?

Eduarda Amorim: I think I can say it is. This season has been great for all of us and we hope to finally bring the trophy to our club and to the green-white fans. It would mean lot - a dream come true!