EHF Champions League
Every match like a final for new-look Szeged
Every match like a final for new-look Szeged
When you have eleven new arrivals and ten players departed, the first objective is to build a new team structure. This is the main job of Juan Carlos Pastor at the 2014 EHF Cup winners MOL-Pick Szeged for the upcoming season.
Big names such as playmaker and top scorer Dean Bombac (to Kielce) and Spanish World Champion Antonio Garcia (to Kolding Kobenhavn) have said farewell to Hungary, while other big names such as Sergei Gorbok (Vardar), two recent champions from Kielce Marin Sego and Denis Buntic as well as Velenje stars Stas Skube and Mario Sostaric came to the Hungarian runners-up.
"We must learn to play together, to play as a team, to improve and to get to know each other," details Pastor as his main tasks. Already in their season of transition Szeged hope to snatch away at least one title from the hands of their domestic arch rivals Telekom Veszprem, though they estimate the Balaton-based champions as the favourites again.
"In the VELUX EHF Champions League our philosophy is to go step by step, from match to match; we have to prepare against each opponent very thoroughly. The goal is of course, to qualify for the knockout phase, but we will need to achieve a good place in the group to get a good opponent in the next phase and to hope for the quarter-finals. This year, each match, even in the group phase, will be like a final to everyone," says Pastor.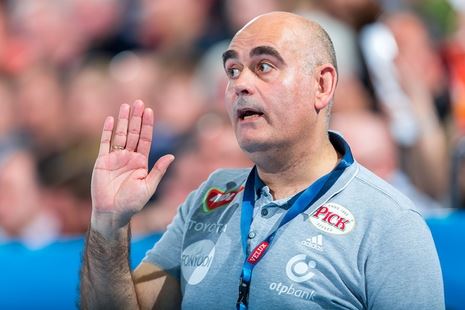 For club CEO Nándor Szögi, it is "a big honour being among big teams such as last season's winners Kielce. Since we are going to have eleven new players, our main goal is to build our new team step by step, from match to match.
"We are going to have minimum of 14 matches against the best handball teams, which is a big challenge for MOL-Pick Szeged. We are really proud of being in this top competition and we do hope that our team can achieve the quarter-final like we did two seasons ago."
Szögi is aware of the fact that "many great teams are part of the VELUX EHF Champions League, so reaching our objectives is not going to be easy".
For him, Kielce and Rhein-Neckar Löwen are the favourites in Group B: "Most of the other opponents have been participating in the VELUX EHF Champions League for a long time so we have exciting and hard games ahead. Predicting the final ranking in this group is mission impossible."
"Each and every match will be of utmost importance for us, as many players have left and new players arrived," says team captain Szabolcs Zubai, adding. "It will be even more important than before to win our home games and to bring points home from the away matches as well. We want to participate successfully in the Champions League, even though we are aware it will be more difficult than ever."
Zubai is "extremely happy" to be seeded in one of the top groups: "Our fans will see great matches this year. The group is balanced; we must concentrate on every game, as there will be no easy ones. We must work, trust in ourselves, and go only forward, like our club slogan says: CSAK ELŐRE!"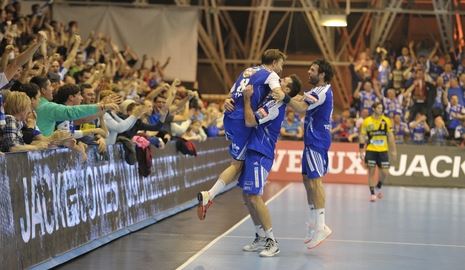 MOL-Pick Szeged (HUN)
Qualification for the 2016/2017 VELUX EHF Champions League season: Hungarian runners-up
Newcomers: Bence Banhidi (Balatonfüredi KSE), Richard Bodo (Grundfos Tatabanya), Bendeguz Boka (Balatonfüredi KSE), Denis Buntic (Vive Tauron Kielce), Marin Sego (Vive Tauron Kielce), Mario Sostaric (Gorenje Velenje), Matej Gaber (Montpellier Handball), Pedro Rodriguez Alvares (Naturhouse La Rioja), Sandro Obranovic (RK PPD Zagreb, on loan), Sergei Gorbok (Vardar Skopje), Stas Skube (Gorenje Velenje)
Left the club: Gabor Ancsin (Telekom Veszprem), Antonio Garcia (KIF Kolding Kobenhavn), Dean Bombac (Vive Tauron Kielce), Ferenc Ilyes (Grundfos Tatabanya), Marko Curuvija (unknown), Niko Mindegia (KIF Kolding Kobenhavn), Piotr Wyszomirski (TBV Lemgo), Rajko Prodanovic (Meshkov Brest), Roberto Garcia Parrondo (CYEB Budapest), Vladimir Vranjes (Grundfos Tatabanya), Vladan Loncar (Naturhouse La Rioja, on loan)
Coach: Juan Carlos Pastor (since 2013)
Team captain: Szabolcs Zubai
Opponents in the group phase: Löwen, Kielce, Vardar, Zagreb, Brest, Celje and Kristianstad in group B
VELUX EHF Champions League records:
Participations (including 2016/2017 season): 15
Quarter-final (3): 1996/1997, 2003/2004, 2014/2015
Last 16 (6): 2004/2005, 2005/2006, 2006/2007, 2010/2011, 2012/13, 2015/16
Main Round (1): 2007/2008
Group Phase (3): 2008/2009, 2009/2010, 2011/2012
Qualification (1): 2013/14
Other EC records:

EHF Cup
Winner: 2014
Quarter-final: 2000/01
Last 16: 1994/95, 1999/2000
EHF Cup Winners' Cup
Semi-final: 1993/94
Quarter-final: 2002/03, 2008/09
Hungarian champions: 1996, 2007
Hungarian cup winners: 1977, 1982, 1983, 1993, 2006, 2008