EHF EURO
Farewell to the Bad Boys' father
Farewell to the Bad Boys' father
It has become tradition that early in the year, either after a Men's EHF EURO or a Men's World Championship, Germany's men's national team takes on the Bundesliga's best international players in the All-star Game.
In 2016, this game was also the homecoming of Germany's EHF EURO heroes who had won gold at the championship in Poland.
The EHF EURO 2016 had been the birthplace of the "Bad Boys", something that has developed into more than just a team name. It is an image, an attitude.
Ahead of Friday's All-Star Game (20:15 local time, live on ehfTV) in Leipzig, the man one can call the "father and creator" of the Bad Boys will be in the focus: Dagur Sigurdsson.
For 29 months, the 43-year-old Icelandic had been in charge of the team. His contract officially ended on 31 January, the All-star Game will see his farewell. He will become coach of Japan's national team, preparing them for the 2020 Olympic Games in Tokyo.
Compared to 2016, the German team has no medal to celebrate at the All-star Game. The surprising 21:20 loss against Qatar in the Last 16 at the World Championship 2017 in France seems to make Sigurdsson's work look incomplete.
Sigurdsson, who was named World Coach of the Year by the IHF in April 2016, even shed tears after the defeat. "This was my biggest disappointment in my career as German coach. I made mistakes," he said.
However, the statistics paint an entirely different picture. If one looks at the matches won, Sigurdsson is the best men's national team coach Germany had.
During his reign, Germany won 48 from 62 matches, or 77 per cent. When he took, Germany had missed the qualification to the 2012 Olympic Games, the EHF EURO 2014 and even the World Championship 2015 at which they eventually participated courtesy of an IHF wild card.
Two and half years later, Germany are the EHF EURO 2016 champions and bronze medallists at the Rio 2016 Olympic Games.
Hence there is plenty of praise for the coach.
"We are all hugely thankful for his achievements. He built a team for the future which hopefully will be bright," said Andreas Michelmann, President of the German Handball Federation.
"I felt so bad for him after we had lost against Qatar. This match concluded an incredible era for German handball," said Bob Hanning, the federation's vice president. "Dagur provided the team with extra-ordinary self-esteem and confidence. Thanks to Dagur this team has faith again."
Wolfgang Sommerfeld, the federation's sports director, underlines: "Dagur is a key figure for the new handball in Germany. The coach, who will succeed him, can count on a huge number of highly skilled players."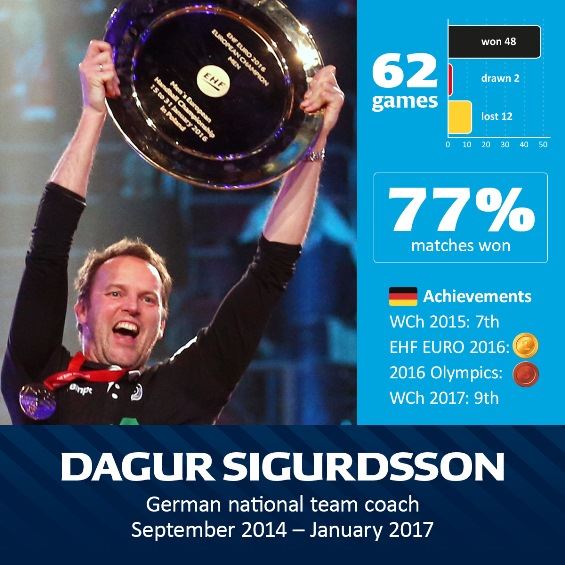 A coach with enthusiasm and patience
It is yet to be answered who will succeed Sigurdsson. The two options that have been discussed publicly are Christoph Prokop, coach of Bundesliga newcomers DHfK Leipzig, and Markus Baur, 2007 world champion, former coach of the men's under 20 team and now in charge of Bundesliga club TVB Stuttgart.
There are three months left before Germany play their next competitive matches.
At the beginning of May, Germany face Slovenia in an EHF EURO Qualification double-header. In June they play Switzerland and Portugal in the final two rounds of the EHF EURO 2018 Qualification.
One person who has been very close to Sigurdsson over the past 29 months is assistant coach Axel Kromer.
"Dagur is a person with a lot of different interests who handled his tasks with enthusiasm but who was also always calm and patient," he says.
"Dagur focused on all details. He tested all potential plans A, B and C on his famous magnet tactic board. He gave the players a lot of space, forced them to have personal responsibility.
"Dagur was one of the first in handball who had the idea and approach of two assistant coaches, as it is practiced already in football and basketball. We told him our ideas, and then he went to his room to work on the tactics. And a bit later he shared his thoughts with us."