EHF Champions League
Nantes, Flensburg, Kielce close in on quarter-finals
Nantes, Flensburg, Kielce close in on quarter-finals
HBC Nantes came away from the difficult away match at HC Meshkov Brest with an eight-goal win (32:24), while SG Flensburg-Handewitt turned the match at IFK Kristianstad in the second half (26:22).
In the first VELUX EHF Champions League Last 16 match on Saturday, PGE Vive Kielce made a huge step towards the quarter-finals by claiming a 41:17 win over Rhein-Neckar Löwen, who had sent their second team to Poland as the first team were playing THW Kiel in a simultaneous Bundesliga match.
Swedes Wanne (8) and Gottfridsson (5) score half of Flensburg's goals against Kristianstad

Espen Lie Hansen and Dominic Klein (6 each) lead Nantes to big win over Brest

Kielce are the first team this season to score more than 40 goals in a CL match
LAST 16, FIRST LEG:
IFK Kristianstad (SWE) vs SG Flensburg-Handewitt (GER) 22:26 (12:11)
It was their first ever knockout match in the VELUX EHF Champions League, but backed by their orange-dressed fans, IFK Kristianstad showed a clever and emotional performance against the 2014 Champions League winners for more than 40 minutes.
Flensburg tried hard to force an early decision, but one man constantly stood in their way: IFK goalkeeper Richard Kappelin, who was like a human wall between the goal posts.
At the break, his saving percentage was 52, and until the middle of the second half, he was the cornerstone of Kristianstad's brave fight.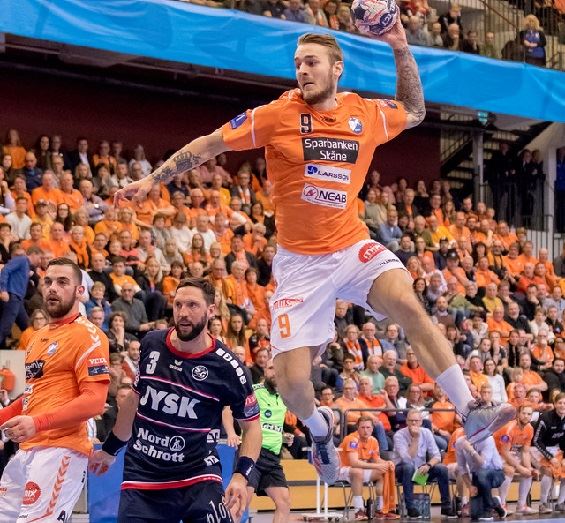 But the scales turned when Flensburg's Swedish goalkeeper Mattias Andersson started to shut up his shop with some important saves in the middle of the second half.
Kristianstad had put enormous pressure on the favoured Germans in the first half and even turned a 9:7 deficit into a 12:11 lead at half-time.
Until minute 36 (14:13), the home fans could hope for a sensation, then Andersson started his show. It helped Flensburg to take a 22:19 lead, followed by another time-out of IFK coach Ola Lindgren.
But the deal had been sealed by then, mainly thanks to Andersson and another Swede, top scorer Hampus Wanne, who netted eight times. Also thanks to their bigger experience, Flensburg opened the door to the quarter-finals.
Best Kristianstad scorer was Albin Lagergren with six goals.
Post-match statements:
Mike Machulla, Flensburg coach: "I am very pleased with my team and the way we finished this very tight game. They play with the same handball philosophy as us but we closed out the match in the last 10 minutes thanks to excellent defence and goalkeeping."
Jesper Larsson, Kristianstad sports manager: "We followed our game plan well but made too many mistakes. We need more counterattacks and better scoring from our clear possibilities."
HC Meshkov Brest (BLR) vs HBC Nantes (FRA) 24:32 (14:16)
The first half featured a tight battle, yet Nantes enjoyed a slight dominance most of the time. The French side capitalized on their solid defensive game and had a 76 percent shot efficiency before the break.
Brest were less productive, and their mistakes allowed the visitors to score. Kiril Lazarov, who entered the game midway through the half, contributed with four goals before the break.
Thanks to his effort, Nantes lifted the score from 10:10 to 16:13 before Alexander Shkurinskiy spectacularly netter a few seconds from the buzzer to leave the sides separated by two goals at half-time.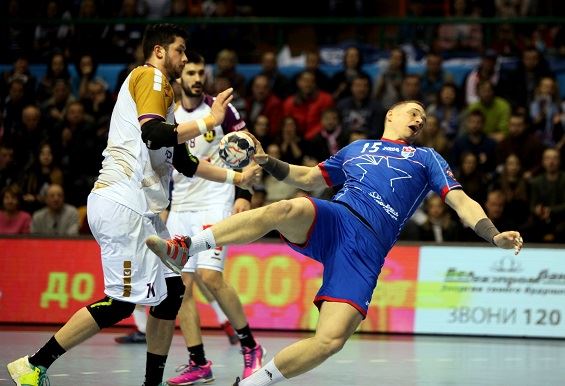 Brest hoped to turn the tide in the second half, but their attack did not pose a big threat to the French team. The hosts struggled to get past the rock-solid defence of Nantes and their goalkeeper Cyril Dumoulin, who made a number of good saves.
Espen Lie Hansen, who did not score before the break, came to the fore at the other end as his six goals helped the visitors to take full control of the game.
Nantes were up 23:19 in the 40th minute, and they extended their lead to 28:21 ten minutes later before clinching a 32:24 victory, which left Brest with a mountain to climb in the second leg.
"Nantes didn't surprise us but their goalkeeper was very good as he made a lot of saves," Brest captain Dzmitry Nikulenkau said. "Losing by eight goals is hard yet we never give up."
Post-match statements:
Thierry Anti, Nantes coach: "We played in a very high tempo. Today our defence was really good: we played aggressively and were good in the interception. We have a good lead but it's only first match."
Sergey Bebeshko, Brest coach: "We haven't scored from 13 100-percent situations, at the same time our rivals scored almost everything. But life goes on."
PGE Vive Kielce (POL) vs Rhein-Neckar Löwen (GER) 41:17 (21:8)
Löwen's team, which consisted mainly of under-21 players, showed moral but the hosts clearly won as expected. Kielce have all but qualified for the quarter-finals, where Paris Saint-Germain will be the opponent.
Despite a strong start by Löwen goalkeeper Lucas Bauer, his side were without a chance.
Croatian wing Manuel Strlek impressed in the opening phase, and he had already scored five times when the score was 12:6.
In minute 23, the margin became 10 for the first time (16:6), and with eight minutes left, the difference had doubled to 20 (34:14).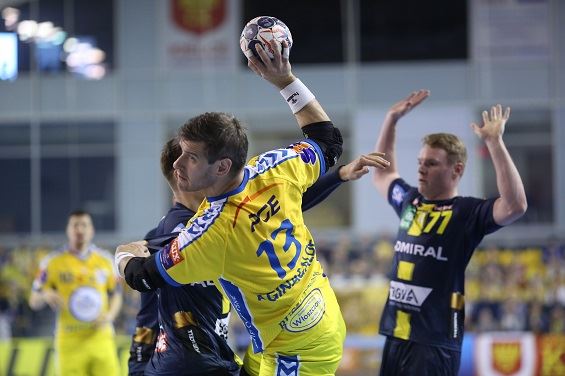 Though the visitors had the younger team in average, Kielce had the youngest player on court - and when 16-year-old goalkeeper Milosz Wallach entered the court five minutes before the end, he earned extra applause for saving a Tim Ganz penalty.
Otherwise, Kielce's regular goalkeeper Slawomir Szmal made many excellent saves against his former teammates.
"We expected a result like this, but I have to congratulate our young players on their performance," Löwen sports director Oliver Roggisch told German TV station Sky.
"We were truly impressed by the atmosphere, it was a great experience and I have highest respect for my players," said Löwen coach Michael Abt.
While Strlek led Kielce with seven goals, Rico Keller was Löwen's best scorer with five.
Post-match statements:
Talant Dujshebaev, Kielce coach: "These were two really hard weeks for us. We didn't know against who we would play and it was a difficult situation for me as the coach and for our players."
Alex Dujshebaev, Kielce right back: "(Löwen) did their best and we had a huge respect for them, but we were also focused on our goals and we achieved them."
Michel Abt, Löwen coach: "It was a big adventure for our young players to be here. It was a hard game, many things were okay but the defence and fast breaks of Kielce were too much."
Andre Bechtold, Löwen centre back: "Maybe the result is a bit too high. We had some good actions, especially at the end of the first half and in the middle of the second half."