World Championship
Norway, Russia set up QF clash as Germany stumble
Norway, Russia set up QF clash as Germany stumble
The defending world champions against the Olympic gold medallists: Norway vs Russia is the outstanding match of the four all-European quarter-finals at the Women's IHF World Championship 2017 in Germany.
The three other matches on Tuesday and Wednesday (match schedule) are Sweden vs Denmark, France vs Montenegro, and Netherlands vs Czech Republic.
Romania and Serbia, who both finished top of their groups in the preliminary round, as well as hosts Germany all crashed out in the Last 16, while Hungary star player Anita Görbicz ended her national team career following a defeat against France.
Different experiences
Norway and Russia had completely different experiences getting through the first knockout round on Monday.
Mora Mørk netted 11 times to help Norway comfortably beat Spain 31:23. The title holders went 3:0 up within three minutes and coach Thorir Hergeirsson's team never saw their lead come in danger.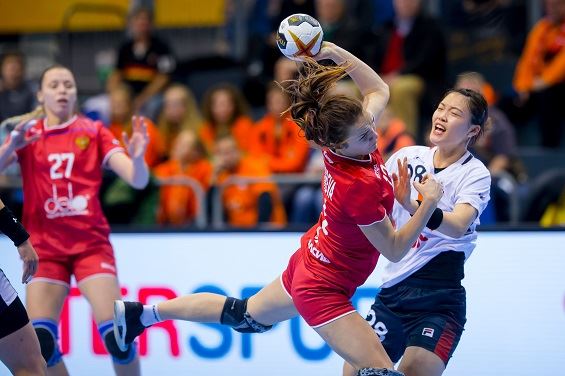 But Russia were forced into extra time by South Korea despite leading by three goals (16:13) at half-time and even by five (23:18) well into the second half.
Led by Eun Hee Ryu's 10 and Migyeong Lee's 11 goals, South Korea staged a remarkable comeback and even went into the lead briefly (30:29) before Kseniia Makeeva levelled the score 30 seconds before the end of the second half.
In extra time, South Korea wiped out a two-goal deficit (34:32) before Polina Vedekhina with her ninth goal of the match and a penalty by Daria Samokhina finally sent Russia through (36:34).
Forced into extra time
The only other non-European team in the Last 16, Japan, also forced their opponents into extra time.
The Netherlands took their foot off the gas being 19:16 up with six minutes left, allowing Japan to level the match at 19:19 and again at 20:20.
Centre back Nycke Groot had what appeared to be a last-second winner disallowed for a technical fault, but the 2015 silver medallists did wrap up the victory after 70 minutes (26:24).
The Dutch team's next opponents are the Czech Republic, who edged Romania 28:27 in a thriller.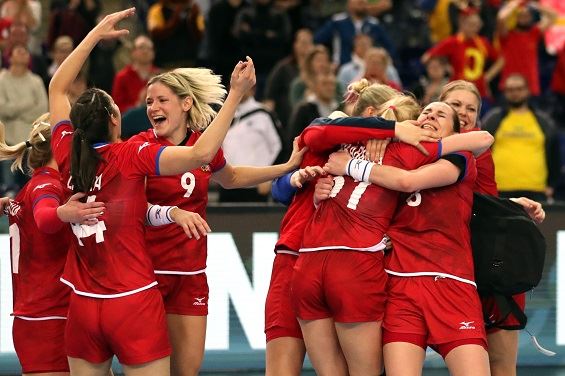 Having come back from 17:14 down at half-time, the Czechs led 27:26 when Romanian standout Cristina Neagu scored her 13th goal of the match, converting a penalty with only 11 seconds left.
However, Michaela Hrbkova netted a last-second winner to send coach Jan Basny's team through.
Alongside Romania, another winner from a preliminary group went out in the Last 16 as Serbia were upset 31:29 by Montenegro.
Down 14:9 at half-time, Serbia scored 20 times in the second half but still came up short as Jovanka Radicevic netted nine times in total for the winners.
The victory marks a notable success for coach Per Johansson, who replaced long-standing Montenegro coach Dragan Adzic just 10 days before the start of the tournament.
Continuing a strong run
While Norway lived up to their billing as tournament favourites, two more teams from Scandinavia reached the quarter-finals as well.
After winning their preliminary group, Sweden continued their strong run by outscoring Slovenia 33:21, led by Johanna Westberg's eight goals.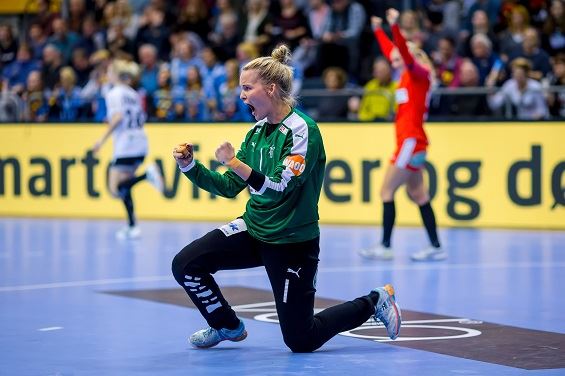 Sweden are next up against neighbours Denmark, who ended host Germany's dream of getting a medal at their home tournament.
In a match that was well-balanced only in the opening 15 minutes (5:5), Denmark led by four goals (11:7) at half-time and went even up by seven (20:13) before clinching a 21:17 win.
The defeat ends an era for Germany. Not only coach Michael Biegler will leave as planned, but also goalkeeper Clara Woltering (after 222 matches) and back court player Nadja Mansson (78) have ended their national team careers.
More retirement announcements
There have been more retirement announcements as Anita Görbicz said she won't be wearing the Hungary jersey again after her team was beaten 29:26 by France.
The 2005 World Player of the Year made her debut for Hungary in 2002, and played at two Olympics, six World Championships and six EHF EURO events.
Görbicz scored two times against France on Sunday, raising her career total to 1,111 goals in 233 appearances for the national team.
The Hungarian handball federation said in a statement on its website that it will organise a ceremony to bid farewell to Görbicz in a fitting manner.
Photos: IHF/Stéphane Pillaud, Germany2017/Sascha Klahn