Slovak Handball Federation celebrates its 80th anniversary
The Slovak Handball Federation (SZH) commemorated an important event on Thursday, 16 February; on that day 80 years ago, the SZH was founded. It happened on Tuesday, February 16, 1943, in the Smíchovský dvor restaurant in Bratislava, more than three years before the International Handball Federation (IHF) was founded.
"Eighty years in a human life is a long time. I believe that for the Slovak Handball Federation (SZH) it was just a small moment that will continue for a very long time," said the current president of the SZH, Jaroslav Holeša, in his opening speech after welcoming special guests to the Exhibition Hall of Professor Vladimír Černušák of the Slovak Olympic and Sports Museum in the House of Sports in Bratislava.
On the occasion of the jubilee in the House of Sport many personalities gathered from the sporting world and other important guests, not only from handball. All living members of the Slovak Handball Hall of Fame were invited, as was the EHF President Michael Wiederer.
"In 1990, I was a guest at the Men's World Championships in Bratislava, and in 1992-1993 I was present at the division of the federation and the integration of Slovakia and the Czech Republic into the EHF structures. Many joint activities took place in response. In cooperation with the EHF, the SZH organised not only youth events, but last but not least, the Men's EHF EURO 2022. Your people have also done a great deal of work in relation to managing the championship during the coronavirus pandemic. They organised the EHF EURO in an excellent fashion despite the difficult covid era. We are glad that we can also cooperate in the field of referees, delegates and representatives," said Wiederer.
The presidents of other national federations, Paco Blázquez from Spain and Ondřej Zdráhala from the Czech Republic, honoured the memorial ceremony with their participation, as did executive member of the International Handball Federation (IHF), Anna Rapp. The president of the Slovak Olympic and Sports Committee (SOŠV) Anton Siekel, the newly appointed secretary of the Ministry of Education, Science, Research and Sport of the Slovak Republic, Richard Nemec, and the general director of the sports section of the Slovak Ministry of Education and Sports, Peter Dedík, were also present.
A cross-section of the history of handball was offered to those present at the ceremony, which featured unique photos from the distant and recent past (600 photos in digitized form were provided by the Slovak Olympic and Sports Museum), a member of the Slovak Handball Hall of Fame, Miroslav Jursík, who discussed the greatest Czechoslovak achievements of the past in which Slovaks also participated. These include gold medals from 1957 at the first women's World Championship in Yugoslavia, 1967 at the men's World Championship in Sweden, and the silver medal from the 1972 Munich Olympics as part of the men's national team.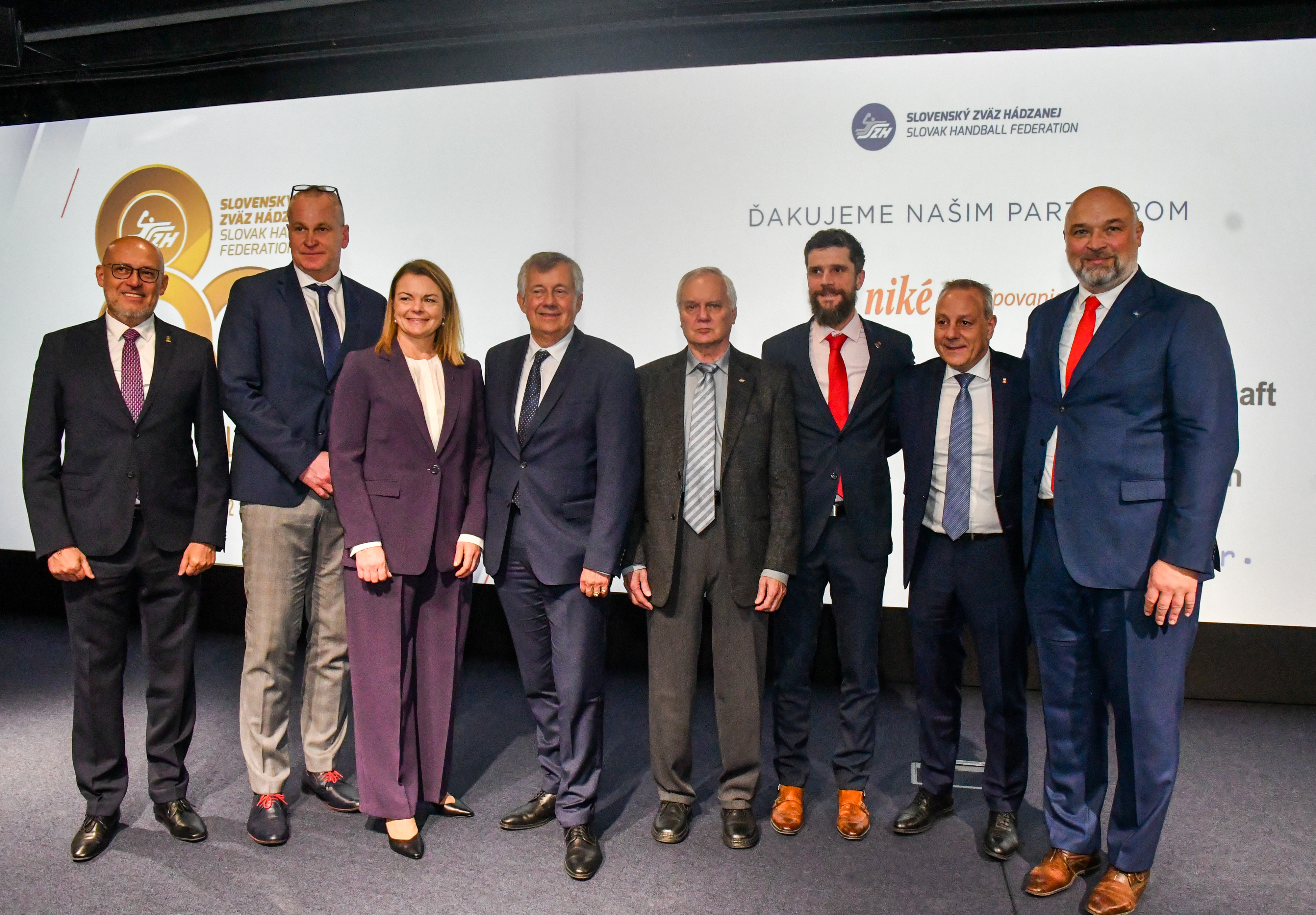 PHOTO: Ján Súkup / SZH