EHF Champions League
The 6 hottest transfers in Groups C & D
The 6 hottest transfers in Groups C & D
Several experienced players, including a former Champions League winner, and a talent with a big name. Here are the major transfers by clubs competing in Groups C and D of the VELUX EHF Champions League 2017/18.
As most clubs are counting on local and regional newcomers, Swiss champions Kadetten Schaffhausen have looked eastward to find new stars.
No. 6: Karim Mostafa Hendawy (EGY) – from Al-Zamalek (EGY) to Besiktas (TUR)
For several years Hendawy has been the clear number one of 2016 African champions Egypt. In major events, the goalkeeper always has great statistics, and he became a star at several IHF Super Globe tournaments with his Cairo-based club. After also playing for local rivals Al-Ahly, Hendawy has now made the step towards Istanbul to help the Turkish champions getting to the playoffs.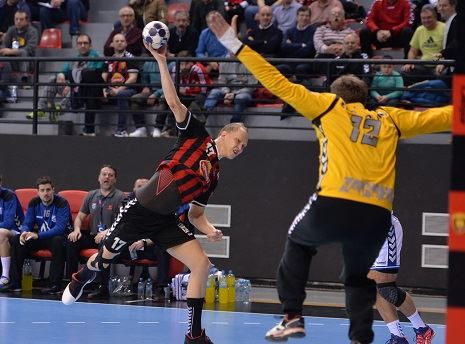 No. 5: Vladislav Ostroushko (UKR) – from Meshkov Brest (BLR) to Kadetten Schaffhausen (SUI)
202 centimetres and 101 kilograms pure power, this is Vladislav Ostroushko. The Ukrainian left back, who scored 45 times last season, is among the many big names to have left the Belorussian powerhouse. Kadetten will be his seventh club in the last eight years after earlier stints at ZTR Zaporozhye, Motor Zaporozhye, HC St. Petersburg, Dinamo Minsk and HCM Baia Mare.
No. 4: Maxim Babichev (BLR) – from Meshkov Brest to Motor Zaporozhye (UKR)
For the first time in his career defence specialist Maxim Babichev leaves his home country Belarus. After playing for Arkatron Minsk, for Dinamo Minsk and three seasons for Meshkov, he has gone abroad to join Motor Zaporozhye. The Belorussian national team player, who has been under the helm of Sergej Bebeshko several years, will be replaced at Meshkov by Vid Poteko from Celje.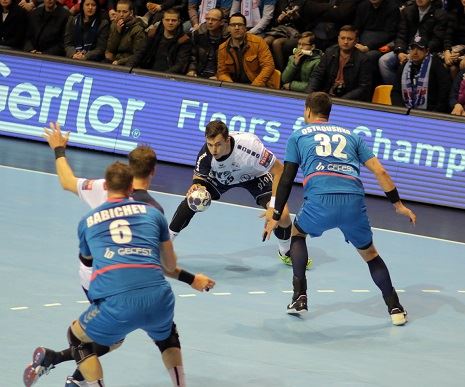 No. 3: Ivan Stevanovic (CRO) – from PPD Zagreb (CRO) to Kadetten Schaffhausen (SUI)
The Croatian international, Rio Olympian and EHF EURO 2016 bronze medallist has been a core member of the Zagreb squad in the past five years. In the national team he formed the leading trio with Filip Ivic and Ivan Pesic at the World Championship 2017. Now Stevanovic has joined his first club outside Croatia to bolster the Kadetten squad, where he will share the position with Serbian- born Austria national team goalkeeper Nikola Marinovic.
No. 2: Anders Eggert (DEN) – from SG Flensburg-Handewitt (GER) to Skjern Handball (DEN)
After 2531 goals in 461 matches for the VELUX EHF Champions League winners from 2014, SG Flensburg-Handewitt, the Danish veteran (35) has returned back home. Eggert played 11 years for Flensburg – interrupted by one season when he joined Skjern on loan. In Flensburg, he has been awarded 'honorary team captain' after his last match. Eggert was top scorer of the World Championship in 2003, where Denmark won silver. His major success was winning gold at EHF EURO 2012 and silver two years later. His most important goal for Flensburg was a last-second penalty in the 2013/14 quarter-final second leg, when he propelled Flensburg to the finally victorious FINAL4.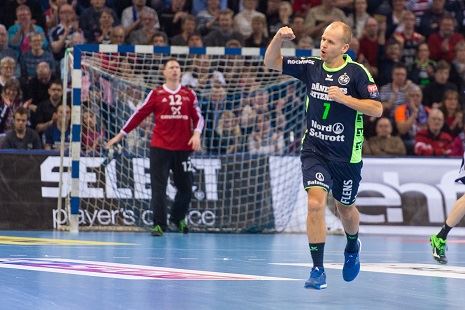 No. 1: Melvyn Richardson (FRA) – from Chambery Savoie (FRA) to Montpellier Handball (FRA)
Many times talents struggle to follow in the footsteps of their famous father or mother. It is a different story for Melvyn Richardson, son of former world champion and World Handball Player of the Year, Jackson Richardson. In the youth and junior national teams of France, Melvyn has played a key role in winning the Men's 18 EHF EURO 2014 and the U19 World Championship 2015, being part of the All-star Team in both competitions. Bronze medals at the Men's 20 EHF EURO and the U21 World Championship last month followed. At the age of 19, Richardson has already been part of the EHF Cup Finals in 2016 at Nantes with Chambery, and he has made his debut for the men's national team of France last June. Now he takes the next step of his career with signing for 2016/17 quarter-finalists Montpellier.
Photo Karim Mostafa Hendawy © 2017 J. Crosnier