EHF Champions League
The beauty of Hungarian handball
The beauty of Hungarian handball
The Hungarian team DVSC-KORVEX started their EHF Women's Champions League campaign successfully by beating Hypo NÖ. But last Wednesday they lost 31:25 against German champion HC Leipzig. Coach Vilmos Köstner talks to ehfCL.com about his mixed feelings.
ehfCL.com: How do you see your first two WCL matches?
Vilmos Köstner: All of our strengths and weaknesses were shown in our first two group matches. There were only 35 minutes against Hypo NÖ and also against HC Leipzig when we could play at the level the EHF Women's Champions League demands. It's hard to say anything about the other 25 minutes, because that performance is not even enough for being top in the Hungarian League...
ehfCL.com: How do you think your team can improve to be even more successful?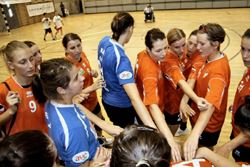 Vilmos Köstner: We have highs and lows during the matches, whereas the top participants of the Champions League show much more consistent form. Hypo NÖ continuously improved its play during the game, and Leipzig played very smoothly too. I also noticed that the Germans could score during the most crucial moments, and we still have to learn to do that.
ehfCL.com: Which place could DVSC-KORVEX realistically achieve in their group?
Vilmos Köstner: I guess it could be 3rd place. The other teams in our group have individualists, but we lack them. Based on the first two matches, it seems like only goalkeeper Ágnes Triffa can perform well and consistently at international level. I'm waiting for much more input from players like Valéria Szabó, Annamária Bogdanovic, Anita Bulath and Barbara Bognár.
ehfCL.com: Have you seen any promising moments?
Vilmos Köstner: I believe that DVSC has shown the beauty of Hungarian and Debrecen handball. Despite our highs and lows I have also seen some nice and spectacular moments. If we can decrease the mistakes in our game, we could see a huge improvement and we could compete much better with the stronger teams.