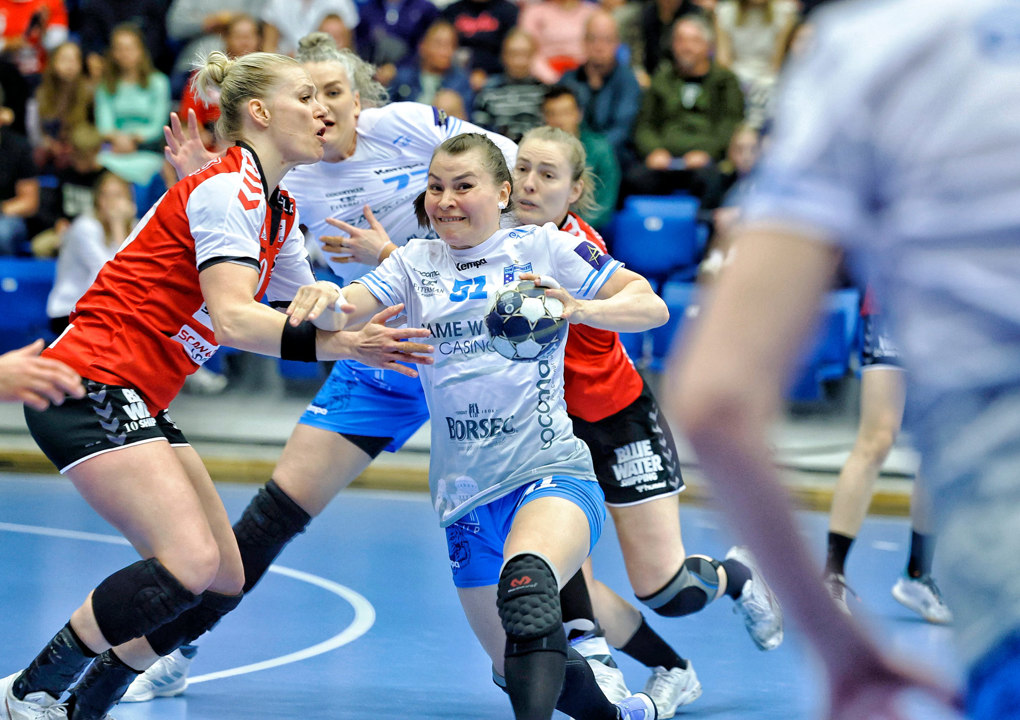 The keys for CSM in the second leg against Esbjerg
The second quarter-final leg of the EHF Champions League Women between CSM Bucuresti and Team Esbjerg (Sunday 7 May, 16:00 CEST) is a clash of two offensive powerhouses. The Danes, who won the first leg 32:28, currently have the best attack of the competition, scoring 29.0 goals per 50 possessions.
Bucuresti's attack – led by Cristina Neagu who has scored the most goals per game, 7.5, in the tournament so far – ranks third with 28.1 goals per 50 possessions.
Adjusting goals to the same number of possessions makes teams actually comparable since the raw number of goals is not only influenced by efficiency but also by the number possessions, whether a team and their opponents plays rather fast or slow.
Two different halves in the first leg
In Sunday's first leg Esbjerg brought their fourth best offensive performance of the season to the court scoring 30.2 goals per 50 possessions. In turn, the game was CSM's worst defensive performance of the season.
The biggest difference was that head coach Jesper Jensen's team shot the ball clearly better than their opponents. They scored on 68.1 per cent of their attempts while CSM managed to convert almost 10 percentage points less (58.3 per cent). That has been Esbjerg's strength all season; with an overall rate of 67.8 per cent they have the best throwing rate of all teams.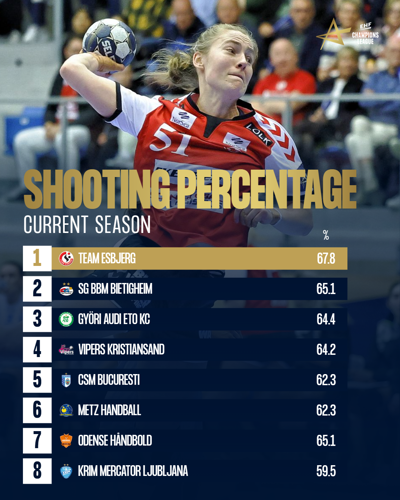 Especially in the first half the Danish side shot the ball much better than their opponents, scoring on 70.8 per cent of their attempts in the first 30 minutes. Bucuresti were successful on just 48.1 per cent – they were only worse in their last group stage match against Krim Mercator Ljubljana, with 48.0 per cent.
In contrast, for coach Adrian Vasile's team the big strength over the whole season has been turnovers. With only 7.4 per 50 possessions, they are the best team in the Champions League in this category. That was the reason as well why they were only four goals behind at half-time. Adjusted to 50 possessions, they turned the ball over just 6.7 times, while Esbjerg had 2.7 more turnovers.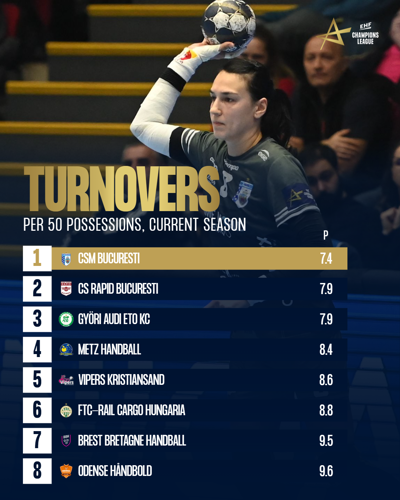 In the second half Bucuresti had the better shooting efficiency by 6.2 percentage points as well as 1.5 fewer turnovers per 50 possessions. In no other half this season have Esbjerg allowed a higher shooting percentage.
What really worked well for the Romanian champions was the seven against six they tried towards the end. In six possessions they scored four goals, or 33.3 goals per 50 possessions. Even though the sample size is small, this is a very good number and Vasile will probably try it again on Sunday.
Still, the second half ended 15:15 because after every fourth missed shot by Esbjerg the ball ended back in their hands, while Bucuresti got no rebounds after a missed shot. But if they fix this problem, they might have found a way to turn the four-goal deficit around.
Interestingly, when both teams met last season in the quarter-final Esbjerg prevailed for the same reasons. CSM turned the ball over less, but in both games, Esbjerg had the better shooting percentage and had more second chances.
Penalty throws and help for Neagu
One big factor for the difference at the shooting percentage were penalty throws. While Esbjerg were successful on four of their five attempts over the whole game, Bucuresti only managed to make one out of three.
Even though they have one of the most decorated penalty shooters in Champions League history in Cristina Neagu, CSM's seven-metre problems are a pattern through the whole season. In all 15 games they only scored 65.7 per cent of penalties, the lowest percentage of the competition. In addition, this was (together with four other games) the lowest number of seven-metre throws Bucuresti received in any match this season. So, this will be a crucial point for them in the second leg.
For only the fifth time this season Neagu, who became the second-best scorer in Champions League Women history with her second goal, was not the best scorer of her team. Instead, Emilie Arntzen led her team for the first time this season with 10 goals, ahead of Neagu's seven.
The performance of the two high scorers was symptomatic for the offensive performance of their team. In the first half they scored eight goals shooting 42.1 per cent. In the second half it was nine with 75.0 per cent. To find someone that steps up besides Neagu in attack and is efficient is another key point for Sunday's return leg.
Home court advantage
Team Esbjerg have lost only four matches this season and none of them by more than two goals. But three of their four losses were in away games, while the Romanian side is undefeated at home. In Sala Polivalentă Bucuresti won their matches on average by 4.9 goals. If they can do that again, they will be heading to the EHF Final4 2023 in Budapest.
In fact, as for most teams, Bucuresti's statistics both for attack and defence improve when they play at home, and Esbjerg's statistics are lower away from home.. So CSM still have a chance to turn this quarter-final around.
Julian Rux is a data analyst. More of his work can be found on his website and blog Handballytics.de as well as on social media: Instagram, Facebook and Twitter.
Photo © nhcfoto.dk