EHF Champions League
Two playmakers top the rankings
Two playmakers top the rankings
It's the third award for Karolina Kudlacz; first title for Mate Lekai – this is the result of the EHF Player of the Month award for the September. An international panel of EHF journalists have cast their votes, taking in account all European club and national team competitions of the last month.
Playmaker Lekai (29) was awarded for his extraordinary performances in the VELUX EHF Champions League for his club Telekom Veszprem (31 goals in the first four group matches). Kudlacz-Gloc (32) was surprised to get the award just three month after giving birth to her first son Jakub – when she had her comeback on court, first for the Polish national team in the EHF EURO 2018 Qualification and last weekend in the Champions League with her new club SG BBM Bietigheim. In June 2016 and September 2016, the playmaker had already been EHF Player of the Month.
"No, no, never I would have expected to become player of the month in September. It feels great that my hard work after giving birth to my son was recognised in that way," says the Polish international, adding: "It is a great honour and a special motivation to be the first ever female to receive this award for the third time."
Talking about her comeback, Kudlacz-Gloc explains "I am discovering my body in a completely new way. A pregnancy and its consequences are completely different to, for example, an injury. I individually worked hard during the pregnancy and right after it also very hard.
But I hope that the expectations are not too high. This is a new challenge for me, as everything is new after my pregnancy, my transfer to Bietigheim and my whole new private situation with my son."
Bietigheim are debutants in the Champions League, while Kudlacz-Gloc has played on this level several years at Leipzig. "As a team we lack the international experience, but it feels great to face the best European teams. I love those challenges, and my new club is very ambitious."
Below experienced Kudlacz-Gloc, two young and new players form second on third spot in the women's ranking: Norwegian Malin Aune did not only steer Vipers Kristianstad to their maiden voyage in the Champions League by being top scorer of the qualification tournament, but later was also a core player in the EURO qualifiers of the defending champions.
Third is Marija Gedroit, who was the top scorer with nine goals in one of the biggest EURO qualification surprises, when Lithuania nearly managed to win against Germany. Below those newcomers, well-known faces such as current World Player of the Year Cristina Neagu and three-time Champions League winner Anita Görbicz were nominated by the EHF journalists.

Women:

1 - Karolina Kudlacz-Gloc (POL/SG BBM Bietigheim)

2 - Malin Aune (NOR/Vipers Kristiansand)

3 - Marija Gedroit (LTU/TSV Bayer Leverkusen)

4 - Cristina Neagu (ROU/CSM Bucuresti)

5 - Anita Görbicz (HUN/Györi Audi ETO KC)
Players of the Month for Sept: Mate Lekai (HUN/Telekom Veszprem HC) & Karolina Kudlacz-Gloc (POL/SG BBM Bietigheim): https://t.co/5IH9LtiDDl pic.twitter.com/LyziUeYspu

— EHF (@EHF) October 10, 2017
In the men's ranking Mate Lekai answered the question that stood in his way, "who will steer Veszprem?" The playmaker took on this role after Aron Palmarsson had been suspended right at the start of the preparation for the new season.
Lekai was the key for four wins in four VELUX EHF Champions League matches, which make Veszprem the only Group A/B team with a clean record.
Like Kudlacz-Gloc, Lekai did not expect to receive this award: "Thanks to everybody who voted for me. I am very proud of this award, which I never won before in my career. Now I hope to continue this way; it is a great recognition for the start in the Champions League season."
For the Hungarian international, the reasons for his improvement are obvious: "I have more chances to be on court and get more playing time. I feel more confident, as Ljubomir Vranjes trusts me."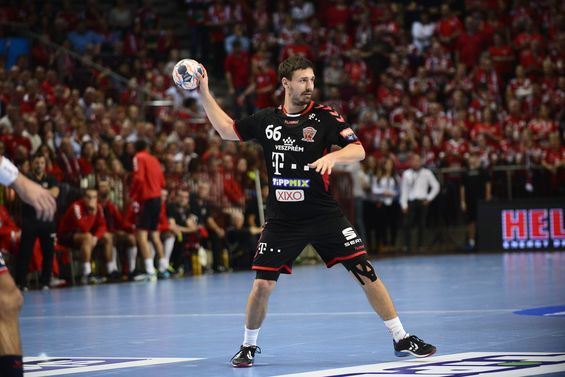 In the men's ranking Lekai left behind two Scandinavian players of SG Flensburg-Handewitt, he already beat this season: Danish playmaker Rasmus Lauge and Swedish goalkeeper Mattias Andersson.
The fourth ranked Slovenian Ziga Mlakar is the biggest surprise in the young Celje team, who has already 32 Champions League goals on his account, including 14 against Aalborg. And Aalborg was the former club of fifth ranked Norwegian (and two-time EHF Player of the Month) Sander Sagosen, who has perfectly adapted to his new club Paris Saint-Germain.
Thus, all top 5 players play for team in Group B of the VELUX EHF Champions League, which then truly is the "home of the champions".
Men

1 - Mate Lekai (HUN/Telekom Veszprem HC)

2 - Rasmus Lauge (DEN/SG Flensburg-Handewitt)

3 - Mattias Andersson (SWE/SG Flensburg-Handewitt)

4 - Ziga Mlakar (SLO/RK Celje Pivovarna Lasko)

5 - Sander Sagosen (NOR/Paris Saint-Germain Handball)