17-year-old Claar unfazed by big-name opponents
"KIF Kolding København might as well have taken that student with them in the bus back to Denmark."
Those words could be read in the Danish newspaper JydskeVestkysten the day after KIF Kolding København had won the away match against Alingsas HK 23:19 in Group B of the VELUX EHF Champions League.
Last Thursday night, 9 October 2014, a 17-year-old Swedish student caught the eye of the European handball community.
On that night, Felix Claar from Alingsas got his breakthrough in the Champions League.
He fired the ball into the Kolding net five times. Four times in the first half and once in the second.
First against Marcus Cleverly, then against Kasper Hvidt, two extremely experienced goalkeepers and both former Danish internationals.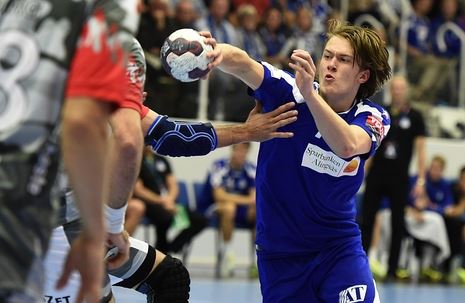 Did this young lad not have any respect for the international top players he was up against?
"Of course, I had respect, but I really do not think all that much about who I am playing against. Basically, it is simply about firing off the ball when I get the chance, but of course it was a fantastic feeling to score five goals against so great an opponent, even though we lost the match," Felix Claar tells efhCL.com.
But what is it that makes this 17-year-old student so good?
The right man to ask is his coach in Alingsas, former Swedish international Mikael Franzén.
"Felix is particularly good at estimating the distance to the defence, and despite his young age, he is already very good at deciding when to shoot and when not to shoot.
"Furthermore, he is of course more or less unimpressed by the opponents he is facing. He can go far," predicts Mikael Franzén.
Aiming high
Against Kolding København, Felix Claar scored all his five goals from the left back position, but actually he is seen as a centre back in Alingsas.
However, that position is more or less occupied by another young talent, 20-year-old Jesper Konradsson, so in the absence of injured veteran Fredrik Larsson, Claar has been moved to the left back position.
"I am no stranger to that position, though. When I played in Norrköping before joining Alingsas, I actually played the left back position, so I am more or less used to it," explains Claar, who allows himself to dream big, which is understandable considering his latest performances, especially the one against Kolding.
"Right now I am playing in the U18 national team, but my dream is to play in the senior national team and to play for some big club in Germany.
"That is the dream of any handball player, I think."
The next challenge for Claar and his teammates in Alingsas will be Orlen Wisla Plock away Sunday. May we expect another five goals from the 17-year-old Swedish student?
"I will not promise it, but I will do my best.  It would be great to do it again," concludes the talented Swede.