EHF EURO
A new chapter for Ambros Martin
A new chapter for Ambros Martin
Coaches can be seen as a commodity for every team, but no champion has ever lifted a trophy without a mastermind behind the speed, grit and nous of the players.
Therefore, a good coach is almost always a guarantee for success, more or less galvanising the team and rallying the troops in the heat of the battle.
For the past decade, the standard in women's handball has been represented by Ambros Martin, as the Spanish coach won four titles in the Women's EHF Champions League, while also losing three finals. Basically, in the past 10 years, there have been only two seasons when a team coached by Martin failed to reach the pinnacle of the competition, in 2012 and 2015.
The 51-year-old former wing, who was the Champions League All-star Team coach between 2015 and 2018, has also plied his trade for the Romanian women's national team between 2016 and 2019, a new challenge as Martin has set his sights on the Olympic Games in Tokyo in 2020.
Abruptly, the contract ended by mutual consent this summer, only for the Spanish ace to take over the Russian women's national team, replacing longstanding maestro Evgeni Trefilov, as the Russian coach ended his career due to health concerns.
The decision came as a blow for Romanian handball and there was always going to be a storm about what looked to be a harsh decision, including Martin coming under criticism from former players.
Yet the Spanish coach defended his decision and shed some light over the context in an exclusive interview with ehf-euro.com, a week before Russia start their campaign in Women's EHF EURO 2020 Qualifiers Group 4.
ehf-euro.com: There is a sense of a new adventure, a new challenge for yourself, however, there is also a feeling that things have been strained over time when you were the Romanian national coach. Why did you decide to leave?
Ambros Martin: I will accept any form of criticism anyone might have or any other objections, but I have to make myself clear first. The decision was made with Romania's best interests at heart and I felt that this was the best way forward both for the team and for myself. I understand that this may not seem true, but my situation was getting more and more difficult. I knew what I was getting into when I signed with Rostov last year and for me, things were not the way that I thought they will be.
ehf-euro.com: Basically, the main reason to leave was the lack of time…
Ambros Martin: I hate to step down from a project without results, but the thought crept in my mind a few months ago and never went away. It was a struggle, it was difficult, but it was the right thing to do. Of course, like every other person, I have my dreams, my ambitions, I want to be successful and win trophies. It looked like the time was not there, it looked like I could not give 100 per cent for the Romanian team and it was the right moment to step down, when they had time to get back on track. The dynamics of the transfer market this summer were right for them to have Tomas Ryde as the new national team coach. He went to CSM Bucuresti, many players came back from abroad to play in the Romanian league and he had the time and the chance to watch them closely, more than I could ever have done from Russia. So, it looked like the best way to move on both for me and for the Romanian team.
ehf-euro.com: You were on point for some heavy criticism, including from Cristina Neagu, Romania's captain. How did those words affect you?
Ambros Martin: The decision was also for her best. I know how competitive she can be, I know how much she wants a medal and I know how much she wants for Romania to qualify for the Olympic Games. I did not feel like I could give more to this team, to help her and the team achieve their objectives, because it is hard to get a feeling of the game from such a distance. I accept every piece of criticism, every word, because it is a letdown, but I want to be clear: everyone knew what my thoughts were and that I was thinking about leaving. In crunch time, I could feel that I could not push the right buttons, to understand properly what the girls needed and how to motivate them, because there was so little time to learn everything about them.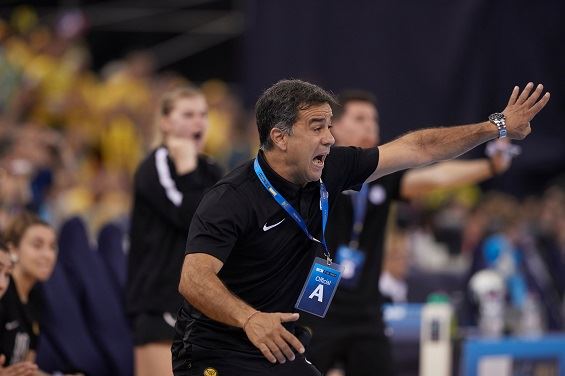 ehf-euro.com: You replaced Evgeni Trefilov as the Russian women's national team coach, the pressure is on now. How do you see this challenge?
Ambros Martin: I do not see it as a challenge, I see it as something normal. I always try to improve myself as a coach and I see this as a normal new chapter for me. I feel I have it in me and I feel this was always a new step forward for me. Nobody told me it was easy, I do not think it is easy, it is always difficult to replicate the same results I had on club level in a national team. This motivates me even more and I know what my targets are: a good result in the World Championship, qualifying for the EHF EURO 2020 and a medal at the Olympic Games, a result I always wanted to achieve.
ehf-euro.com: With the World Championship coming, is it difficult to manage both a club team and Russia's national team?
Ambros Martin: I am Rostov's coach and there are 11 players from the team that will also represent Russia so that is a plus for me. But this is also an important season for every team, because next summer the Olympic Games will take place and this is a huge objective for us and for them. Therefore, we must manage the players very well, we have to understand the hectic schedule and apply every measure to ensure they will be in peak condition when the season demands it.
ehf-euro.com: What is your objective as a national team coach?
Ambros Martin: Well, there is a lot to process in so little time. Our goal is the Olympic Games next summer, so I think Russia is the best positioned team to qualify there, as there are two different scenarios. One is winning the World Championship in December, which I personally prefer, or France to win the competition, which also mean we will progress, as we finished the EHF EURO 2018 in second place. I think this will be the toughest competition in years and we have to be at our best, because everyone will want a piece of the cake.
ehf-euro.com: But first you will take part in the qualification phase of the EHF EURO 2020…
Ambros Martin: Of course, this will be my debut as the Russian team coach and I want to finish the two games against Slovakia and Switzerland with two wins. The group is balanced, every game will count and it will be difficult because we saw that even teams that lack in experience can compensate with will and inspiration. The first two games will be difficult because the players are just starting the season, but the other games will be more of the same, as players will already be tired as there are no breaks in the season. My thoughts are that we are starting a new chapter with the Russian team and we have to improve on the basis we have.