EHF Champions League
Ahlm back for the "fun games"
Ahlm back for the "fun games"
Swedish international Johanna Ahlm rehabilitated sooner than expected after her knee injury, and has now a green light to play for her Danish club Viborg HK in the upcoming Champions League finals against Romanian champions Oltchim Valcea.
The 22 year old playmaker, who was loaned out to Viborg from Danish league colleagues Aalborg DH last autumn, recently signed a three contract with her new club, but was expected to be ruled out for the rest of this season, due to her knee injury. However, she was able to make a surprising comeback Sunday in a match against FC Midtjylland in the Danish league.
"I expected to be out for the rest of the season, but my recovery and retraining has gone better than expected, so now I am back for fun games," Johanna Ahlm, who has played 60 internationals for Sweden, told eurohandball.com.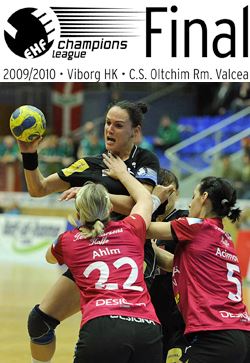 eurohandball.com: What was it like to be back after two months on the sideline?
Johanna Ahlm: It was really nice. I had gotten really tired of being injured and just watching the games from the sideline. It feels good to be part of the team again.
eurohandball.com: How far away from your best form do you think you are after this long break?
Johanna Ahlm: It is difficult to say, but of course I am still a little away from my best. However, all I can do is to try to do my best, and then hope that it is good enough.
eurohandball.com: After arriving to Aalborg a good bit into the season and being injured for a long time, how difficult has it been for you to adjust to Viborg's way of playing?
Johanna Ahlm: It has not been easy. It has been a difficult season for me so far. I have not played much, but I have learned a lot from training with a team with so many stars, and I also feel that I have developed as person while being in the club. Hopefully I can benefit from all that and be able to contribute more in the future.
eurohandball.com: Saturday the first leg of the Champions League final against Oltchim Valcea is waiting. While many of your team-mates in Viborg have been in a Champions League final several times before, it will be the first time for you. How do you feel about that?
Johanna Ahlm: It is really dream that comes true for me. A year ago I never thought that dream would come so soon, so I am really going to enjoy it.
eurohandball.com: What can you bring to the team in those finals?
Johanna Ahlm: It is hard to say, as I have not played in such big matches before, but I will try and contribute with some energy. My main role will probably be to be ready, when some of the key players need a break. Then I will simply try to do the best I can.