EHF Champions League
Bjerringbro-Silkeborg take major step towards Last 16
Bjerringbro-Silkeborg take major step towards Last 16
With a four-goal win in Poland, Bjerringbro-Silkeborg are in a favourable position before the return leg in the VELUX EHF Champions League Group Phase Knockout Round at home next Sunday. Meanwhile, nothing seems to be decided yet in a wild tie between Sporting CP and Dinamo Bucuresti, which boasted seven lead changes. A late Edmilson Araujo goal with four seconds remaining gave the Portuguese side the win.
Sebastian Skube scored nine goals for Bjerringbro-Silkeborg; Przemyslav Krajeeski and Dan Racotea scored four goals each for Plock
Bjerringbro-Silkeborg were leading by six goals with one minute left
38-year old left wing Ivan Nikcevic was Sporting's top scorer with 11 goals
Right back Amine Bannour and left wing Hugo Descat were Dinamo's top scorers, with six goals apiece
GROUP PHASE KNOCKOUT ROUND
Orlen Wisla Plock (POL) vs Bjerringbro-Silkeborg (DEN) 22:26 (14:14)
Despite missing left back Nikolaj Markussen and left wing Stefan Hundsturp due to injury, BSV managed to take a major step towards the Last 16.
Playmaker Sebastian Skube was on fire in attack, where he crowned his effort with nine goals, while Kasper Larsen produced a magnificent performance in the Danish goal.
At the start of the match, there was not much that indicated a Danish triumph, though. Wisla Plock took an early 3:0 lead and did not allow their opponents to score for the first five minutes.
However, the next four goals were scored by Bjerringbro-Silkeborg, and the Danish side frequently had a two-goal lead, which was interrupted by a single three-goal lead at 12:9 six minutes before half-time.
Still, Plock came back, and with two minutes and 21 seconds left of the first half, Renato Sulic scored the 13:13 equaliser. At half-time, the match was level at 14:14.
Plock immediately went two goals up when the second half started, but with six goals in a row, BSV changed a 17:15 deficit into a 21:17 lead – and the rest of the match belonged to the visitors.
Bjerringbro-Silkeborg biggest lead was six goals (26:20) with one minute left, but Wisla Plock Plock managed to reduce the deficit to four goals. The final result may give the Polish side some hope before the return leg.
Sporting CP (POR) vs Dinamo Bucuresti (ROU) 32:31 (14:14)

As neither side had clinched a Last 16 berth before this season, there was everything to play for between Sporting CP and Dinamo Bucuresti. But Sporting had the pressure upon them, with the second game being played in Bucharest, due to Dinamo winning Group D before the winter break.

It quickly became evident that the game was going to be a scrappy and gritty one, with both sides impressing with their attack but also with tough defence in a first half that saw seven suspensions.

There were four lead changes in the first half – but Dinamo looked better, as their free-flowing attacking style allowed them to score easy goals and jump to a 8:5 lead, with left wing Nicusor Negru seemingly unstoppable, scoring four times in the first half.

However, Sporting had their own ace upon their sleeve. 38-year old left wing Ivan Nikcevic was superb, scoring seven of his 11 goals in the first half. Nikcevic scored half of Sporting's goals himself, as the Portuguese side struggled to keep Dinamo in check, yet the deadlock was not broken at the break, 14:14.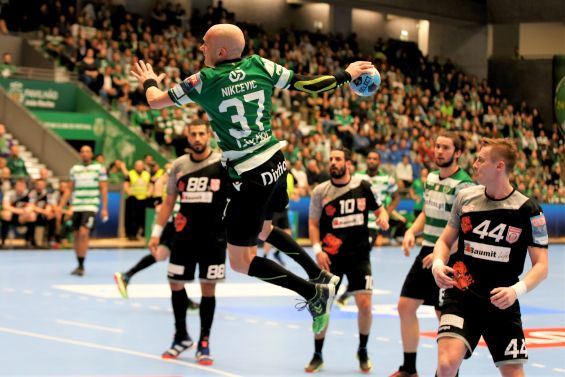 Back in the game, Sporting had a superb start to the second half, with their efficiency soaring to 74%, as Dinamo hurried in attack and never found the right moves.

There were also in-flight goals from the Portuguese side, with Edmilson Araujo converting a superb play for the hosts, as Sporting jumped to a 25:22 lead with 15 minutes to go.

A Dinamo timeout tried to weather the storm, but it looked like the Portuguese hosts were cruising to a win that was transforming them into favourites to proceed to the next phase.

A 30:26 lead looked to be enough for the Portuguese side. Sporting's fans were already celebrating an important win, but another well-taken Dinamo timeout helped turn the game on its head.

The 5:1 Bannour-inspired run for Dinamo, which also featured two goals from line player Andras Szasz, helped the Romanian side tie the game, 31:31, in another unexpected turn in what proved to be a wild game.

Sporting had the last timeout pending and designed a play to score in the last seconds, and with a powerful shot from Edmilson Araujo unstoppable for Tunisian goalkeeper Makrem Missaoui, they did exactly that.

The second leg will take place in Bucharest on Thursday, with a sold-out Dinamo Arena set to get behind the "Red Dogs" in what could be the biggest game in the European competition's history for the Romanian champions.
Post-match statements
Amine Bannour, Dinamo Bucuresti right back: "The atmosphere was amazing; worthy of a Champions League match. The supporters from both sides put a lot of heart into the game and they create a great atmosphere."

Sebastian Bota, Dinamo Bucuresti assistant coach: "It was a great match with a great environment. The advantage we are taking home is only one goal but we are going to have a full house to help us, the same way the Portuguese fans did it here."

Luís Frade, Sporting CP line player: "It was a very intense match, a Champions League match where everything can happen. It's true that we had a four goal advantage, but as I said this is Champions League. Now we have to do our best in the second leg."

Hugo Canela, Sporting CP coach: "I would like to congratulate Dinamo. They have a really good team and tough players, but even though they are tough they showed a lot of fair play today."