Bosna gives Gas
HC Bosna Sarajevo signed contract with company BH Gas as their general sponsor. From now on club will be officially called HC Bosna BH Gas.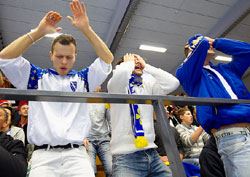 After signing a new coach, Irfan Smajlagić, the arrival of a bigger sponsor is another good news for Bosnian handball fans.
Captain of the team Petar Kapisoda is very pleased with latest developments:
"I want to thank our sponsor and city Sarajevo for all the support they are giving. I'm convinced this will help us to achieve better results this season. The players are very satisfied to have an opportunity to work with coach Irfan Smajlagić. During our preparations in Kranjska Gora he showed us why he is one of the best coaches in the world."
Besides coach Irfan Smajlagić, new faces in Bosna team for this season are: Risto Arnaudovski, Josip Nekić, Sandro Uvodić, Damir Doborac, Vladislav Veselinov, Dušan Bozoljac, Faruk Vražalić, Alen Ovčina and Vedran Banić.
After finishing the tounament in Doboj second – Bosna was defeated by Vardar in finals – "Studenti" continue with hard work. The last phase of the preparations will be held in Poreč and Sarajevo.