EHF EURO
W19 ECh – Final Weekend
W19 ECh – Final Weekend
After 40 matches and nearly one week of action at the 2009 Women's 19 European Championship in Hungary, the tournament has arrived to its final phase.
Following the last Main Round matches on Wednesday evening, the teams will continue with cross matches and with the semi-finals.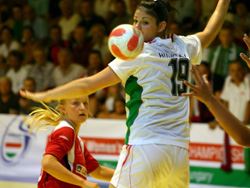 From Main Round Group I Hungary and Norway passed as the only undefeated teams at the tournament.
Main Round Group II ended with a draw between Russia and the Netherlands (26:26) yesterday. Accordingly, the Russian team secured their place in the semi-finals with a better overall goal difference than the Dutch team (+9 against +4). Germany won Group II despite the defeat from Sweden that had no consequences any more.
Cross matches
The ranking of the teams playing for the 5 to 8, 9 to 12 and 13 to 16 positions will be decided by cross matches and placement matches on Friday and Saturday.
Semi-finals
The Mihály Magvassy Hall will host the semi-finals and the Final in Győr. Germany vs Norway will be played at 16:00hrs, while Hungary will meet Russia at 18:15hrs on Friday.
The Final will also be played in Győr on Sunday, 23 August 2009.
For a detailed summary of the results, group standings and for the schedule of the upcoming games, please visit the sub-page dedicated to the competition.
For more information, detailed match statistics, photo galleries, tickets, you can also visit the official website of the event, www.u19euro2009.com.