EHF Champions League
Brest shock Kielce, Veszprém and Flensburg nearly stumble
Brest shock Kielce, Veszprém and Flensburg nearly stumble
Was this already a hint for the rest of the season? The so-called underdogs were either close to causing upsets, like Aalborg at Flensburg and Celje against Veszprém, or even made it, like Brest against Kielce.
After four defeats in four matches, Brest beat Kielce for the first time

Three saved penalties by Rasmus Lind helped Flensburg beat Aalborg

Veszprém's Gasper won the Marguc brothers duel against Celje's Gal

Veszprém centre back Mate Lekai was best scorer (11) in Group B today
GROUP B
HC Meshkov Brest (BLR) vs PGE Vive Kielce (POL) 28:25 (15:11)
First match of Group B, first surprise. In a dominant and unexpected way, Meshkov beat the 2016 VELUX EHF Champions League winners from Poland. From the first to the last minute, the hosts were ahead – despite the huge transition the Belorussian champions are going through.
One year ago, Kielce took the fortress in Brest in their group phase opener with a comprehensive 29:24 win, now the Dujshebaev side were beaten.
Steered by Dmitry Nikulenkau and the Russian duo of Konstantin Igropoulo and Alexander Skurinskyi – who scored five goals each – Brest took two surprising points.
The host shocked Kielce to go 7:3 up after 10 minutes, including three early Nikulenkau strikes.
Led by Dean Bombac, Kielce seemed to be able to turn the tide when they closed the gap to just 9:8. But thanks to their rock-solid defence, Brest took the upper hand again, taking a four-goal advance to the dressing rooms.
And the hosts remained as strong as before in the second half, stopping Kielce's attack impressively. The smallest advance in the second half were two goals at 17:15 and 19:17, but a 5:2 series to go 24:19 ahead secured them their first ever victory against Kielce in the fifth match.
Post-match statements:
Talant Dujshebaev, PGE Vive Kielce head coach: "Judging by today's match, I have to question my players and myself. We haven't performed the way we intended to. However, it is the first match and we will not make a drama out of it. It was a well-deserved win for the opponent."
Sergei Bebeshko, Meshkov Brest head coach: "Today the guys have proved that they are an estimable side. It is not every day that we manage to win against a strong opponent. We played more matches in the pre-season, maybe the SEHA league matches were to a certain extent useful to us."
Alex Dujshebaev, Kielce right back: "Brest was the stronger side tonight. The hosts were better from the start of the match and they kept controlling it confidently. The task for us is to keep working."
Rade Mijatovic, Brest goalkeeper: "We have made a tremendous effort in the defence. So far, it is the best defensive effort of our team this season."
SG Flensburg-Handewitt (GER) vs Aalborg Handbold (DEN) 30:27 (13:15)
The two Danes, Rasmus Lind and Rasmus Lauge, provided Flensburg with a close but deserved win against the Danish champions. Lind saved three penalties in the final stages, Lauge scored crucial goals to turn the match around – and was top scorer with seven strikes.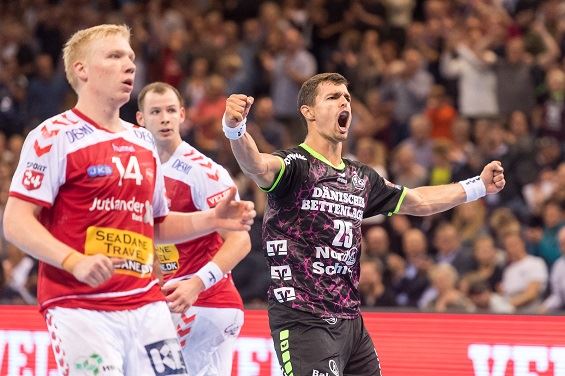 After losing all matches in the Danish league so far, Aalborg showed impressive 45 minutes in Flensburg.
Though the hosts started better (4:1), they did not get their usual rhythm and pace. As the Flensburg defence had an unexpected huge number of gaps, the Danish champions took the lead for the first time at 12:11, and doubled the margin with the half-time buzzer (15:13).
Coached for the first time in the CL by Maik Machulla, Flensburg failed to turn the match around easily after the break. Aalborg played with Flensburg's usual tactic, scoring from counter attacks to shock the home fans with their first ever four-goal advance (19:15) after 34 minutes.
But then the time of the two Rasmusses started: Goalkeeper Lind, who replaced injured Kevin Möller, came between the posts and Lauge steered the Flensburg comeback in attack.
But it was new left wing Marius Steinhauser who levelled at 23:23. Saving three penalties, Lind boosted the hosts' confidence, while another SG Dane, Rene Toft Hansen, provided Flensburg with their first lead after the break at 25:24.
But it took them until minute 59 before Holger Glandorf made it 29:26 to seal the hard-earned win.
Post-match statements:
Maik Machulla, Flensburg coach: "I am not happy with the way we played mainly in the first half, but finally we are happy with the two points. After the break, our goalkeeper Simon Lind saved the win on his own, he did a great job."
Aron Kristjansson, Aalborg coach: "We had the chance to beat Flensburg on their court but we missed it due to weak last 15 minutes. I am highly satisfied with our first 45 minutes. But then, when we missed those three penalties, we gave the win out of our hands."
Tobias Karlsson, Flensburg captain: "We can play much better than we did today but we have two points on our account. This is what counts."
RK Celje (SLO) vs Telekom Veszprém HC (HUN) 31:39 (18:16)
For a long time the hosts were close to an opening sensation. It would have been Celje's first win over Veszprém in 10 years time.
But in the final stages, Veszprém were individually stronger, had more alternatives and an incredibly strong Mate Lekai, who answered all questions about Veszprém without Aron Palmarsson.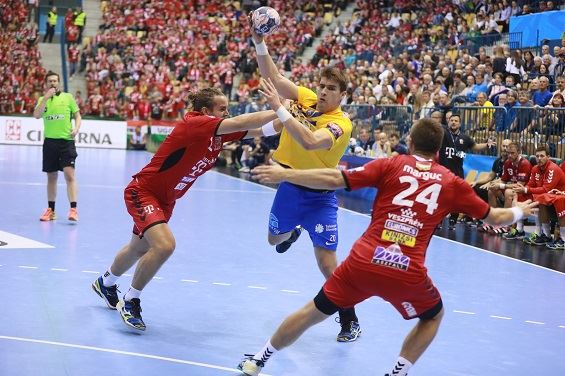 In the duel of the Marguc brothers, young Gal gave the hosts their first three-goal advance (9:6) against Gasper and Veszprém.
In his first VELUX EHF Champions League match on Veszprém's bench, Ljubomir Vranjes tried everything in the first half, but his team did get past the hosts.
In a brilliant atmosphere of two frenetic fan sides including a red wall from Hungary, Celje stayed ahead until the break. Only Gasper Marguc and centre back Lekai were on their high, scoring five times each in the first half.
Thanks to their wider bench and bigger experience, the visitors took the upper hand after the 20:20 against the bravely fighting Slovenians.
Thanks to eight goals by Ziga Mlakar, Celje remained close until 30:32 before Veszprém easily took their 11th win in their 13th match against the Slovenian side.
Post-match statements:
Ljubomir Vranješ, Veszprém coach: "In first half we played too passive in defence and received too many goals. Celje showed a great performance and deserved to lead at half-time. In second half we played much more aggressive and I think that we controlled the game."
Branko Tamše, Celje coach: "We played 50 minutes of great handball, we showed what we can do. But Veszprém played well, which is why we made some mistakes which they have punished. I think the goal difference was too high when we look how we have played against them."