EHF Champions League
Bulatovic and Amorim to come out with the guns blazing
Bulatovic and Amorim to come out with the guns blazing
'Champions League' is back this weekend, with the main round fixtures graced with a real classic. No encounters are worthy of the label 'classic' more than Györ versus Buducnost, as the two sides have occupied the very top of the Europe's elite competition for the last four seasons.

Obviously, the star-studded line-ups of the two long-time rivals will know a thing or two about winning trophies and nobody more so than Eduarda Amorim and Katarina Bulatovic.

Both will have a lot to live up to in the New Year, considering the World Championship ended with an early elimination for both Brazil and Montenegro; however, the two quintessential stars will be fresh for their respective clubs and the upcoming challenges in the Women's EHF Champions League.

As expected, Bulatovic is among the Women's EHF Champions League best scorers (third with 38 goals), while Amorim is returning from an injury and is just in time to aid in her team's FINAL4 push.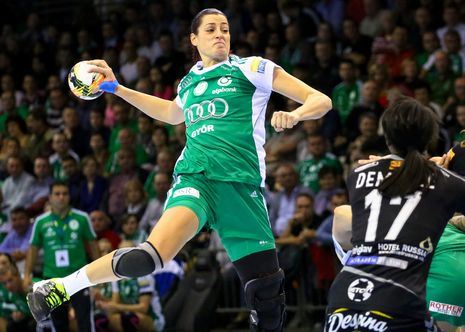 "I am coming back from a serious injury, which still bothers me at times but I am closer and closer to my former self. My legs still could use more power, but I am working hard to play to my full potential. I am obviously disappointed because I really wanted to help defend Brazil's World Cup title, but I am concentrating on Győr now," said Amorim.

Happy to meet again

While both lethal shooters have more 'Champions League' trophies between the two of them than all the other teams in the main round combined (six), perhaps the trophy most talked about remains the one they won together in 2013/14. The Women's EHF Champions League All-star team members Bulatovic and Amorim were key in Györ's rhapsody in green at the 2014 FINAL4 in Budapest.

"The year we played together was a very positive period for both of us and we became close friends. I like her calm personality and that she is always ready for fun," said Amorim of her counterpart's personal qualities, before continuing to her on-court peril.

"She is an extremely dangerous opponent; her shots are second to none, as far as power and precision are concerned. Katarina is obviously the one you build your defence around because if you don't keep a sharp eye on her, she will win the match," stated Duda Amorim.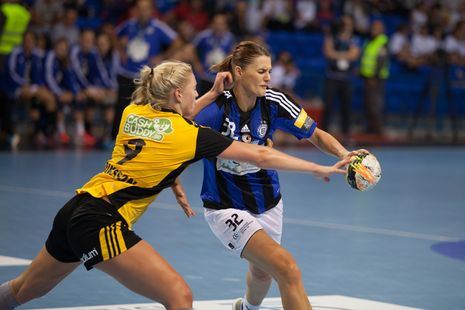 However, it's the friendy rivalry which will run the show tomorrow.

"I am happy to meet her again," added Amorim.

"A lot has changed (in Györ) since I played there," admits Katarina Bulatovic, who left Györ in 2014, only to bring the elusive trophy to Podgorica with Buducnost a year later."

"The two teams are not really comparable, as Györ have endured major changes and have brought in a lot of new players. However, they are always going to be a difficult opponent, regardless of the circumstances," said Bulatovic for their club's official website.

Defensive focus the deciding factor

The very fact that Györ have entered the competition with a heavily altered squad was the focal point of Eduarda's, while talking about her rebuilt team. The newcomers, as well as the long-serving stars (such as Amorim, who signed for Györ in 2009), are taking small steps to achieve the camaraderie and cohesion needed to repeat the vintage trophy-winning performances from 2013 and 2014.

"We are taking baby steps as we, once again, need time to form a united team, but the girls are working hard. I feel we are playing a lot better than we did in October, which tells us we are on the right path. However, there is a lot of room for improvement. There is an enormous amount of talent in Györ's squad, but we need time to play to our potential. I feel when the time comes, we will be ready to fight for the title," said Amorim.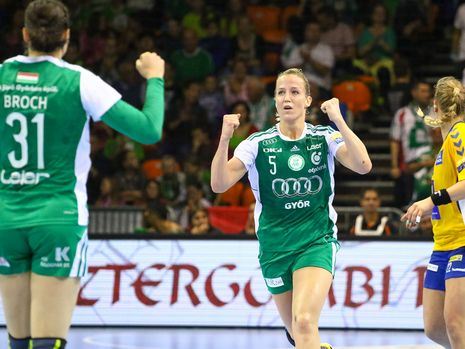 "Györ is a great team and always a remarkable opponent. It will be interesting to see how they are going to fit all the new players in," says Bulatovic, before continuing on to Buducnost.

"For the most part, we (Buducnost) have stayed the same since my arrival. Our advantage remains that the team has played together, with very few changes, for a while - that may be the slight edge in our favour," added a focused Bulatovic, before revealing the deciding factor in tomorrow's match.

"Györ are playing an amazing defence and overall, they are one phenomenal team. I believe the eventual winner in tomorrow's match will be the team with the most focus on defence. However, I do not think that this game will decide anything, just yet. There's a lot of handball to be played in the season, but nonetheless, we could use these valuable points."