EHF Champions League
Dmitry Zhitnikov: "I am always eager to learn something new"
Dmitry Zhitnikov: "I am always eager to learn something new"
For Dmitry Zhitnikov, Szeged's impressive win against FC Barcelona Lassa in the VELUX EHF Champions League on Sunday was a perfect birthday present. The Russian playmaker, who turned 28 the following day, contributed to his team's success by scoring two goals.
"It was our best game in the season so far. The team work was the key to success as everyone helped each other on the court. It was a very emotional match," Zhitnikov tells ehfCL.com.
Szeged's fourth victory in eight games has come as relief after a few unlucky results.
"We lost the two previous home matches and the pressure was quite big, especially on our coach, Juan Carlos Pastor," Zhitnikov says.
Not hiding their ambitions
The Hungarian side are currently in fifth place in Group A. After the against Barcelona, they have nine points, just two points less than second-place Rhein-Neckar Löwen.
Szeged are not hiding their ambitions.
"Last year Szeged were already close to reaching the FINAL4, and now we aim to get there," Zhitnikov says. "I am sure we are able to do it and to perform well on that level."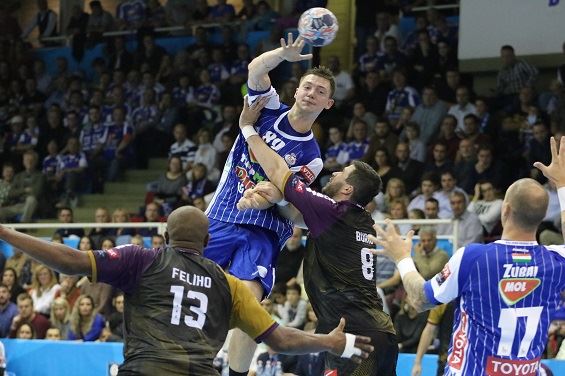 Zhitnikov is playing his debut season at Szeged after moving from Poland's Orlen Wisla Plock in summer.
Seeing his transfer as a step forward, Zhitnikov says he wanted to work with Pastor.
"I heard a lot about him. He is one of the best coaches in the world. I have a great chance to learn many things from him," the Russian says.
However, the adaptation has not always gone smoothly.
Studying every moment of the game
"Szeged play a different handball system compared to what I was used to. At the beginning, it was very hard for me. I had to learn from scratch," he says. "Pastor pays attention to a lot of small details. He scrupulously studies every moment of the game. It is not simple for a newcomer, but the teammates helped me to adjust."
Despite some language barrier, it has been easier for Zhitnikov off the court.
"We have a great bunch of guys – one of the best I have ever played with. It certainly helps having Sergei Gorbok as one of my teammates. I know him for a long time. He was at Szeged already in the past season, so he helps a lot," the Russian playmaker says.
In Szeged's international squad, most communication is in English. Zhitnikov is taking courses to improve his language skills.
"I don't have many problems talking to the guys, even if my English is far from perfect."
So far, one of the highlights of Zhitnikov's season was the away game against his former team in Plock, where Szeged took a 33:27 win.
"I felt like I came back to my second home. I have a lot of friends in Plock where I spent two years, and now local fans applauded me and chanted my name," Zhitnikov says. "After the game, the home team traditionally make a circle of honour around the court, giving 'high fives' to spectators. And although I played for a visiting team this time, the fans asked me to do it as well, which was very pleasant."
Like Plock, Szeged is a handball city, and Zhitnikov is already popular with the fans. However, the humble player tries to keep a low profile off the court.
"I prefer to lead a quiet life. It's nice to talk to the fans but I can't say I am too happy when they recognize me in town and ask for an autograph or a selfie," he says.
From trampoline jumping to handball
Zhitnikov was born into a Russian family, but in the Slovak town of Zvolen, where his father Valery was serving in the military.
"It was actually still Czechoslovakia back in the day. I left for Krasnodar to my grandparents when I was just nine months old, but I would like to visit Zvolen one day," Zhitnikov says. "It's only about 300 kilometres from Szeged but we have a very tough schedule – sometimes just one day off per month. So there is no time for such trips."
After leaving the army, Zhitnikov's father moved to Krasnodar as well and started working as a handball coach, which certainly influenced his son's career choice.
"I also did trampoline jumping. Krasnodar has a good school that has raised a number of Olympic champions. But my dad kept pushing me towards handball," Zhitnikov says.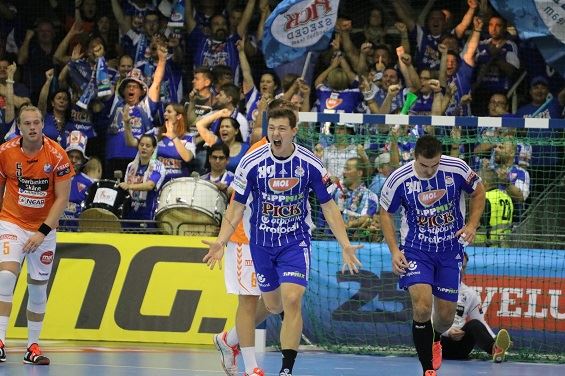 At the age of 15, he moved to the academy of Chekhovskie Medvedi and later ended up in their main team led by the famous Vladimir Maximov.
With Medvedi, Zhitnikov became a six-time Russian champion, yet he remembers his former club with mixed feelings.
"Maximov gave me a lot, and I am extremely grateful to him," he says. "But it was hard to deal with him. He is an old school type of coach who prefers an army-like style of work. Everything was strict: he said something and you had to obey his commands."
Hugely inspired by Russian national team
When his contract expired in 2015, Zhitnikov moved to Plock, his first foreign club. He has never regretted the move.
"The Russian handball school is among the best in the world, but I wanted to learn something new. It was necessary to change something for the sake of my own development," he says.
"When I was a kid, I was hugely inspired by the Russian national team which won gold at the 2000 Olympics in Sydney. Most members of that team played abroad at the time, so growing up I realised that I also needed to get experience outside my home country."